We often get the flak for featuring only the top pros and our elite local triathletes. Though interviewing the likes of Chrissie Wellington, Craig Alexander, Pete Jacobs, and other pro's is something we'll never say no to, we believe that it's the age groupers who truly make up our sport. Here on T.A.G., we will feature various age groupers, their stories, and race reports. No, you don't have to make the podium to get featured.
For us, everyone who crosses the finish line has his/her own unique story, and that is what this section is all about. Want to get featured? Send us your story at tagged@swimbikerun.ph. If your story gets picked, you win a token from us.
First on the list, the team captain of TIMEX-GOLDS GYM-TMM Triathlon Team (TGT), Roy Hervias. To those who didn't know, Roy snapped his ankle on his final lap on the run at last year's Tri United 2.  He's been on come back mode ever since. Raring to attack the 2013 season,  he wants nothing more but to give it his best shot. Whatever it takes. Read on below for his story and his Subic NAGT 2013 race report.
---
T.A.G. : The Age Grouper | Roy Hervias | TIMEX-GOLD'S GYM-TMM Triathlon Team | Subic NAGT Race Report
Race Report:
Race- Olympic Distance Subic NAGT
February 3, 2013
PREPARATION
I started to build my base October last year right after the therapy of my injured ankle by Dr. Canlas. I got my injury during Tri-United 2 last July 2012. It was my worst injury because it took me almost 4 months to fully recover. I totally stopped training after 70.3 Cebu for about 2.5 months and it's depressing because I gained 15 lbs and the training that I invested during my Ironman Australia and 70.3 training is gone. When I tried to come back last October, I can't swim 100 meters straight, I can't bike and can't even run more than 3km. It's totally back to zero.
I tried my best to get back in shape and I started mid October last year. Here's how it goes.
NUTRITION
This is the first thing that I really gave attention to. I fixed my diet & nutrition by counting my calorie intake and I subscribed the NUIU's daily meal plan which is 2k calories per day. Basically it's a low fat, salt and sugar diet. I tried to maintain this diet until a week before my NAGT race. I also cut beer and this is the hardest challenge for me because I've been enjoying beer for more than 17 yrs of my life. It's already in my blood and I have to force myself to remove it. For the sake of fitness level! Corny! hehe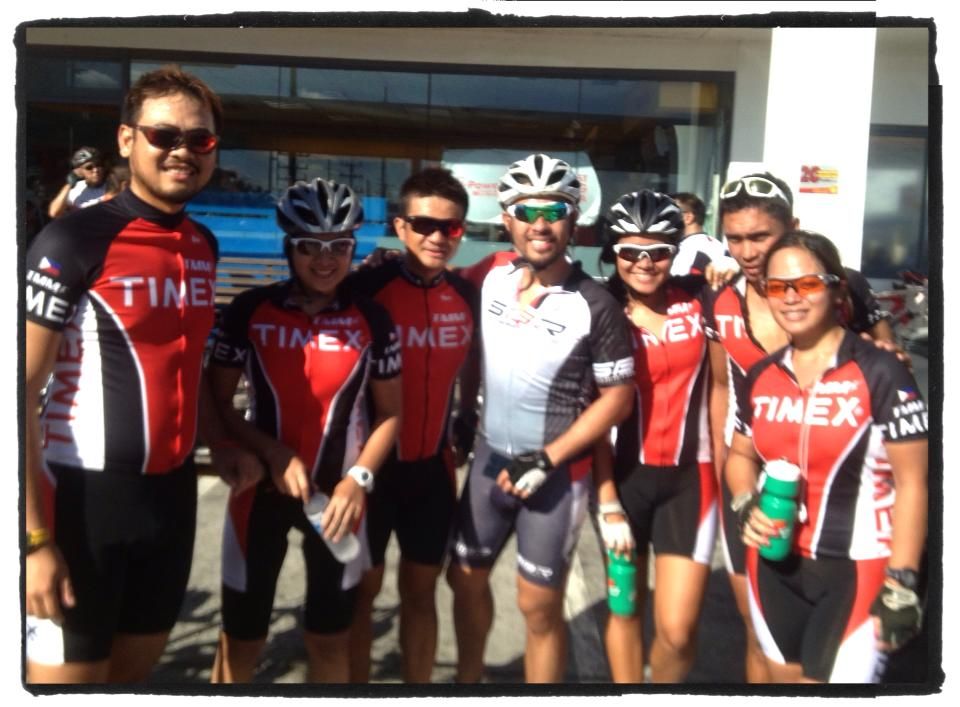 SWIM: I started to swim mid October last year doing easy swism to adapt my body into the water again. I tried to correct my stroke and use proper technic guided by my personal swim Coach Erika "Kraken" Natividad. I started little by little until I regained my endurance. My swim program started January designed for the NAGT olympic distance for 4 weeks.
BIKE: My bike mindset is to survive the Alabang-Naic bike route for least 3 hrs & 45mins on December so I started to prepare mid October doing easy spins on my trainer. Then after a week, in MOA and in Shell Trece. This is my first step in preparation to finish the Naic route and happily I did it for 3 hrs 30 mins last Dec. 31 before my flight to Iloilo. My bike program for NAGT olympic distance started January and it's a combination of MOA and Sierra bike on weekdays, and Nuvali and Naic  during weekends.
RUN: My run goal and mindset is to finish all 10km fun runs in Sub 1 hour. So I registered for all December's fun runs like the BGC run, Rescue run and even the Color Manila run.  I joined so that I will be forced to train and hit my sub 1 hr target and finished sub 50mins! My run program for NAGT started january doing weekly intervals,tempo, and a long easy run.
RACE DAY
I considered this race as my race assessment for 2013. My strategy is simple; just swim hard, bike hard and run hard until the lactic hits.
SWIM (1.5km 2 loops): At the start I tried to join the lead pack but I cannot sustain their pace so I held back and adjusted to my normal pace which is what I was doing during my time trial workouts. My first loop timed 16 mins and then I start calculating and decided that I need to adjust my pace to reach my target time. On the second loop after the turnaround I tried to swim as fast as I could so I can lower my time. The sea conditions were good with very minimal current going back to the shore. Jelly fish and Salabay were very disturbing and very itchy when it hits the skin. I timed 31+ mins on my watch when I got out of the water. I'm happy with my time and got a PR.
BIKE (40km 2 loops): The start of the bike goes straight to the hills of Subic going to the army naval base. I learned a bike technique which is to stand up while climbing the hills and smash it. Aging the champ teached me this during our Sierra climb attacks!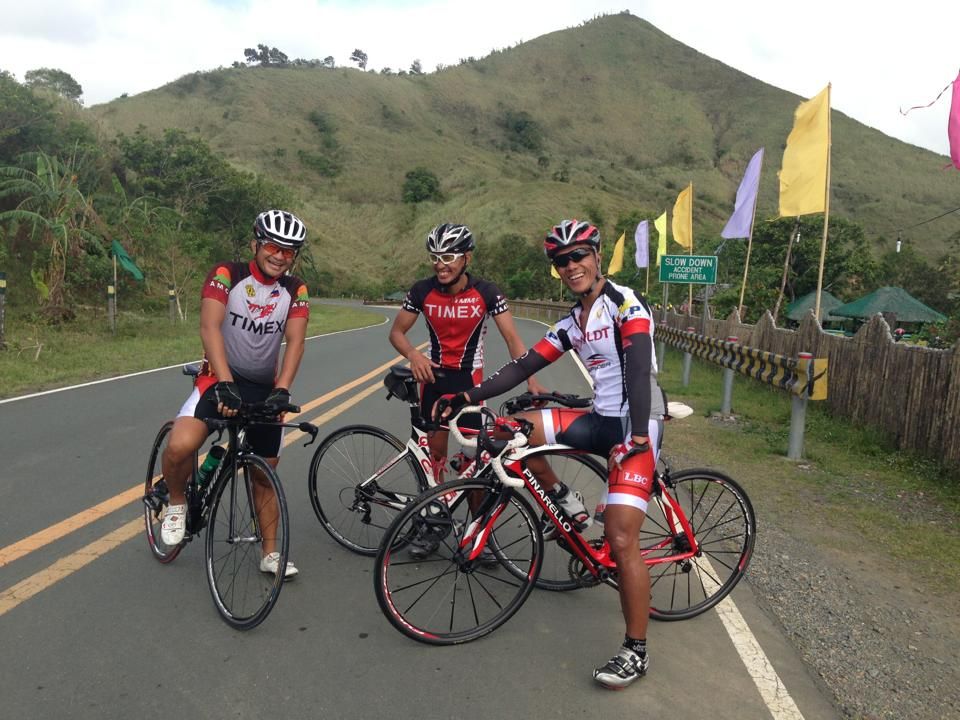 Riding with Aging and meeting Andrew Chinalpan on the way
Well, I tried it and my legs burned like hell but I overtook some of the racers in the hills. After a few minutes the leader in our age group Ferdie C. came across followed by our very own teammate Ric Dayata and then I made both of them my pacers. When I reached the 1st turn around I checked my clock; Ferds was ahead of me by 5 mins and Ric by 3 mins. I tried my best to catch them but these two beasts are wild.  I just lessened their lead into 2 mins after the last turnaround in Puregold. My bike clock read 1hr 9 mins according to my TIMEX Cycle Trainer. I'm very happy with my time and I overtook a lot in front and set a PR for Olympic Distance.
RUN (10km 4 loops): On the run I tried my best to hit my target 4:30mins pace but my legs and body feels like it's going to explode. I felt bloated again maybe because of the gels that I took so I held back to a 5min pace where I feel comfortable. After a while the two beasts, Ferds & Ric came across running like cheetahs then I set them once as my pacer again until I reached the first turn around. The lead is now up to 6 mins for the first loop and then I said to myself never mind I give up. I tried to set my target 4:30 mins pace which I practiced during trainings but it's hard for me to maintain that pace during the 1st & 2nd loops. On the 3rd loop, I felt lighter and I tried once again to increase my pace to 4:30-4:45 and maintained it all the way to the finish line. Now, I know that my body is really designed for long distance races. It takes time to adjust the pace, para akong DIESEL. Well, I'm still happy and got a run PR of 47+ mins based on my Timex GPS watch
OVERALL: I'm happy with my performance and thank GOD I recovered from my injury and overcame the depression of being the fat and slow athlete hehe.
LESSON LEARNED: Know your age-group opponent number. If you're not familiar with his face and never underestimate the newbies and the silent & simple triathletes. Respect!
Thank you to those who supported us in this race. The Glass Solutions logistics headed by Rex my Brother and Joey Devera(The Chef), Patrick Graf (Swiss Army my cousin), Aging Lasing, Jerson and Nilo our Driver.
Special Thanks to Coach Kraken for improving my swim.
Most of all, THANK YOU GOD for keeping us safe!
Roy in top form | Ironman Australia 2012
Til the next race! BOOM! LAM NA! 😉
Roy Hervias
Age-Grouper Triathlete
Comments
comments