IRONMAN Philippines. Coming Soon?
So, just how close are we to having our very own IRONMAN race in our home soil? And by IRONMAN, we mean the entire 140.6 and not just the 70.3. Based on what we're seeing, IRONMAN Philippines might be closer than we think.
---
With two 70.3's and as the clamor for IRONMAN in our country getting stronger and stronger, it has become nothing short of an "imperative" move for Sunrise Events, Inc., organizers of multiple IRONMAN 70.3's in S.E. Asia, to bring the big one home.
Come to think of it, the demand is already there. Filipino's are joining IRONMAN events all over the world in droves. IRONMAN Melbourne, IRONMAN Barcelona, IRONMAN Gurye, IRONMAN Taiwan, IRONMAN Langkawi, among others. You name it, and you can expect a huge number of Filipino's in the start list. What more in our own country?
Recent bombshells posted by Princess Galura of Sunrise Events, Inc., on her facebook page further strengthened our hunch. See the images below and you be the judge. It is also worth noting that some notable personalities from IRONMAN in S.E. Asia indirectly "welcomed" the newest IRONMAN race in the family.
2018 will be the 10th year of IRONMAN 70.3 Philippines. A decade of growth for multisport in the country. And what better way to celebrate a 10th year than ….?
Knowing Princess, there's no way she'll post something like this ONLY TO ANNOUNCE another 5150 or 70.3. I mean, there's nothing wrong with having another one of any of those, but they all know what we want. And at this point, an IRONMAN is the only thing than can trump all announcements.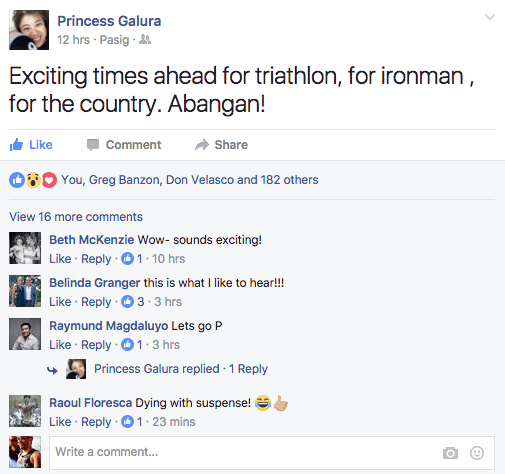 Para sa Pilipinas! Could this really be it??
Yes, yes, yes. The teasers got the entire multisport community of the country in a frenzy. But as always with Sunrise Events, organizing a race as big as this one is not the problem, for them, everything has to fall into place. The capability of the host city to host such an event, the roads, the 100% support of the LGU, the number of hotels, and of course, the willingness of every Filipino to support such an event and embrace it as one of their own.
We must admit, we'll be locked in 100% on this one. If this finally happens, we'll throw our 100% support to make sure it will be a success. We haven't missed a single IRONMAN 70.3 event in the country. And we've been waiting for this our entire racing careers so there's no way on Earth we'll skip the big one.
"Just say exciting times ahead as Ironman 70.3 celebrates 10 years in 2018." said Princess when we asked her for more information about her posts. Understandably, she couldn't give anything more. But whatever her answer means, that's good enough for us.
Dare we say it?
See you you at the starting line of the 2018 IRONMAN Philippines.
Oh yes, that sounds and feels so right.
Share your thoughts in the comments section below or on our facebook page!
---
IRONMAN®, IRONMAN TRIATHLON®, M-DOT®, IRONMANLIVE.com®, IRONMAN.COM™ and 70.3® are all trademarked properties of the WTC. We do not claim ownership of any of the photos. 
Comments
comments