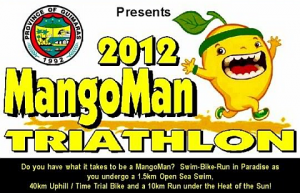 March 21st, 2012
admin
Do you have what it takes to be a MangoMan? Swim Bike Run in Paradise! The Beautiful Island of Guimaras and the Mango Capital of the Philippines! Home of the Sweetest Mangoes in the World! That alone is enough reason to join this event! See you there on April 15, 2012!
SWIMBIKERUN.ph is a proud media partner of the 2012 MangoMan TRIATHLON.
Take the challenge of a 1.5km Open Sea Swim, a 40km Uphill Bike course Guimaras is known for and 10km Run under the Heat of the Sun!
Open to all Individuals and Relay Teams Special 5k and 10k Fun Runs for the Family.
This is the Biggest Sporting Event / Destination for 2012 in Western Visayas.
A joint project of the Government of Guimaras, Guimaras Manggahan Foundation and Multisport Iloilo "Iloilo's community of Swim-Bike-Run Enthusiasts."
"LIKE our Multisport Iloilo facebook page" for updates and future announcements.
As soon as the event comes close, We will post details such as partner hotels, event transportations, on-site registration centers and on-line bank to bank registration payments!
REGISTRATION FORMS FOR FUN RUN, TRIATHLON SOLO AND RELAY
1. Upload the Form.
2. How to Pay?
Pay Online: Acct Name: Maria Mylene Illera
Bank: Banco de Oro Quezon St. Iloilo City Branch
Acct No.: 03360050090
3. Fax the Registration form with the deposit slip or you may personally submit it at Ground Effects SM City Branch (Telefax: 033-3206604)
4. You may also submit the form and payment at the Office of the Governor-Provincial Disaster Risk Management office (Guimaras with telefax 033-2371975)
5. You may also submit it at the Office of the Governor of Guimaras Toursim Section.
---
REGISTRATION FORMS
SOLO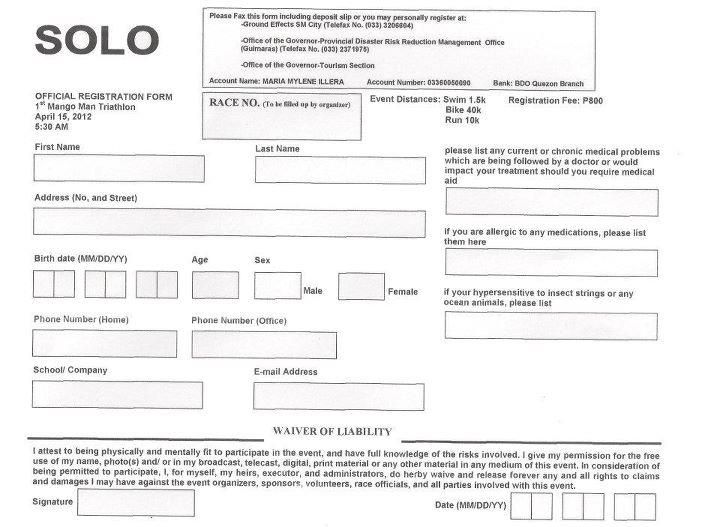 RELAY
WAIVER
RACE ROUTE
ROOM RATES
For questions and other inquiries please don't hesitate to contact Multisport Iloilo! Click the link to visit their facebook page!