Hey everyone! Get ready to GET IMMERSED this May 28, 2011!
SWIMBIKERUN.ph (SBR) in partnership with TRI `N MOTION, and in cooperation with AQUALOGIC  SWIM CO. along with AQUASPHERE as the event sponsor, is bringing to you SBR's first ever clinic of the year!
True to its tagline, whether you do just one or do all three, SWIMBIKERUN.ph is not just about multisport. It's also about each of the three disciplines that encompass the sport.
SWIMBIKERUN.ph will be doing a series of clinics for the year 2011. One for each discipline. With the final clinic being about triathlon as a whole. Each clinic will be headed by some of the best coaches in the country at their respective fields.
For its initial project, SWIMBIKERUN.ph is launching the GET IMMERSED! Swim Clinic!
The clinic will be headed by Moi Yamoyam, founder and head coach of the TRI `N MOTION, a group founded on Total Immersion swimming techniques and Triathlon disciplines. Moi is a licensed Total Immersion Coach, strongly remembered for his accomplishments as a former member of the National Triathlon Team, including the prestigious acknowledgment of holding the Under-19 and Under-23 National Olympic Distance Triathlon record of 2:06:38 and 2:06:02 respectively from Y2000 – Y2005. He has been swimming for 15 years and has been doing triathlon races since 1999.
The clinic is going to be held this May 28, 2011 at the Colegio San Agustin swimming pool at Dasmariñas Village, Makati from 1pm to 4:30pm. We timed it as such so you can still do your long ride in the morning
The clinic is P700 and shall be limited only to 20 participants to ensure quality. For those worrying about sunburn, fret not.. the pool is covered
Aside from lectures and practical applications, each participant will also have their own video analysis*  session.
To sweeten the deal, all participants will be given 50% off the Total Immersion Basic Balancing Program (costs P2,200), should they wish to continue with the lesson. SBR and IGOP Enterprise will also give away 15% off discount coupons for SLS3 Compression and its other products.
For any questions/inquiries you can contact us anytime at [email protected]swimbikerun.ph or call/text 0917-2554111 or simply post a comment below.
To reserve, just deposit payment to Carlos de Guzman – Bank of the Philippine Islands. Acct # 3373-1152-06 and email the deposit slip. Please inquire first if there are still spots open before depositing. We will then confirm your payment and put your name on the list here on SBR .
Sign up now! We're gonna be making this a first-to-deposit-and-email, first-to-get-listed basis. Absolutely no reservations to be fair to everyone.
Also, we will be giving away aqua shere kickboards and goggles as raffle prizes courtesy of AQUASPHERE.
Thanks and see you there!
*For the video analysis, all participants will have their videos sent to them via email along with the thorough analysis of their stroke and the corrections/drills recommended. To ensure that we wont bore everyone by showing all the 20 videos at the clinic, we will just be choosing 3-5 videos which will be picked randomly.
*We will be posting the names of the 20 confirmed participants. If in case you deposited your payment but the slots are already filled, we will redeposit your money back.
LIST OF CONFIRMED PARTICIPANTS
(as of 5/23/2011)
1. Elmer Ching
2. Rexton Ching
3. Aleta Yao
4. Liesbeth Oey
5. Kitty van Weezenbeek
6. Luis Gotaco
7. Morris Jaballas
8. Isabel Schmiedbauer
9. Jon Bondoc
10. Sheryl Bartolome
11. Chang Hitalia
12. Mario Uson Jr.
13. Mike Ugalino
14. Anton Van P. Castillo
15. Emmanuel Torralba
16. Joseph Villamor
17. Jeng Jaramilla
18. Art Ifurung
19. Kurt Gutierrez
20.  Janis Ian Gopez
GET IMMERSED! Swim clinic itinerary:
May 28, 2011
1:00 – 4:30 pm
——————————————-
1:00 – 1:15 – Registration
1:15 – 1: 45 – In-water video shoot of participants
1:45 – 3:00 – TI Presentation and Video Analysis
3:00 – 3:15 – Q & A (Raffle of Minor Prices)
3:15 – 4:00 – Practical Application (Swim session)
4:00 – 4:30 – Raffle of Major Prices
MAP GOING TO THE VENUE:
(to download, right click and press save as)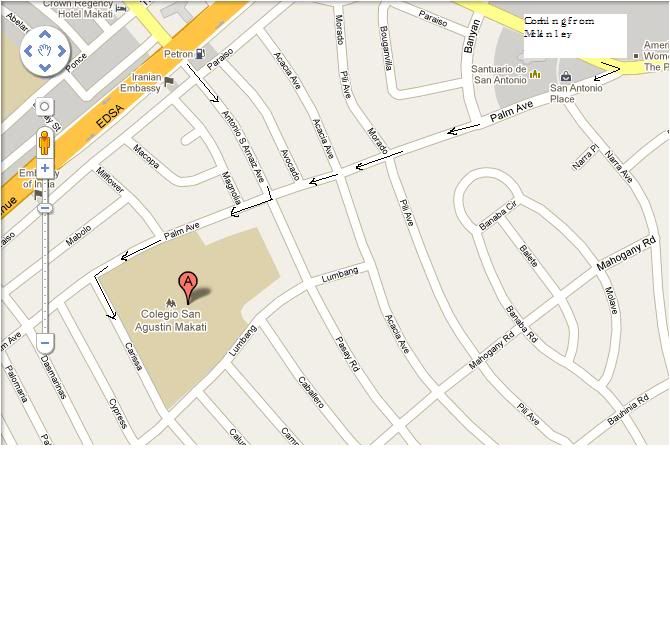 Click here to view the on-going discussion about the GET IMMERSED! SWIMBIKERUN.ph and TRI `N MOTION SWIM CLINIC.
Comments
comments