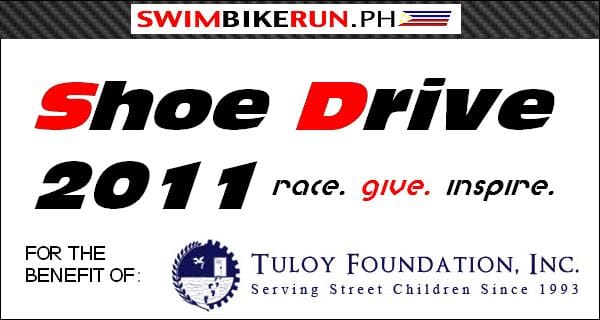 RACE.

GIVE.

INSPIRE.
At the upcoming Animo Sprint Triathlon 2011, get ready to RACE, GIVE back, and INSPIRE!
SWIMBIKERUN.ph will have its very own booth at the triathlon and fitness fair expo of the Animo Sprint Tri. Thank you to the organizers for giving us one!
Charity work is something that's very close to the heart of the SBR organization.. and to make sure we don't waste the booth space, it's the perfect time to launch SBR.ph's first ever charity work of the year, the SBR Shoe Drive 2011!
If you have old shoes that you're not using anymore, you might wanna donate it to charity so other people can use it. We will also be accepting old race singlets
For this event, SBR.ph has chosen Tuloy Foundation to be its official beneficiary.
Why Tuloy Foundation?
First of all, why not? One look at their website and you will know that it's a charity that already has a lot of history. They've been helping the less fortunate since 1993. Also, the thing that has led me to choose Tuloy Foundation is the fact that they have a really strong sports development program. Here's what Tuloy Foundation's Ayra Esmaquel has to say about it.
"Tuloy's existing football program complements its values formation.  It has been an effective tool in improving the kids' physical well-being, self-esteem, and behavioral and academic performances.  Noting how effective it has become in the transformation of our resident clientele, Tuloy has started to go beyond its walls in enlisting participation to the program.  In 2010, the football program was enhanced to benefit the children in neighboring slums who are not presently availing of Tuloy's alternative education, as well as the children served by other charity organizations and public schools in MuntiParLas.Although football is the main sport here in Tuloy, we also have quite an accomplished touch rugby team.  They also train regularly and like the football club, compete and do well in several tournaments throughout the year.

As you can see, sports plays a very important role in the rehabilitation of the children here in Tuloy.

Any sports items in good condition that you would be able to donate to us from the shoe drive would be very much appreciated."
Click here to view more info about Tuloy Foundation.
Race. Give. Inspire.
Race. Because as we race, one way or another we will have a shoe that will wear out and we will stop using at some point. Also, everytime you join a race, you will be given a race singlet as a souvenir. Join 10+ races in a year, and you will have some singlets that for sure will just clog up your closet space.
Give. Because we want to encourage everyone to give and donate their old used shoes and race singlets. Instead of letting them just gather dust.
Inspire. Because not only do you give the less fortunate the tools to run and get active in sports, you will also inspire them to live a more positive life by engaging in a healthier lifestyle.
We all know that the true meaning of giving is not expecting something in return, but as SBR.ph's way of saying THANK YOU to everyone who will participate in this endeavor, all the donors will receive a special SBR.ph coupon that will make them eligible for these special deals courtesy of our friends in the multisport community.

Timex Philippines – 15% discount on all watches worth 3k and above, single receipt purchase of a watch. This discount can be availed at all the participating Timex Outlets and Watch Republic shops in the Philippines.
Click here to download the list of Timex Outlets and Watch Republic Branches
The Brick Multisport Store – everyone that will donate shoes will get 20% off on all regular priced running shoes.
Crossfit Manila – all donors will be eligible for a FREE TRIAL of Crossfit. As well as 10% off the membership price, should they sign up after the trial.
The Starting Line Multisport Store – everyone who will donate will get 10% discount on new shoes.
720-Armour – all donors will get a 20% off on all 720 Armour eyewear.
SLS3 Compression – all the kind hearted souls who will donate will get 20% off on all SLS3 Compression Products.
K-Edge Chain Catchers – all coupon holders will get a 10% off on all K-Edge Chain Catchers.
*All promos are valid up to two weeks only.
*You MUST donate shoes in order to qualify for the SBR coupon. We will gladly accept singlets but that wont be enough to make you eligible for the SBR Coupon. Strictly no shoes/no coupon.
*Shoes must still be in good/usable condition.. and please clean them?
*Any type of shoes is welcome.. but given the nature of the shoe drive, we prefer giving sports/running/cross training shoes. Ladies you can leave your stilettos at home 
*We will accept all SIZES of shoes. Don't worry if it's too big or too small.
*For the 720-Armour, you must purchase the items at their main office at 201 Katipunan Avenue, Bgy. Milagrosa Quezon City.
*For SLS3 Compression and K-Edge Chain Catchers, please contact [email protected]swimbikerun.ph should you wish to purchase any of their products.
If you have any questions about the event, please don't hesitate to contact the admin at 0917-2554111 or email at [email protected]swimbikerun.ph
Hope you guys can spread the word and share! I know we don't have much time left but nothing is impossible 
Comments
comments