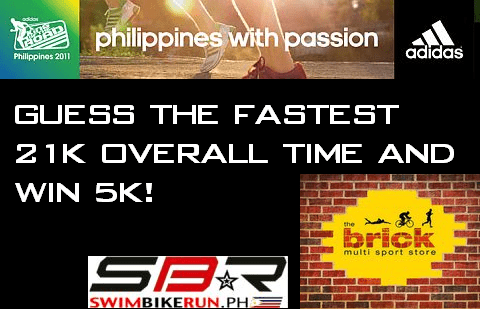 Hey everyone! We're inviting all of you to come and visit the SWIMBIKERUN.ph booth at the biggest running event of the year! The adidas KOTR! As usual, we'll have lots of activities in store for everyone! I'm running the 21k so please forgive me if you'll see me in the booth after 2 1/2 hours. Hehe I'll try my darn best to finish it as soon as possible!
Good things comes to those who wait!
For starters, in partnership with our friends from The Brick Multisport Store, we're giving away a whopping P5000 gift certificate to whoever can guess the fastest 21k overall time (without going over!) at the adidas KOTR!
That's good enough to buy a new shoe!
SWIMBIKERUN.ph shirts, stickers, and other goodies will also be on display at the booth! As well as products from SLS3 Compression Gear and K-Edge Chain Catchers! Also available at special discounted rates!
Lots of other surprise activities waiting for everyone so see you there!
Guess the fastest 21k overall time rules :
1. Post your guess at the Guess the fastest 21k overall time at the adidas KOTR and win 5k thread at the SWIMBIKERUN.ph forum! Click here to post your entry!
2. Contest will run up to October 23, 2011. 12am!
3. You must be registered at the SWIMBIKERUN.ph forum to post!
4. You may edit your entry as many times as you like but you may only guess once.
5. The winner will be notified via email after the final result of the race is announced.
7. In case of a tie, first person to post the closest time wins! So post your guess asap!
8. Goodluck to everyone!
* The GC is available only for running products and cannot be converted to cash.
Comments
comments