Battle Gear for Ironman Racing / Timex 226
With the TIMEX 226 Iron-distance race barely a month away, this time I'd like to talk about everyone's favorite part about triathlon.. the toys! I will also write about my nutrition, strategy, and game plan for Ironman racing but will do that in a separate article.
As with any triathlete, I'm always on the lookout for the best (and cheap!) gear that will help me cross the finish line. Below are the goodies that I tried already. Some of these has been with me since 2008! As with every gear that I use, I always tend to lean more for comfort over performance. Even if that means downgrading or sometimes, paying more for a premium.
As with the saying goes, you train as you race. So basically, this is the stuff I use in training too.
Note : There are also probably better products out there but I cannot comment or recommend something that I haven't used yet. Just sharing to everyone what worked for me and the gear that I always use during races.
SWIM —–>
Ever swam 3k+ before and felt after like your eyeballs are about to pop out? Does water often leak inside your goggles? Try this.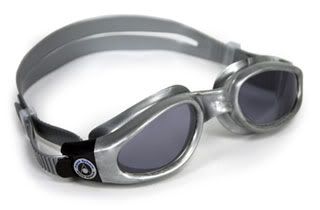 Goggles = Aquasphere Kaiman : Ultra comfortable. I've been using the same pair since 2009 and it's still good as new even if I really use it and abuse it. The Aquasphere Kaiman comes in different colors and lens variety. I got the tinted version so people won't see after the swim how wasted I am! =) Not to mention it's also good protection against the glare of the sun. Tinted version ain't a problem if you're swimming at night if that's a concern.
Considerable mentions :
Aquasphere Kayenne = Cool triangle shaped look but I find that water often leaks with this model. I don't know if its because of the Kayenne's irregular shape or it just doesn't fit my head.
Speedo Merit = Cheap and effective. Has a thick rubber surrounding around the sockets for extra comfort. Good enough but not as comfortable as the Kaiman. Did my first Ironman (2009 Ironman Langkawi) using this and that's still my fastest 4k swim ever.
Speedsuit = SLS3 Fobic Speedsuit : One of the newest products of SWIMBIKERUN.ph site sponsor SLS3. Being a mediocre swimmer, I need all the help I can get. I need to get out of the water as fast and more importantly, as fresh as I can. I'm currently testing the 2012 model of the SLS3 Fobic Speedsuit and so far so good! The fit is just right and doesn't restrict my arm movements at all. Makes swimming definitely easier. I'll be using this a lot for the 2012 season. It's ITU and WTC legal so you can use it at the 2012 Ironman 70.3 Philippines.
BIKE —–>
The favorite toy of every triathlete. Not to mention the most expensive one! Comfort is my #1 priority when it comes to choosing my bike gear. Some may be a downgrade or cost more, but if it will give me an advantage, I wouldn't paying the little extra. Here is my current bike setup.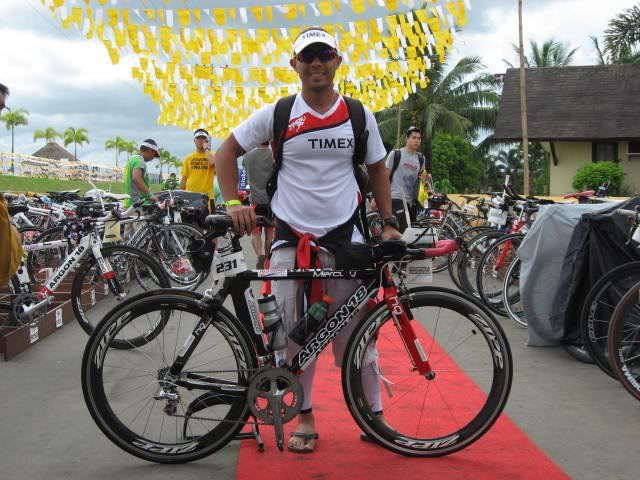 Frame = Argon 18 Mercury : My first and current tri bike. Bought this frame brand new last 2008 and cost me just 38k! It can't get any better than that. This bike also holds the record for one of the fastest Ironman Hawaii bike splits! A superb 4:21:36 performance by Torbjorn Sindballe so I know what this bike is capable of.  The newest model of the Mercury is called the E80. The fit is steep at the front (same with cervelo) and it comes with a carbon fork, carbon rear triangle and an aluminum body.
Groupset / Brakes = Shimano Dura Ace 7800 : Honestly… need I say more? I spent countless hours thinking if I should burn my bike budget on a super good carbon frameset or this timeless group set. Up to now I'm still glad I chose the latter. Tough as nails and still works like a charm even after all the crashes, travels, and races. Will still use on my next bike should I decide to get a new frame.
Wheelset/Tires = Zipp 404 / Continental GP4000 : All around wheelset. Can climb, race, and attack! When I got this, the clinchers were priced the same as the tubulars. I got the clincher model and I have no regrets. Who cares if I give away a couple of grams? What's important is that I can change a flat within 2 minutes. Not to mention buying spare tube is easy and super cheap too. Also, if the race calls for it I can just slap a wheel cover on the rear and make it a disc. My tire of choice is the Continental GP4000. Great rolling resistance and almost bulletproof against flats too!
Seats = Cobb Cycling V-Flow Max : I have a love/hate relationship with bike saddles. It seems like I just can't get the one that fits me perfectly. I'm always looking for something more. So far so good with the Cobb saddles. Though right now I'm having some complaints about it. It's designed and created by John Cobb, the aero guru, and the one who designed the tri-community famous ISM Adamo Saddles. You can find my review about Cobb Saddles and its comparo against ISM Adamo's here.
Pedals = Speedplay Zero : Dual sided entry, adjustable float, lowest stack height, what else is there to say? Oh, probably the most important one. It cured all my bike related lower body injuries. I know it's probably just me but I experienced tons of injuries when I was using pedals with limited or almost zero float. My pedaling style needs to be free and the huge adjustable float of the Speedplay offers just that. Eversince I switched to Speedplays? Zero knee pain. I just have an issue with the cleats. It's made of medal so it's damn slippery! Unlike Shimano cleats where it has rubber on the bottom.
Hydration = Torhans Aero 20 : Unless you own a Shiv Tri, the TorHans Aero 20 is hands down, the most aerodynamic hydration system on the planet. The TorHans improved on what the hugely popular Profile Design aero drink lacks. Aside from aerodynamics, the TorHans solved the splashing problem of other aero drinks. Its straw is also aerodynamic! An aero straw how cool is that?? Installing and removing it on your bike is a breeze. It's easy to clean and comes with an custom aero tray where you can put gels or install your bike computer! It's my current favorite bike accessory. Read my review about it here.
Considerable mentions :
Profile Design Aero Drink : My Profile Design aero drink has served me well since 2008. I just can't stand the splashing problem (I prefer keeping my drink inside the container instead splashing it all over my bike). I'm also giving away tons of drag because of the straw!
Ceegees Podium Quest Dual Chamber : My first dual chambered aero drink. I ordered this from the states and is great if you like having separate hydration chambers for your water and isotonic drink. It works but cleaning it is an absolute pain. I gave mine away after a couple of uses.
Accessory = K-Edge Chain Catcher : Ever experienced climbing a hill and just as you shift to your small ring, you drop your chain and all hell breaks loose? I had that happen to me a couple of times during Subit (as I was climbing Ocean Adventure!) and vowed to never let that happen again. Not only did it ruin my race, it scratched my beloved bike frame! A dropped chain can be messy and a pain in a a** to fix but is easy to prevent. No excuse not to have one on your bike. If it's used by major Tour de France teams then it must be good right? All my bikes have one. It also comes in different colors to match your bike. Read the SBR.ph feature about it here.
Bike Computer = CATEYE Dual Wireless/Polar CS200 : I wrote two here because I recently bought a CATEYE Dual Wireless since my Polar CS200 conked out. I must say, I miss the huge screen of the Polar CS200. The thing I like about the CATEYE is the position of the cadence and speed sensors. Which is located at the back of the bike. I can now measure my relative speed when I'm on the bike trainer (something which is impossible with the Polar CS200 because the speed sensor is attached to the fork).
Helmet = Rudy Project Syton : I'm a huge fan of TeamTBB and their Coach Brett Sutton and according to him, wearing a traditional aero helmet in hot conditions (read: Philippines), is often detrimental to your performance. You gain 3 minutes on the bike but lose 30+ minutes on the run because you overheated and cooked your head in the heat. One of the first aero helmets that he said is ok is the Rudy Project Syton. It's good because your ears are exposed. A good compromise between being aero and heat management! The moment I read that, I bought a Rudy Project Syton. No complaints so far! Not hot at all and looks cool too. Probably not as aero compared to newer aero helmets out there but I'll stick with this one.
Considerable mention :
Giro Ionos : This should be up there with the Syton but for Ironman racing I'm gonna go with the best compromise between function and form. The Giro Ionos is my default non-aero helmet. It costs more than other regular helmets but it's super light and has A LOT of vents. I usually bring 2 helmets with me during a race. I just decide the day before race day what to use depending on the condition. If it's too hot, I'll go with a regular helmet, if it's not, the Rudy Project Syton is my helmet of choice.
RUN ——>
This is where the real battle and test of fitness begins. For me, I know I'm a very poor runner so it's all about getting comfortable and getting to the finish line in 1 piece. I had my share of bonking on the run (my first Ironman 70.3 Philippines I walked the ENTIRE 21k!), and the following has helped me become a better runner and a faster triathlete. Nutrition has a lot to do with it too but I'll talk about that in the next article.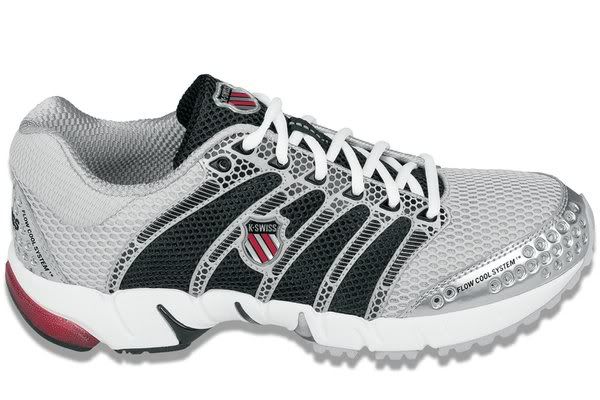 Shoes = K-Swiss K-Ona / Adidas Adizero : Right now it's still a toss up whether I will do the marathon part of the TIMEX 226 using the K-Onas or the adidas Adizero's. I've logged a lot of kilometers with the adizero's and recorded my fastest off-the-bike marathon split using them. But the K-Swiss K-Ona is just so much better. The water drainage port alone of the K-Onas is a feature that I now honestly can't race without. I often soak myself with sponges and water at aid stations because I'm big and I overheat easily. The ports allow the water to flow out of the shoes easily, reducing the risk of developing blisters. One thing about the K-Onas though is that I haven't used it yet for a full mary. For TIMEX 226 I will just bring the two shoes and will just have to rely on my gut feeling on what will serve me best on race day. Read my review about the K-Swiss K-Onas here.
Hydration Belt = Fuel Belt Helium 4 Bottle : SBR.ph forum member "ricecooker" often says I look like a "palengke" everytime I run because of the amount of stuff that I carry. We'll honestly I don't give a damn because what's important is that I stay hydrated and have lots of storage for my salt sticks and gels. Being a mountaineer, I like being self contained. You can rely on aid stations for your nutrition but if you're like me who likes to carry his own magic "concoction" then a fuel belt is a must. I got the 4 bottle version because I usually leave the other two bottles at the special needs station of the run.
Heat protection = Headsweats / Race Visor : Having a race visor is a must for every race. Not only does it protect you from the sun, it also serves as cooling pads for aid stations. I usually soak my visor in the ice cold water chests and then put them back on. If you're wearing a hat, one of the things you can do to fight overheating is to put ice inside your hat and then put them back on. I usually use my team issue TIMEX Headsweats visor.
GEAR —->
I decided to create a separate section for this because like for the watch, I use it for the duration of the race. Not just for a specific segment.
Watch = Timex Global Trainer : For training and racing, the TIMEX Global Trainer is my weapon of choice. It's literally like a laptop on your wrist. If you're like me who likes to seeing a lot of stuff to keep yourself from getting bored,then this is the watch for you. GPS, H.R., average pace, current pace, k.m.'s ran, you name it this watch has it. Check all the info you want in 1 screen. Best part about it is, it looks like a regular watch! Albeit a very huge one (which is a plus for me). I like huge stuff (Note: I'm from the TIMEX Triathlon Team)
Considerable mention :
Polar S625X = When I was still new my first watch was the classic Polar S625X, then I lost it and upgraded to the S725x. The problem I had with the S725x is the chrome around the screen. I'm sure it will peel off so I sold mine the moment I started to see a chip on one of the edges. I found my missing S625X so I used it again. One thing I also don't like about it is it's incompatibility with other GPS/training systems. Unlike Timex or Garmin which uses ANT+ technology, Polar simply refuses to budge and still uses its own transmission signal. The Polar is good the only problem with it is that it's more expensive compared to other watches and not the after sales leaves much to be desired. Take it this way, if your Polar conks out, don't bet on having it repaired and getting it back 100%. My S625X's motherboard(?) conked out and same with my Polar CS200 bike computer. The cost of having it repaired? Almost the cost of a brand new unit. I had my CS200 repaired and it bogged down again just after 2 weeks of use.
Eyewear = Oakley Radar / Oakley Jawbone : The Livestrong edition Oakley Radar is my eyewear of choice for the TIMEX 226. I also own a Jawbone but the problem with it is that it usually slides down on my face. The fit of the radar is snug and spot on. Also, the Polarized lenses of my Jawbones is starting to peel off. I don't know why because I really take care of my sunglasses and it sucks because it makes the vision blurry and hazy. Sad part about it is that I only got it year last year, unlike my radars which has been with me for ages.
Compression = SLS3 Compression Sox / SLS3 Quad Sleeves : I used to be one of the people who laugh at people who use compression gear. Knee high socks are you kidding me? Then I tried one and the rest is history. I used to suffer from cramping A LOT and I'm always trashed after a hard workout. Compression socks and quad sleeves helped me fight cramping in my calves, hamstrings, and quads. I first tried compression socks at Ironman Langkawi and really liked it a lot. From then on I haven't done a single race without one. You have the option of wearing them on T1 for the bike and on T2 for the run. I've tried both and find it more effective to use them AFTER the bike. Really helps sooth those tired calves. The one I used for the 2009 Ironman Western Australia, wherein I set a marathon P.R., is still with me and is still tight. As for the new SLS3 Quad Sleeves, I'll be wearing it from the swim start to finish!
Considerable mention :
CEP Compression Socks = My first compression gear. I bought this at the expo of Ironman Langkawi 2009 where it's being sold at a discount by The Bike Boutique. Loved it but my only gripe about it is that it tends to get loose after just a few washes and the color seems to turn yellowish. I don't know if the newer models are better but I'm happy to see it's now available here locally.
Compressport Quad Sleeves = This is the first Quad Sleeves that I tried and I found that it really helps me fight cramping in the hamstrings and quads.
That's it! Hope you guys enjoyed my gear list for Ironman racing! I also use the same for 70.3 If you have questions about any of the items above feel free to ask me about it Post a comment or email me at admin@swimbikerun.ph.
Also use the following at your own discretion What worked for me may or not work for you.
Thanks for reading!
-cdg-
Comments
comments