Feature
In[FOCUS] Women's Month Special | Jaymie Pizarro
SBR.ph is all about the letter "F" this March! In celebration of Women's Empowerment Month and Breast Cancer Awareness, we'll feature top female movers and shakers of the fitness/endurance community.
Fun – Fast – Fit – Females!
True to our tagline, SBR.ph is not just about triathlon. It's also about the sport of swimming, biking, running, and everything in between!
To open up our march Women's Empowerment and Breast Cancer Awareness special, we talk with none other than the bull runner herself. A woman that needs no introduction when it comes to running,  Ms. Jaymie Pizarro.
---
SBR.ph: The bullrunner! A big big welcome to SBR.ph Jaymie! :) Glad to have you here!
Thanks for inviting me even if I just usually do the "R" part.
SBR.ph: To those who don't know it yet, welcome to the crazy world of triathlon! How's your swimming and biking going? :) Do you ride with cleats now?
Thanks!  I'm loving the swims.  I've been swimming regularly with my team (Unilab activehealth Team) since last year so the mileage is there. I just have to work on the speed.
As for the bike, let's just say I need a lot of help. Patrick Joson has been training me, guiding me almost like a baby learning how to walk.  Couple of weeks ago, we finally rode outside while I was cleated!  I felt like I won a race!
For the past few months, we've been taking baby steps, but once my workload gets lighter and summer begins, I'll go full blast with the bike.
SBR.ph: Let's talk about the upcoming TBR Dream Marathon Jaymie. First of all congratulations in advance for the success of the event! Being part of the first one as a personal pacer is something that I'll never forget! In less than a week's time, you will once again fulfill marathon dreams of hundreds of athletes. Describe to us how you feel when you see each participant cross the finish line and make their dream a reality?
Thanks for being a part of it, Carlos. I vividly remember you and Aleta in the starting line of our first ever TBR Dream Marathon.
I always say that TBR Dream Marathon is a race with a lot of heart.  When you register for our race, we're in touch for the next 22 weeks of training until marathon day.  And, on race day, we try our very best to make it the ideal first marathon experience that every runner deserves because, as they say, you'll never forget your first.
When I see our runners cross the finish, it's joy for me in its purest form. I almost want to hug each runner who arrives because "Congratulations!" just doesn't seem enough. When a runner raises his arms in triumph, or hugs his family in joy, or breaks down into tears after finishing their first marathon, I feel honored and humbled to be part of such a magical experience in one person's life. There's really no words to describe it.
TBR Dream is a gift to me. It's my chance to create change in the world in my own little way.
SBR.ph: Given a choice, which of the two would you gladly re-live over and over? The emotions of finishing your first marathon or seeing the emotions of people finishing their first ever marathon at your event?
No doubt. The latter.
SBR.ph: About the TBR Dream Marathon. What's the story behind it and what inspired you to do it?
In 2009, my goal was to run my first marathon at Singapore Marathon in December. As part of my training, I joined QC International Marathon 21k in October.  Plan was to run 32k as part of my long run.  My husband was supposed to pick me up at Commonwealth.
I ran it easy paying no attention to time or pace. I ran with friends Jay Nacino and Raymund Martelino and chatted and laughed all the way. When I saw the traffic at Commonwealth on the other side of the road, I called my husband and told him he'd get stuck in traffic if he picked me up at 32k. I said I'd just run 35k and meet him at the assembly area at QC Memorial.  So, I continued to run.
It was getting hot. There was limited hydration. The hills were challenging.  But, I bumped into friends along the way.  Hector Yuzon handed me a Gatorade popsicle from out of nowhere. Pablo let me drink from his water bottle. Then, at around 33k, I saw good friend Neville Manaois on his bike. He said he'd pace me until I wanted to stop but asked me: "Are you going for the full?  I was surprised that he knew what had been going through my mind all along.  I was feeling strong. My legs felt fresh. Less than 10k to go and I could finish my first marathon.  I didn't give Neville an answer, but we ran past QC Memorial where I was supposed to meet the hubby.
The husband called at 40k and asked where I was.  I answered: Uhm 40k.  He answered: I knew it!
I reached the finish line at 4:55 for my first marathon. And, when I crossed that finish line, I felt changed. It was palpable.  It was intense.
It made such a huge impact on me that I lay in bed that night going on and on about wanting others to experience the same thing.  QCIM wasn't the perfect race, but the people who supported me at that time made it such a memorable and positive experience.  At that time, I didn't know exactly what I was going to do.  But, essentially, the seeds of TBR Dream Marathon were planted in my head.
SBR.ph: How many times have you heard the line "mam kayo po ba yung nasa billboard..?"  :)
Oh, just once, from a barista in Starbucks. Haha!  Most of the time, I hear it from friends who say they see my face daily as they drive off to work.  I say it's a daily reminder from me to get out and run.  Oh, and also to use Sun Broadband. Haha shameless plug.
SBR.ph: You registered for the 2012 Ironman 70.3 Philippines Cebu! Talk to us about your training schedule. Can you give us a sneak peek of your training? Who's your coach?
You know, a friend and I agreed to secretly register for that.  Little did I know that our names would be posted online for the world to see! Aaack.
When I signed up in December right after California International Marathon until a couple of weeks ago, I was in panic mode trying to juggle all three disciplines. I run and swim two to three times a week and bike once a week with Pat Joson. With the heavy workload for TBR Dream and two kids in Primary school, the sched was driving me nuts.
Thankfully, Ani Brown told me I still had time and I should relax.  Plan is to go full blast after March 18 (that's this Sunday) when work lightens after TBR Dream and the kids get off school.  Woohoo, summer! (You should've see my kids' faces whenever I talk about how close summer is. It's pretty obvious I'm more excited about it than they are!)
For triathlon, I'll be coached by Dan and Ani Brown.  By next week, I should have a serious triathlon training sched already, none of the hodgepodge training program this runner girl created for herself. Haha.
SBR.ph: Will we see a new blog from you anytime soon? The bullcyclist? The bulltriathlete? :)
TBR will always be TBR.  As I evolve as an athlete, getting into tri, trying out new workouts and sports, the blog will grow along with me and it should make for a more interesting read. But, I think I will always be a runner and I'll always love running the most. In fact, after Ironman 70.3, I'm looking forward to running Berlin in September and that's what I'm most excited about this year. Needless to say, I'll always be The Bull Runner even if I'm learning to love other sports too.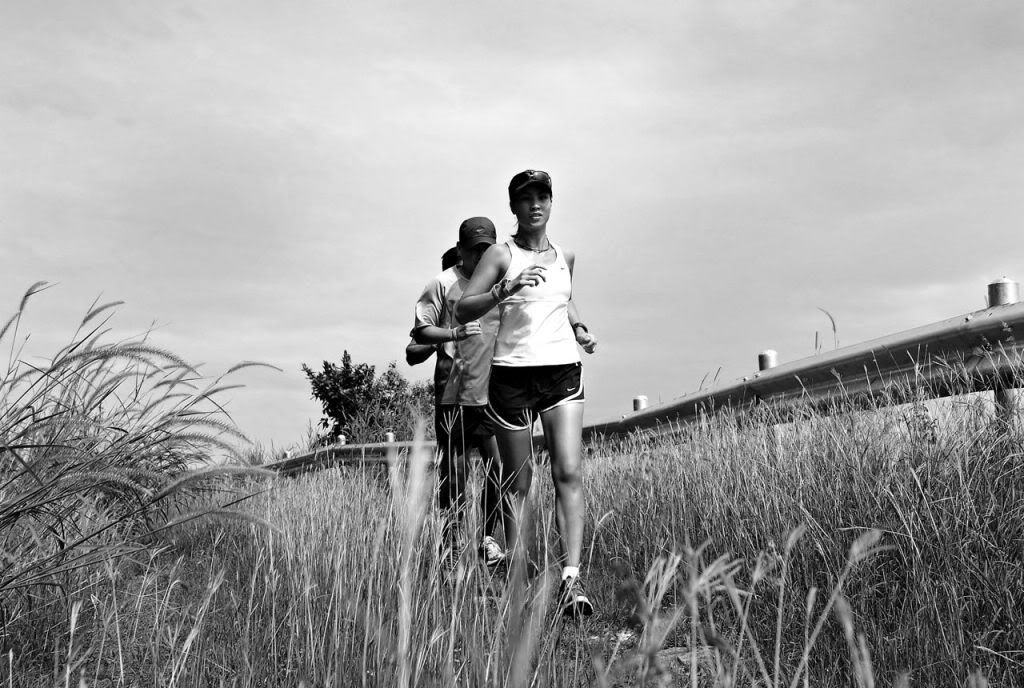 SBR.ph: As you may have noticed, we turned the site pink in celebration of Women Empowerment and Breast Cancer awareness. Any tips that you want to give to all the women out there (esp the moms) struggling to find the time to make everything work? And what advice can you give to someone who wants to start living the active and healthy lifestyle?
My advice would be to just jump in and do it.  As women, we tend to care for everyone else before ourselves.  C'mon, you have to think of YOU first before you can share yourself to others.  Be a better, stronger, braver, and wiser you so that you can share so much more to your family and friends.  Don't say you don't have time.  You have to make time for it.  Don't say you can't eat less junk and more veggies.  You have to think about what you put into your mouth.  Don't keep on giving excuses before you head out the door.  Just lace up and go for it.  Everything will fall into place if you are passionate about it.  Disclaimer: Family always comes first.  A podium finish won't mean anything if you weren't doing your job as mom.
SBR.ph: What are your other triathlon races for 2012?
I'm joining the Tri United races the first of which would be April 14 in Laiya, Batangas. I seriously want to do Subit, but it's on 5/5 which is my birthday and my blog anniversary.  I'm thinking there's too much going on that day to have to join a tri.  But, then again, I may just be creating excuses since the thought scares me to death.  We'll see.  I'm also thinking of joining 5i50.  Shucks, early bird ends today so I must decide asap.
SBR.ph: Name four things people don't know about the bullrunner.
1) I'm a creature of habit. I have Skippy's All Natural Peanut Butter, a Dole banana, and coffee for breakfast.  That's my breakfast for the past 2 years now.
2) My dream in life was to become an illustrator/artist for MTV channel.  I thought their ads were cool.  I ended up becoming a freelance graphic designer. I now only have time to draw when I play doodles with my daughter, which is everyday after school.
3) My first bike was a birthday surprise gift from my brothers, a pink BMX. I stopped biking altogether until I did my first mini sprint at Animo a few years back.
4) I'm the youngest of 7 kids. 4 girls, 3 boys. I enjoyed sleeping in the boy's room watching Gillette World of Sports and Tour de France with my brothers. I was just like one of the boys growing up.  Oh, I think until now.
SBR.ph: In true Filipino fashion, anyone you want to greet? Any message to your fans?
I'm still uncomfortable with the word "fans" because I seriously think I don't have any.  I call them readers of my blog and most of them have actually become friends.  All I can say is: "Hey! Aren't you surprised to hear from me here?  Me on SBR?  How weird is that?" Hahaha!
SBR.ph: One last thing, how do you think the big cheese of Gatorade, the man himself, Ton Gatmaitan, will do at the TBR Dream Marathon? I heard his target is 3:50! Is there any truth to that rumor? :)
Wait. Is Ton running?  He'll be at Cebu for Xterra haha.  Sub-4?  Hmmmm…maybe in Berlin because he'll be chasing after some fast German girl in tight shorts :P
SBR.ph: Thanks for the time Jaymie :)
Thanks too SBR!  This was fun!
Photo credits:
– Black and white – Levi Lacandula
– QCIM – Ben Chan of Blacksheep Manila
Comments
comments