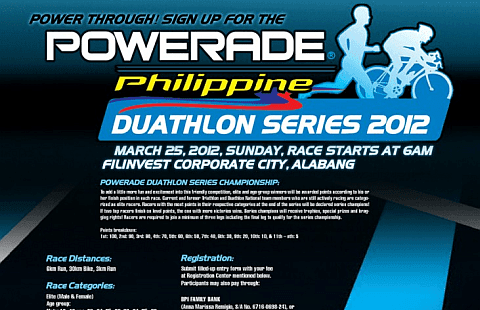 Here comes Leg 1 of the Powerade Philippine Duathlon Series! To who haven't yet, Adrenaline Multisport, organizers of the Powerade Philippine Duathlon Series is extending the deadline of registration up to this Sunday, March 18! So there's still time to sign up!
As always, SBR.ph is happy  and proud to support this duathlon event!
Check out the official announcement from Popo Remigio.
Latest list of racers and course maps in the attachment. We are moving the deadline to Sunday, March 18, to allow us more time to get a complete headcount and assess our facilities and supplies.

List is still currently being updated as we collect the registration forms.  Race kits may be claimed at your respective registration sites. Please call beforehand to see if your race kit is available and so they can have it ready for you.

For those who sent their registration forms via email/fax, let me know if you want to claim your race kits at the said registration sites or have them delivered to you via Pedala's bike messengers (they currently cover QC, Marikina, San Juan, Pasig, Mandaluyong, Makati, the Fort, Manila & Pasay; P100/one-way delivery; Mon-Fri excluding holidays). Do let me know which you would prefer (my contact details are at the bottom). You may also claim the race kits at the race site.

Contents of the race kit include 1 race bib no. and 1 helmet no.. Timing chips will be distributed on race day.
POWERADE PHILIPPINE DUATHLON SERIES 2012
(Powered by AMB Timing System)
RACE INFORMATION
Date, Day & Time of Event:
March 25, 2012, Sunday, 6am
Event Venue: Filinvest Corporate City, Alabang
Race Distances: 6km Run, 30km Bike, 3km Run
Race Categories: Elite (Male & Female)
– Male: 16~19 yrs, 20~24, 25~29, 30~34, 35~39, 40~44, 45~49, 50 & above
– Female: 16~19 yrs, 20~29, 30~39, 40 & above
Awards and Prizes:
Medals and prizes will be awarded to Overall Top Three in Male and Female Categories.
Medals will be awarded to TOP THREE in each age group.
Powerade Duathlon Series Championship:
To add a little more fun and excitement into this friendly competition, elite and age-group winners will be awarded points according to his or her finish position in each race. Current and former Triathlon and Duathlon National team members who are still actively racing are categorized as elite racers. Racers with the most points in their respective categories at the end of the series will be declared series champions!  If two top racers finish on level points, the one with more victories wins. Series champions will receive trophies, special prizes and bragging rights! Racers are required to join a minimum of three legs including the final leg to qualify for the series championship.
1st: 100
2nd: 90
3rd: 80
4th: 70
5th: 60
6th: 50
7th: 40
8th: 30
9th: 20
10th: 10
11th – nth: 5
Registration: Submit filled-up entry form with your fee at Registration Center mentioned below.
Participants may also pay through:
–

BPI Family

(Anna Marissa Remigio, S/A No. 6716-0698-24), or
– PNB (Anna Marissa Nagtalon, S/A No. 1002-8030-0012).
Then, Email or Fax entry form and deposit  slip (clear &/or enlarged copy) with name to Fax #: 932-9071
Keep receipt/bank deposit slip & submit during Registration.
Registration Centers:
Cycling Zone:

Shell Pacific Gas Station, Alabang-Zapote Road, Muntinlupa
Life Cycle Bicycle Shop:

G-Strip, Greenhills Shopping Center, San Juan. (c/o Rob)
Tel: 02-5842862, 584-2442, 661-3424
:
Registration Fees/Schedule:
(Inclusive of race pack, sponsor's products, finisher's medal, Timing Chip)

P1,000 (January  23 – February 20)
P1, 500 (February 21-March 20)
Deadline of Registration: March 20, 2012
For Inquiries please contact:
Thumbie Remigio
Mobile phone: +632-917-8486243
Website:

www.adrenalinemultisport.com
Mobile phone: +632-908-9086621
Comments
comments