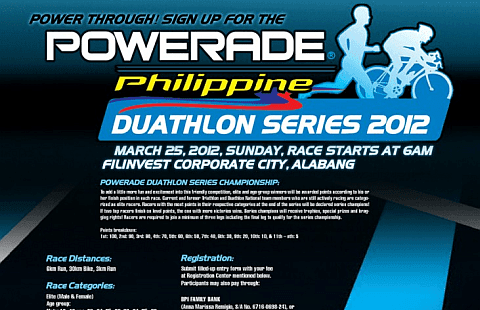 See you all this Sunday for Leg 1 of the Powerade Philippine Duathlon Open! Check out the announcement below from race organizer Popo Remigio of Adrenaline Multisport regarding the start list, course map, and other race reminders. The biggest announcement is that this will be a drafting race! Goodluck to everyone and ride safe!
Hi everyone!
Tentative start list in the attachment, please take the time to check if we have your information correct. Do inform me asap if you registered but did not find your name in my list.  Race nos. may still be claimed at your respective registration sites until Saturday afternoon, March 24. Please call beforehand so they may have your race pack ready. Race packs may also be claimed on race day, so please do come early! Timing chips will be distributed at the race site
RUN COURSE:
– Be prepared for unpredictable weather conditions; hot and humid, or windy and/or rainy.
– Racers will be sent off with a mass start.
– The first leg will consist of 2 loops while the second leg will only be 1 loop.
– There are water stations situated along the course and 1 water station at the transition area.
BIKE COURSE:
– The course is relatively rolling with tight corners. Whether you are an experienced or a beginner racer, it would be wise to slow down when cornering.
– This is a drafting race. We would like to emphasize that everyone take necessary precautions when riding in a group, especially if you're using aerobars. Always be aware of surroundings and the people around you. If you are not used to riding in a group, it would be best to avoid it and ride at your own pace.
– The bike leg will consist of 6 loops; it is your duty as a racer to keep track of your loops!
– Water station in the transition area only, none along the course. Bring water bottles for hydration.
SCHEDULE:
3OOam   Claim race packs & timing chips/Body marking/Opening of Transition area
530am    Race briefing
600am    Race start
900am    Awarding of Winners
930amCut-off time
COURSE MAP ———–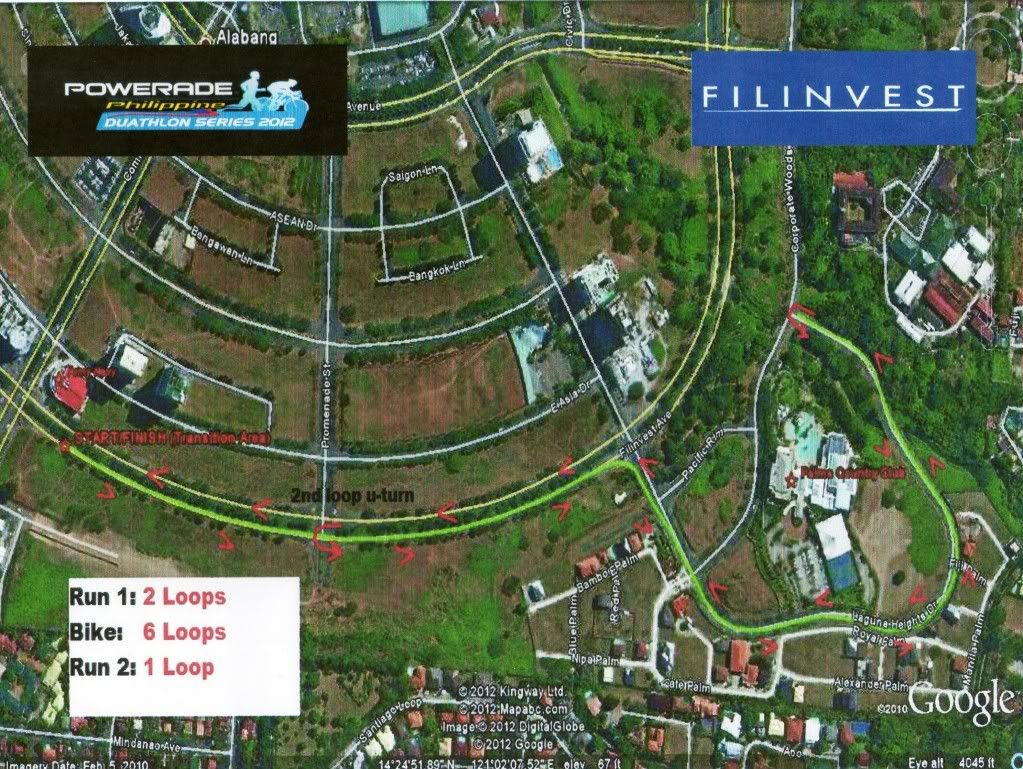 Run Course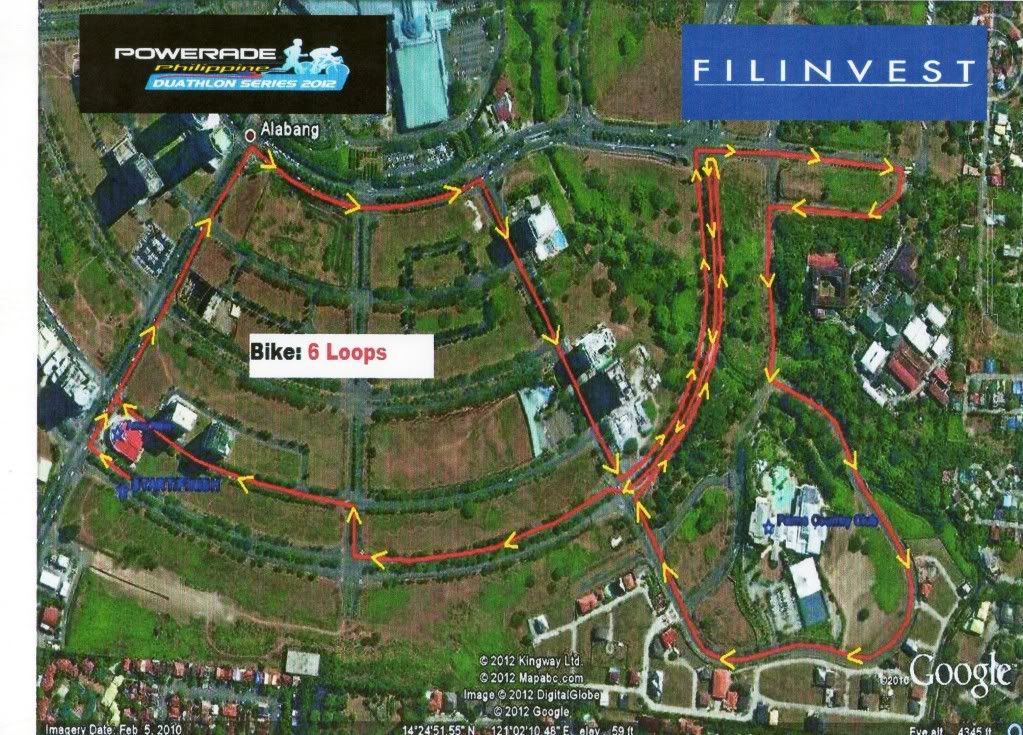 Bike Course
START LIST
————–
| | | | | | |
| --- | --- | --- | --- | --- | --- |
| | Surname | First Name | Category | Team | Reg'n |
| 1 | ABAD | MIRASOL | F20-29 | | |
| 2 | ALIX | MARICARL | F20-29 | TOWERS WATSON | BIKE KING |
| 3 | AMISTOSO | MARIA KATRINA | F20-29 | CEBU PACIFIC | BIKE KING |
| 4 | CARPENA | MARIA CECILIA | F20-29 | ENDURE | BIKE KING |
| 5 | CERVATOS | LEIZL | F20-29 | | 3>1 |
| 6 | FRANCISCO | CHRYSOBERYL | F20-29 | T12 CAMELBAK TRI TEAM | BPI |
| 7 | ALEJANDRO | GINA | F30-39 | SUNPOWER | BIKE KING |
| 8 | LOPEZ | JONI PILAR | F20-29 | TIMEX | BIKE KING |
| 9 | SANTIAGO | GLADYS | F30-39 | | BIKE KING |
| 10 | MARAVILLA | MISH | F20-29 | BIGGS TRI300 | BIKE KING |
| 11 | POTENCIANO | CARINA FLOR | F20-29 | NESTLE | BIKE KING |
| 12 | TIMAN | JULLA | F20-29 | U.P. LOS BANOS | LIFECYCLE |
| 13 | ALBARRACIN | MARY MAUREEN | F30-39 | | CYCLINGZ |
| 14 | DEL SOCORRO | JOYCE | F20-29 | TRINITY CYCLE SHOP | TRINITY |
| 15 | MANUEL | LEIA | F30-39 | GREENHILLS TRI-TEAM | BPI |
| 16 | GOTIAN | RIA | F40-UP | GREENHILLS TRI-TEAM | BPI |
| 17 | BATILO | TIFFANY | F30-39 | PMI-TRIMAC | UP |
| 18 | CASTILLO | DALOIZA | F30-39 | | CYCLING Z |
| 19 | CASTRO | JENNIFER | F30-39 | | BIKE KING |
| 20 | DAGOY | DIVINE GRACE | F30-39 | | BPI |
| 21 | DINO | DINAH MAY | F30-39 | SHELL PHILIPPINES EXPLORATION BV | BIKE KING |
| 22 | CRUZ | AUREA | F40-UP | | BIKE KING |
| 23 | FORGIE | KAIGHT | F30-39 | IS MANILA | BIKE KING |
| 24 | GO | MERCY | F30-39 | ZOOT | c/o IAS |
| 25 | GOLFO | KATRINA | F30-39 | YESFM/MBC | BIKE KING |
| 26 | HERNANDEZ | KATHERINE MARIE | F30-39 | T12 CAMELBAK TRI TEAM | BPI |
| 27 | LEE | CANDY | F30-39 | | BIKE KING |
| 28 | LEONARDO-MUNOZ | CHRISTINE | F30-39 | ARTHALAND CORP. | BIKE KING |
| 29 | LEONOR | TANYA ALEXANDRA | F30-39 | SYKES ASIA | LIFECYCLE |
| 30 | MALIGAYA | MARI GRACE | F30-39 | c/o VIKKIE CAROLA | CYCLING Z |
| 31 | MILO | MARIA PHILMA | F30-39 | T12 CAMELBAK TRI TEAM | BPI |
| 32 | SANTIAGO | MICHELLE | F30-39 | T12 CAMELBAK TRI TEAM | BPI |
| 33 | SANTOS | JUNIE | F30-39 | PMI-TRIMAC | UP |
| 34 | SEBASTIAN | JOAN | F30-39 | PARKERSHOT | BIKE KING |
| 35 | VALDEZ | ROWENA | F30-39 | | |
| 36 | MUNOZ | TIN | F30-39 | ARTHALAND CORP. | |
| 37 | ZHAO | SHARON | F30-39 | | BIKE KING |
| 38 | CHUN | NATALIE | F30-39 | | BIKE KING |
| 39 | CARMONA | LEANA | F40-UP | POLO TRI | BIKE KING |
| 40 | DE ERE | MARY ANN | F40-UP | JAC MOTORS | BIKE KING |
| 41 | GABRIANA | ELMA | F40-UP | | BIKE KING |
| 42 | HITALIA | CELMA | F40-UP | XTRM TRIATHLON TEAM | BPI/CZ |
| 43 | HUFANA | MA. CECILIA | F40-UP | | BIKE KING |
| 44 | MORALES | MONINA | F40-UP | SPURGEON SCHOOL | BIKE KING |
| 45 | OTTIGER | FIONA | F40-UP | POLO TRI | BIKE KING |
| 46 | RODRIGUEZ | MA. THERESA | F40-UP | RESPONSIVE HEALTH & INSURANCE BROKERS | BIKE KING |
| 47 | SIOJO | ELIZABETH | F40-UP | DAVID'S SALON | |
| 48 | TAN | BERNADETTE | F40-UP | | BIKE KING |
| 49 | ZAMORA | TINA | F40-UP | LOOP BIKERS | BIKE KING |
| 50 | ROCA | ROWENA | F40-UP | SANTE BARLEY | BIKE KING |
| 51 | CALNEA | DIVINA GRACIA | F30-39 | | BIKE KING |
| 52 | TOMPAR | TONI | F30-39 | | BIKE KING |
| 53 | BUHAIN | JERIC | M16-19 | | |
| 54 | DE TORRES | NIELSON ANTHONY | M16-19 | ARLENE'S BIKE SHOP | BIKE KING |
| 55 | PERTIERRA | EDUARDO JOSE | M16-19 | DLS-ZOBEL | CYCLINGZ |
| 56 | SANTIAGO | MERVIN RENCEL | M20-24 | UP DILIMAN | BIKE KING |
| 57 | CALUNSOD | RICHARD MARTIN | M30-34 | | BIKE KING |
| 58 | ANG | JOHN PAUL | M30-34 | | BIKE KING |
| 59 | ESTEVES | ROBINSON | M20-24 | | |
| 60 | ISIDORO | JOHN ERWIN | M20-24 | VST GLOBAL | LIFECYCLE |
| 61 | MORALES | JOSEPH | M20-24 | | CYCLINGZ |
| 62 | NAVARRO | NOEL ELIEZER | M20-24 | DLSU-DASMARINAS | CYCLINGZ |
| 63 | NUGUID | ALAIN KENNETH | M20-24 | | CYCLINGZ |
| 64 | REYES | KENNETH REY | M20-24 | ROCK N' ROAD BIKE SHOP | CYCLINGZ |
| 65 | SANIEL | JOHN NICO | M20-24 | UPHSD | CYCLINGZ |
| 66 | SERADILLA | JESSIE OMAR | M20-24 | GEN-BER GYM | BIKE KING |
| 67 | VALINTON | AARON | M20-24 | UPHSD | CYCLINGZ |
| 68 | BAGACINA | JAYSON | M20-24 | PARKERSHOT | BIKE KING |
| 69 | LAT | ALVIN | M30-34 | EPSON PHIL. | BIKE KING |
| 70 | MANEBO | DON | M35-39 | | PNB |
| 71 | TARCELO | ELUTERIO JR. | M35-39 | PNS PROD. SERVICES NETWORK | BPI |
| 72 | AGUINALDO | TRISTAN NICOLAS | M25-29 | BOEHRINGER INGELHEIM PHIL. | TRINITY |
| 73 | ALFARO | SAUL | M25-29 | BYA XTRM TEAM | CYCLINGZ |
| 74 | ARIATE | JOSEPH GABRIEL | M25-29 | | BIKE KING |
| 75 | AMISTOSO | MICHAEL RAYMOND | M25-29 | ARMY NAVY SOUTH TRI TEAM | CYCLINGZ |
| 76 | ANGELES | BARNETT | M25-29 | | BPI |
| 77 | ANGELES | MARK ANDREI | M25-29 | SAN BEDA COLLEGES | TRINITY |
| 78 | BAUTISTA | BJORN JORRELL | M25-29 | HANJIN HEAVYINDUSTRIES &CONSTRUCTION CO. LTD | BIKE KING |
| 79 | BELTRAN | MARK JASON | M25-29 | PHIL. ELECTRIC CO. | LIFECYCLE |
| 80 | BENEDICTO | AUGUST | M25-29 | | |
| 81 | BORAL | JAYPEE | M25-29 | SPTUSA | CYCLINGZ |
| 82 | CABANES | JUAN CARLOS | M25-29 | | BIKE KING |
| 83 | DABAO | RALPH EMERSON | M25-29 | | BIKE KING |
| 84 | DADIA | TIMOTHY | M25-29 | SECONDWIND-SUN BROADBAND | BIKE KING |
| 85 | DE JESUS | JOSE JR. | M25-29 | XPORT & NDUSTRY BNK | BIKE KING |
| 86 | DOCTOR | JOHN VICTOR | M25-29 | | BIKE KING |
| 87 | FRANCISCO | ALLAN GERARD | M25-29 | GLORIA JEANS TRIATHLON TEAM | CYCLINGZ |
| 88 | FRANCO | RAY JOHN GABRIEL | M25-29 | | CYCLINGZ |
| 89 | GARCIA | LEANDRO | M25-29 | YELLOW CAB TRI-CLARK | BPI |
| 90 | GUZMAN | PETER | M25-29 | UNILEVER | BIKE KING |
| 91 | JARAMILLA | JEREMIE | M25-29 | DEVEX | LIFECYCLE |
| 92 | JAVIER | ROBENO | M25-29 | | |
| 93 | LIPANA | PAOLO | M25-29 | DBM | BIKE KING |
| 94 | LORICO | MICHAEL JOSEPH | M25-29 | SAN BEDA COLLEGES | BIKE KING |
| 95 | MACALINAO | LAWRENCE | M25-29 | HYPERSPORTS | BIKE KING |
| 96 | ORDOVEZA | RAYMOND | M25-29 | CENTURY TRI HARD | BIKE KING |
| 97 | PANGILAGAN | ANDREW | M25-29 | | LIFECYCLE |
| 98 | PAREDES | JERROLD JOHN | M25-29 | | BIKE KING |
| 99 | PINEDA | FRANCIS | M25-29 | SUN CELLULAR | LIFECYCLE |
| 100 | RAMIREZ | JEDDAN RAY | M25-29 | SYKES ASIA | LIFECYCLE |
| 101 | RAMOS | JOVEN | M25-29 | | c/o IAN |
| 102 | SHAPPIT | RALSTON NINO | M25-29 | | BIKE KING |
| 103 | TING | MANRICK | M25-29 | FUJITSU PHIL. INC. | BIKE KING |
| 104 | VELASCO | RAYMUND GERARD | M25-29 | SECONDWIND-SUN BROADBAND | VELOCIPD |
| 105 | VILLAMOR | JOSEPH | M25-29 | DEVEX | LIFECYCLE |
| 106 | TAN | PATRICK JOSEPH | M25-29 | BLUE DIAMOND FARM | BIKE KING |
| 107 | FLORES | MARTIN IGUEL | M25-29 | FIRST BALFOUR | LIFECYCLE |
| 108 | FABIANA | FRANCIS DALE | M25-29 | GREENHILLS TRI-TEAM | CYCLINGZ |
| 109 | MORALINA | LORENZ | M25-29 | ROCK N' ROAD BIKE SHOP | CYCLINGZ |
| 110 | RAMOS | JOHN BENEDICT | M25-29 | | |
| 111 | ALMANZA | RYAN | M30-34 | | PNB |
| 112 | ALVAREZ | ADRIAN | M30-34 | | BIKE KING |
| 113 | ANTONIO | MICHAEL | M30-34 | MERALCO | LIFECYCLE |
| 114 | APOLINARIO | SID AARON | M30-34 | ENDURE | BIKE KING |
| 115 | AQUINO | JOSE FRANCISCO | M30-34 | T12 CAMELBAK TRI TEAM | BPI |
| 116 | AQUINO | RONALD | M30-34 | YELLOW CAB TRI-CLARK | LIFECYCLE |
| 117 | ARCANGHEL | LUIS | M30-34 | QUEST 825 | BPI |
| 118 | BALUYUT | ACHILLES | M30-34 | LIFECYCLE | LIFECYCLE |
| 119 | BENTILANON | ALVIN | M30-34 | | BIKE KING |
| 120 | BERNARDO | TOBIAS MIGUEL | M30-34 | ZOOT | |
| 121 | BODEGON | JOEL MICAH | M30-34 | YELLOW CAB | CYCLINGZ |
| 122 | BONALOS | PHILIPPE | M30-34 | GLOBE | BIKE KING |
| 123 | BUENAVENTURA | DAN CARLO | M30-34 | JAC MOTORS | BIKE KING |
| 124 | BUNAG | MARTIN | M30-34 | INVESTORS REALTIONS GLOBAL | BIKE KING |
| 125 | CACO | DENNIS | M30-34 | | BIKE KING |
| 126 | CHIANG | MICHAEL | M30-34 | IRON BIKE | BPI |
| 127 | CUAN | MARTHYN | M30-34 | MERALCO | BPI |
| 128 | DAVID | GENEROSO III | M30-34 | PETRON | BPI |
| 129 | DAVID | KENNETH | M30-34 | SMART COMMUNICATION | BIKE KING |
| 130 | DE GUZMAN | JAYPEE JAMES | M30-34 | TRINITY CYCLESHOP | TRINITY |
| 131 | DECENA | MARCO | M30-34 | | CYCLINGZ |
| 132 | DELA CRUZ | ANTONIO | M30-34 | SPTUSA | CYCLINGZ |
| 134 | EUSTAQUIO | ABNER | M30-34 | JAC MOTORS | BIKE KING |
| 135 | FERRER | WILFREDO JR. | M30-34 | APAC CUSTOMER SERVICES | CYCLINGZ |
| 136 | FORBES | CHRISTIAN PAUL | M30-34 | NESTLE | BIKE KING |
| 137 | GARCIA | CLOYD | M30-34 | | LIFECYCLE |
| 138 | GONZALO | ANGELO JULIUS | M30-34 | XYCOS | BIKE KING |
| 139 | GUTIERREZ | JERALD | M30-34 | ZENDAY/PHILMOFO | BIKE KING |
| 140 | LIM | ALDEAN PHILIP | M30-34 | IPRA, INC. | LIFECYCLE |
| 141 | LOZANO | PAUL | M30-34 | COCA-COLABOTTLERS | BIKE KING |
| 142 | MACAPAGAL | GINO | M30-34 | SMDC | BIKE KING |
| 143 | MALIKSI | VAN | M30-34 | | LIFECYCLE |
| 144 | MARTINEZ | KARL MARK | M30-34 | PETRON | BIKE KING |
| 145 | MERCADO | LARRY | M30-34 | NESTLE | BIKE KING |
| 146 | MIL | ROBERT JASON | M30-34 | | BIKE KING |
| 147 | MONSANTO | ARLO | M30-34 | XYCOS | BIKE KING |
| 148 | MONTEJO | RODEL | M30-34 | TEAM USB | BIKE KING |
| 149 | MUNOZ | ALAN CHRIS | M30-34 | ARTHALAND CORP. | BIKE KING |
| 150 | MUTUC | RONALD | M30-34 | APAC CUSTOMER SERVICES | CYCLINGZ |
| 151 | OCAMPO | CARLOS NAPOLEON | M30-34 | TEAM INTENSITY | BIKE KING |
| 152 | PATRIMONIO | HARRY RACELIS | M30-34 | HP PRINT TRADER INC. | BIKE KING |
| 153 | PORTUGAL | ARIS BERNARD | M30-34 | QUEST 825 | BPI |
| 154 | PUNZALAN | JEXTER | M30-34 | PNP | LIFECYCLE |
| 155 | REFORMINA | KARL | M30-34 | UNIVERSAL ROBINA CORP. | BIKE KING |
| 156 | REYES | KRISTOPHER | M30-34 | | BIKE KING |
| 157 | RICASATA | MARLON RYAN | M30-34 | | BPI |
| 158 | RIEGO | JOMER | M30-34 | SYKES ASIA | LIFECYCLE |
| 159 | SAN AGUSTIN | ENRIQUE LORENZO | M30-34 | XYCOS | BIKE KING |
| 160 | SANTOS | JUAN PAOLO | M30-34 | PMI-TRIMAC | UP |
| 161 | SANTOS | RONALD | M30-34 | JOHN WILKIE | LIFECYCLE |
| 162 | SEBASTIAN | JR | M30-34 | PARKERSHOT | BIKE KING |
| 163 | SEGUNDO | JOHN PAUL | M30-34 | SJP ENT. | LIFECYCLE |
| 164 | SELORIO | JACINTO JR. | M30-34 | PHILAB EAK | BIKE KING |
| 165 | SUBA | WILSON | M30-34 | DEPT. OF JUSTICE | CYCLINGZ |
| 166 | TABARANZA | HANS KRIS | M30-34 | MERALCO | BPI |
| 167 | TAN | JOFER | M30-34 | TEXAS INST. | BPI |
| 168 | TAN | XERXIS | M30-34 | XTRM TRI TEAM | CYCLINGZ |
| 169 | TANGALIN | AVELINO JR. | M30-34 | | BIKE KING |
| 170 | TIPON | MICHAEL | M30-34 | SPTUSA | CYCLINGZ |
| 171 | VALDEZ | JEFF | M30-34 | | |
| 172 | VILLARIN | NORMAN | M30-34 | HEALTHY HABITS | LIFECYCLE |
| 173 | GALANG | ALAN | M30-34 | | BPI |
| 174 | MARUI | YOSHIYUKI | M30-34 | HIDEC PHIL. CORP. | BIKE KING |
| 175 | DEL ROSARIO | JASON | M30-34 | PANGASINAN TRI | BIKE KING |
| 176 | ORQUIZA | RETZEL | M30-34 | XYCOS | |
| 177 | MANGAHIS | NELSON | M30-34 | SPTUSA | BPI |
| 178 | AGUIRRE | ANDREW | M35-39 | T12 CAMELBAK TRI TEAM | BPI |
| 179 | ALCAZAR | JOJIT | M35-39 | TriBE | |
| 180 | AMANSEC | RITCHE | M35-39 | | CYCLINGZ |
| 181 | ASIADO | GERALD | M35-39 | TEAM GOD'S SPEED | TRINITY |
| 182 | BACANI | BOMBOLINI | M35-39 | WEST BIKES | BIKE KING |
| 183 | BALA | ROMMEL | M35-39 | | BIKE KING |
| 184 | BANGSIL | REGGIE | M35-39 | | BIKE KING |
| 185 | BATHAN | ERNESTO JR. | M35-39 | | BIKE KING |
| 186 | BATISTIL | ORLEAN | M35-39 | BEACON-5FINGERS | CYCLINGZ |
| 187 | BERNAL | GILBERT REGINALD | M35-39 | | BIKE KING |
| 188 | BLANDO | JAN ALEXANDER | M35-39 | | PNB |
| 189 | BOYLES | LEO | M35-39 | TriBE | BIKE KING |
| 190 | CAMINA | MICHAEL ARTHUR | M35-39 | | LIFECYCLE |
| 191 | CANLAS | DENNIS | M35-39 | MANSHIP | BIKE KING |
| 192 | CHIONG | SOLOMON | M35-39 | | BIKE KING |
| 193 | CHUA | JEOFFREY | M35-39 | HYPERSPORTS | BIKE KING |
| 194 | CRUZ | JEFFREY JASON | M35-39 | ARMY NAVY SOUTH TRI TEAM | CYCLINGZ |
| 195 | CUEVAS | RAUL | M35-39 | | BIKE KING |
| 196 | CURA | FLORENCIO | M35-39 | F. CURA INDUSTRIES | LIFECYCLE |
| 197 | DALUYAYA | ALVIN | M35-39 | | BIKE KING |
| 198 | DAVA | ARNOLD | M35-39 | FUJITSU PHIL. INC. | BIKE KING |
| 199 | DAVID | ERIC | M35-39 | | LIFECYCLE |
| 200 | DAYATA | RICARTE | M35-39 | | LIFECYCLE |
| 201 | DE GUZMAN | ANGELO | M35-39 | FUJITSU PHIL. INC. | BIKE KING |
| 202 | DE MESA | MARC | M35-39 | PHILAB | BIKE KING |
| 203 | DELA CRUZ | OBIJUAN | M35-39 | | LIFECYCLE |
| 204 | DELA CRUZ | ROLLYN | M35-39 | | BIKE KING |
| 205 | DIZON | MANUEL | M35-39 | COCA-COLA | |
| 206 | DULALIA | JAMES | M35-39 | QUEST 825 | BPI |
| 207 | ELORIAGA | DONALD | M35-39 | SMART COMMUNICATIONS INC. | TRINITY |
| 208 | ENRIQUEZ | MICHAEL GERARD | M35-39 | | BIKE KING |
| 209 | FOJAS | IVAN | M35-39 | TRI-HARD | BIKE KING |
| 210 | GALDONEZ | RAYZON | M35-39 | PMI-TRIMAC | UP |
| 211 | HERNANDEZ | EMMANUEL | M35-39 | T12 CAMELBAK TRI TEAM | BPI |
| 212 | IMPERIAL | ALBERT | M35-39 | XYCOS | BIKE KING |
| 213 | ISIP | JUNROX | M35-39 | FITNESS FIRST PLATINUM RCBC | BIKE KING |
| 214 | KANAPI | RANDY | M35-39 | INTEL | BIKE KING |
| 215 | KEYSER | RITCHIE | M35-39 | | CYCLINGZ |
| 216 | LAO | PAULO | M35-39 | NIVEA PHIL. | LIFECYCLE |
| 217 | LEONOR | JOHN JOSEPH | M35-39 | XAVIER SCHOOL | LIFECYCLE |
| 218 | LUNA | MICHAEL | M35-39 | TAISHO PHARMACEUTICALS (PHILIPPINES) INC. | BIKE KING |
| 219 | MABBORANG | ROMAN | M35-39 | AFP | LIFECYCLE |
| 220 | MANALANG | MARVIN | M35-39 | YELLOW CAB TRI-CLARK | BPI |
| 221 | MERCADO | GINO | M35-39 | | CYCLINGZ |
| 222 | MERCADO | MARTELINO | M35-39 | SPTUSA | CYCLINGZ |
| 223 | NACPIL | JOSEPH MICHAEL | M35-39 | TMM TIMEX | BIKE KING |
| 224 | NEPOMUCENO | RODERICK | M35-39 | SVI | LIFECYCLE |
| 225 | ONG | FILOMENO | M35-39 | | LIFECYCLE |
| 226 | PERCIL | JOSE MARI | M35-39 | PSALM VET. DISTRIBUTION | BIKE KING |
| 227 | QUA | NORMAN | M35-39 | c/o DONDEE CAROLA | CYCLINGZ |
| 228 | REYES | RAPHAEL | M35-39 | EURO-MED LAB. PHIL. | BIKE KING |
| 229 | RICO | RANDY | M35-39 | TASKUS INC. | CYCLINGZ |
| 230 | ROQUE | JUNROX | M35-39 | ABOITIZ POWER | CYCLINGZ |
| 231 | ROQUE | ROMMEL | M35-39 | BAKAL BOYZ TT | LIFECYCLE |
| 232 | SALANDANAN | ROBIN | M35-39 | POLO TRI | BPI |
| 233 | SALAZAR | BHREIN | M35-39 | SMART TRI TEAM | BIKE KING |
| 234 | SAN DIEGO | RODNEY | M35-39 | RUN RIDE RUN | TRINITY |
| 235 | SAN GABRIEL | ENRICO | M35-39 | PHIL. ELECTRIC CO. | LIFECYCLE |
| 236 | SHENG | ELBERT | M35-39 | NESTLE | BIKE KING |
| 237 | SORIANO | JOSEF RYAN | M35-39 | EAGLE MATRIX SECURITY AGENCY | LIFECYCLE |
| 238 | SOSA | EDSEL | M35-39 | | CYCLINGZ |
| 239 | TANGALIN | RICHARD | M35-39 | | BIKE KING |
| 240 | TAYAG | JUMBO | M35-39 | YELLOW CAB TRI-CLARK | BPI |
| 241 | TAYAG | RENE | M35-39 | FEEDWORLD, INC. | BPI |
| 242 | TERRADO | MARK | M35-39 | RUNDEZVOUS INC. | BIKE KING |
| 243 | TORRES | ARTHUR | M35-39 | SPTUSA | CYCLINGZ |
| 244 | TY | ALVIN | M35-39 | CCF | BIKE KING |
| 245 | URBIZTONDO | EDGAR | M35-39 | PA-TRI | BIKE KING |
| 246 | VELUZ | WILFREDO | M35-39 | XTRM TRIATHLON TEAM | BPI/CZ |
| 247 | VIBAR | FRANK | M35-39 | | BIKE KING |
| 248 | YBANEZ | ERNIE | M35-39 | TECHNOALLOY TOOLING | CYCLINGZ |
| 249 | ZAGUIRRE | CHOY | M35-39 | 3M PHIL. | BIKE KING |
| 250 | ZAPATA | RAFFY | M35-39 | TRI-CLARK | BPI |
| 251 | APRECIO | ALVIN PETER | M35-39 | CHILD JESUS OF PUNAGUE SCHOOL | LIFECYCLE |
| 252 | LI | ROMAN JR. | M35-39 | | BIKE KING |
| 253 | BARRETTO | MANUEL | M35-39 | 1489 CABLEWAY RESORT | c/o RICCI BPI |
| 254 | RAMIREZ | DIOSDADO | M35-39 | | BPI |
| 255 | TAYAG | ABE | M35-39 | YELLOW CAB TRI-CLARK | BPI |
| 256 | ALORA | JESSE III | M40-44 | SPTUSA | CYCLINGZ |
| 257 | ANDAL | NOEL | M40-44 | ROHM ELECTRONICS | CYCLINGZ |
| 258 | ARKONCEL | VICTOR MIGUEL | M40-44 | | BPI |
| 259 | BARRIDO | EMERSON | M40-44 | | BIKE KING |
| 260 | BELEN | VIRGILIO JR. | M40-44 | NOTHIN' BT LAUNDRY | BIKE KING |
| 261 | BONDOC | ARNEL | M40-44 | NAMFUDS GRP. | BIKE KING |
| 262 | BUSAYONG | CRIS | M40-44 | COLUMBIA WIRE & CABLE | LIFECYCLE |
| 263 | CARANZA | DENNIS | M40-44 | | BPI |
| 264 | CHAMORRO | MACKY | M40-44 | | CYCLINGZ |
| 265 | CRISOSTOMO | GERALD | M40-44 | SBC DRUGTESTING CENTER | BIKE KING |
| 266 | CRUZ | ALEXANDER | M40-44 | FOLDINGBIKE PIL. | BIKE KING |
| 267 | CRUZ | YUYOO | M40-44 | | LIFECYCLE |
| 268 | DALANGIN | JUANCHO | M40-44 | MERALCO | BPI |
| 269 | DE DIOS | EDSEL | M40-44 | LUBESTRADERS INC. | LIFECYCLE |
| 270 | DE LA PAZ | THOMAS | M40-44 | T12 CAMELBAK TRI TEAM | BPI |
| 271 | DELOS REYES | VALENTINO | M40-44 | | TRINITY |
| 272 | DONASCO | RONALD | M40-44 | NAGASE PHIL. INC. | CYCLINGZ |
| 273 | DY | NOEL | M40-44 | | BIKE KING |
| 274 | ENDAYA | VANJ | F40-44 | SM | c/o RAUL CUEVAS |
| 275 | EUSEBIO | ROMMEL | M40-44 | IBERET TRI | TRINITY |
| 276 | GARCIA | JOSE RICARDO | M40-44 | | BIKE KING |
| 277 | GATCHALIAN | JOEY | M40-44 | TNCC | CYCLINGZ |
| 278 | GAYYA | BOYET | M40-44 | | LIFECYCLE |
| 279 | GOMEZ | ROMARICO | M40-44 | XTRM TRI TEAM | BIKE KING |
| 280 | HARLEY | FRANK | M40-44 | YELLOW CAB TRI-CLARK | BIKE KING |
| 281 | HERVAS | JINGO | M40-44 | TEAM ARMY NAVY SOUTH TRI | CYCLINGZ |
| 282 | ISIP | ALEXANDER | M40-44 | T12 CAMELBAK TRI TEAM | BPI |
| 283 | JIMENEZ | ARNOLD ROY | M40-44 | TriBE | |
| 284 | JOSE | REYNALDO | M40-44 | | BIKE KING |
| 285 | LIM | LINCOLN | M40-44 | SUUNTO | BIKE KING |
| 286 | LIMJOCO | ANDREW | M40-44 | T12 CAMELBAK TRI TEAM | BPI |
| 287 | LOPENA | JOSELITO | M40-44 | | BIKE KING |
| 288 | LU | ANTONIO | M40-44 | | BIKE KING |
| 289 | LUANG | CLARENCE | M40-44 | SAP | BIKE KING |
| 290 | MCMEERIN | LEE | M40-44 | | BIKE KING |
| 291 | MEJILLA | ANTHONY | M40-44 | ROCK N' ROAD BIKE SHOP | CYCLINGZ |
| 292 | MENDOZA | MICHAEL | M40-44 | T12 CAMELBAK TRI TEAM | BPI |
| 293 | MISA | STEPHEN | M40-44 | CISCO | BIKE KING |
| 294 | MONSALUD | JONATHAN | M40-44 | PHIL. ELECTRIC CO. | LIFECYCLE |
| 295 | NACINO | FRANCIS JAY | M40-44 | SECONDWIND-SUN BROADBAND | PNB |
| 296 | NANIONG | FREDERICO JR. | M40-44 | MERALCO | BIKE KING |
| 297 | NGO | ABELL JIM | M40-44 | | BIKE KING |
| 298 | OCAMPO | NAPOLEON JR. | M40-44 | TEAM INTENSTIY | BIKE KING |
| 299 | ONG | NEIL | M40-44 | | BIKE KING |
| 300 | ORDONEZ | REYNALDO | M40-44 | | PNB |
| 301 | PACLA | PATRICK | M40-44 | | BIKE KING |
| 302 | PALMA | JERRY | M40-44 | FLUOR DANIEL INC. | CYCLINGZ |
| 303 | PATALINGHOG | RODELIO | M40-44 | QUEST 825 | BPI |
| 304 | PULIAN | THADEO | M40-44 | | BIKE KING |
| 305 | REYES | IAN | M40-44 | | |
| 306 | ROJAS | MARLO PAUL | M40-44 | | CYCLINGZ |
| 307 | ROMERO | DON | M40-44 | TriBE | |
| 308 | SAAVEDRA | GEOFFREY | M40-44 | TEAM DMCI-HOMES | |
| 309 | SALVADOR | ENRICO | M40-44 | | BIKE KING |
| 310 | SANTIAGO | RICHARD | M40-44 | T12 CAMELBAK TRI TEAM | BPI |
| 311 | SANTOS | RODERICK | M40-44 | | LIFECYCLE |
| 312 | SERVINIO | ANTHONY | M40-44 | TEAM MOA | BIKE KING |
| 313 | SIBAYAN | ANTHONY PATRICK | M40-44 | | TRINITY |
| 314 | STA. INES | ARNELIO | M40-44 | ARROW INTERNATIONAL, INC | BIKE KING |
| 315 | SUGAY | PIO | M40-44 | | BIKE KING |
| 316 | SY | MANUEL | M40-44 | SPTUSA | CYCLINGZ |
| 317 | TAKEI | HIROSHI | M40-44 | | CYCLINGZ |
| 318 | TEMPLO | OLIVER | M40-44 | | |
| 319 | TAN | GEORGE | M40-44 | | BIKE KING |
| 320 | TORRES | ROMERICO | M40-44 | T12 CAMELBAK TRI TEAM | BPI |
| 321 | UMALI | VERNIER | M40-44 | | TRINITY |
| 322 | UY | EFREN | M40-44 | | BIKE KING |
| 323 | VELMONTE | JESUS 'TOTO' | M40-44 | XYCOS | BIKE KING |
| 324 | VILLAREAL | MARVILITO | M40-44 | | CYCLINGZ |
| 325 | CABALDE | GARY | M40-44 | SHELL PHIL. | BIKE KING |
| 326 | PANGILINAN | JOHN RAYMUND | M40-44 | GREENTENIAL TRI TEAM | CYCLINGZ |
| 327 | GUZMAN | ALEKHINE | M40-44 | | BIKE KING |
| 328 | SOBERANO | JUN | M45-49 | KABAHAYAN FOOD | BIKE KING |
| 329 | AGOO | JESSIE | M45-49 | FLUOR DANIEL INC. | CYCLINGZ |
| 330 | AJENA | ERNAN | M45-49 | PMI-TRIMAC | UP |
| 331 | ALMOND | LARRY DOUGLAS JR. | M45-49 | | CYCLINGZ |
| 332 | BANZON | GREGORY FRANCIS | M45-49 | CENTURY CANNING | c/o RAUL CUEVAS |
| 333 | BASILIO | ALEXANDER VINCENT | M45-49 | | LIFECYCLE |
| 334 | CANO | JOEL | M45-49 | SHELL CYCLING CLUB | CYCLINGZ |
| 335 | CAPINPIN | EMMANUEL JR. | M45-49 | PANGASINAN STATE U | PNB |
| 336 | CARAGAY | MICHAEL | M45-49 | XYCOS | |
| 337 | COMPENDIO | JONAS | M45-49 | TEAM LIFE | BIKE KING |
| 338 | CRUCILLO | JOSE ANTONIO | M45-49 | PAGCOR/GRUPPO SIKLISTA DE CASINO | BIKE KING |
| 339 | DOCTOLERO | ROMULO | M45-49 | TMM TIMEX | LIFECYCLE |
| 340 | FALSIS | PETER | M45-49 | PDC/DLSU | PNB |
| 341 | FRANCISCO | DHOM | M45-49 | CHECK ENGINE/INITIAL D | BIKE KING |
| 342 | GABRIANA | RONNIE | M45-49 | | BIKE KING |
| 343 | GUTIERREZ | NESTOR | M45-49 | | BIKE KING |
| 344 | JONSON | RICARDO JR. | M45-49 | PA-TRI | BIKE KING |
| 345 | LEE | ARNOLD | M45-49 | | BIKE KING |
| 346 | LUCERO | MAR JOE REY | M45-49 | NESTLE | BIKE KING |
| 347 | LUY | ENRIQUE JR. | M45-49 | | BIKE KING |
| 348 | MERCADO | ROLANDO | M45-49 | PHILTRUST BANK | BIKE KING |
| 349 | NALUZ | TEODORO | M45-49 | XYCOS | BIKE KING |
| 350 | PEREZ | MANOLO | M45-49 | ANZ BANK | BIKE KING |
| 351 | QUINTANA | GILBERT | M45-49 | | BIKE KING |
| 352 | ROSIN | ENRICO | M45-49 | PNP | LIFECYCLE |
| 353 | SAJORDA | ERIC | M45-49 | IBERET TRI | TRINITY |
| 354 | SANTOWSKI | THOMAS | M45-49 | | BIKE KING |
| 355 | VILLANUEVA | JOHN DARIUS | M45-49 | YELLOW CAB TRI-CLARK | BPI |
| 356 | YANG | STEPHEN | M45-49 | SUUNTO | PNB |
| 357 | YBUD | RAMON EMMANUEL | M45-49 | NESTLE | BIKE KING |
| 358 | TANGLAO | RAYMOND NAPOLEON | M45-49 | TIMT | LIFECYCLE |
| 359 | MANGULABNAN | LUIS | M45-49 | PHIL. WINE MERCHANTS | |
| 360 | SIETEREALES | SALVADOR | M45-49 | JH3-FLAMBOYANT CYCLING CLUB | CYCLINGZ |
| 361 | AYUBO | VAL | M50-UP | | CYCLINGZ |
| 362 | BANAAG | ALBERTO | M50-UP | MICROTEL HOTEL& RESORTS | BIKE KING |
| 363 | BARTILAD | ALBERT | M50-UP | MANSHIP | BIKE KING |
| 364 | CACHOLA | DANTE NATHANIEL | M50-UP | MERALCO | CYCLINGZ |
| 365 | CHING | EDWIN | M50-UP | SUUNTO | BIKE KING |
| 366 | CRUZ | VICTORINO | M50-UP | FLUOR DANIEL INC. | CYCLINGZ |
| 367 | INGCO | AGUEDO | M50-UP | AMI RISK CONSULTANTS | LIFECYCLE |
| 368 | JABANES | JOVENCIO | M45-49 | SECONDWIND-SUN BROADBAND | BPI |
| 369 | LOPEZ | JAIME | M50-UP | SPTUSA | |
| 370 | MAGPAYO | JULIUS | M50-UP | MERALCO | LIFECYCLE |
| 371 | MANTARING | RAFAEL | M50-UP | | BIKE KING |
| 372 | NUGUID | ALEX | M50-UP | | CYCLINGZ |
| 373 | REYES | ALEXIS | M50-UP | COCA-COLA | |
| 374 | ROCKE | CYRIL | M50-UP | DATAONE ASIA | BPI |
| 375 | ENCARNACION | MICHAEL JOHN | M50-UP | GIANT LIFECYCLE | LIFECYCLE |
| 376 | LOPEZ | ANTONIO | M50-UP | HERITAGE PARK | BIKE KING |
| 377 | IFURUNG | ARTHUR | M50-UP | YELLOW CAB TRI-CLARK | BPI |
| 378 | MURIEL | BENEDICT | M40-44 | | BIKE KING |
| 379 | LIGOT | JOSEPH | M40-44 | WESUPPORT | BIKE KING |
| 380 | CHAI | PERKIN | M25-29 | | BIKE KING |
| 381 | VALENCIA | JOHAN | M35-39 | TURTLE PACE | CYCLINGZ |
| 382 | RITO | JOVEN | M30-34 | | BIKE KING |
| 383 | MAGTOTO | ARIEL | M35-39 | AXA PHIL. | BIKE KING |
| 384 | MORALES | BENJAMIN | M35-39 | | BIKE KING |
| 385 | PINGUL | JAYVALHAM | M45-49 | | BIKE KING |
| 386 | CASTRO | JULIUS | M35-39 | BANGKO SENTRAL NG PILIPINAS | TRINITY |
| 387 | MOLO | ALVIN | M35-39 | BANGKO SENTRAL NG PILIPINAS | TRINITY |
| 388 | DE JESUS | MOBY | M25-29 | TOTAL FITNESS | |
| 389 | ARCEGA | JOSE | M30-34 | TOTAL FITNESS | |
| 390 | DINO | CHARLES DOMINIC | M30-34 | TOTAL FITNESS | |
| 391 | LEUTERIO | ALEXANDER | M30-34 | TOTAL FITNESS | |
| 392 | RAMON | FRANC | M30-34 | TOTAL FITNESS | |
| 393 | PINEDA | JEFFREY | M30-34 | TOTAL FITNESS | |
| 394 | TANI | MARIO | M30-34 | TOTAL FITNESS | |
| 395 | ONG | JEVON | M30-34 | GREENHILLS TRI-TEAM | BPI |
| 396 | YAO | SHERWYN | M35-39 | GREENHILLS TRI-TEAM | BPI |
| 397 | DELA PENA | RAMON | M40-44 | GREENHILLS TRI-TEAM | BPI |
| 398 | ROSCA | JAMES | M40-44 | GREENHILLS TRI-TEAM | BPI |
| 399 | GOTIAN | EMERSON | M45-49 | GREENHILLS TRI-TEAM | BPI |
| 400 | JARIN | PETER | M45-49 | GREENHILLS TRI-TEAM | BPI |
| 401 | YAO | WILLY | M50-UP | GREENHILLS TRI-TEAM | BPI |
| 402 | QUINTIA | AARON | M16-19 | | CYCLINGZ |
| 403 | ROSALES | KRISTOFFER DALE | M20-24 | | UP |
| 404 | SALVADOR | MARK ANTHONY | M20-24 | | CYCLINGZ |
| 405 | RODRIGUEZ | CRISTOPHER | M25-29 | | |
| 406 | PEDREGOSA | CARLO JOSE | M25-29 | | |
| 407 | SANTIAGO | ELMER RODRIGO | M30-34 | | LIFECYCLE |
| 408 | LEONOR | MARTIN CHRISTIAN | M30-34 | | |
| 409 | SILVA | RUBEN JR. | M30-34 | SMART-SMS | BIKE KING |
| 410 | GARCIA | MANUEL LUIS | M30-34 | 1ISA INC. | LIFECYCLE |
| 411 | MENDOZA | JEFFREY | M30-34 | | CYCLINGZ |
| 412 | QUINTIA | VIRGILIO JR. | M30-34 | | CYCLINGZ |
| 413 | CASTRO | CARLO | M30-34 | | CYCLINGZ |
| 414 | CAPATI | JERNARD | M30-34 | YELLOW CAB TRI-CLARK | BPI |
| 415 | SANTOS | ALFREDO JR. | M35-39 | | LIFECYCLE |
| 416 | BUERE | ARNE | M35-39 | | c/o CRIS |
| 417 | BUHAY | FRANCIS | M35-39 | 1ISA INC. | LIFECYCLE |
| 418 | CHUA | CHARLIE | M40-44 | PLDT-BIKE KING | LIFECYCLE |
| 419 | MENDIOLA | FREDERICK | M40-44 | SLMC-BGC | BIKE KING |
| 420 | ALINEA | ANTONIO | M40-44 | ANALOG DEVICES | CYCLINGZ |
| 421 | CUERPO | ANTHONY | M40-44 | TEAM LE FRANZE-JOHN WILKIE | c/o CUERPO |
| 422 | QUARESMA | RONAN | M40-44 | PUA | LIFECYCLE |
| 423 | YPON | RANDY | M40-44 | BIKE KING | BIKE KING |
| 424 | AVERION | ANGELITO | M40-44 | | CYCLINGZ |
| 425 | AQUINO | NORBERTO III | M40-44 | | CYCLINGZ |
| 426 | VIRATA | JOSE ARTURO | M40-44 | | CYCLINGZ |
| 427 | PORTO | JEROME ANJELO | M40-44 | | CYCLINGZ |
| 428 | VILLAMAYOR | NELSON | M45-49 | | |
| 429 | ROQUE | ARISTOTLE | M45-49 | PUA | LIFECYCLE |
| 430 | GAVINO | MERCADO JR. | M45-49 | PUA | LIFECYCLE |
| 431 | SANTOS | ALFREDO | M50-UP | | LIFECYCLE |
| 432 | TORRES | ERNESTO JR. | M50-UP | MARIKINA CYCLING CLUB | UP |
| 433 | TAN | FRANCISCO JR. | M50-UP | TEAM LE FRANZE | c/o CUERPO |
| 434 | DONATO | RAWLIN | M50-UP | YELLOW CAB TRI-CLARK | BPI |
| 435 | ROSALES | EFREN | M50-UP | | UP |
| 436 | BALDONADO | DANILO | M50-UP | | CYCLINGZ |
| 437 | ALBARRACIN | MARY MAUREEN | F30-39 | | CYCLINGZ |
| 438 | DATINGUINOO | AMOR | F40-UP | | BIKE KING |
| 439 | PAGUYAO-TORRES | CHRISTINE INA | F30-39 | | |
| 440 | MENDOZA | ANINA | F20-29 | TRIMAC | |
| 441 | HIZON | RICHELLE | F30-39 | TRIMAC | |
| 442 | MENDOZA | IVY | F40-UP | TRIMAC | |
| 443 | MENDOZA | LORY | F40-UP | TRIMAC | |
| 444 | HONRADE | GLADYS | F40-UP | TRIMAC | |
| 445 | MERCADO | JENNYLYN | F20-29 | TRIMAC | |
| 446 | MACALINTAL | JOJO | M40-44 | TRIMAC | |
| 447 | HIZON | JOSEPH | M25-29 | TRIMAC | |
| 448 | CARITATIVO | MIKE | M35-39 | TRIMAC | |
| 449 | ESTEBAN | CLIFF | M25-29 | TRIMAC | |
| 450 | GATLABAYAN | RG | M25-29 | TRIMAC | |
| 451 | PERALTA | KEITH | M35-39 | TRIMAC | |
| 452 | TY | NICKY | M35-39 | TRIMAC | |
| 453 | PILE | FRANCIS | M35-39 | TRIMAC | |
| 454 | EMBUSCADO | ALLEN JUDE | M35-39 | TRIMAC | |
| 455 | CARINO | ARRISHTOTLE | M35-39 | TRIMAC | |
| 456 | RIVERA | PJ | M40-44 | TRIMAC | |
| 457 | CAMPONG | NORMAN | M40-44 | TRIMAC | |
| 458 | SIN | JULIAN CHRISTIAN | M40-44 | TRIMAC | |
| 459 | HIZON | JAIME | M40-44 | TRIMAC | |
| 460 | DATILES | VINCE | M40-44 | TRIMAC | |
| 461 | CAPUCHINO | RUDOLF | M45-49 | TRIMAC | |
| 462 | PILE | GEORGE | M45-49 | TRIMAC | |
| 463 | PEREZ | MARIO ALBERT | M45-49 | TRIMAC | |
| 464 | ENGRACIA | JUN | M50-UP | TRIMAC | |
| 465 | TEAM DMCI-HOMES | | | | |
| 466 | TEAM DMCI-HOMES | | | | |
| 467 | TEAM DMCI-HOMES | | | | |
| 468 | TEAM DMCI-HOMES | | | | |
Comments
comments