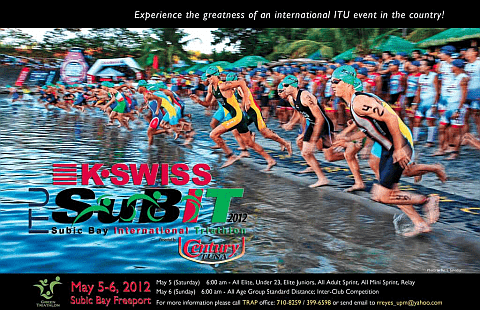 Over forty Elite male and female triathletes from Australia, China, Ireland, Jordan, Japan, Zimbabwe, Mexico, Chinese Taipei, Macau, New Zealand and Morocco will be competing for London Olympics qualifying points with the holding of the 19th edition of the K-SWISS ITU Subic Bay International Triathlon (SUBIT) presented by Century Tuna on May 5 and 6 at the Subic Bay Freeport.
Not to be outdone are local triathletes who will be facing off entries from Malaysia, Thailand and China. On the Mini-Sprint 13-15 category, several competitors will be vying for possible entry into the 2014 Youth Olympic Games triathlon event in Nanjing, China such as multi-titled triathlete Magali Echauz, Batang Pinoy 2011 champion Jessica Salazar (Laguna), V. Deldeo (Olongapo), Sixto Lalanto (Cagayan de Oro),  Jimuel Patilan (Cagayan de Oro) and Justin Chiongbian (Cebu).
On the Junior Sprint 16-19 category in the event sponsored by K-SWISS, Century Tuna, Subic Bay Metropolitan Authority (SBMA), SPEEDO, Ayala Malls, SM Olongapo, David's Salon, Asian Centre for Insulation Philippines, Gatorade, Fitness First, Philippine Sports Commission (PSC) and Standard Insurance, Cebu's Rochelle Tan and Davao's Mary Pauline Fornea will slug it out for the female title while the male title will be disputed between Allen Santiago, Marc Altura, Javier Ocampo and Kurt Cabanilla. With a strong Elite field at hand, Nikko Huelgas will lead the PHL team including teammates Jonard Saim, John Chicano and Kim Mangrobang. Saim, Chicano and Mangrobang are currently attending a high-performance training camp in Brisbane, Australia under coach Dan Atkins.
"Triathlon Association of the Philippines (TRAP) takes pride in the fact that the Subic International Triathlon is now on its 19th year and all the efforts we have put in promoting and developing triathlon in the country are bearing fruit. We are thankful too for the fact that presently , there  are now  other triathlon organizers whose events complement our own TRAP-initiated program, auguring well for the future of the sport," said TRAP President Tom Carrasco.
"As early as now, we would like to announce that TRAP is once again bringing world-class triathlon to the Philippines as we will host anew the 2013 Asian Triathlon Championship in Subic Bay. We have done this several times in the past and this has showcased Subic as a perfect sports haven to a lot of foreigners who have competed here, including several world triathlon champions. What is good too is that now we have another international triathlon being hosted by Subic Bay," Carrasco added.
Interested parties are welcome to contact the TRAP via email ([email protected], [email protected]), landline 710-8259, mobile phone (0916-5046513, 0921-9954764, 0915-6394233) or by visiting Triathlon.org.ph today.
Comments
comments