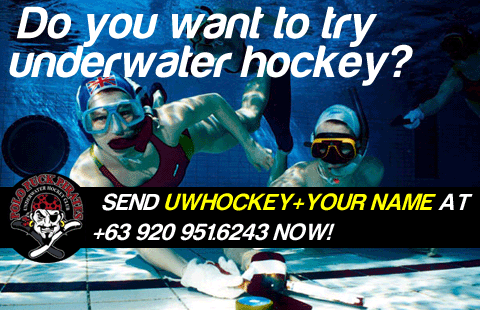 Anyone up for some awesome Underwater Hockey action? Here's your chance to try this extreme sport! My underwater hockey club, Polo Puck Pirates, is organizing an
Intro to Underwater Hockey

session this September 10, 2012, 7:30pm, at the Manila Polo Club!

To those wondering, yep, we're the group playing at the Army Pool every Tuesdays, Thursdays, and Saturdays. :)
If you're on the lookout a new sport, look no further! I've been playing this sport since 2003 and I'm still hooked!
If you think triathlon is extreme, wait till you try Underwater Hockey ;)
Here's a sample! A video plug that we made for the Asian Underwater Hockey Championships.
Asian Underwater Hockey Competition Plug from Fiona Borres on Vimeo.
So what's the intro all about??
Beginners are introduced to underwater hockey in a friendly and helpful environment. An actual game will follow after a very short lecture (coz we know you want to get straight to the action!).
I'm interested! So what's next?

Just your swimsuit and Php 250 for the pool fee and we provide the rest.
We can only accommodate a limited number of participants for this event.
So if you're interested, reserve a slot NOW by simply texting  UWHOCKEY<space>YOUR NAME and send it to +63 920 951 6243.
*** What you need to bring! (because of strict pool regulations):
1. PhP250 (for the pool fee)
2. Female: 1-piece swimsuit| Male: trunks or cycling shorts.
Swimcaps might be helpful if your hair is long but it's optional. (Time to strut that I.M. 70.3 swim cap!)

*** What we will provide
1. For each individual: mask, snorkel, full-foot fins, safety gloves, underwater hockey stick
2. Short lecture about the game and actual game session!
*** F.A.Q.! (Frequently Asked Questions)
I suck at swimming! Do I need to know how to swim to be able to play underwater hockey?
No. If you have at least seen or been in a swimming pool before, you're good!
Is Underwater Hockey a team sport?
Yep! Two opposing teams with 6 players per team.
I have my own mask and snorkel, can I use them?
Absolutely!
I also have my own pair of fins, can I use it?
It depends. Underwater hockey requires full-foot fins. Open-heeled fins is not allowed for a number of reasons foremost of all is for safety.
Is there an age pre-requisite?
Yes. Participant must be at least 18 years old. (If you don't meet the age requirement, we have other events which caters to younger participants)
How do I go to Manila Polo Club?
Here's the map!
*** What Where When How
Intro to Underwater Hockey
Manila Polo Club Pool, Makati (see map)
10 September, 2012, Monday 7:30pm
To Join : Text UWHOCKEY<space>YOUR NAME to +63 920 951 6243
Comments
comments