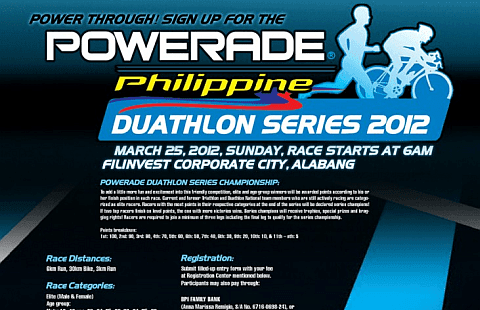 Lock and load! The best duathlon series of the country is back! All roads lead to Sta. Elena City, Sta. Rosa Laguna on August 19, 2012 for the 3rd leg of the Powerade Philippine Duathlon Series!
SWIMBIKERUN.ph is a proud media partner of the Powerade Philippine Duathlon Series 2012

Here's a message from Popo Remigio, organizer of the Powerade Philippine Duathlon Series 2012! Yep! She's back from the accident and like what her husband Thumbie said, "lalo pang gumanda" :)
hi everyone!

hoping this message finds you and your loved ones well and safe!

reminding you that deadline is until tomorrow, Aug 10! tentative start list, as of Aug 2, at the end of this message, as well as in the attachment in excel format. i apologize for the corrections, as this is not the original list, and will still be updating the said list once we have collected all reg forms. so, again, don't worry if you cannot find your name in the list.

course map in the attachment, as well. if you have trouble opening the file, you may access it through thumbie remigio's facebook account.

race nos. are available at your respective registration sites, but please do call up beforehand just to make sure and also so they can have it ready for you. telephone nos. are listed below.  for those who registered via fax/email and paid via bank deposit, you may also opt to have your race number sent to any of the bike shops or delivered to you via bike messengers from Pedala. they service QC, marikina, san juan, pasig, mandaluyong, makati, the fort, manila & pasay; P100/one-way delivery; mon-fri only, excluding holidays. race nos. may also be claimed on race day itself.timing chips will be distributed a week before the event at bike king; event shirts on race day.

happy and productive training everyone! keep safe!
POWERADE PHILIPPINE DUATHLON SERIES 2012 LEG 3
RACE INFORMATION
Date, Day & Time of Event:
August 19, 2012, Sunday, 6am
Event Venue: Sta. Elena City, Sta. Rosa Laguna
Race Distances: 7km Run, 35km Bike, 3.5km Run
Race Categories:
Elite (Male & Female)
Age group:
– Male: 16~19 yrs, 20~24, 25~29, 30~34, 35~39, 40~44, 45~49, 50 & above
– Female: 16~19 yrs, 20~29, 30~39, 40 & above
Awards and Prizes:
Medals, prizes and cash will be awarded to Overall Top Three in Male and Female Categories.
Medals and prizes will be awarded to TOP THREE in each age group.
Powerade Duathlon Series Championship:
To add a little more fun and excitement into this friendly competition, elite and age-group winners will be awarded points according to his or her finish position in each race. Current and former Triathlon and Duathlon National team members who are still actively racing are categorized as elite racers. Racers with the most points in their respective categories at the end of the series will be declared series champions!  If two top racers finish on level points, the one with more victories wins. Series champions will receive trophies, special prizes and bragging rights! Racers are required to join a minimum of three legs including the final leg to qualify for the series championship.
Points breakdown:
| | | |
| --- | --- | --- |
| 1st: 100 | 5th: 60 | 9th: 20 |
| 2nd: 90 | 6th: 50 | 10th: 10 |
| 3rd: 80 | 7th: 40 | 11th – nth: 5 |
| 4th: 70 | 8th: 30 | |
Registration: Submit filled-up entry form with your fee at Registration Center mentioned below.
Participants may also pay through:
– BPI (Anna Marissa Remigio, S/A No. 0429-3165-61), or
– PNB (Anna Marissa
Nagtalon, S/A No. 1002-8030-0012).

Then, Email or Fax entry form and deposit  slip (clear &/or enlarged copy) with name to Fax #: 932-9071

Keep receipt/bank deposit slip & submit during Registration.
Registration Centers:
Bike King at Bonifacio High Street , Tel. #: +632 -856-3362
Cycling Zone: Shell Pacific Gas Station, Alabang-Zapote Road, Muntinlupa
Tel.: 02-809-6736
Life Cycle Bicycle Shop: G-Strip, Greenhills Shopping Center, San Juan. (c/o Rob)
Tel: 02-5842862, 584-2442, 661-3424
Trinity Cycle Shop: 41 Commonwealth ave. QC (beside Hyundai and Nissan )
Tel.: 02-4426591
Velocipede Bike Shop: Unit B, Royale Place Arcade (Beside Ever Gotesco Commonwealth)
Tel: 02-3518488
Registration Fees/Schedule: (Inclusive of race packet, sponsor's products, inengs barbecue meal, finisher's medal, singlet, Timing Chip)
P1,000 (June 20- July 20)
P1, 500 (July 21- August 10)
Deadline of Registration: August 10, 2012
For Inquiries please contact:
Thumbie Remigio

Mobile phone: +632-917-8486243

Website: www.adrenalinemultisport.com

Popo Nagtalon Remigio

Mobile phone: +632-908-9086621
COURSE MAP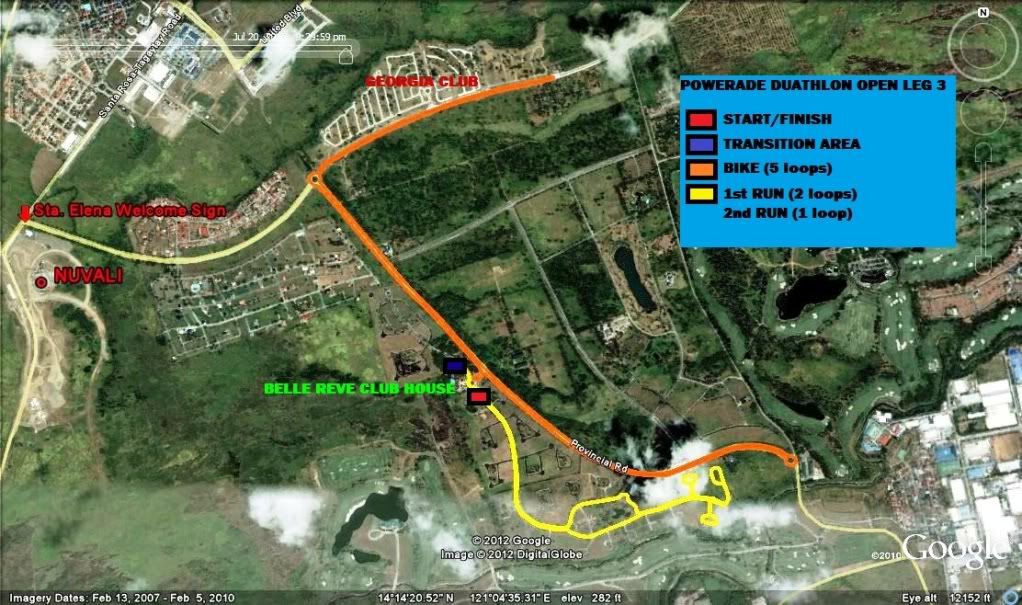 | | | | | | |
| --- | --- | --- | --- | --- | --- |
| RACE NO. | Surname | First Name | Category | Team | Reg'n |
| 491 | ABAD | MIRASOL | F ELITE | | |
| 503 | AGUINALDO | TRISTAN NICOLAS | M25-29 | BOEHRINGER INGELHEIM | TRINITY |
| 522 | AGUSTIN | ROLIE | M30-34 | | BIKE KING |
| 557 | ALEJANDRO | GINA | F30-39 | SUNPOWER | BIKE KING |
| 558 | ANTONIO | GLENN | M30-34 | SOLOMON | BIKE KING |
| 559 | ASONG | DODONG SR. | M50-UP | | BIKE KING |
| 575 | AYO | ALEXANDER | M40-44 | | TRINITY |
| 649 | BALUYOT | ACHILLES | M40-44 | LIFECYCLE | LIFECYCLE |
| 685 | BANUELOS | KEVIN JOSHUA | M16-19 | UP DILIMAN | TRINITY |
| 711 | BARTILAD | ALBERT | M50-UP | MANSHIP | BIKE KING |
| 829 | BAUTISTA | CARLO MARCO | M30-34 | | LIFECYCLE |
| 831 | BOLJORAN | REGIE | M25-29 | | BIKE KING |
| 868 | BONALOS | PHILIPPE | M30-34 | | BIKE KING |
| 900 | BREEN | AILEEN | F30-39 | | BIKE KING |
| 912 | CACO | DENNIS | M30-34 | | BIKE KING |
| 947 | CALUNSOD | RICHARD MARTIN | M30-34 | FITNESS FIRST | BIKE KING |
| 948 | CANLAS | DENNIS | M35-39 | MANSHIP | BIKE KING |
| 950 | CARAGAY | MICHAEL | M45-49 | XYCOS | |
| 966 | CASTILLO | CHRISSENT KENNY | M25-29 | | BIKE KING |
| 967 | CASTRO | ARNEL | M45-49 | BLSS POWERTRI | PNB |
| 968 | CHIANG | MICHAEL | M30-34 | IRONBIKE | BPI |
| 969 | CHING | JANET | F40-UP | TEAM OPTIMUM NUTRITION | BIKE KING |
| 970 | CORTEY | ERNIE | M45-49 | MERALCO SMART LIGHTSPEED | BIKE KING |
| 971 | DAVIS | CHAD | M40-44 | FITNESS FIRST | BIKE KING |
| 972 | DAVIS | NATASHA | F40-UP | FITNESS FIRST | BIKE KING |
| 973 | DE CASTRO | VICENTE | M40-44 | PETRON | BIKE KING |
| 974 | DE CASTRO | CHRISTIAN | M35-39 | | BIKE KING |
| 975 | DE JESUS | WALTER | M35-39 | RUNTOM | BIKE KING |
| 976 | DE JESUS | JOSE JR. | M25-29 | TRIBE | BIKE KING |
| 977 | DY | NOEL | M40-44 | MANSHIP | BIKE KING |
| 978 | ESTEVES | ROBINSON | M ELITE | | |
| 979 | FAMADOR | PAUL | M35-39 | PETRON | BIKE KING |
| 980 | IFURUNG | ARTHUR | M50-UP | YELLOW CAB TRI-CLARK | BPI |
| 981 | ISIP | JUN | M35-39 | FITNESS FIRST RCBC | BIKE KING |
| 982 | JAVIER | ROBENO | M ELITE | | |
| 983 | LOSTE | BAYANI | M40-44 | | BIKE KING |
| 984 | MARTIN | CARLO | M30-34 | SAKURA MULTISPORT | BIKE KING |
| 985 | MARTINEZ | KARL MARK | M30-34 | PETRON | BIKE KING |
| 986 | MEJILLA | ANTHONY | M40-44 | ROCK N' ROAD | BIKE KING |
| 987 | MONTEVIRGEN | SHERWIN | M35-39 | | BIKE KING |
| 988 | MORALES | MONINA | F40-UP | FITNESS FIRST RCBC | BIKE KING |
| 989 | NANIONG | FREDERICO JR. | M40-44 | MERALCO SMART LIGHTSPEED | LIFECYCLE |
| 990 | ODIAMAR | KARL | M25-29 | | BIKE KING |
| 991 | PAMENTER | STELLA GRACE | F30-39 | STELLA'S CAFÉ | BIKE KING |
| 992 | PATNUBAY | JAMES | M50-UP | MANSHIP | BIKE KING |
| 993 | PEDREGOSA | CARLO JOSE | M ELITE | | |
| 994 | PELLE | SIEG | M25-29 | | BIKE KING |
| 995 | POLINTAN | GIL | M40-44 | | LIFECYCLE |
| 996 | QUEROL | VINZENT | M35-39 | | BIKE KING |
| 997 | QUINTANA | GILBERT | M45-49 | | BIKE KING |
| 998 | REYES | KENNETH REY | M20-24 | ROCK N' ROAD | BIKE KING |
| 999 | RICAFORT | ALVIN | M30-34 | | TRINITY |
| 1000 | HERVAS | JINGO | M40-44 | ARMY NAVY SOUTH TRI | LIFECYCLE |
| 1001 | RICASATA | MARLON RYAN | M30-34 | | BPI |
| 1002 | RIVERA | ALEXANDER | M40-44 | | TRINITY |
| 1003 | SALVAN | JOSE ESTEBAN | M40-44 | | BIKE KING |
| 1004 | SANTIAGO | ALLEN | M ELITE | | |
| 1005 | SANTIAGO | GLADYS | F30-39 | | BIKE KING |
| 1006 | SANTOS | RICKY | M40-44 | SOLOMON | LIFECYCLE |
| 1007 | SANTOS | RODRIGO | M40-44 | | LIFECYCLE |
| 1008 | SIBAL | JOSEPH | M25-29 | | TRINITY |
| 1009 | TAMBO | PAOLO | M25-29 | TEAM BORING | BPI |
| 1010 | TIMAN | JULLA | F20-29 | U.P. LOS BANOS | BIKE KING |
| 1011 | TING | MANRICK | M30-34 | | BPI |
| 1012 | VALDEZ | JEFFREY | M ELITE | YELLOW CAB TRI-CLARK | |
| 1013 | VALDEZ | ROWENA | F ELITE | YELLOW CAB TRI-CLARK | |
| 1058 | SIBAYAN | GIANMARCO ANTON | M16-19 | UST | TRINITY |
| 1038 | LUBON | ARGIE | M20-24 | | BIKEKING |
| 1045 | ISIDRO | JOHN ERWIN | M20-24 | UST GLOBAL | BIKEKING |
| 1022 | ANGELES | ROMEO | M25-29 | | |
| 1037 | GO | JEREMY | M25-29 | SECONDWIND-SUN BROADBAND | BIKEKING |
| 1041 | RESUELLO | KELMER | M25-29 | BASF CHEMICAL COMPANY | BIKEKING |
| 1044 | MANALO | MIGUEL MARCO | M25-29 | SEAOIL PHILIPPINES | BIKEKING |
| 1051 | NANQUIL | EDWARD JOSEPH | M25-29 | URC | BIKEKING |
| 1030 | INOFERIO | MARLOWE | M30-34 | | |
| 1031 | MIL | ROBERT JASON JR. | M30-34 | | |
| 1034 | VITAL | JOHN BRYAN | M30-34 | MALATE CONSTRUCTION AND DEVELOPMENT CORP | |
| 1036 | NARTATES | DAN | M30-34 | SECONDWIND-SUN BROADBAND | BIKEKING |
| 1042 | BANZON | MARK BRYAN | M30-34 | | BIKEKING |
| 1053 | NANO | EDWIN | M30-34 | BIKE HOUSE | BIKEKING |
| 1060 | DUCUSIN | KRISTOFFERSON | M30-34 | MARIKINA SHOE EXCHANGE | TRINITY |
| 1061 | VICTORINO | EDILBERTO | M30-34 | EXCELLENCE | TRINITY |
| 1014 | BERON | JULIUS | M35-39 | BMB MULTISPORT TEAM | |
| 1015 | DELA PEÑA | JOEL | M35-39 | BMB MULTISPORT TEAM | |
| 1016 | BALDOVINO | ALMOND RAY | M35-39 | BMB MULTISPORT TEAM | |
| 1020 | URBIZTONDO | EDGAR | M35-39 | PA-TRI | |
| 1025 | DE VILLA | AUGUSTUS | M35-39 | BMB MULTISPORT TEAM | |
| 1026 | CORONADO | CHRISTOPHER | M35-39 | BMB MULTISPORT TEAM | |
| 1027 | ALMERO | CHRISTOPHER NOEL | M35-39 | BMB MULTISPORT TEAM | |
| 1032 | DELA ROSA | ROSAURO JR. | M35-39 | | |
| 1033 | VIBAR | FRANK | M35-39 | | |
| 1035 | OLAZO | CHRISTOPHER | M35-39 | | BIKEKING |
| 1040 | MERCADO | GINO | M35-39 | COCA COLA | BIKEKING |
| 1047 | ISLA | ERWIN EMETERIO | M35-39 | | BIKEKING |
| 1048 | SANVICTORES | NELSON | M35-39 | JRU | BIKEKING |
| 1049 | SANVICTORES | REY | M35-39 | | BIKEKING |
| 1054 | CASTRO | PRECIOSO | M35-39 | | TRINITY |
| 1055 | AGSALUD | ARMIN | M35-39 | | TRINITY |
| 1057 | MOLO | ALVIN | M35-39 | | TRINITY |
| 1019 | POBRE | ALEXANDER | M40-44 | PA-TRI | |
| 1021 | ALINEA | ANTONIO | M40-44 | ANALOG DEVICES | |
| 1028 | MANTILLA | ARVIN | M40-44 | TDK PHILS. CORP | |
| 1029 | PABELICO | JOEL | M40-44 | | |
| 1039 | VILLAREAL | MARVILITO | M40-44 | | |
| 1043 | LOPENA | JOSELITO | M40-44 | | BIKEKING |
| 1046 | BORDEOS | NICK | M40-44 | TIKLOP SOCIETY OF THE PHIL, | BIKEKING |
| 1050 | DE ASIS | JOHN | M40-44 | ANSON EMPORIUM CORP. | BIKEKING |
| 1059 | SIBAYAN | ANTHONY PATRICK | M40-44 | SIBAYAN AND ASSOCIATES | TRINITY |
| 1017 | VILLAMAYOR | NELSON | M45-49 | CITY ASSESORS OFFICE | |
| 1018 | JONSON | RICARDO JR. | M45-49 | PA-TRI | |
| 1023 | NALUZ | TEODORO | M45-49 | XYCOS TEAM | |
| 1024 | BARIA | RENATO | M45-49 | | |
| 1052 | REYES | ALEXIS | M45-49 | COCA COLA | BIKEKING |
| 1056 | DIMERO | EDGAR | M45-49 | | TRINITY |
| 1062 | PINGUL | JAYVEE | M45-49 | TRIVAL | TRINITY |
| 1063 | BARRETTO | DIANA | F20-39 | | BPI |
| 1064 | CALNEA | DIVINA GRACIA | F30-39 | | BIKEKING |
| 1065 | CHING | CAROLYN | F30-39 | | BIKEKING |
| 1066 | UY | ARLYNE | F30-39 | | BIKEKING |
| 1067 | NAVAL | ARACELI | F30-39 | CARMONA KNIGHT BIKERS | CZ |
| 1068 | DAGOY | DIVINE GRACE | F30-39 | | BPI |
| 1069 | ANG | HELLEN | F40-UP | 7-11 MULTISPORT | BIKEKING |
| 1070 | GAN | JENNIFER | F40-UP | | BIKEKING |
| 1071 | HITALIA | CELMA | F40-UP | XTRM TRIATHLON TEAM | BPI |
| 1072 | DIZON | CARLISLE | F30-39 | | CZ |
| 1073 | SANTIAGO | MERVIN RENCEL | M16-19 | JAC MOTORS | BIKEKING |
| 1074 | DIONEDA | GLENN | M20-24 | | BIKEKING |
| 1075 | HERNANDO | MACHAEL | M20-24 | TRI-NORTH | BIKEKING |
| 1076 | SANTOS | CARLO MIGUEL | M20-24 | | LIFECYCLE |
| 1077 | SALCEDO | RYAN | M25-29 | GOLDS GYM | BIKEKING |
| 1078 | ARUTA | JOSEPH RICARDO | M25-29 | UNILAB | LIFECYCLE |
| 1079 | BORNALES | EMILIO | M30-34 | | BIKEKING |
| 1080 | CARTAÑO | GERAL | M30-34 | | BIKEKING |
| 1081 | CHUSENFU | IGNATIUS | M30-34 | | BIKEKING |
| 1082 | GABA | JOHN PAUL | M30-34 | ACCRALAW OFFICES | BIKEKING |
| 1083 | ISLA | TIMOTHY JOSEPH | M30-34 | PLDT-BIKEKING | BIKEKING |
| 1084 | MANALO | JHOEL | M30-34 | PHILMOTO MULTISPORT | BIKEKING |
| 1085 | ROLDAN | JOHN CARL | M30-34 | JAC MOTORS | BIKEKING |
| 1086 | TOMPAR | TONI | F30-39 | | BIKEKING |
| 1087 | DEL ROSARIO | JASON | M30-34 | PANGASINA TRI/ LRI THERAPHARMA | LIFECYCLE |
| 1088 | GARCIA | MANUEL | M30-34 | LISA | LIFECYCLE |
| 1089 | GARCIA | CLOYD | M30-34 | | LIFECYCLE |
| 1090 | ANDAG | DANIELITO | M35-39 | ACCENTURE | BIKEKING |
| 1091 | ANTONIO | GLENN | M35-39 | TEAM KWEK KWEK | BIKEKING |
| 1092 | ENRIQUEZ | LEROY LEE | M35-39 | THE BRICK | BIKEKING |
| 1093 | FERNANDEZ | ROMMEL | M35-39 | 7-11 MULTISPORT | BIKEKING |
| 1094 | STA. MARIA | NELSON | M35-39 | | BIKEKING |
| 1095 | TY | ALVIN | M35-39 | | BIKEKING |
| 1096 | SANTOS | AL | M35-39 | | LIFECYCLE |
| 1097 | CURA | FLORENCIO | M35-39 | F. CURA INDUSTRIES | LIFECYCLE |
| 1098 | LAO | PAULO | M35-39 | | LIFECYCLE |
| 1099 | TERRADO | MARK ANTHONY | M35-39 | | PNB |
| 1100 | RAMIREZ | DIOSDAO | M35-39 | TRANTADOS | PNB |
| 1101 | ADVIENTO | GLENN | M40-44 | RAPIDE | BIKEKING |
| 1102 | DE VERA | KNATZ | M40-44 | TOSHIBA | BIKEKING |
| 1103 | DELA CRUZ | ROLLYN | M40-44 | STELLENT MEDIA | BIKEKING |
| 1104 | GARCIA | JOSE RICARDO | M40-44 | | BIKEKING |
| 1105 | ROMANILLOS | REGINER | M40-44 | TEAM TADYAK | BIKEKING |
| 1106 | SIY-YAP | SEFUEL | M40-44 | | BIKEKING |
| 1107 | ZOTOMAYOR | RITZ | M40-44 | PAGCOR | BIKEKING |
| 1108 | SALVADOR | ENRICO | M40-44 | | LIFECYCLE |
| 1109 | QUION | ROMMEL | M40-44 | ROCK N ROAD | LIFECYCLE |
| 1110 | OPIANA | MEINARD | M40-44 | ROCK N ROAD | LIFECYCLE |
| 1111 | DE DIOS | EDSEL | M40-44 | GREENHILLS TRI | LIFECYCLE |
| 1112 | SANTOS | RODERICK | M40-44 | ROYAL PACIFIC RIM | LIFECYCLE |
| 1113 | ATIENZA | NARCISO JR. | M40-44 | CARDINAL SANTOS MEDICAL CENTER | LIFECYCLE |
| 1114 | ARENAS | JOHN | M45-49 | JAC MOTORS | BIKEKING |
| 1115 | GAN | JOSEPH | M45-49 | | BIKEKING |
| 1116 | LEE | ARNOLD | M45-49 | | BIKEKING |
| 1117 | LUY | ENRIQUE JR. | M45-49 | | BIKEKING |
| 1118 | PEARCE | BARRY | M45-49 | SALFORD HARRIES | BIKEKING |
| 1119 | SUMICAD | SIEGFRED | M45-49 | EMERSON NETWORK POWER | BIKEKING |
| 1120 | YANG | STEPHEN | M45-49 | | LIFECYCLE |
| 1121 | GUTIERREZ | NESTOR | M45-49 | | LIFECYCLE |
| 1122 | TAGATA | RODOLFO | M45-49 | | LIFECYCLE |
| 1123 | MANGULABNAN | LUIS | M45-49 | FITNESS FIRST TRIATHLON TEAM | |
| 1124 | BOLINA | ARNELITO | M50-UP | JAC MOTORS | BIKEKING |
| 1125 | SANTOS | ALFREDO | M50-UP | GREENHILLS TRI | LIFECYCLE |
| 1126 | SUPANGCO | ELIZABETH | F30-39 | EAST WEST SEED CO. | BIKEKING |
| 1127 | AMISTOSO | MICHAEL RAYMOND | M25-29 | ARMY NAVY SOUTH TRI TEAM | |
| 1128 | SANTOS | TIMMY | M25-29 | 100 PLUS | |
| 1129 | GATBONTON | JOHN KERNAN | M30-34 | GMA NETWORK INC. | LIFECYCLE |
| 1130 | CELESTINO | ANTONIO | M30-34 | | LIFECYCLE |
| 1131 | DE LEON | CARLO | M30-34 | | TRINITY |
| 1132 | AQUINO | LENARD | M30-34 | | TRINITY |
| 1133 | MANALANG | MARVIN | M35-39 | YELLOW CAB TRI-CLARK | BPI |
| 1134 | DELA PAZ | MICHAEL | M35-39 | EAST WEST SEED CO. | BIKEKING |
| 1135 | CRUZ | YUYOO | M40-44 | | LIFECYCLE |
| 1136 | BONDOC | ARNEL | M40-44 | YELLOW CAB TRI-CLARK | BIKEKING |
| 1137 | QUETUA | VLADIMER | M40-44 | | BIKEKING |
| 1138 | KEITA | HASEKAWA | M40-44 | | BIKEKING |
| 1139 | MOLATO | GEORGE | M40-44 | BEAT THE PAIN TEAM | BIKEKING |
| 1206 | CRUZ | ALEXANDER | M40-44 | BEAT THE PAIN TEAM | BIKEKING |
| 1207 | MALLARI | DOODSIE | F40-UP | TUKOD.PH | TRINITY |
| 1208 | PANGALANGAN | JUNIE | M45-49 | TEAM TADYAK | BIKEKING |
| 1209 | PITIQUEN | BING | M45-49 | HONDA CARS KALOOKAN | TRINITY |
| 1210 | CHING | EDWIN | M50-UP | | LIFECYCLE |
| 1211 | MAGPAYO | JULUIS | M50-UP | MERALCO-SMART LIGHTSPEED | BIKEKING |
| 1212 | BALUYOT | MARY JANE | F20-29 | | BPI |
| 1213 | ROJAS | MARICHU | F30-39 | FITNESS FIRST TRI TEAM | CYCLING Z |
| 1214 | KAWABATA | ANNA LIZA | F30-39 | CANLUBANG BIKERS CLUB | BPI |
| 1215 | MARQUEZ | ANNER | M40-UP | CANLUBANG BIKERS CLUB | BPI |
| 1216 | SEGUNIAL | MA. FE AURORA | F40-UP | | BPI/BK |
| 1217 | BUHIAN | JERIC | M16-19 | YELLOW AB TRI-CLARK | |
| 1218 | NAGUIT | JOSE ANTONIO GABRIEL | M16-19 | YELLOWCAB TRI-CLARK | BPI |
| 1219 | NAGUIT | BIENVENIDO III | M16-19 | YELLOWCAB TRI-CLARK | BPI |
| 1220 | VALINTON | AARON | M20-24 | TEAM FRESH LEGS | CYCLING Z |
| 1221 | AMISTOSO | MARIA KATRINA | F20-29 | TEAM DAVID'S SALON | |
| 1222 | ZARAGOZA | MARJAY | M20-24 | | PNB |
| 1223 | NAGUIT | LOUIS ANGELO | M20-24 | YELLOWCAB TRI-CLARK | BPI |
| 1224 | CANTA | RAYMUND | M25-29 | BIKRAM YOGA ALABANG XTRM TRI TEAM | CYCLING Z |
| 1225 | ALFARO | SAUL | M25-29 | BIKRAM YOGA ALABANG XTRM TRI TEAM | CYCLING Z |
| 1226 | ANGELES | BARNETT | M25-29 | UPLB TRANTADOS | CYCLING Z |
| 1227 | BALCE | MANUEL | M25-29 | | TRAP |
| 1228 | CATCATAN | MELVIN | M30-34 | TRIBE | CYCLING Z |
| 1229 | TALASTAS | EDWARD | M30-34 | GRANTRAIL CYCLING TEAM | CYCLING Z |
| 1230 | ORELLANA | ARIS | M30-34 | | CYCLING Z |
| 1231 | BALDOMEZA | PAUL MARCO | M30-34 | | CYCLING Z |
| 1232 | NALOG | FERDINAND | M30-34 | | PNB |
| 1233 | PINAGA | ALEXANDER | M35-39 | STCYCLING CLUB | CYCLING Z |
| 1234 | GUARIN | JEFF | M35-39 | TRIBE | CYCLING Z |
| 1235 | VILLONTA | PAULO | M35-39 | | CYCLING Z |
| 1236 | SERRANO | LEMUEL | M35-39 | | CYCLING Z |
| 1237 | GELI | RYAN | M35-39 | | CYCLING Z |
| 1238 | LOBATON | CHRISTOPHER | M35-39 | | CYCLING Z |
| 1239 | SOUZA | RYANN | M35-39 | | CYCLING Z |
| 1240 | SOUZA | JAYSON | M35-39 | | CYCLING Z |
| 1241 | TATOY | EMMANUEL VICTOR | M35-39 | | TRAP |
| 1242 | REYES | CHAD JOHN MARTIN | M35-39 | | BPI |
| 1243 | SALES | JONATHAN | M35-39 | | BPI |
| 1244 | DE GUZMAN | ANGELO | M35-39 | FUJITSU | BPI |
| 1245 | DAVA | ARNOLD | M35-39 | FUJITSU | BPI |
| 1246 | LACANLALE | SONNY | M35-39 | TEAM TNCC | BPI |
| 1247 | DIZON | MANUEL "DING" | M35-39 | COCA COLA | |
| 1248 | GUETA | JOSEL | M35-39 | FITNESS FIRST PLATINUM, RCBC | BPI |
| 1249 | RODILLAS | EDISON | M40-44 | STCYCLING CLUB | CYCLING Z |
| 1250 | MENDOZA | CHARLES | M40-44 | ST CYCLING CLUB | CYCLING Z |
| 1251 | PORTO | JEROME ANJEELO | M40-44 | TRIBE | CYCLING Z |
| 1252 | ADALIN | MARLO | M40-44 | TRIBE | CYCLING Z |
| 1253 | WHITE | BONG | M40-44 | | CYCLING Z |
| 1254 | LABIOS | ENRIQUE | M40-44 | | CYCLING Z |
| 1255 | BERNARDINO | BERNARD | M40-44 | | CYCLING Z |
| 1256 | SABADO | ELIGIO JR. | M40-44 | | CYCLING Z |
| 1257 | ANDAL | NOEL | M40-44 | ROHM ELECTRONICS | CYCLING Z |
| 1258 | MANUEL | GEORGE | M40-44 | | PNB |
| 1259 | VELMONTE | JESUS 'TOTO' | M40-44 | | |
| 1260 | CASTILLO | ROMULO | M40-44 | | BPI |
| 1261 | AGOO | JESSIE | M45-49 | FLUOR DANIEL INC. | CYCLING Z |
| 1262 | DE LEON | GODFREY | M45-49 | | CYCLING Z |
| 1263 | VILLADOLID | JOSELITO | M45-49 | | CYCLING Z |
| 1264 | CANO | JOEL | M45-49 | SHELL CYCLING CLUB | CYCLING Z |
| 1265 | CARREON | ANDREW | M45-49 | | CYCLING Z |
| 1266 | RICHMOND | DAVID | M45-49 | | CYCLING Z |
| 1267 | CASTRO | ARNEL | M45-49 | BLSS POWERTRI | PNB |
| 1268 | HAIN | ARTHUR MICHAEL III | M45-49 | | BPI/BK |
| 1269 | VILLANUEVA | JOHN DARIUS | M45-49 | YELLOWCAB TRI-CLARK | BPI |
| 1270 | CRUZ | EDWIN | M45-49 | FUJITSU | BPI |
| 1271 | FALCON | CLARENCE | M45-49 | CANLUBANG BIKERS CLUB | BPI |
| 1272 | BAROLO | RAFFY | M45-49 | CANLUBANG BIKERS CLUB | BPI |
| 1273 | MALAGA | GERALD | M45-49 | CANLUBANG BIKERS CLUB | BPI |
| 1274 | UNIRA | ROMY | M45-49 | CANLUBANG BIKERS CLUB | BPI |
| 1275 | DAPO | ROMULO | M50-UP | | CYCLING Z |
| 1276 | KUHNE | THOMAS | M50-UP | | CYCLING Z |
| 1277 | SARASOLA | JOSE MA. | M50-UP | | CYCLING Z |
| 1278 | TEJADA | KEN | | | BPI |
| 1279 | BANGUG | DERICK | | | BPI |
| 1280 | VEGA | CHANCE | | | BPI |
| 1281 | DIVINA | WAUIE | | | BPI |
| 1282 | BACSAL | MARINELLA | F30-39 | | BIKEKING |
| 1283 | DAYA | GRACIELLE | F30-39 | | BIKEKING |
| 1284 | ORBON | MERIELLE | F30-39 | ACCENTURE | BIKEKING |
| 1285 | RACPAN | JANIS NATHALIE | F30-39 | OLIVE TELECOMMUNICATIONS | BIKEKING |
| 1286 | CONSOLACION | GAIL | F30-39 | | BIKEKING |
| 1287 | MUÑOZ | TIN | F30-39 | CITIBANK | BIKEKING |
| 1288 | ARAYATA | ROSLYN | F30-39 | TEAM XYCOS | BIKEKING |
| 1289 | ABATING | IRENE | F30-39 | | BIKEKING |
| 1290 | LUCMAN | ANELIA | F30-39 | MULTISPORTS ADVENTURE TEAM | LIFECYCLE |
| 1291 | UNLAYAO | RICHARD | M40-44 | IRONBIKE | BPI |
| 1292 | QUINTIA | AARON | M16-19 | SMDC – LAST MINUTE MULTISPORT | BIKEKING |
| 1293 | CORTEZ | JIMBOY | M16-19 | SMDC – LAST MINUTE MULTISPORT | BIKEKING |
| 1294 | ONG | GERWIN BRYAN | M16-19 | | BIKEKING |
| 1295 | RAVINA | JOHNFORD | M20-24 | PHIL. NAVY | BIKEKING |
| 1296 | GILBUENA | MISCELLE | M20-24 | SMDC – LAST MINUTE MULTISPORT | BIKEKING |
| 1297 | SALVADOR | MARK ANTHONY | M20-24 | SMDC – LAST MINUTE MULTISPORT | BIKEKING |
| 1298 | MANIEBO | CARLOS | M20-24 | | LIFECYCLE |
| 1299 | VILLAMAYOR | JOSEPH | M25-29 | DEV EX | LIFECYCLE |
| 1300 | JARAMILLA | JEREMIE | M25-29 | DEV EX | LIFECYCLE |
| 1301 | CAYABYAB | BRIAN | M25-29 | PHIL. NAVY | BIKEKING |
| 1302 | CAGUNTAS | ARIES | M25-29 | PHIL. NAVY | BIKEKING |
| 1303 | LOPEZ | JOHN ERIC | M25-29 | | BIKEKING |
| 1304 | ALLANIGUI | ADRIAN PETER | M25-29 | PHIL. NAVY | BIKEKING |
| 1305 | IGLESIA | MICHAEL | M25-29 | PHIL. NAVY | BIKEKING |
| 1306 | TOLETE | ERLMAR | M25-29 | | BIKEKING |
| 1307 | BORAL | JAYPEE | M25-29 | SMDC – LAST MINUTE MULTISPORT | BIKEKING |
| 1308 | JOAQUIN | JAYPEE | M25-29 | SMDC – LAST MINUTE MULTISPORT | BIKEKING |
| 1309 | AMBAYEC | GERALD | M25-29 | SMDC – LAST MINUTE MULTISPORT | BIKEKING |
| 1310 | FERROLINO | JOSE ANGELO | M25-29 | | BIKEKING |
| 1311 | ARIATE | JOSEPH GABRIEL | M25-29 | | BIKEKING |
| 1312 | ALFEROS | NOMAR | M25-29 | ALL TERRAA CYCLERY TEAM | LIFECYCLE |
| 1313 | BAUTISTA | JOHN PAUL | M25-29 | SUN CELLULAR | LIFECYCLE |
| 1314 | ALBARACIN | ALLAN ROY | M25-29 | | LIFECYCLE |
| 1315 | ACOSTA | MIGUEL | M30-34 | THE BRICK | LIFECYCLE |
| 1316 | PUNZALAN | JEXTER | M30-34 | PNP | LIFECYCLE |
| 1317 | SANTOS | RONALD | M30-34 | | LIFECYCLE |
| 1318 | OMOLON | JULITO | M30-34 | LIFECYCLE | LIFECYCLE |
| 1319 | ANTONIO | MICHAEL | M30-34 | MERALCO SMART LIGHTSPEED | BIKEKING |
| 1320 | GREGORY | ALBERT JESS | M30-34 | ST ERICSSON | BIKEKING |
| 1321 | CORDERO | MIGUEL LORENZO | M30-34 | ST ERICSSON | BIKEKING |
| 1322 | PERALTA | MARK | M30-34 | RESORT WORLD MANILA/ CULINARY DEPT. | BIKEKING |
| 1323 | ISON | ARVIN | M30-34 | SMDC – LAST MINUTE MULTISPORT | BIKEKING |
| 1324 | TAGUIAM | DON | M30-34 | SMDC – LAST MINUTE MULTISPORT | BIKEKING |
| 1325 | CASTRO | CARLO | M30-34 | SMDC – LAST MINUTE MULTISPORT | BIKEKING |
| 1326 | MACAPAGAL | GINO | M30-34 | SMDC – LAST MINUTE MULTISPORT | BIKEKING |
| 1327 | QUINTIA | VIRGILIO JR. | M30-34 | SMDC – LAST MINUTE MULTISPORT | BIKEKING |
| 1328 | TAGUMICAR | ETHERNUEL | M30-34 | SMDC – LAST MINUTE MULTISPORT | BIKEKING |
| 1329 | GAN | DENNIS | M30-34 | GREENHILLS TRI TEAM | BIKEKING |
| 1330 | PAKINGGAN | JOSEPH | M30-34 | DMCI MULTISPORTS | BIKEKING |
| 1331 | MACABUAG | JAKE | M30-34 | | BIKEKING |
| 1332 | PORTUGAL | ARIS BERNARD | M30-34 | QUEST-LTIMESTUDIO | BIKEKING |
| 1333 | MERCADO | LARRY | M30-34 | NESTLE | BIKEKING |
| 1334 | DAVID | ERIC | M35-39 | LOOP MULTISPORTS | LIFECYCLE |
| 1335 | PICHAY | PHILIP JR. | M35-39 | THE BRICK | LIFECYCLE |
| 1336 | ANGOG | JACK | M35-39 | PNP-SAF | BIKEKING |
| 1337 | ARISTON | JENER | M35-39 | HIT PRODUCTIONS | BIKEKING |
| 1338 | MORENO | TOM | M35-39 | | BIKEKING |
| 1339 | LUCMAN | JHOMELEDON | M35-39 | MULTISPORTS ADVENTURE TEAM | LIFECYCLE |
| 1340 | RAZAL | MICHAEL | M35-39 | MULTISPORTS ADVENTURE TEAM | LIFECYCLE |
| 1341 | VENERACION | JUN | M35-39 | | LIFECYCLE |
| 1342 | GARCIA | CHRISTOPHER | M35-39 | | LIFECYCLE |
| 1343 | DELA CRUISE | OBIJUAN | M35-39 | BIKE CAMPERS | LIFECYCLE |
| 1344 | CHUA | JEOFFREY | M40-44 | | LIFECYCLE |
| 1345 | ONG | NEIL | M40-44 | TEAM BEACON FIVEFINGERS | BIKEKING |
| 1346 | TORRES | RONNEL | M40-44 | | BIKEKING |
| 1347 | NEBRIJA | EDISON | M40-44 | AFP | BIKEKING |
| 1348 | UY | EFREN | M40-44 | BEACON | BIKEKING |
| 1349 | JOSE | REY | M40-44 | SMDC – LAST MINUTE MULTISPORT | BIKEKING |
| 1350 | MATA | ALFRED | M40-44 | SMDC – LAST MINUTE MULTISPORT | BIKEKING |
| 1351 | TORRES | LEILA | F40-UP | | BIKEKING |
| 1352 | ICASAS | VIC | M40-44 | HIT PRODUCTIONS | BIKEKING |
| 1353 | SERVINIO | ANTHONY | M40-44 | TEAM MOA | BIKEKING |
| 1354 | VIRATA | ARTURO | M40-44 | | BIKEKING |
| 1355 | BELEN | VIRGILIO JR. | M40-44 | NOTHING BUT LAUNDRY | BIKEKING |
| 1356 | COSETENG | ERIC | M40-44 | CLEANSAVE WASTE CORP. | BIKEKING |
| 1357 | MANGASER | EDMUND | M40-44 | ALL TERRAA CYCLERY TEAM | LIFECYCLE |
| 1358 | CAAMPUED | HECTOR | M40-44 | MULTISPORTS ADVENTURE TEAM | LIFECYCLE |
| 1359 | MCMEERIN | LEE | M40-44 | | BIKEKING |
| 1360 | ABAD | ARNOLD | M40-44 | PNP | LIFECYCLE |
| 1361 | YBUD | RAMON EMMANUEL | M45-49 | NESTLE | BIKEKING |
| 1362 | LUCERO | MAR JOE REY | M45-49 | NESTLE | BIKEKING |
| 1363 | MANLANGIT | RAUL | M45-49 | CU.V.COSCOLLUELA AND ASSOCIATES | LIFECYCLE |
| 1364 | GARCIA | DANTE | M50-UP | TEAM TADYAK | BIKEKING |
| 1365 | FERNANDEZ | KING | M50-UP | HIT PRODUCTIONS | BIKEKING |
| 1366 | BANAAG | ALBERT | M50-UP | DMCI MULTISPORTS | BIKEKING |
| 1367 | TSAI | SHENG | M30-34 | IRONBIKE | BPI |
| 1368 | LEONO | TESS | F30-39 | | BPI |
| 1369 | MONSANTO | MARLOWE | M35-39 | XYCOS | BPI |
| 1370 | SAN AGUSTIN | QUITO | M30-34 | XYCOS | BPI |
| 1371 | TAYAG | ABE | M35-39 | YELLOW CAB TRI-CLARK | BPI |
| 1372 | TAYAG | JUMBO | M35-39 | YELLOW CAB TRI-CLARK | BPI |
| 1373 | IFURUNG | EDWARD | M40-44 | YELLOW CAB TRI-CLARK | BPI |
| 1374 | ZAPATA | RAFFY | M35-39 | YELLOW CAB TRI-CLARK | BPI |
| 1375 | MANDAP | MICHAEL ANGELO "MAC" | M35-39 | YELLOW CAB TRI-CLARK | BPI |
| 1376 | DAZA | ISABELLE | F20-29 | | BIKEKING |
| 1377 | REYES | MICHAEL ANGELO | M16-19 | MAPUA | BIKEKING |
| 1378 | MANALASTAS | KRISTOPHER | M30-34 | TriBe | BIKEKING |
| 1379 | DATOR | JEFFREY | M30-34 | | VELOCPDE |
| 1380 | SAGUBAN | CLAUDINE KEN | M30-34 | | VELOCPDE |
| 1381 | FUGABAN | EDGARDO | M30-34 | | VELOCPDE |
| 1382 | CHIONG | SOLOMON | M35-39 | | BIKEKING |
| 1383 | BUHAY | FRANCIS | M35-39 | 1ISA INC. | VELOCPDE |
| 1384 | DE LUCIA | ANSON | M40-44 | | BIKEKING |
| 1385 | TAN | GEORGE | M40-44 | | BIKEKING |
| 1386 | PESEBRE | MARLON | M40-44 | | BIKEKING |
| 1387 | MANALASTAS | JOHN | M40-44 | | BIKEKING |
| 1388 | BAYAN | VICTOR | M45-49 | | VELOCPDE |
| 1389 | ABANTAO | CRISHEILA | F30-39 | | |
| 1390 | TAYAG | DENISE | F30-39 | YELLOW CAB TRI-CLARK | CYCLING Z |
| 1391 | ATILANO | SHEENA | F30-39 | XYCOS | BIKE KING |
| 1392 | BONALOS | MAY TOLENTINO | F40-UP | SAN PEDRO RUNNING CLUB | CYCLING Z |
| 1393 | ARCHER | CRICKET | F40-UP | | BIKE KING |
| 1394 | ARCHER | RAVEN | M16-19 | | BIKE KING |
| 1395 | BAUTISTA | SID ANGELO | M20-24 | ARMY NAVY SOUTH TRI TEAM | CYCLING Z |
| 1396 | DIAZ | ANGELO NEIL | M20-24 | XYCOS | BIKE KING |
| 1397 | MACALINAO | LAWRENCE | M25-29 | XYCOS | BIKE KING |
| 1398 | MACALINAO | AARON | M25-29 | XYCOS | BIKE KING |
| 1399 | DUQUIATAN | ALLAIN | M30-34 | | CYCLING Z |
| 1400 | VALENCIA | JOHN ANDREW | M30-34 | FLUOR DANIEL INC. | CYCLING Z |
| 1401 | GONZALO | ANGELO JULIUS | M30-34 | XYCOS | BIKE KING |
| 1402 | ABANTAO | DWAN | M35-39 | | |
| 1403 | CHANCO | PAUL | M35-39 | | CYCLING Z |
| 1404 | BACANI | BOMBOLINI | M35-39 | | CYCLING Z |
| 1405 | ROQUE | FLORITO JR. | M35-39 | SANTE BARLEY | CYCLING Z |
| 1406 | CAMBAY | RAFAEL | M35-39 | ABOITIZ POWER | CYCLING Z |
| 1407 | ESTRELLA | MERVIN | M35-39 | FLUOR DANIEL INC. | CYCLING Z |
| 1408 | ARGETE | MELVIN | M35-39 | XYCOS | BIKE KING |
| 1409 | FALLER | ALBERT CESAR JR. "JUN" | M40-44 | | CYCLING Z |
| 1410 | PERALTA | RICO | M45-49 | SAN PEDRO RUNNING CLUB | CYCLING Z |
| 1411 | SIETEREALES | SALVADOR | M45-49 | JOYFUL SEVEN | CYCLING Z |
| 1412 | ARCHER | NIGEL | M45-49 | XYCOS | BIKE KING |
| 1413 | CACHOLA | DANTE NATHANIEL | M50-UP | MERALCO | CYCLING Z |
| 1414 | TOBIAS | SESINANDO | M50-UP | | CYCLING Z |
| 1415 | RAMILO | RODANTE | M40-44 | | CYCLING  ZONE |
| 1416 | LAPID | ANAIS | F30-39 | R.L FOODS CORP (R. LAPID'S) | TRINITY |
| 1417 | GASTON | CHINO | M35-39 | | LIFECYCLE |
| 1418 | TIMA | RAFFY | M35-39 | | LIFECYCLE |
| 1419 | MAYRINA | IVAN | M35-39 | | LIFECYCLE |
| 1420 | SAN DIEGO | RODNEY | M35-39 | RUN RIDE RUN | TRINITY |
| 1421 | EVANGELISTA | ARNOLD | M30-34 | | TRINITY |
| 1422 | MAXIMO | LUIS MIGUEL | M16-19 | ATENEO TRACK TEAM | BPI |
| 1423 | ORDONEZ | REYNALDO | M40-44 | PANGASINAN TRI TEAM | |
| 1424 | RECABAR | RONALD | M30-34 | YELLOW CAB TRI-CLARK | BPI |
| 1425 | MORALES | BENJAMIN JR. | M35-39 | YELLOW CAB TRI-CLARK | BPI |
| 1426 | PATAWARAN | ARIES | M40-44 | YELLOW CAB TRI-CLARK | BPI |
Comments
comments