Admin
So I Tried Mountain Biking Again.. | A Triathlete's Comeback to the Trails
So after an almost 3 year hiatus from mountain biking, I finally hit the trails! And honestly? It didn't take 1 nano second for me to find out why my first bike was a mountain bike and why I still have one in my stable.
Let's just put it this way. I absolutely loved every second of it.
First things first of course, before I even dared riding a kilometer off road, I needed to get my bike back in tip top shape! For this, Alterra took care of Marcos "aka Macoy" and rejuvinated my rarely ridden ride!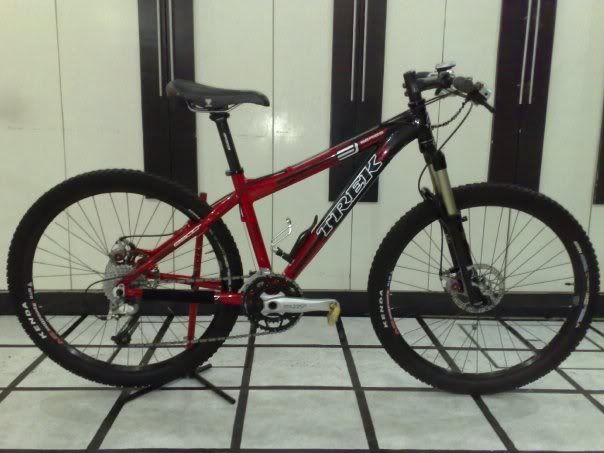 Marcos rides again!
I had no choice actually but to get as much off-road mileage as I can as I will be joining the Vaseline Men's Xterra Triathlon Training Camp in two weeks time. With just a little training mileage on my legs (and absolutely 0% trail training), I need to ride ASAP.
Plus, it's a good opportunity for me to test some of the items submitted to SBR.ph for gear review. For this ride, I tested the Halo Headband and the Salomon Crossmax trail shoes. (Review coming up!)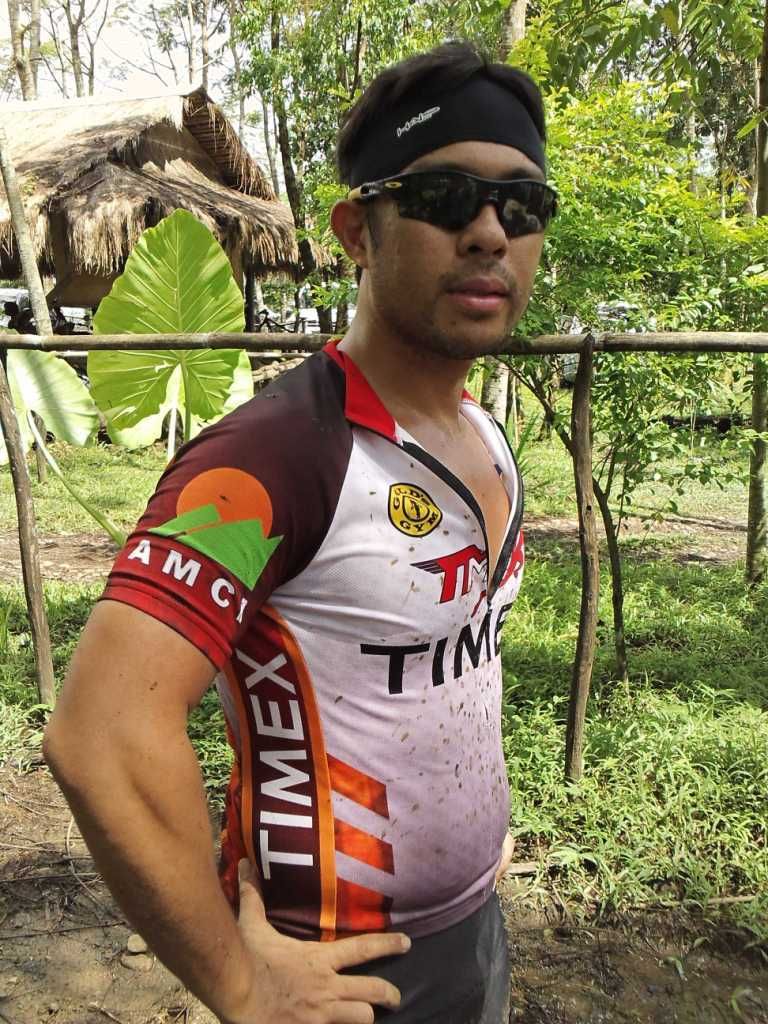 testing out the halo headband! great stuff
I was lucky enough to ride Second Wind Triathlon Team's trio Hector, Raffy, and Timmy.
can you spot the not?
Riding my mountain bike reminded me how fun it is to actually RIDE a bike. I enjoyed every bump, every wet patch on the trail, and of course, the mud!
Unlike triathlon, where you mostly just go straight and hammer the sh*t out of your pedals, mountain biking requires your 100% focus and commitment. Your mind is on overdrive the whole time! Not to mention, the adrenaline rush when you're going downhill on a single trail course is simply insane.
I must admit, I guess riding my tri bike all the time softened me up. "Triathlon is too clean!" I was shouting as I was getting muddy and dirty. As years passed, I also noticed that all my bike handling skills slowly started to disappear.
Here's another factoid, in triathlon, when it rains and we're scheduled for a long ride, you can be sure I'll consider just riding indoors simply because "it's not safe". In mountain biking? Rain makes the trails even muddier! Which makes for a more exciting ride!!
Make no mistake, I love triathlon and have no plans of quitting the sport. It's just that riding on the trails simply opened my eyes to other stuff that a bicycle can do. And actually made me think why I haven't been back for so long.
Throughout the ride, a couple of things crossed my mind, some of which got confirmed as soon as I got out of the car and saw all the other mountain bikers.

1. Holy crap I look like a dork – dressed in triathlon gear, I think I was the only one rocking cycling shorts (except for other triathletes of course)! Everyone else was wearing mountain bike shorts. I have a lot of those, but I now just wear em at home! Hey, they have HUGE pockets!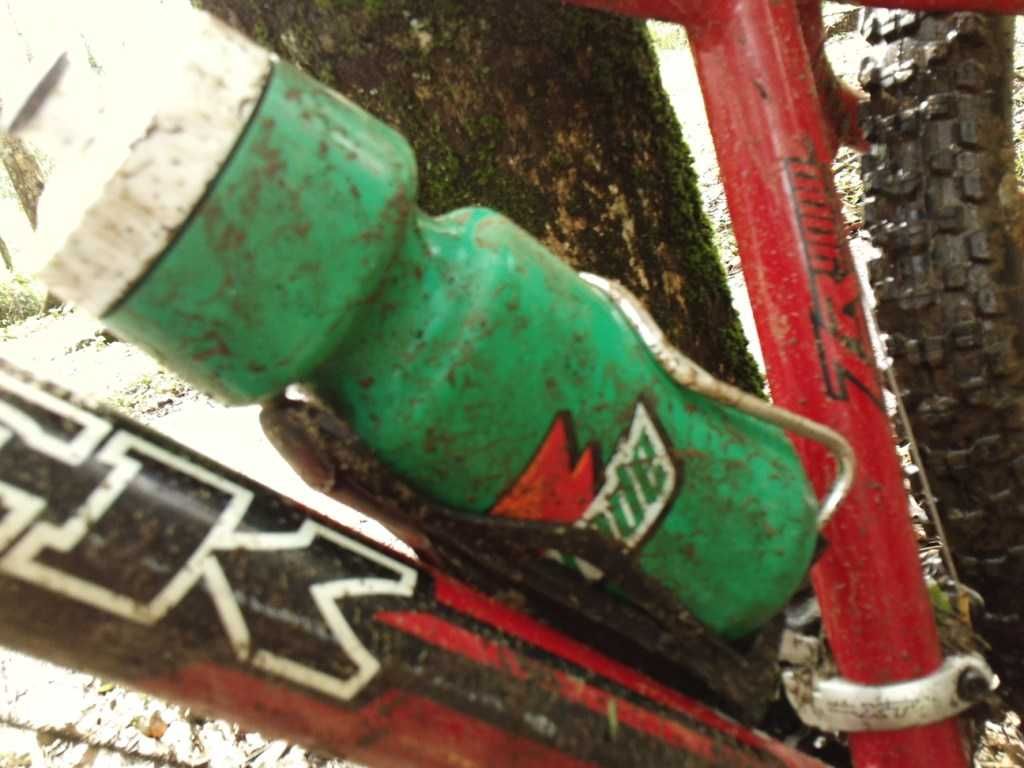 goodluck drinking!
2. Hmmm, why the heck are they wearing bladders? That's heavy! Triathlon is all about lightweight and aero man! – It only took 2 kilometers before I looked down at my water bottle and got reminded why most of the mountain bikers prefer bladders for hydration. I couldn't drink while riding because the spout was covered with mud! Unless I want to risk getting a water disease, there's absolutely no way I'm going to drink from that bottle. (Hey am I softening up again?) :)
3. What?? We're only going to ride 12k?? Please give me my road / triathlon ride and make me ride a century! – Let's put it this way, that was the longest 12k of my life! Thank goodness for the rest stations scattered along the course! Those were lifesavers!
4. Look Ma! I'm going sideways! – Only in mountain biking! Due to the extreme mud, where else can you see your front wheel pointing forward and and your rear wheel at the south east or south west direction?? Want to go forward?? Keep pedaling!
5. Ack! Huge rock ahead!! – It took awhile for me to realize that in mountain biking, seeing rocks on the course is normal! In a road bike or a triathlon bike, if your front wheel hits a rock, you're dead set for a : blown tire, dented rim, or worse, a huge spill!
Looking back, the "short" ride was enough for me to rediscover the joys of mountain biking. In that "short" amount of time, I can honestly say, I'm hooked.
MTBiking : More Fun in the Philippines indeed!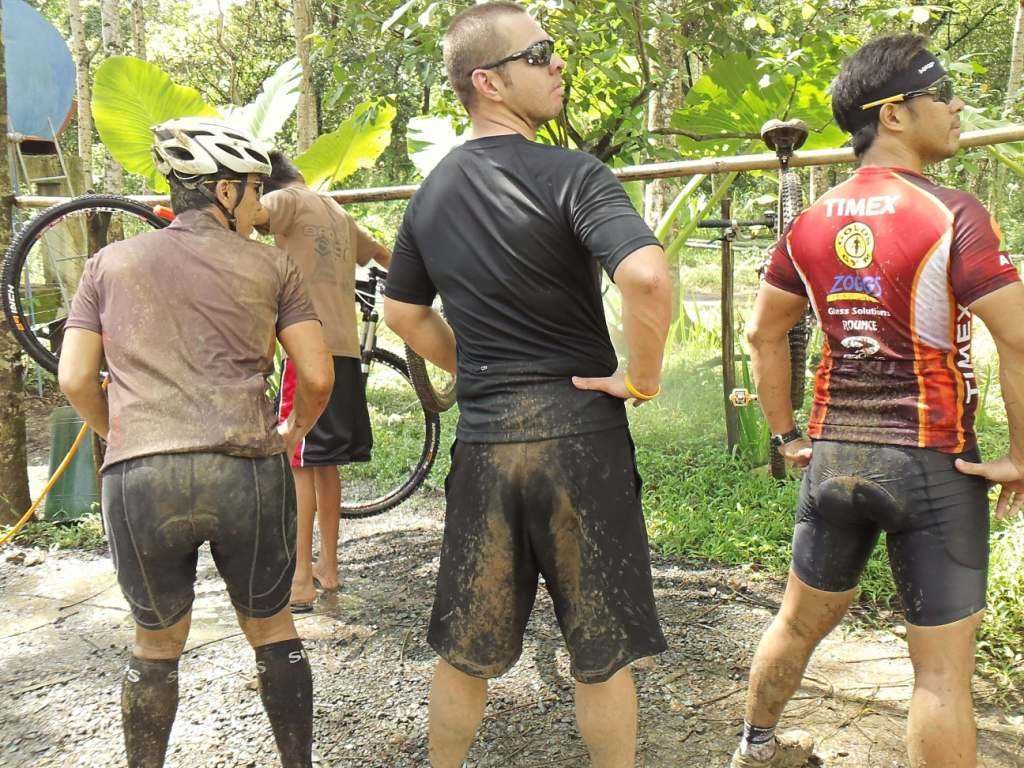 see yah soon!
Comments
comments