Powerade Duathlon 4th Leg | Start List | Course Maps | Timing Chip | Reminders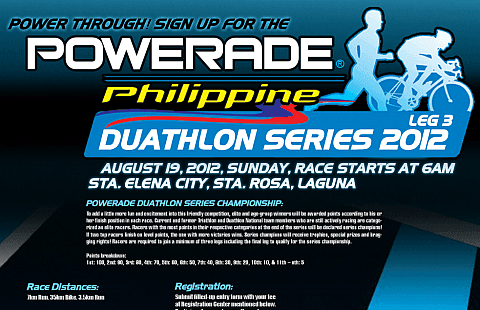 Get ready for the 4th and final leg of the Powerade Duathlon Series 2012! This is the real deal guys! A 10k run, 40k bike, and then a 5k run cool down! See y'all!
SWIMBIKERUN.ph is a proud media partner of the Powerade Duathlon Series 2012.
Here are some last minute reminders from Popo Nagtalon, organizer of the Powerade Duathlon Series 2012.

hi everyone!

official start list at the end of this message and also in the attachment in excel file to facilitate search. please take the time to check if we have your details right. race packets are available for claiming. please call up the bike shop beforehand so they can have your race packet ready. for those who registered via fax/email and paid via bank deposit, you have the following options:
(1) you may request to have your race packets sent to any of the said bike shops; or
(2) delivered to you via bike messengers from Pedala. (they service quezon city, marikina, san juan, pasig, mandaluyong, makati, the fort, manila & pasay; P100/one-way delivery; mon-fri only, excluding holidays.)
(3) all unclaimed race packets may be claimed on race day itself.

race packet includes one bib number, one small helmet sticker (to be affixed on the front of the helmet) and two large bike stickers (to be adhered to the seat post with the numbers clearly visible from both sides).

timing chips will be distributed within the week before the race at bike king; i will keep everyone posted for the schedule.

course maps are in the attachment.
run course:
– be prepared for unpredictable weather conditions; hot and humid, or windy and/or rainy.
– racers will be sent off either with a mass start or in waves.
– the first leg will consist of 3 loops while the second leg will be 2 loops.
– there are water stations situated along the course and 1 water station at the transition area.
bike course:
– the course is relatively rolling. whether you are an experienced or a beginner racer, it would be wise to slow down when cornering or making a u-turn.
– this is a drafting race. We would like to emphasize that everyone take necessary precautions when riding in a group, especially if you're using aerobars. always be aware of surroundings and the people around you. if you are not used to riding in a group, it would be best to avoid it and ride on your own.
– the bike leg will consist of 2 loops; it is your duty as a racer to keep track of your loops!
– water station at the transition area only, none along the course. bring water bottles for hydration.
Race schedule:
300am claim race packs & timing chips/body marking/opening of Transition area
530am race briefing
600am race start
1000am awarding of Winners
1030am Cut-off time
Timing chips will be distributed at bike king on oct 26 & 27 (please bring valid id; personal appearance is imperative!) & at the venue on race day (please come early to avoid any delays). race packets of those who registered via email/fax will also be made available at bike king for timing chip claiming.
POWERADE PHILIPPINE DUATHLON SERIES 2012 Final Leg
RACE INFORMATION
Date, Day & Time of Event:
October 28, 2012, Sunday, 6am
Event Venue: Nuvali Sta. Rosa Laguna
Race Distances: 10km Run, 40km Bike, 5km Run
Race Categories:
Elite (Male & Female)
Age group:
– Male: 16~19 yrs, 20~24, 25~29, 30~34, 35~39, 40~44, 45~49, 50 & above
– Female: 16~19 yrs, 20~29, 30~39, 40 & above
Awards and Prizes:
Medals, prizes and cash will be awarded to Overall Top Three in Male and Female Categories.
Medals and prizes will be awarded to TOP THREE in each age group.
Powerade Duathlon Series Championship:
To add a little more fun and excitement into this friendly competition, elite and age-group winners will be awarded points according to his or her finish position in each race. Current and former Triathlon and Duathlon National team members who are still actively racing are categorized as elite racers. Racers with the most points in their respective categories at the end of the series will be declared series champions!  If two top racers finish on level points, the one with more victories wins. Series champions will receive trophies, special prizes and bragging rights! Racers are required to join a minimum of three legs including the final leg to qualify for the series championship.
Points breakdown:
| | | |
| --- | --- | --- |
| 1st: 100 | 5th: 60 | 9th: 20 |
| 2nd: 90 | 6th: 50 | 10th: 10 |
| 3rd: 80 | 7th: 40 | 11th – nth: 5 |
| 4th: 70 | 8th: 30 | |
Registration: Submit filled-up entry form with your fee at Registration Center mentioned below.
Participants may also pay through:
– BPI (Anna Marissa Remigio, S/A No. 0429-3165-61), or
– PNB (Anna Marissa Nagtalon, S/A No. 1002-8030-0012).
Then, Email or Fax entry form and deposit  slip (clear &/or enlarged copy) with name to Fax #: 932-9071
Keep receipt/bank deposit slip & submit during Registration.
Registration Centers:
Bike King at Bonifacio High Street , Tel. #: +632 -856-3362
Cycling Zone: Shell Pacific Gas Station, Alabang-Zapote Road, Muntinlupa
Tel.: 02-809-6736
Life Cycle Bicycle Shop: G-Strip, Greenhills Shopping Center, San Juan. (c/o Rob)
Tel: 02-5842862, 584-2442, 661-3424
Trinity Cycle Shop: 41 Commonwealth ave. QC (beside Hyundai and Nissan )
Tel.: 02-4426591
Velocipede Bike Shop: Unit B, Royale Place Arcade (Beside Ever Gotesco Commonwealth)
Tel: 02-3518488
Registration Fees/Schedule: (Inclusive of race packet, sponsor's products, inengs barbecue meal, finisher's medal, singlet, Timing Chip)
P1,200 (September 1- 25)
P1, 600 (Sept. 26- Oct. 15)
Distribution of Race Kits: October 1, 2012
Deadline of Registration: October 15, 2012
For Inquiries please contact:
Thumbie Remigio

Email: adrenalinemultisport@gmail.com

Mobile phone: +632-917-8486243

Website:

www.adrenalinemultisport.com

Popo Nagtalon Remigio

Email: popo_nagtalon@yahoo.com

Mobile phone: +632-908-9086621
Course Maps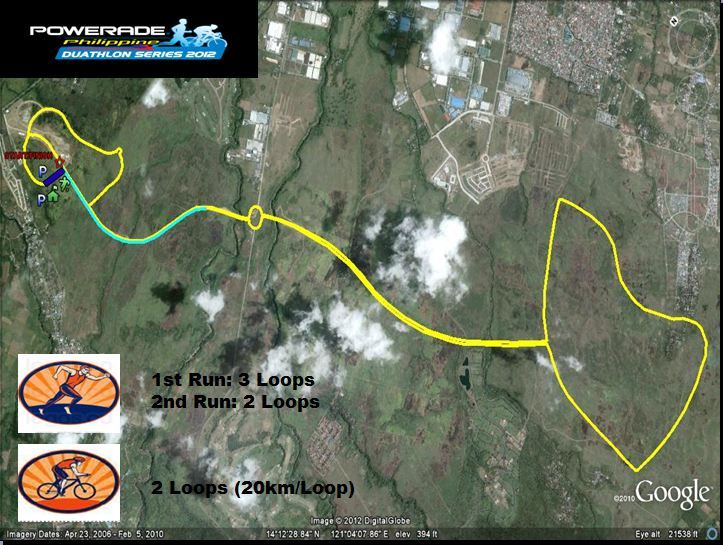 OFFICIAL START LIST
829
VALDEZ
ROWENA
F ELITE
YELLOW CAB TRI-CLARK
150
LUCAS
MIMI
F ELITE
TRIMAC
272
ABAD
MIRASOL
F ELITE
868
ALIX
MARICARL
F20-29
BIKE KING
900
TIMAN
JULLA
F20-29
LIFECYCLE
LIFECYCLE
148
CONSTANTINO
MARIE ANNE
F20-29
PERXTRI-100 PLUS
BPI/TRINTY
254
DEL SOCORRO
RAQUEL JOYCE
F20-29
TRINITY CYCLE SHOP
TRINTY
301
AMISTOSO
MARIA KATRINA
F20-29
TEAM DAVID'S SALON
CYCLING Z
907
ALEJANDRO
GINA
F30-39
SUNPOWER
BIKE KING
991
DE GUZMAN
LAARNI GAIL
F30-39
TIMEX TMM
BIKE KING
1004
GO
MERCY
F30-39
TIMEX TMM
BIKE KING
1005
LEONARDO-MUNOZ
CHRISTINE
F30-39
TRICORE/CITIBANK
BIKE KING
1037
MALIGAYA
MARI GRACE
F30-39
CENTURY TUNA TRI-HARD
BIKE KING
1083
MAPUA
ANNA
F30-39
BIKE KING
1106
UY
ARLYNE
F30-39
BIKE KING
1108
YAO
LIANNE
F30-39
BIKE KING
1113
KAWABATA
ANNA LIZA
F30-39
CANLUBANG BIKERS CLUB
BPI
1121
REYES
MERELLA
F30-39
TRINITY
1231
LAPID
ANAIS
F30-39
TRINTY
149
DIZON
CARLISLE
F30-39
BIKRAM YOGA ALABANG XTRM TRI TEAM
BPI/CZ
219
CAPISTRANO
JENNY
F30-39
D' TAKACHIN
CYCLING Z
229
JINGCO
LEAH
F30-39
TEAM RUN RHYMES
BIKE KING
244
CORPUZ
DAWNIE
F30-39
CYCLING Z
293
VARNAL
CYRIL
F30-39
LIFECYCLE
328
SANTIAGO
GLADYS
F30-39
BIKE KING
345
CORDOVA
WHREACHELLE
F30-39
POTATO CORNER
VELOCPD
1235
ALMORO
TATAX
F40-UP
TIMEX TMM
BIKE KING
1260
ARCHER
CRICKET
F40-UP
GO BITCH
BIKE KING
1267
GAN
JENNIFER
F40-UP
BIKE KING
1280
LEATHER
LYKA
F40-UP
BIKE KING
1351
OTTIGER
FIONA
F40-UP
POLO TRI
BIKE KING
1361
TAN
BERNADETTE
F40-UP
TEAM LIFE
BIKE KING
1378
HITALIA
CELMA
F40-UP
BIKRAM YOGA ALABANG XTRM TRI TEAM
BPI/CZ
125
MALLARI
DOODSIE
F40-UP
TUKOD.PH
TRINTY
151
BUENA
JERALDINE
F40-UP
HIT N' RUN
BPI
220
BONALOS
MAY
F40-UP
SAN PEDRO RUNNING CLUB
CYCLING Z
292
FARRALES-CARMONA
LEANA
F40-UP
POLO TRI
BIKE KING
327
ABUAN
GERALDINE
F40-UP
BIKE KING
14
ESTEVES
ROBINSON
M ELITE
15
PEDREGOSA
CARLO JOSE
M ELITE
16
SAIM
JONARD
M ELITE
270
JAVIER
ROBENO
M ELITE
271
VALDEZ
JEFF
M ELITE
17
ARCHER
RAVEN
M16-19
GO BITCH
BIKE KING
18
VALENZUELA
ARISTON II
M16-19
TEAM SOLOMON
BIKE KING
19
BUHIAN
JERIC
M16-19
YELLOW CAB TRI-CLARK
201
CORTEZ
JIMBOY
M16-19
SMDC LAST MINUTE MULTISPORT TEAM
CYCLING Z
226
SOBERANO
JOSE GABRIEL
M16-19
CYCLING Z
320
SANTIAGO
ROMMEL
M16-19
SHIMANO
20
ANG
KIRK PATRICK
M20-24
100 PLUS
BIKE KING
21
ISIDORO
JOHN ERWIN
M20-24
BIKE KING
22
VALENCIANO
JOSE ANGELO GABRIEL
M20-24
LIFECYCLE
57
ZARAGOZA
MARJAY
M20-24
NASUGBU BIKE CLUB
BPI
152
LORQUE
CHARLIE
M20-24
PNP
BPI
153
DIAZ
ANGELO NEIL
M20-24
XYCOS
BPI
192
REYES
KENNETH REY
M20-24
ROCK N' ROAD BIKE SHOP/LAST MINUTE TRI N' MOTION MULTISPORT TEAM
CYCLING Z
203
SALVADOR
MARK ANTHONY
M20-24
SMDC LAST MINUTE MULTISPORT TEAM
CYCLING Z
236
FELEO
JONATHAN
M20-24
VELOCPD
274
DUMOL
KEVIN RAPHAEL
M20-24
GREENHILLS TRI-TEAM
BPI
281
PANGILINAN
ANTHONY JOSE
M20-24
YELLOWCAB TRI-CLARK
BPI
302
SANIEL
JOHN NICO
M20-24
TEAM FRESH LEGS
CYCLING Z
317
SANTIAGO
MERVIN RENCEL
M20-24
UP DILIMAN/JAC MOTORS/TRIMAC
318
EIJANSANTOS
KEVIN LYNDONN
M20-24
TRIMAC
321
PUSING
MATEO
M20-24
SHIMANO
329
SERADILLA
JESSIE OMAR
M20-24
SAFEGUARD
BIKE KING
335
MANIEBO
CARLO
M20-24
ALL TERRA CYCLERY TEAM
LIFECYCLE
23
CABANES
JUAN CARLOS
M25-29
BIKE KING
24
CASTILLO
CHRISSENT KENNY
M25-29
BIKE KING
25
DE JESUS
JOSE JR.
M25-29
TRIBE
BIKE KING
26
ESPINO
RODOLFO JR.
M25-29
BIKE KING
27
GUZMAN
PETER
M25-29
CLEAR SABAK
BIKE KING
28
ALFARO
SAUL
M25-29
BIKRAM YOGA ALABANG XTRM TRI TEAM
CYCLING Z
29
AMISTOSO
MICHAEL RAYMOND
M25-29
ARMY NAVY SOUTH TRI TEAM
CYCLING Z
30
BACALZO
ELISEO RAUL
M25-29
PNP
LIFECYCLE
31
BALDERAS
FLORANTE
M25-29
JAC MOTORS
LIFECYCLE
32
GARCIA
CLOYD
M25-29
BEAT THE PAIN MULTISPORTS TEAM
LIFECYCLE
33
SALVADOR
RALPH
M25-29
FIESTA BOYS
LIFECYCLE
34
VELASCO
JUAN GABRIEL
M25-29
GREENHILLS TRI-TEAM
LIFECYCLE
35
RAMOS
JOHN BENEDICT
M25-29
ITS DER
TRINITY
36
SAPLA
JAZER
M25-29
TRINITY
37
SYQUIMSIAM
JASON CHRISTEL
M25-29
ATOS
VELOCPD
38
ZAPANTA
BENJIE
M25-29
154
BARIT
MOISES CLYDE
M25-29
BPI
155
LUCERO
HERMAN
M25-29
SUNPOWER
BPI
156
RONQUILLO
CHRISTIAN
M25-29
TIKLOP SOCIETY OF THE PHIL.
BPI
157
TAMAYO
YOURKE
M25-29
DON BOSCO COLLEGE
BPI
158
MACALINAO
AARON
M25-29
XYCOS
BPI
159
MACALINAO
LAWRENCE
M25-29
XYCOS
BPI
160
SANTOS
TIMMY
M25-29
100 PLUS
166
TORCUATOR
LORD JAMES
M25-29
BPI
202
BORAL
JAYPEE IAN
M25-29
SMDC LAST MINUTE MULTISPORT TEAM
CYCLING Z
255
BASIO
VON IVAN
M25-29
PETRON TRIATHLON TEAM
256
LUANSING
ADRIAN JOSEPH
M25-29
BIKE KING
285
DE JESUS
GERARDO JOSE
M25-29
TOTAL FITNESS
303
CANTA
RAYMUND
M25-29
BIKRAM YOGA ALABANG XTRM TRI TEAM
CYCLING Z
304
JOAQUIN
JONATHAN
M25-29
SMDC LAST MINUTE MULTISPORT TEAM
CYCLING Z
333
CRISTOBAL
PHIL CHRISTIAN
M25-29
BIKE KING
39
ANG
JOHN PAUL
M30-34
BIKE KING
40
ANTONIO
GLENN
M30-34
TEAM SOLOMON
BIKE KING
41
AQUINO
JASON
M30-34
GO BITCH
BIKE KING
42
BERNARDO
TOBIAS MIGUEL
M30-34
TIMEX TMM
BIKE KING
43
BONALOS
PHILIPPE
M30-34
BIKE KING
44
BORNALES
EMILIO
M30-34
BIKE KING
45
CACO
DENNIS
M30-34
BIKE KING
47
LIM
JEFFERSON
M30-34
BIKE KING
48
MACAPAGAL
GINO
M30-34
SMDC LAST MINUTE MULTISPORT TEAM
BIKE KING
49
MUNOZ
ALAN CHRIS
M30-34
TRICORE
BIKE KING
50
NEPOMUCENO
GARY
M30-34
BIKE KING
51
GUIEB
RHODERICK
M30-34
QUEST L-TIME STUDIO
BPI
52
MORALES
RAYMOND
M30-34
BPI
53
NALOG
FERDINAND
M30-34
NASUGBU BIKE CLUB
BPI
54
SANCHEZ
MICHAEL
M30-34
BPI
55
SARAIDA
EDUARDO JR.
M30-34
BPI
56
TING
MANRICK
M30-34
BPI
58
RICASATA
MARLON RYAN
M30-34
BPI/PED
59
GONZALEZ
LEONARD
M30-34
ABOITIZ POWER
CYCLING Z
60
GARCIA
MANUEL LUIS JR.
M30-34
1ISA INC.
LIFECYCLE
61
MAGSAYSAY
JESUS GERARDO
M30-34
LIFECYCLE
62
VILLARIN
NORMAN
M30-34
HEALTHY HABITS PHILIPPINE EXIM CORP.
LIFECYCLE
63
CORTEZ
MICHAEL DALE
M30-34
TRINITY
64
AQUINO
JOHN
M30-34
TRINTY
65
BERNARDO
BHENJO
M30-34
TRINTY
66
RICAFORT
ALVIN
M30-34
TRINTY
67
ROSALES
LUISITO
M30-34
TRINTY
68
AQUINO
LEONARD
M30-34
TRIBE
VELOCPD
69
DE LEON
CARLO
M30-34
TRIBE
VELOCPD
70
EVANGELISTA
ARNOLD
M30-34
TRIBE
VELOCPD
161
DATOR
JEFFREY
M30-34
SUNPOWER
BPI
162
RITO
JOVEN
M30-34
TEAM NORMAN
BPI
163
GONZALO
ANGELO JULIUS
M30-34
XYCOS
BPI
164
SAN AGUSTIN
ENRIQUE LORENZO
M30-34
XYCOS
BPI
187
VALENCIA
JOHN ANDREW
M30-34
FLUOR DANIEL INC./LAST MINUTE MULTISPORT
CYCLING Z
195
DE PANO
RAYMOND
M30-34
SUNPOWER
CYCLING Z
206
ISON
JAMES ARVIN
M30-34
SMDC LAST MINUTE MULTISPORT TEAM
CYCLING Z
207
TAGUIAM
DON
M30-34
SMDC LAST MINUTE MULTISPORT TEAM
CYCLING Z
211
FOLIO
FREDDIE
M30-34
ST MICROELECTRONIC CYCLING CLUB
CYCLING Z
213
BASE
JOHN DENNIS
M30-34
CYCLING Z
225
YOUNG
MYLES
M30-34
BIKE KING
228
HERNANDEZ
MARK
M30-34
BIKE KING
237
BUNAG
MARTIN
M30-34
INVESTORS REALTIONS GLOBAL
BIKE KING
238
BUSRAN
RICKY
M30-34
BIKE KING
239
RECABAR
RONALD
M30-34
YELLOWCAB TRI-CLARK
BPI
257
CASTRO
CHRISTIAN CARLO
M30-34
SMDC LAST MINUTE MULTISPORT TEAM
BIKE KING
258
REYES
KRISTOPHER
M30-34
TriBe
BIKE KING
259
OMOLON
JULITO
M30-34
LIFECYCLE
LIFECYCLE
260
SANTOS
RONALD
M30-34
JOHN WILKIE
LIFECYCLE
265
CELESTINO
ANTON
M30-34
GIANT
LIFECYCLE
268
DAUZ
MICHAEL
M30-34
TUKOD.PH
TRINITY
269
SARACHO
MARLON
M30-34
TUKOD.PH
TRINITY
277
BANGUG
DERICK
M30-34
FITNESS FIRST RCBC
BIKE KING
278
DIVINA
WAUIE
M30-34
FITNESS FIRST RCBC
BIKE KING
280
LINGAD
ANTHONY
M30-34
YELLOWCAB TRI-CLARK
BPI
286
PINEDA
JEFFREY
M30-34
TOTAL FITNESS
305
DUQUIATAN
ALLAIN
M30-34
CYCLING Z
306
UMALI
JOSE CARLO
M30-34
CYCLING Z
307
DELA CRUZ
ANTONIO
M30-34
SPTUSA
CYCLING Z
313
CHUSENFU
GADRIC
M30-34
BIKE KING
319
GATBONTON
MARLO
M30-34
TRIMAC
337
GALANG
ALAN
M30-34
YELLOW CAB TRI-CLARK
LIFECYCLE
338
AQUINO
RONALD
M30-34
YELLOW CAB TRI-CLARK
LIFECYCLE
353
PAKINGGAN
JOSEPH
M30-34
DMCI-HOMES MULTISPORT TEAM
71
CLAUDIO
TOBY
M35-39
TOBY'S SPORTS/RUNNR
BIKE KING
72
DAVA
ARNOLD
M35-39
FUJITSU
BIKE KING
73
DE GUZMAN
ANGELO
M35-39
FUJITSU
BIKE KING
74
REYES
CHAD JOHN MARTIN
M35-39
BIKE KING
75
YAO
SHERWYN
M35-39
GREENHILLS TRI-TEAM
BIKE KING
76
ZAGUIRRE
CHOY
M35-39
3M PHIL.
BIKE KING
77
MANALANG
MARVIN
M35-39
YELLOW CAB TRI-CLARK
BPI
78
CAMBAY
RAFAEL
M35-39
ABOITIZ POWER
CYCLING Z
79
ESTRELLA
MERVIN
M35-39
FLUOR DANIEL INC.
CYCLING Z
80
ORIOLA
DANTE
M35-39
CYCLING Z
81
ROQUE
FLORITO JR.
M35-39
ABOITIZ POWER
CYCLING Z
82
SOUZA
JAYSON
M35-39
CYCLING Z
83
SOUZA
RYANN
M35-39
CYCLING Z
84
VILLARIN
BRIAN
M35-39
CYCLING Z
85
CABAY
ELFREDY III
M35-39
THE LOOP MULTISPORT GROUP
LIFECYCLE
86
DE GUZMAN
MARIUS EDUARDO
M35-39
TIKLOP SOCIETY OF THE PHIL.
LIFECYCLE
87
LI
ROMAN JR.
M35-39
BEAT THE PAIN MULTISPORTS TEAM
LIFECYCLE
88
MAYRINA
IVAN
M35-39
LIFECYCLE
89
MAYRINA
CEDRIC
M35-39
LIFECYCLE
90
VENTURINA
JERICK
M35-39
TEAM SOLOMON
LIFECYCLE
91
CABRAL
MERBERT
M35-39
PNB
92
CASTRO
JULIUS
M35-39
BANGKO SENTRAL NG PILIPINAS
TRINITY
93
LOGRONIO
NELSON
M35-39
TRINITY
94
MOLO
ALVIN
M35-39
BANGKO SENTRAL NG PILIPINAS
TRINITY
95
YERRO
ROBERT
M35-39
TRINITY
96
CARINO
D.J. ARRISHTOTTLE
M35-39
TRINTY
97
RAMOS
DEXTER
M35-39
TRINTY
98
SALVADOR
AUGUST
M35-39
TRINTY
99
BUHAY
FRANCIS
M35-39
1ISA INC./ITS DER
VELOCPD
100
VILLAVERDE
RAUL
M35-39
VELOCPD
101
RAMIREZ
DIOSDADO
M35-39
UPLB TRANTADOS
165
BANARES
CESAR
M35-39
TIKLOP SOCIETY OF THE PHIL.
BPI
167
PEQUERAS
RUDERECK
M35-39
SUNPOWER
BPI
168
CALLEJA
OLIVER
M35-39
TRIBE
169
DIZON
MANUEL
M35-39
COCA COLA
170
IMPERIAL
ALBERT
M35-39
XYCOS
BPI
171
MERCADO
GINO
M35-39
COCA-COLA
172
MONSANTO
MARLOWE
M35-39
XYCOS
BPI
173
REYES
MARNIE
M35-39
XIKAD
BPI
191
SORIANO
JONATHAN
M35-39
FLAMING WINGS
CYCLING Z
194
BALISACAN
GEORGE
M35-39
ROCK N' ROAD BIKE SHOP/LAST MINUTE TRI N' MOTION MULTISPORT TEAM
CYCLING Z
197
FLORENTINO
MOISES JR.
M35-39
CYCLING Z
198
MILLAMENA
MARK ANDREW
M35-39
CYCLING Z
199
MORALES
RANDY
M35-39
CYCLING Z
200
SABILE
JOEL
M35-39
CYCLING Z
205
TAGUNICAR
ETHERNUEL
M35-39
SMDC LAST MINUTE MULTISPORT TEAM
CYCLING Z
210
PINAGA
ALEXANDER
M35-39
ST MICROELECTRONIC CYCLING CLUB
CYCLING Z
212
LIM
WENDELL
M35-39
ROCK N' ROAD BIKE SHOP/LAST MINUTE TRI N' MOTION MULTISPORT TEAM
CYCLING Z
217
CAPISTRANO
DON
M35-39
D' TAKACHIN
CYCLING Z
222
DANIOLCO
JHUN
M35-39
YELLOWCAB CYCLING TEAM
CYCLING Z
224
ILANO
ARMANDO
M35-39
BIKE KING
235
SAWALI
REGINALD
M35-39
CYCLING Z
240
RECABAR
ROMER
M35-39
YELLOWCAB TRI-CLARK
BPI
241
MORALES
BENJAMIN
M35-39
YELLOW CAB TRI-CLARK
BPI
242
BALDOVINO
ALMOND RAY
M35-39
BMB MULTISPORT TEAM
BIKE KING
243
STA. MARIA
NELSON
M35-39
BIKE KING
245
GACUTAN
RICO
M35-39
DLSUMC
CYCLING Z
246
ENRIQUEZ
LEROY LEE
M35-39
THE BRICK
BIKE KING
275
HAMILI
CLARO ADRIANO
M35-39
LIFECYCLE
276
MAGPAYO
KARLO
M35-39
LIFECYCLE
284
MOJADO
IRWIN
M35-39
GLORIA JEAN'S COFFEE
BPI
289
ISIP
JUN
M35-39
FITNESS FIRST PLATINUM, RCBC
BIKE KING
290
GUIAO
ERIC
M35-39
BIKE KING
291
CURA
FLORENCIO
M35-39
F. CURA INDUSTRIES
LIFECYCLE
308
RODRIGO
ALLAN ROY
M35-39
DLS-LIPA
CYCLING Z
314
DAVID
ERIC
M35-39
LOOP MULTISPORTS
LIFECYCLE
323
OLEDAN
MIKE
M35-39
THE STARTING LINE
BPI/BK
325
PENONES
POJIE
M35-39
SAMBALES TRI-TEAM
BIKE KING
330
ALBERTO
EUGENE JOSEPH
M35-39
BIKE KING
336
GARCIA
CHRISTOPHER
M35-39
LIFECYCLE
340
PICHAY
PHILIP JR.
M35-39
THE BRICK
LIFECYCLE
342
KANAPI
RANDY
M35-39
CLEAR SABAK
CYCLING Z
354
SAAVEDRA
GEOFFREY
M35-39
DMCI-HOMES MULTISPORT TEAM
355
WILLCOMM
GUISEPP
M35-39
DMCI-HOMES MULTISPORT TEAM
356
JAVIER
OLIVER
M35-39
DMCI-HOMES MULTISPORT TEAM
46
ROSCA
JAMES
M40-44
GREENHILLS TRI-TEAM
BPI
102
ARCHER
NIGEL
M40-44
XYCOS/GO BITCH
BIKE KING
103
BATAC
RENATO
M40-44
BIKE KING
104
COSETENG
ERIC
M40-44
BIKE KING
105
CRUZ
ALEXANDER
M40-44
BEAT THE PAIN MULTISPORTS TEAM
BIKE KING
106
JOSE
REYNALDO
M40-44
SMDC LAST MINUTE MULTISPORT TEAM
BIKE KING
107
LOPENA
JOSELITO
M40-44
BIKE KING
108
MOLATO
GEORGE
M40-44
BEAT THE PAIN MULTISPORTS TEAM
BIKE KING
109
REBOREDO
JONATHAN
M40-44
BIKE KING
110
SIY-YAP
SEFUEL "CHIP"
M40-44
BIKE KING
111
VALENZUELA
NEIL
M40-44
TEAM SOLOMON
BIKE KING
112
LUNA
EDWARD
M40-44
BPI
113
MANUEL
GEORGE
M40-44
NASUGBU BIKE CLUB
BPI
114
BAUTISTA
RESS
M40-44
ABOITIZ POWER/TRIABETICS
CYCLING Z
115
FALLER
ALBERT CESAR JR.
M40-44
CYCLING Z
116
ROMERO
DON
M40-44
TriBe
CYCLING Z
117
ADVIENTO
GLENN
M40-44
RAPIDE
LIFECYCLE
118
ARCIAGA
RONALDO
M40-44
LIFECYCLE
119
BALUYOT
ACHILLES
M40-44
LIFECYCLE
LIFECYCLE
120
DE DIOS
EDSEL
M40-44
GREENHILLS TRI-TEAM
LIFECYCLE
121
NANIONG
FREDERICO JR.
M40-44
MERALCO SMART LIGHTSPEED
LIFECYCLE
122
EUSEBIO
ROMMEL
M40-44
TEAM IBERET TRI/ITS DER
TRINITY
123
REYES
TOMAS
M40-44
TRINITY
124
LOPEZ
PAULO
M40-44
TRINTY
126
BAYAN
VICTOR
M40-44
ITS DER
VELOCPD
127
BORJA
GERARDO
M40-44
TRIBE
VELOCPD
128
VENERACION
JUN
M40-44
VELOCPD
174
BARRETTO
GEORGE
M40-44
PNP
BPI
175
GOMEZ
ROMARICO
M40-44
BIKRAM YOGA ALABANG XTRM TRI TEAM
BPI
176
ORDONEZ
REYNALDO
M40-44
PANGASINAN TRI TEAM
BPI
177
REYES
JASON
M40-44
XYCOS
BPI
178
SCHELSTRAETE
PETER
M40-44
COCA-COLA
179
VELMONTE
JESUS 'TOTO'
M40-44
XYCOS
BPI
188
ANDAL
ELMER
M40-44
CYCLING Z
189
ANDAL
NOEL
M40-44
ROHM ELECTRONICS
CYCLING Z
190
PORTO
JEROME ANJEELO
M40-44
TRIBE
CYCLING Z
193
MEJILLA
ANTHONY
M40-44
ROCK N' ROAD BIKE SHOP/LAST MINUTE TRI N' MOTION MULTISPORT TEAM
CYCLING Z
204
MATA
ALFRED
M40-44
SMDC LAST MINUTE MULTISPORT TEAM
CYCLING Z
208
RODILLAS
EDISON
M40-44
ST MICROELECTRONIC CYCLING CLUB
CYCLING Z
209
MENDOZA
CHARLES
M40-44
ST MICROELECTRONIC CYCLING CLUB
CYCLING Z
214
VAN DE BEEK
PETER
M40-44
CYCLING Z
216
SABADO
ELIGIO JR.
M40-44
D' TAKACHIN
CYCLING Z
218
WHITE
BONG
M40-44
D' TAKACHIN
CYCLING Z
221
ROJAS
MARLO PAUL
M40-44
BIKRAM YOGA ALABANG XTRM TRI TEAM
CYCLING Z
223
ESPINELI
FRANCIS FARIEL
M40-44
XYCOS
CYCLING Z
227
MCMEERIN
LEE
M40-44
BIKE KING
231
MANTILLA
ARVIN
M40-44
CYCLING Z
233
LABIOS
ENRIQUE
M40-44
CYCLING Z
234
ALINEA
ANTONIO
M40-44
ANALOG DEVICES
CYCLING Z
247
JACINTO
JODY
M40-44
TEAM UNILAB
BIKE KING
248
SALVAN
JOSE ESTEBAN
M40-44
BIKE KING
249
BORDEOS
NICK
M40-44
TIKLOP SOCIETY OF THE PHIL.
BIKE KING
250
HASEGAWA
KEITA
M40-44
BIKE KING
251
GONZALES
TEDDY
M40-44
BPI
252
CUERPO
ANTHONY
M40-44
TEAM LE FRANZE
TRINTY
261
BONDOC
ARNEL
M40-44
YELLOW CAB TRI-CLARK
BIKE KING
262
CRISOSTOMO
GERALD
M40-44
BIKE KING
263
DIONSON
JOMAR
M40-44
T12 CAMELBAK TRI TEAM; R.O.X.
LIFECYCLE
264
DIOSO
PABLITO "BOY"
M40-44
LIFECYCLE
LIFECYCLE
266
CRUZ
YUYOO
M40-44
GIANT
LIFECYCLE
279
GARCIA
JOHANNES
M40-44
YELLOW CAB TRI-CLARK
BPI
282
MARQUEZ
ANNER
M40-44
CANLUBANG BIKERS CLUB
BPI
294
POLINTAN
GIL
M40-44
LIFECYCLE
295
UY
EFREN
M40-44
BEACON-FIVEFINGERS
BIKE KING
296
VILLANUEVA
MARC ANTHONY
M40-44
SMDC LAST MINUTE MULTISPORT TEAM
BIKE KING
297
DE LA CRUZ
MICHAEL ANGELO
M40-44
BIKE KING
298
AYO
ALEXANDER
M40-44
LIFECYCLE
309
REYES
ERROL
M40-44
DLSU
CYCLING Z
310
DUMALAOG
JAMES EDWARD
M40-44
CYCLING Z
311
BINAMIRA
DONDON
M40-44
ST MICROELECTRONIC CYCLING CLUB
CYCLING Z
312
CASTILLO
ROMULO JR.
M40-44
CYCLING Z
315
DE PADUA
ZOILO CENEN
M40-44
XYCOS
BPI
341
PINEDA
JONATHAN "DOC JOHN"
M40-44
BPI/LC
346
TORRES
ROMERICO
M40-44
T12 CAMELBAK TRI TEAM
347
ISIP
ALEXANDER
M40-44
T12 CAMELBAK TRI TEAM
350
DE LA PAZ
THOMAS
M40-44
T12 CAMELBAK TRI TEAM
351
LIMJOCO
ANDREW
M40-44
T12 CAMELBAK TRI TEAM
358
DERRADA
ERIC
M40-44
DMCI-HOMES MULTISPORT TEAM
359
GARALDE
GERARD
M40-44
348
ISIP
AARON
M40-44
T12 CAMELBAK TRI TEAM
129
CRUZ
EDWIN
M45-49
FUJITSU
BIKE KING
130
GAN
JOSEPH
M45-49
BIKE KING
131
LEATHER
JAMIE
M45-49
24-7
BIKE KING
132
LEE
ARNOLD
M45-49
BIKE KING
133
LUY
ENRIQUE JR.
M45-49
BIKE KING
134
MERCADO
ROLANDO
M45-49
BEAT THE PAIN MULTISPORTS TEAM
BIKE KING
135
JOSON
LEO
M45-49
BPI
136
VILLAMAYOR
NELSON
M45-49
CITY ASSESSOR OFC.
CYCLING Z
137
ARCIAGA
REYNALDO
M45-49
LIFECYCLE
138
DOCTOLERO
ROMULO
M45-49
TIMEX TMM
LIFECYCLE
139
JAMILA
ALLAN
M45-49
LIFECYCLE
140
YANG
STEPHEN
M45-49
LIFECYCLE
LIFECYCLE
141
PITIQUEN
BING
M45-49
TRINITY
142
MANLANGIT
RAUL
M45-49
TRINTY
143
MARTINEZ
MARTIN CHRISTOPHER
M45-49
PEPEDALS
TRINTY
144
PANOPIO
ANGELO
M45-49
PEPEDALS
TRINTY
145
FALSIS
PETER
M45-49
PDC/DLSU
VELOCPD
146
CARAGAY
MICHAEL
M45-49
XYCOS
180
GREGORIO
ANDY
M45-49
COCA-COLA
181
LITTLE
STEVE
M45-49
COCA-COLA
182
REYES
ALEXIS
M45-49
COCA-COLA
196
ILANO
ALLAN
M45-49
CYCLING Z
215
CARREON
ANDREW
M45-49
D' TAKACHIN
CYCLING Z
230
PABELICO
JOEL
M45-49
CYCLING Z
232
VILLADOLID
JOSELITO
M45-49
CYCLING Z
273
JARIN
PETER
M45-49
GREENHILLS TRI-TEAM
BPI
283
BAROLO
RAFFY
M45-49
CANLUBANG BIKERS CLUB
BPI
287
ORLANDA
JAMES
M45-49
TOTAL FITNESS
316
HONRADE
RONALD
M45-49
TRIMAC
324
MANGULABNAN
LUIS
M45-49
PHIL. WINE MERCHANTS
331
BOLINA
ANGELITO
M45-49
JAC MOTORS
BIKE KING
332
FAJARDO
ANTONINO
M45-49
BEACON-FIVEFINGERS
BIKE KING
334
ROSIN
ENRICO
M45-49
PNP TRI TEAM
LIFECYCLE
343
MILLA
JESUS
M45-49
JOBERT
344
CUISON
JOSEPH
M45-49
POTATO CORNER
VELOCPD
357
SALCEDO
MIGUEL ANDRES GERARDO
M45-49
DMCI-HOMES MULTISPORT TEAM
147
BANAAG
ALBERTO
M50-UP
DMCI-HOMES MULTISPORT TEAM
BIKE KING
1383
FERNANDEZ
KING
M50-UP
HIT N RUN
BIKE KING
1384
IFURUNG
ARTHUR
M50-UP
YELLOW CAB TRI-CLARK
BPI
1390
HERNANDEZ
ROEL
M50-UP
CYCLING Z
1433
KUHNE
THOMAS
M50-UP
CARRIER-GRC
CYCLING Z
1440
CHING
EDWIN
M50-UP
LIFECYCLE
LIFECYCLE
1456
SANCHEZ
GILBERT
M50-UP
TEAM SOLOMON
LIFECYCLE
1482
SALVADOR
SOLOMON
M50-UP
PEPEDALS
TRINTY
183
ASUNCION
RONNIE
M50-UP
COCA-COLA
184
DIAZ
TADDY
M50-UP
XYCOS
BPI
185
PACHECO
EMMANUEL
M50-UP
COCA-COLA
186
SMITH
JOHN
M50-UP
COCA-COLA
253
TAN
FRANCISCO JR.
M50-UP
LE FRANZE TEAM
TRINTY
267
EUGENIO
WILLIE
M50-UP
SOFITEL RUNNING CLUB
CYCLING Z
288
GUETA
JOSEF
M50-UP
FITNESS FIRST PLATINUM, RCBC
BIKE KING
299
ASONG
DODONG SR.
M50-UP
BIKE KING
300
TORRES
ERNESTO JR.
M50-UP
MARIKINA CYCLING CLUB
322
ROSALES
EFREN
M50-UP
TRINITY
326
ABUAN
PETRONILO
M50-UP
SAN MIGUEL FOOD INC.
BIKE KING
339
DONATO
RAWLIN
M50-UP
YELLOW CAB TRI-CLARK
BPI
349
CO
ADRIAN
T12 CAMELBAK TRI TEAM
352
TACA
JOHN ERICH
T12 CAMELBAK TRI TEAM
Comments
comments