This didn't take long. Less than a year into the sport, our next In[FOCUS] athlete is already proving to everyone that he has what it takes to compete with the best of the best.
Don't be fooled by the good looks (insert awkward guy moment here), because as one fella racer at the recently concluded Vaseline Men XTERRA Tri-Out's Camp said, this guy is legit. We believe so too.
It's our pleasure to have on SBR.ph. The champ karter and speedster himself, Matteo Guidicelli.
---
SBR.ph : Welcome to SBR.ph bro! Awesome having you here! Let's get to the basics first. How did you get into triathlon?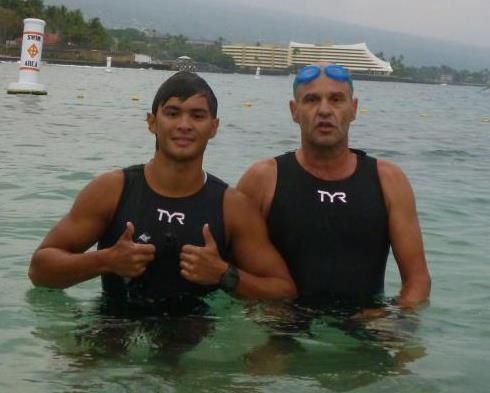 Matteo : Noy Jopson encouraged my dad to start tri about 2 years ago, then later on Noy and my dad introduced me to the sport. At first I really wasn't interested in it, I thought it was boring. But a month after my dad bought me a bike; I was convinced to join my first tri in Naga, Cebu. I used my Scott road bike for around month and ran a couple of times but trained ZERO for the swim. Noy said it was going to be an easy fun race. I believed him and went for the challenge.
So when we were in the water waiting for the gun start, I asked Noy, "Noy where do I stay in the front or at the back?" Noy tells me "Mat stay in the front with me and follow me!" so I did and yes I was an idiot for doing that. The race started and we all sprinted out into the open water. Not even 200 meters out I was out of breath. I thought I was going to drown and die, literally. I stopped swimming and started back floating to catch my breath. I was scared and I wanted to give up. Good thing James (who later became my training partner) saw me and told me to pace with him. So I did, and I was able to finish the swim leg. I had a fun time biking and hard time running. After that day I was challenged and I fell in love with triathlon!
SBR.ph : I must admit, when I was starting to get back in training early in the year and saw your name start on the start list, I was telling everyone, "This newbie won't beat me! He'll never beat me!". It didn't take 1 nano-second, when you started winning, for me to pull my infamous "injured" disclaimer card. Hehe! Have you always been this competitive?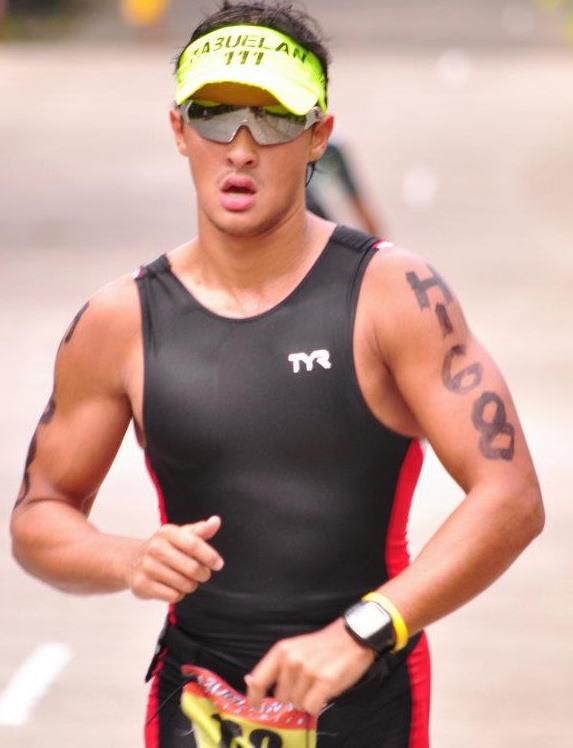 Matteo : I've always been competitive. I guess I got it from years of racing. when I'm passionate about something I always give my best and I totally change my lifestyle for the things I love.
SBR.ph : I saw you rip the downhill sectiosn of our Vaseline Men XTERRA Tri-Out's race course as if it's a flat road. Props to your bike handling skills! You think being a champ karter as a kid has something to do with that?
Matteo : The downhills are scary but I love the speed! I think being a karter helped me a lot with racing lines and breaking points. It's almost the same thing with the mountain bike. In the corners I use the same principle with driving a car or kart (slow in fast out).
SBR.ph : Why the heck didn't you tell that to me when we were doing the camp?! I thought slow in, slower out, fall off the cliff, is the way to go! Ok, back to the interview, what trait, skill, or discipline were you able to bring into triathlon from karting?
Matteo : Karting has taught me a lot, being determined, focused and dedicated. It has really disciplined me as an athlete. Waking up early in the morning, eating the right things, training hard and to never give up.
SBR.ph : Given your busy schedule, how do you still find time to train?
Matteo : It's all about time management! I regularly tape 3 times a week and more or less 18 hours a day. So that means no sleep! When I have taping days I've learned to not train at all or else I would get sick. Before I would train I would make sure I'd have enough sleep (5 to 6 hours of sleep). I basically learned the hard way, recovery is part of training! I would train on days that I didn't have enough rest and what happened was I would immediately catch a cold and cough then it would lead to a fever. So sleep well before training. So basically for me it's all about time management and making training a habit and part of my lifestyle.
SBR.ph : Among the 3 disciplines, which one is your weakest and how are you addressing it?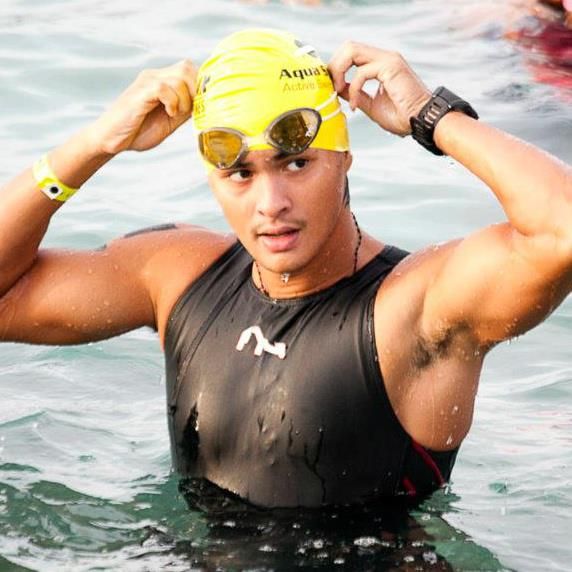 Matteo : Swimming is my weakest! I get paranoid when it comes to the open water, people hitting you and when the water is dark and unclear. My Coach Noel Salvador has been giving me hard swim workout because he knows swimming is my weakest discipline. I've always believed that if you want to improve on something, you have to work extra hard on it. So that means more sessions in the pool. I challenge myself; I put myself in situations where I'm not most confident at. Then I learn and improve from there.
SBR.ph : Why the heck do you have a lot of twitter accounts!? One account I always see is Team Guidicelli. Is that your posse? Who's included in the team?
Matteo : Hehehe my officially twitter account is @mateoguidicelli. The correct spelling of my name is with a double T (matteo) but it wouldn't fit on twitter, so just one on twitter. The other accounts are fans. But not just ordinary fans, they are extra cool and supportive fans! I love them man and I'm super blessed to have people like them supporting me.
SBR.ph : Can you give us a 1 week sample of your training block?
Matteo : Noel Salvador basically plans out my training schedule. Whenever I'm free I would call him and be like "ser train na tayo!" Coach Noy would also give me workouts whenever he is in manila or when I go to Cebu. My training schedule changes all the time, I have to adjust it with my work schedule. Basically I try to swim (2-3x a week), bike (2-3x a week) and run (2-3x a week). I try to fit it in! Then I have my gym trainer, Froilan Dioso. He kills me at the gym with different core and strengthening workouts.
SBR.ph : What are your target races for next year?
Matteo : Still have to plan it out. But thinking of doing more of the Olympic distance races and mountain bike stuff.
SBR.ph : I saw you were rocking a Swatch tri suit last race. Can you tell us something about the team? Who else is on the roster?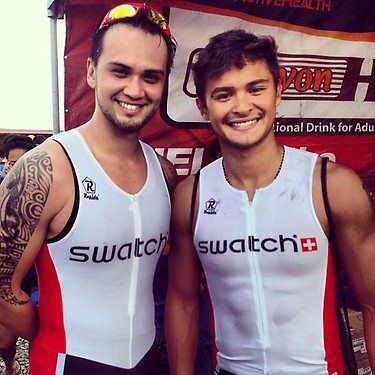 Matteo : Been endorsing Swatch for almost 6 years now and Tita Vergie our Mom for Swatch sponsored Billy and I tri suits for the Rudy Project Race.
SBR.ph : I didn't know Swatch makes digital watches now!? You're not using Pop swatches are you?
Matteo : Soon they will bro!
SBR.ph : Being a showbiz personality, does that add any pressure on you to perform during races?
Matteo : I don't think about it that way. I just train hard and I race my own race because I love the sport. I'm super passionate about triathlon right now and about having a healthy lifestyle and being active. One of my dreams is to just inspire people to live a healthy, sporty lifestyle.
SBR.ph : So, totoo ba yung tsismis na you and ….. broke up because…… =) Hehe.
Matteo : Haha Carlos? Haha lets just say triathlon changed my life.  Bro… you know the answer to that already! Haha
SBR.ph : I saw your dad kicking a lot of younger butts last Ironman 70.3 Philippines Cebu! Who else in the family is into the sport?
Matteo : My whole family is sporty, I would say… but my dad is my inspiration. He is so strong mentally and I think that's very important in our sport. He would just push and push until the finish line. It's just really inspiring and motivating on how he sets his mind on things. I want to learn that and have the same strong mind set one day.
SBR.ph : Tell us about your sponsors.
Matteo : I have the coolest sponsors bro! Swatch and Rudy Project has been supporting me since day one of my racing days and now in triathlons. Boardwalk, SMDC, Head and Shoulders, BELO  are always beside me in the things I do. They are all like family already!
SBR.ph : Hey can belo help me with my abs too?? Kidding. Ok seriously, name three things people don't know about Matteo Guidicelli.
Matteo : 1. I don't drive on the streets. 2. I can't stay in one place and do nothing. 3. I don't like being alone.
SBR.ph : When you're not training, you are….
Matteo : Spending time with my family or working most of the time.
SBR.ph : Anything you want to say to our readers? Your fans?
Matteo : Carlos is the coolest and funniest dude!! But seriously, let's continue to encourage and spread multi-sport all around the Philippines. Continue to promote healthy living and an active lifestyle! To my fans and supporters, thank you very much guys for the support! Hope to see you guys in the races!!
SBR.ph : Shows you wanna plug?
Matteo : My new teleserye is out, called "Precious Hearts Romances presents Paraiso." On ABS-CBN around 5pm! Hope you guys watch it!
SBR.ph : Thanks for the time bro!
Matteo : Bro thank you very much! thank you for giving me the opportunity to be on your website! And thank you for the SLS3 Compression Gear!! You rock man! God bless!
Comments
comments