Come one, come all! Hey everyone! See y'all this Sunday (1/13/13) at The Village Sports Club for SBR.ph's 2nd Year Anniversary Ride!
Register for the ride below this article!
SBR.ph's 1st Year Anniversary Ride
Come celebrate our anniversary with us! Like last year, let's do an easy 60k ride and then have a fun get-together as we announce the winners of the 2nd Annual SBR.ph Awards!  Ride starts at exactly 6:30am so come early!
For more info about The Village Sports Club and how to get there, visit their website at http://thevillagesportsclub.com/ or click here.
Registration will be at the Verde Events Lawn (field), please note that bikes are not allowed inside the field. You can leave them inside your car or on your bike racks after the ride.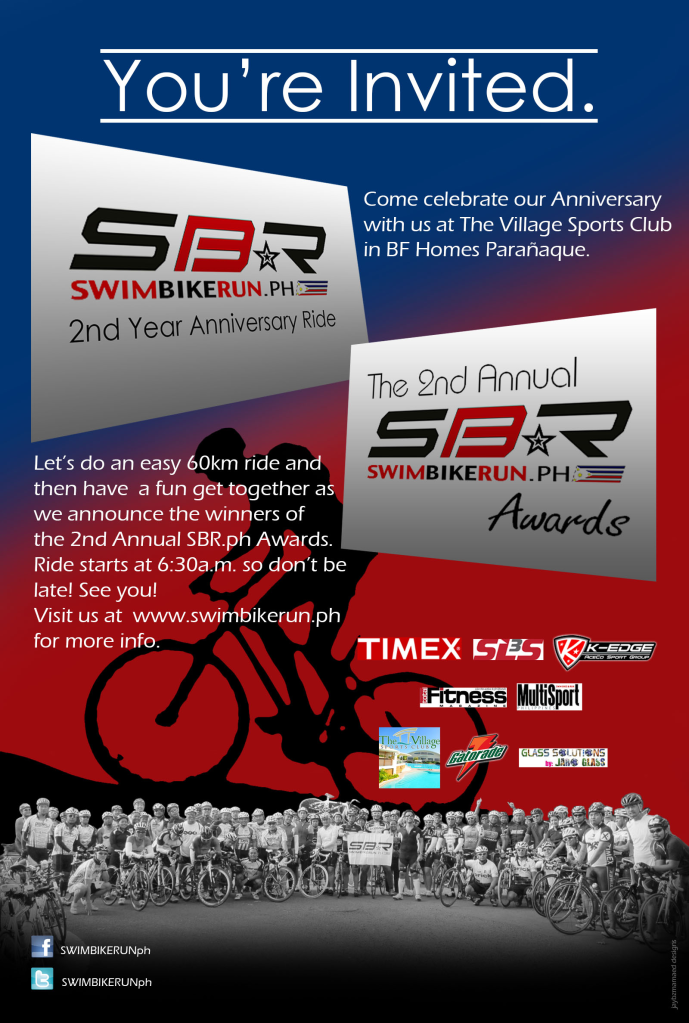 Ride Notes and Reminders
How can I join? How much? Can anyone join?

The ride is open to EVERYONE. There is no registration fee or whatever. We'll just require you to sign up via our online sheet so we know how many to expect! (will upload online sheet soon).
The Route / Ride Pace
The ride will start at The Village and then go all the way to Shell Trese Martires via Daang Hari. That's approximately 30k so the ride will be 60k in total. We will then turnaround at Shell then ride back to the village. The pace of the ride will be a controlled easy/moderate (about 25-30kph on the flats). TIMEX 226 Champion Franklin "Aging" Penalosa will be there to control the pace and "check" those who will attack :)
As much as possible, we encourage everyone that we ride as a single peloton. Not only will that look totally awesome in the pictures, that'll be a sight to see too!
Check out the map of the ride.

But I'm a newbie! Can I join?
Although this is an easy ride, average bike fitness and handling skills are required. Please note that we will be passing through major highways and intersections. So unless you're confident in your biking skills, please always exercise extreme caution. We will do our best to help everyone finish the ride.
NO HELMET NO RIDE
We can't stress this enough. Again, NO HELMET, NO RIDE. We'd rather have 1 less participant than let a rider without a helmet join the ride.
Can I use my aero helmet?
It's entire up to you. If you think wearing an aero helmet during training rides is cool, then by all means, go ahead. :) We'll take pictures of you as well for souvenir :)
Can I use my mountain bike?

Yes, you can. You can use any type of bike that you want. However, please note that participants will most likely use their road or tri bikes. So unless you're a really strong MTB'er, there's a chance that you won't be able to keep up. We strongly suggest putting slicks if you want to use your MTB.
What if I get dropped and left behind?
If you suddenly realize that the pace is too fast for you and you got dropped, you have the option to do loops along daang hari instead. You can also go back to The Village Sports Club on your own or wait for the peloton at Petron in Daang Hari.
Will there be marshalls?
The Village Sports Club will provide marshall's only inside BF HOMES. After that, there will be NO MORE MARSHALLS along the bike course. We would like to stress the fact that this is just a fun ride and not a race. Think of this as your regular saturday group ride, only 10x bigger :)
I'll join the ride but I want to bring my family, where will they stay?
Access to the swimming pool for event participants will be allowed from 6am until 3pm during the day of the event. Subject to the standard pool guest fee which is P280 (inclusive of locker access).
Will there be food and nutrition?
Gatorade will be our official hydration drink throughout the event. Gatorade will be served before the ride and on the bike course, via a SAG (support and gear) vehicle. There will be NO aid stations along the bike route. Food will also be available for sale The Village Sports Club after the ride.
What happens after the ride?
Photo ops, photo ops, and a lot more photo ops! After the ride, we will have the announcement of the winners of the 2nd Annual SBR.ph Awards, and then the much awaited RAFFLE!
RAFFLE! RAFFLE! RAFFLE!
The moment everyone's waiting for! :) Like last year, we will be raffling off awesome prizes from our cool friends and sponsors! Here's what we got so far!
1 BIKE BOX c/o Jumbo Tayag of Tri Bros
1 RETUL Bike Fit c/o Primo Cycles
2 Pairs K-Swiss Vertical Tubes Cali-Mari c/o K-Swiss Philippines
1 SBR.ph Tri Suit c/o SBR.ph
1 Lifeproof Bike Bar Mount
1 SLS3 Quad Sleeves c/o IGOP Enteprise
1 K-Edge Chain Catcher c/o IGOP Enterprise
1 Yurbuds Focus c/o Casco Inc.
1 Ultimate Hydration Belt c/o The Brick Multisport Store
1 Speedo Googles c/o The Brick Multisport Store
6 Php500 Gift Certificates c/o HARVEST Gastro Pub Fort and Ortigas branches
1 La Promesse Bracelet- The Lockheart Bracelet (as seen at Abs-Cbn's "A Beautiful Affair") c/o KARAT WORLD JEWELRY with 16 branches nationwide (for women's only) :)
1 Year Total Fitness Magazine Subscription c/o Total Fitness
2 Second Wind Shirts c/o Second Wind Running Store
5K worth of Planet Sports GC c/o Multisport Magazine
1 pair of Asics shoes c/o Multisport Magazine
1 Puma Watch c/o Multisport Magazine
1 Aquasphere Seal XP Goggles c/o Light'N Up Marketing
1 Aquasphere Kaiman Goggles c/o Light'N Up Marketing
1 Zoot M Advantage 2.0 Shoes c/o Light'N Up Marketing
3 Cervelo Shirts c/o Light'N Up Marketing
3 HED Shirts c/o Light'N Up Marketing
3 Rotor Shirts c/o Light'N Up Marketing
2 Zoot Shirts c/o Light'N Up Marketing
1 Tubular Bag c/o The Brick Multisport Store
1 Ice Cycle c/o Triton
We will update the list as we get more sponsors so keep on checking this page! If you want to donate a prize, contact us at [email protected] or 0917-2554111. Thanks!
Want to join? Sign up below!
[si-contact-form form='5′]
Comments
comments