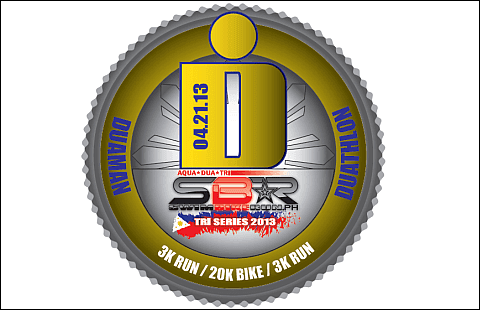 Heads up Duaman's! The 2nd Leg of the SBR.ph Tri Series 2013, the Duaman Duathlon is just around the corner! See the list below for the F.A.Q.'s (Frequently Asked Questions) about the race! We hope this clears everything. :)
Actually, most of the questions can be answered by clicking here and here. But for the sake of our newbies, we collated everything into a much simplier list. :)

Read on.
---
1. Where is the event going to be held?
As announced since the beginning, the event will be at Nuvali in Sta. Rosa Laguna.
2. But where in Nuvali?
The START/FINISH line will be at The Fields inside Nuvali. Upon entering Nuvali, just go straight and it's 2 blocks away. You can't miss it.
3. What time is the event?
Gun start is 6am. It's advised to be there at least 2 hours earlier.
4. Where will we park?
You can park at the back of The Fields. We have plenty of parking spaces there for everyone.
5.Where can I claim my timing chip?

Timing chip will be claimed on race morning. It's a D-Tag (shoe tag), that you will put in your shoe laces. To those wearing cycling shoes, don't worry because we will be able to compute your run 1 and run 2 splits. The time gap in between will be your actual bike time.
6. I just got my race kit and it contains a lot of numbers! What are those for?
The biggest one with the star is your race number, you will pin that or wear it using a race belt, in front of your jersey. The three other stickers are for the bike and your helmet. You will stick the smallest sticker in front of your helmet and the 2 similar sized sticker should be placed on your bike where it is visible to our marshalls. (See picture below)
7. Will there be aid stations?
Yes, there will be plenty of aid stations situated in the run course and at the start/finish line. We will not have an aid station on the bike so please bring enough.
8. Will it be a mass start?
Yes, all 650+ of you will go at the same time.
9. But isn't it that dangerous? It should be a wave start!
There's nothing dangerous by running all at the same time :) It's actually quite an awesome sight. Racers will start to trickle down once they get on the bike leg.
10. Will the course be off road? I hope it will be on concrete!
Don't worry folks. We'll leave off-road racing to XTERRA Philippines :)
We hope we've answered all your questions with regards to the Duaman Duathlon this Sunday! If you have any more, just ask away! Thanks and see you there!
Comments
comments