Here we go SBR.ph nation! Get ready for the grand finale of the Enervon HP SBR.ph Tri Series 2013! Good luck to everyone!
Click here to view the general info of the Enervon HP SBR.ph Tri Series!
As per SBR.ph Tri Series tradition, course maps will be released next week!
Triman Triathlon | The Enervon HP SBR.ph Tri Series Leg 3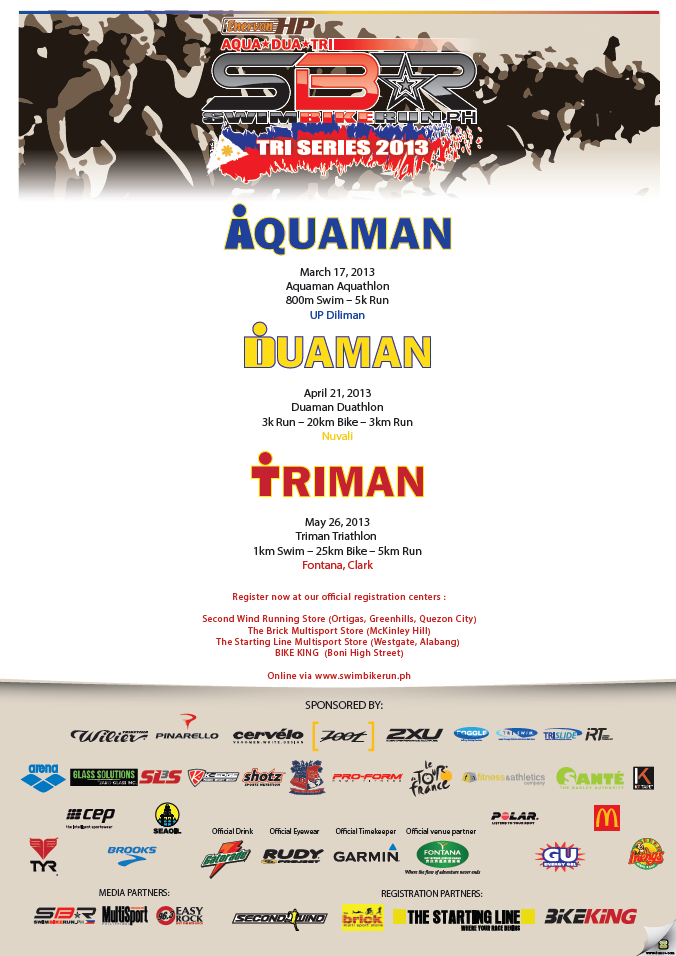 Race Info :

Enervon HP Triman Triathlon | 1k Swim – 25k Bike – 5k Run | May 26, 2013 | Fontana Hot Spring Leisure Parks Resort, Clark.
Gun start 6am.
Race packets will be distributed at The Brick in McKinley Hill The Fort on race week up to Friday 7pm and then on race day.
Food will be served for all the participants after the race. We will make sure you're full!
Race Schedule :
Note : Release time is subject to change depending on the flow of traffic in the water.
4am : Race Packet Claiming / Body Marking
5:30am : Race Briefing
6:00am : Wave 1 Start (M 35-39)
6:20am : Wave 2 Start (M 30-34)
6:40am : Wave 3 Start (M 40-44)
7:00am : Wave 4 Start (M 25-29)
7:20am : Wave 5 Start (M 16-19 / M 20-24 / M 45-49 / M 50-Over)
7:40am : Wave 6 Start (ALL WOMEN)
Fontana Olympic Size Pool
Race Course :
Athletes will be released in waves (by age groups). Athletes will complete 3 loops of 300m and then after their 3rd, jump in the 5th lane (lane beside the exit) for another 100m to complete the 1 kilometer swim. After completing the swim, athletes will then run to the transition area for T1. For safetly purposes, diving is not allowed on the 5th lane. Please exercise extreme caution when entering the pool. Let's remember that this is a FUN race.
Bike Run Course :
As announced earlier, after careful course study, and upon recommendation of CDC security, the bike course is now a 3 loop ride which goes around the perimeter of Fontana and Clark. The new course is virtually traffic free which was a major concern as 90% of our participants are newbies. The bike course is now flat and very aero. 3x easier, 10x faster and 100% safer! There is a fast, long, and enjoyable straight downhill section upon exiting T1 and then a slight incline as you head back. The downside? The course got a lil bit longer. :) But that's an adjustment we're willing to make to make sure everyone enjoys a very safe bike ride.Upon entering T2, athletes will make run 3 loops around the scenic and very homey atmosphere of Fontana Leisure Park before heading to the finish line.
So that's it. To make easier for everyone to count their loops, just remember to count up to 3 :) Except for the swim of course which is a 3.1 :)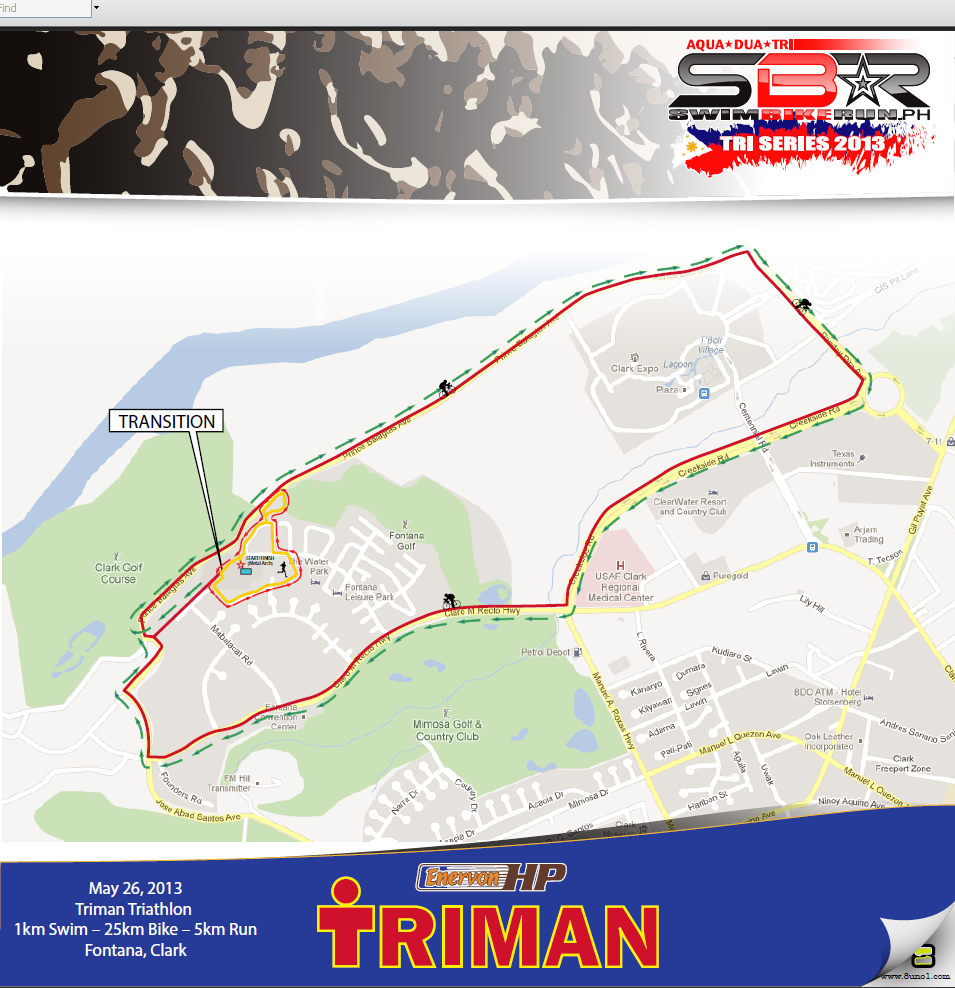 Fontana Booking Procedures:
As a venue sponsor, Fontana Hot Spring Leisure Parks is offering the following to all Triman Triathlon participants!
1. 30% discount off the rack rate on Accomodation.
2. Special discounted rate 75.00 entrance fee for the family members, friends, and spectators.
Free entrance for all in-house guests
Free entrance for cardholders
3. Breakfast rate of Php100 is extended for the participant's family and friends.
For the booking requirements, you may contact Fontana Hotspring Leisure Parks at :
Cellphone Number: 0917-553-7665
Email Address: [email protected]
Please be ready with the following information:
Name:
Contact Number:
Villa/Room Type:
Date of Arrival:
Date of Departure:
Company Name: Participant of the triman triathlon
Registration Fees:
Aquaman Aquathlon | Duaman | Triman
Php 1,200
Tripack (Aquaman, Duaman, Triman Package)
Php 3,000 (no longer available)
Entry is non-refundable, non-transferable and non-applicable to future races. Race numbers are non-transferable.
Prizes/Categories:
Top 3 for Overall Male / Female Winners
Php 5,000, Php 3,000, Php 1,000 and trophies respectively
Male Age Group
• Trophies for Top 3 16~19 yrs, 20~24, 25~29, 30~34,35~39, 40~44, 45~49, 50 & over
Female Age Group
• Trophies for Top 3 16~19 yrs, 20~24, 25~29, 30~34,35~39, 40~44, 45~49, 50 & over
Finisher shirt and medal for all participants.
Refreshments before, during, and after the race.
Medal:
Triman Triathlon Medal
Finisher Shirt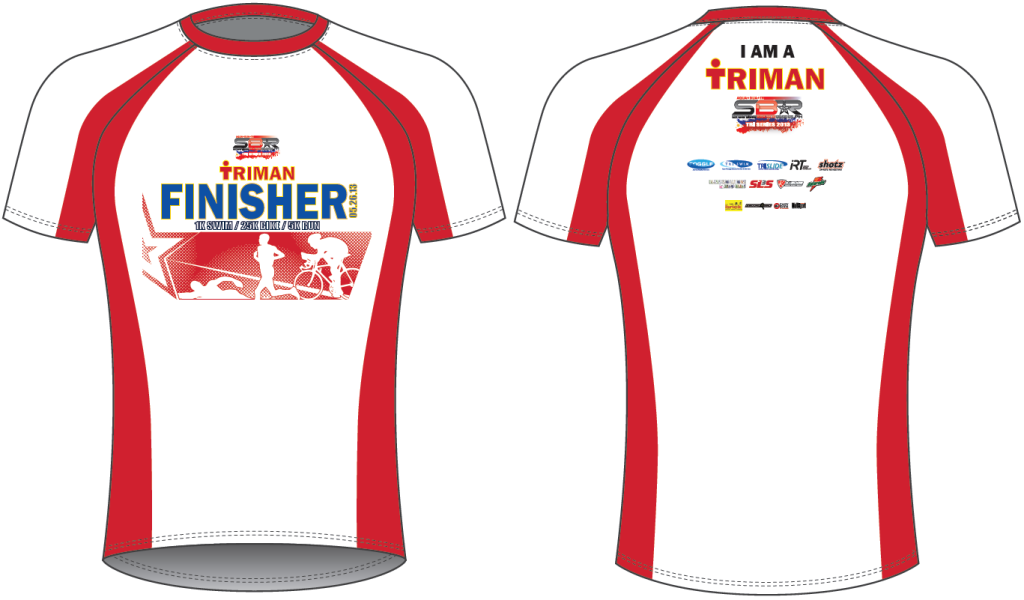 Triman Triathlon Finisher Shirt
Trophies for the winners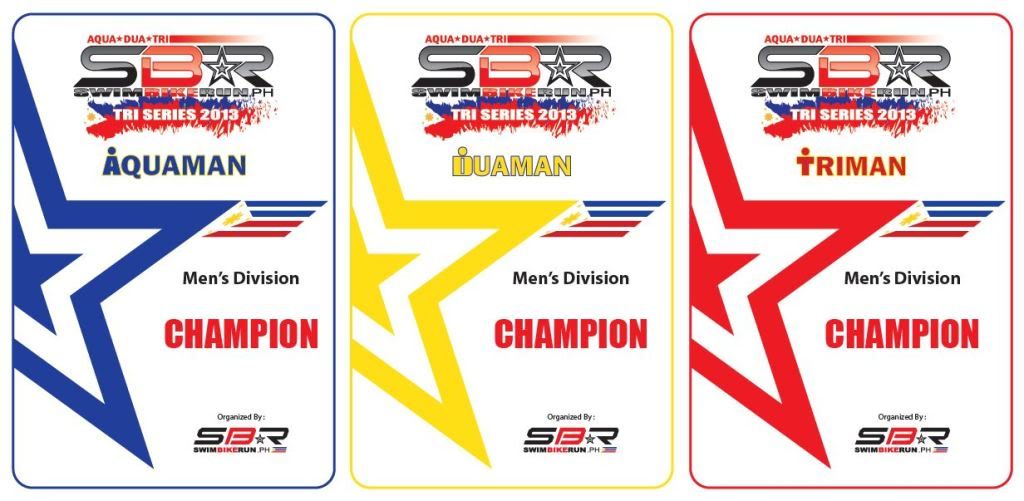 Sponsors:
Wilier, Pinarello, Cervelo, Zoot, 2XU, Tri Swim, Tri Slide, iRT, Sante Barley, KT Tapes
Arena, Glass Solutions, SLS3, K-Edge, Shotz, Ny Theraspine, Pro Form / Le Tour de France, Fitness and Athletics
SeaOil, CEP, Brooks, GU, Polar, TYR
McDonalds, Ineng's BBQ
Enervon HP, Unilab Active Health
Official Drink
Gatorade
Official Eyewear
Rudy Project
Official Timekeeper
Garmin
Media Partners   
SBR.ph / Multisport Magazine / 96.3 Easy Rock
Venue Partner
Fontana Hot Spring Leisure Parks
Registration Centers:
Second Wind Running Store (Ortigas Home Depot, Greenhills, Quezon City)
Start List of the Enervon HP SBR.ph Tri Series 2013 Triman Triathlon
(Updated as of 5/24/13)

| | | | | |
| --- | --- | --- | --- | --- |
| | Surname | First Name | Category | Team |
| 1 | Sabido | Jessica | F16-19 | |
| 2 | Adorna | Maria Claire | F20-24 | Yellow Cab Tri Clark |
| 3 | Co | Johanah Joyce | F20-24 | |
| 4 | Dianna | Irene Zyra | F20-24 | |
| 99 | Natividad | Erika Joy | F20-24 | Timex Golds Gym TMM |
| 475 | Abad | Mirasol | F25-29 | Team Sante Barley |
| 5 | Chua | Samantha Shelley S. | F25-29 | |
| 6 | Cortez | Bianca Sison | F25-29 | Unilab Active Health |
| 7 | Cruz | Ria Carmela | F25-29 | Pinoy Fitness |
| 8 | Dorin | Zara | F25-29 | |
| 9 | Dorin | Matet | F25-29 | |
| 10 | Facto | Mary Kristine | F25-29 | Attack Tri Team |
| 11 | Fernandez | Maria Lourdes Joy | F25-29 | |
| 12 | Galvan | Lucille Jade | F25-29 | |
| 13 | Guevara | Mara | F25-29 | Timex Golds Gym TMM |
| 14 | Lavina | Regi Ann | F25-29 | St. Luke's |
| 15 | Lazarte | Marielle | F25-29 | TRInspire |
| 16 | Limjoco | Angelica | F25-29 | |
| 17 | Polias | Ayesa | F25-29 | |
| 18 | Romualdo | Sylvia Catherine | F25-29 | |
| 19 | Tiangco | Czarina | F25-29 | |
| 20 | Villa-Mendoza | I-A | F25-29 | LAKANTRI |
| 21 | Agaton | Vanessa | F30-34 | Army Navy South Tri |
| 22 | Agolon | Vanessa | F30-34 | Army Navy South Tri |
| 23 | Balatibat | Maris | F30-34 | UPLB Trantados |
| 24 | Barroso-Jamiro | Rachel | F30-34 | Tri N Motion |
| 25 | Briones | Ma. Hazel B. | F30-34 | |
| 26 | Briones | Anna Patricia | F30-34 | |
| 27 | Casareo | Arlyn Buenaventura | F30-34 | Greenhills Tri Team |
| 28 | De Guzman | Noelle | F30-34 | Endure |
| 29 | de Guzman | Laarni | F30-34 | Timex Golds Gym TMM |
| 30 | Delos Santos | Camille Diane | F30-34 | The Brick Multisport Store |
| 31 | Go | Eunice Cheng | F30-34 | Tri Inspire |
| 32 | Magsalin | Chase Hermit | F30-34 | Tri N Motion |
| 33 | Mojdeh | Joan Melissa | F30-34 | |
| 34 | Parcon | Toni Rose | F30-34 | |
| 35 | Sanchez | Cherry | F30-34 | Club Tri Clark |
| 36 | Sebastian | Joan | F30-34 | Solid Tri |
| 37 | Tayag | Denise | F30-34 | Yellow Cab Tri Clark |
| 38 | Valenzuela | Jennifer | F30-34 | |
| 39 | Valladores | Jo-Anne | F30-34 | Gold Tri |
| 40 | Andrysiak | Dianne | F35-39 | |
| 41 | Barretto | Cheryl | F35-39 | |
| 42 | Bartolome | Irene | F35-39 | |
| 43 | Bautista | Nylah Rizza | F35-39 | Alveo – Ayala Land |
| 44 | Dablio | Nelirene | F35-39 | |
| 45 | Goebel | Marina | F35-39 | WetSHOP Todo Tri Team |
| 46 | Hillier | Jacqueline | F35-39 | |
| 47 | Lagadia | Jane | F35-39 | Praetorian Tri Team |
| 48 | Leopando | Rosa | F35-39 | Attack Tri Team |
| 49 | Manso | Razel | F35-39 | |
| 50 | Pamatmat | Mari Grace | F35-39 | Century Tri Hard |
| 51 | Perez | Maria Elena | F35-39 | |
| 52 | Provido | Ronalyn | F35-39 | TBX |
| 53 | Ramoy | Ligaya | F35-39 | Trimac Sante Barley |
| 54 | Taguilaso | Geraldine | F35-39 | 100 Plus |
| 55 | Ty | Cecille | F35-39 | |
| 56 | Wunderlich | Nicola | F35-39 | |
| 57 | Ching | Janet | F40-44 | Optimum Nutrition |
| 58 | Esguerra | Kathlyn | F40-44 | |
| 59 | Gojo-Segunial | Donna | F40-44 | |
| 60 | Gonda | Joji | F40-44 | |
| 61 | Natalotto | Ros | F40-44 | |
| 480 | Roca | Rowena | F40-44 | Team Sante Barley |
| 62 | Rodriguez | Tess | F40-44 | Attack Tri Team |
| 63 | Saputil | Chay Mondejar | F40-44 | |
| 64 | Sebastian | Jo-Ann | F40-44 | |
| 65 | Vargas | Joy | F40-44 | Team Endure |
| 66 | Ilagan | Maria Carmina | F45-49 | |
| 67 | Magpantay | Julieth | F45-49 | Julieth |
| 68 | Quintana | Sharlene | F45-49 | |
| 69 | Valenzuela | Maria Dina | F45-49 | |
| 70 | Abad | Juan Carlos | M16-19 | Tri Union |
| 71 | Adviento | Alab | M16-19 | |
| 72 | Crizaldo | John Rafael | M16-19 | |
| 73 | Ducanes | Jefferson | M16-19 | |
| 74 | Florendo | Gabriel | M16-19 | Dr. Wong's Tri-Ying Hard |
| 75 | Go | Rephael James | M16-19 | |
| 76 | Ibera | Edward John | M16-19 | |
| 77 | Marchadesch | Leandro Rafael | M16-19 | Train Bacolod |
| 78 | Pangilinan | John Deineil | M16-19 | |
| 79 | Pineda | Christian Kyle | M16-19 | Yellow Cab Tri Clark |
| 80 | Porto | Miguel Aira | M16-19 | Tribe |
| 81 | Reyes | Michael Angelo Z. | M16-19 | |
| 82 | Reyes | Gideon | M16-19 | |
| 83 | Romero | John Daniel | M16-19 | GRC Toshiba |
| 84 | Santos | Jose Maria | M16-19 | Yellow Cab Tri Clark |
| 85 | Soberano | Jose Gabriel | M16-19 | |
| 86 | Valenzuela | Amson | M16-19 | |
| 87 | Danguilan | Justin | M20-24 | |
| 88 | Delos Santos Santiago | Mervin | M20-24 | Team Sante Barley |
| 89 | Gaviola | Jason Paul Cabrera | M20-24 | Sante Barley |
| 90 | Gasacao | Hein | M20-24 | UP GP'S |
| 91 | Go | Reuben Thomas | M20-24 | FitFil |
| 92 | Gomez | Jose Alvaro | M20-24 | Independent |
| 93 | Huelgas | Nikko | M20-24 | Century Tri Hard |
| 94 | Lee | Dhill Anderson | M20-24 | Alaska teamTBB |
| 95 | Lim | Franz Salafranca | M20-24 | |
| 96 | Magpantay | Paul Teddie | M20-24 | Lakan-Tri |
| 97 | Marchadesch | Mario | M20-24 | Tri Taft |
| 98 | Mostoles | Enrico | M20-24 | UP GP'S |
| 100 | Pinto | Nicolai Marty | M20-24 | |
| 101 | Ramirez | Patrick John | M20-24 | Tri Taft |
| 102 | Resurrection | Norman | M20-24 | |
| 103 | Rivero | Emmanuelle | M20-24 | Team Soleus |
| 104 | Santiago | Mervin Rencel | M20-24 | Team Sante Barley |
| 105 | Santos | Carlo Miguel | M20-24 | |
| 106 | Sotto | Luis Paolo | M20-24 | |
| 107 | Timboy | Epoy | M20-24 | Yellow Cab Tri Clark |
| 108 | Yu | Huxley | M20-24 | |
| 109 | Abelardo | Miguel | M25-29 | St. Luke's |
| 478 | Alejandrino | Ray | M25-29 | |
| 110 | Almonte | Augusto Jiorgio | M25-29 | Rescue Tri |
| 111 | Alvarez | Aloysius Anthony A. | M25-29 | |
| 112 | Ang | Christopher | M25-29 | Unilab Active Health |
| 113 | Barbosa | Edison | M25-29 | Grantrail – 24.7 |
| 114 | Bituin | Paul Arvin | M25-29 | Unilab Active Health |
| 115 | Bitoy | Richard Lewis | M25-29 | Team Trimax |
| 116 | Bolinao | Louise Ian | M25-29 | Team Norman |
| 117 | Boljoran | Regie | M25-29 | Optimum Nutrition |
| 118 | Buenaventura | Jose Anton | M25-29 | Tri-Kaika |
| 119 | Buenconsejo | Joseph | M25-29 | |
| 120 | Cendana | P.J. | M25-29 | Solid Tri |
| 121 | Chua | Ted Angelo | M25-29 | Team Norman |
| 122 | Cordovez | Gus | M25-29 | MFX |
| 123 | Cruz | John Carlo Luigi | M25-29 | |
| 124 | David | Jeeno Marco | M25-29 | Tri-Monkeys |
| 125 | de Leon | Matt Paz | M25-29 | |
| 126 | De Rosas | Mamerto Luis | M25-29 | |
| 127 | dela Cruz | Jeffrey | M25-29 | Tri-Union |
| 128 | dela Rosa | Guz | M25-29 | Tri-Monkeys |
| 129 | Diaz | Reagan | M25-29 | Platinum Panthers |
| 130 | Doctor | John Victor | M25-29 | Aspire |
| 131 | Esguerra | Nathan | M25-29 | |
| 132 | Flores | Martin Miguel | M25-29 | Team Ma-I-Team |
| 133 | Fonte | Jonathan David | M25-29 | |
| 134 | Fonte | Paul Joseph | M25-29 | |
| 135 | Francisco | Emmanuelle | M25-29 | Team Busog |
| 136 | Guillen | Eisen | M25-29 | Praetorian Tri Team |
| 137 | Hizon | Alfredo | M25-29 | |
| 138 | Lagazo | Daniel | M25-29 | Second Wind Sun Broadband |
| 139 | Laman | Jan Christopher | M25-29 | Starting Line |
| 140 | Lansangan | Prince John | M25-29 | Row 1 |
| 141 | Luansing | Adrian Joseph | M25-29 | Team Norman |
| 142 | Magpantay | Theodore John | M25-29 | Lakan-Tri |
| 143 | Maravillas | Andrew | M25-29 | WetSHOP Todo Tri Team |
| 144 | Martinez | Christopher | M25-29 | Unilab Active Health |
| 145 | Maturana IV | Crisanto Antonio | M25-29 | Tri Inspire |
| 146 | Maximo | Edward Vincent | M25-29 | |
| 147 | Mendiola | Bryan | M25-29 | Yellow Cab Tri Clark |
| 148 | Mendoza | Dino | M25-29 | |
| 149 | Nadurata | Lance Angelo Guinto | M25-29 | |
| 150 | Nanquil | Edjo | M25-29 | |
| 151 | Odiamar | Karl | M25-29 | Row 1 |
| 152 | Oliveros | Jan Dominique | M25-29 | |
| 153 | Pacheco | Christopher Gonzales | M25-29 | |
| 154 | Palagamas | Biboy | M25-29 | |
| 155 | Palu-ay | Ramoncito | M25-29 | |
| 156 | Paz | Christopher Albert | M25-29 | |
| 157 | Pestano | Ramoncito | M25-29 | |
| 158 | Ramos | Martin Paolo | M25-29 | |
| 159 | Reyes | Jojet Jordan | M25-29 | Tri-Monkeys |
| 160 | Robles | Luigi | M25-29 | |
| 161 | Roxas | Nicoli Valent | M25-29 | |
| 162 | Rueda Jr | Maximo | M25-29 | Praetorian Tri Team |
| 163 | Sabado | Mikhail | M25-29 | |
| 164 | Sanchez | Cid | M25-29 | Black Pearl |
| 165 | Sy | Lawrence | M25-29 | |
| 166 | Tan | Patrick Joseph | M25-29 | |
| 167 | Tan | Paul Lawrence | M25-29 | WetSHOP Todo Tri Team |
| 168 | Ting | Marvin George | M25-29 | |
| 169 | Torres | Miguel Garcia | M25-29 | Team Ma-I-Team |
| 263 | Velasco | Don | M25-29 | Second Wind-Sun Broadband |
| 170 | Velasco | Juan Gabriel | M25-29 | Greenhills Tri Team |
| 171 | Villa | JB Martin | M25-29 | Trimax |
| 172 | Villar | Ian | M25-29 | Timex Golds Gym TMM |
| 173 | Williams | Hilton | M25-29 | |
| 174 | Aception | Michael | M30-34 | |
| 175 | Acosta | Miguel Anton | M30-34 | The Brick Multisport Store |
| 176 | Alcoreza | Joden | M30-34 | Farm Fresh |
| 177 | Anzures | Eleazer | M30-34 | |
| 178 | Aquino | Rondee | M30-34 | Yellow Cab Tri Clark |
| 179 | Arcega | Jose | M30-34 | Tri Swim Jose |
| 180 | Arcilla | Michael Banzon | M30-34 | Gatorade Philippines |
| 181 | Arias | John Rino | M30-34 | |
| 182 | Balagot | Philip | M30-34 | Pangasinan Tri Team |
| 183 | Banatin | Jeremy | M30-34 | |
| 184 | Bangit | Winsley Royce | M30-34 | Team Titans |
| 185 | Bangug | Frederick | M30-34 | Black Pearl |
| 186 | Bernardo | Bhenjo | M30-34 | Sabiterz Tribe |
| 187 | Brillantes | Carlo | M30-34 | |
| 188 | Cabusas | Jonathan | M30-34 | CSR Triathlon |
| 189 | Caco | Dennis | M30-34 | |
| 479 | Capati | Jernard | M30-34 | Yellow Cab Tri Clark |
| 190 | Castillo | Lester | M30-34 | Unilab Active Health |
| 191 | Castro | Miguel Antonio | M30-34 | Second Wind-Sun Broadband |
| 192 | Castro | Kiko | M30-34 | Lakan-Tri |
| 193 | Chan | Robinson Dee | M30-34 | |
| 194 | Contreras | Manuel | M30-34 | Titans |
| 195 | Cordero | Miguel Lorenzo J. | M30-34 | |
| 196 | Cruz | Joseph Ismael | M30-34 | Resi |
| 197 | Dagondon | Niel | M30-34 | Timex Golds Gym TMM |
| 198 | Daza | Sherwin | M30-34 | |
| 199 | de Castro | Dave Rey | M30-34 | |
| 200 | de Castro | Paolo | M30-34 | |
| 201 | De Los Santos | Roberto | M30-34 | TPB |
| 202 | Dela Cruz | Francis Jose | M30-34 | CSR Triathlon |
| 203 | Diaz | Edison | M30-34 | Trimac Sante Barley |
| 204 | Domingo | Ace | M30-34 | Platinum Panthers |
| 205 | Fernandez | Joseph | M30-34 | |
| 206 | Francisco | Francis John | M30-34 | Trimac Sante Barley |
| 207 | Garcia | Richard | M30-34 | Bonifacio |
| 208 | Garcia | Andy | M30-34 | Yellow Cab Tri Clark |
| 209 | Gatbonton | John Kernan | M30-34 | Trimac Sante Barley |
| 210 | Geaga | Nicholas | M30-34 | Powerpuff Boys |
| 211 | Genilo | Jose Eduardo | M30-34 | ProBono |
| 212 | German | Paolo | M30-34 | |
| 213 | Go | Franz | M30-34 | PHC |
| 214 | Gonzales | Juan Pablo | M30-34 | |
| 215 | Gonzales | Monch | M30-34 | Team Trimax |
| 216 | Guzman | Peter | M30-34 | Clear Sabak |
| 217 | Lim | Franz Anton | M30-34 | Ed Babiera Swim Team |
| 218 | Majam | Archibald | M30-34 | Smart Tri Club |
| 219 | Maliwat | George Jason | M30-34 | Performance Kinetix |
| 220 | Manalo | Jhoel | M30-34 | |
| 221 | Manrick | Ting | M30-34 | |
| 222 | Martinez | Karl Mark | M30-34 | Outlast-ESC |
| 223 | Mendoza | Ryan | M30-34 | wetSHOP |
| 224 | Menichetti | Enrico | M30-34 | Preatorians |
| 225 | Miranda | Tomas Miguel | M30-34 | |
| 226 | Munoz | Teddy S. | M30-34 | |
| 227 | Mutuc | Ronald | M30-34 | Draft Tri Team |
| 228 | Ocampo | Carlos | M30-34 | Outlast-ESC |
| 229 | Ogsimer | Wendell | M30-34 | |
| 230 | Ona | Manolo | M30-34 | Clear Sabak |
| 231 | Ong | Ralph | M30-34 | DMCI Homes |
| 232 | Ong | Gerwin | M30-34 | On.Optimum Nutrition |
| 233 | Pamittan | Raffy Ian | M30-34 | Aspire |
| 234 | Parallag | Mark Lester | M30-34 | WetSHOP Todo Tri Team |
| 235 | Pasia | Bong | M30-34 | Attack Tri Team |
| 236 | Penalosa | Franklin | M30-34 | Timex Golds Gym TMM |
| 237 | Protacio | Glenn Joseph | M30-34 | |
| 238 | Punzalan | Jexter | M30-34 | |
| 239 | Rabena | Timothy Joseph | M30-34 | |
| 240 | Rabino | Randy | M30-34 | |
| 241 | Recabar | Ronald M | M30-34 | Club Tri Clark |
| 242 | Relox | Jayson Bundoc | M30-34 | |
| 243 | Reyes | Kristopher | M30-34 | Tribe |
| 244 | Rito | Joven | M30-34 | Sammer's Patisserie |
| 245 | Rosales | Luisito | M30-34 | |
| 246 | Saclauso | Jeric | M30-34 | Lakan-Tri |
| 247 | Sales | Alberto | M30-34 | Lakan-Tri |
| 248 | Salting | Joseph | M30-34 | |
| 249 | San Miguel | Ronald | M30-34 | |
| 250 | San Miguel | Ronald | M30-34 | |
| 251 | Santos | Reginald | M30-34 | Triabetics / TBX |
| 252 | Sebastian | JR | M30-34 | Solid Tri |
| 253 | See | Irwin See | M30-34 | |
| 254 | Segundo | John Paul | M30-34 | Yellow Cab Tri Clark |
| 255 | Serafin | Arbee | M30-34 | |
| 256 | Tiangco | Romarcson | M30-34 | |
| 257 | Torres | Roderick | M30-34 | Tri Swim Jose |
| 258 | Vega | Christian | M30-34 | Black Pearl |
| 259 | Villalba | Erell | M30-34 | |
| 260 | Villaria | Arsenio Vicente | M30-34 | I Can Tri |
| 261 | Vital | John Bryan | M30-34 | |
| 262 | Yamoyam | John Mark | M30-34 | Tri N Motion |
| 264 | Zaldua | Roy | M30-34 | C 24/7 |
| 265 | Abada | Romeo | M35-39 | Team Bonifacio |
| 266 | Agsalud | Armin | M35-39 | |
| 267 | Andag | Danielito | M35-39 | Tri Taft |
| 268 | Angog | Jack | M35-39 | |
| 269 | Antonio | Glenn | M35-39 | Tri Taft |
| 270 | Aquino | Ryan | M35-39 | Grantrail – 24.7 |
| 271 | Asilo | Dennies | M35-39 | |
| 272 | Avellana | Andy | M35-39 | WetSHOP Tri Team |
| 273 | Aya-Ay | Mario Antonio | M35-39 | C 24/7 |
| 274 | Bailon | Marvin Kenneth | M35-39 | |
| 275 | Barretto | Augustus | M35-39 | Resi |
| 276 | Baugbog | Jualyn | M35-39 | |
| 277 | Bautista | Joselito | M35-39 | |
| 278 | Buenaventura | Eugene | M35-39 | Smart Triathlon |
| 279 | Bulaong Jr | Oscar | M35-39 | |
| 280 | Caguiat | Jason | M35-39 | Club Tri Clark |
| 281 | Calixtro | Elgene Mark | M35-39 | |
| 282 | Canieso | Ian Oliver | M35-39 | Lakan-Tri |
| 283 | Capati | Francis | M35-39 | TEAM ZENYS-SIMPLE PLATE |
| 284 | Chua | Jiffy Cu | M35-39 | Makita Tools Center Inc. |
| 285 | Collado | Guthrie | M35-39 | The Brick Multisport Store |
| 286 | Cruz | Carlito | M35-39 | Unilab Active Health |
| 287 | David | Jan Manael | M35-39 | |
| 288 | De Mesa | Marc | M35-39 | Philab |
| 289 | Del Rosario | Marvin | M35-39 | |
| 290 | Delos Reyes | Warren | M35-39 | Draft Tri Team |
| 291 | Dolera | Jaime | M35-39 | |
| 292 | Enriquez | Leroy Lee | M35-39 | The Brick Multisport Store |
| 293 | Estanislao | Peter | M35-39 | |
| 294 | Fernandez | Honrado | M35-39 | |
| 295 | Fernandez | Rommel | M35-39 | |
| 296 | Fernandez | Michael | M35-39 | TEAM ZENYS-SIMPLE PLATE |
| 297 | Fernandez | Juan Carlo | M35-39 | TEAM ZENYS-SIMPLE PLATE |
| 298 | Galliguez | Riemann | M35-39 | Tri Taft |
| 299 | Gutilban | Jeffrey Gallebo | M35-39 | Powerpuff Tri Team |
| 300 | Hernandez | Noel | M35-39 | Team Titans |
| 301 | Hervias | Roy | M35-39 | Timex Golds Gym TMM |
| 302 | Isip | Jun | M35-39 | Black Pearl |
| 303 | Joseph | Paul D | M35-39 | |
| 304 | Juan | Frederick | M35-39 | |
| 305 | Lao | Paulo | M35-39 | |
| 306 | Laxa | Jun | M35-39 | Team Todo |
| 307 | Legarde | Kerwin | M35-39 | Shopwise |
| 308 | Leonardo | Earl Vincent | M35-39 | |
| 309 | Litan | Erwin | M35-39 | Starfish Tri |
| 310 | Lumanta | Roi | M35-39 | |
| 311 | Macapagal | TJ | M35-39 | Team Norman |
| 312 | Magsalin | Jose Mari | M35-39 | Tri N Motion |
| 313 | Manebo | Don | M35-39 | |
| 314 | Martin | Alexander | M35-39 | Lakan-Tri |
| 315 | Martinez | John | M35-39 | |
| 474 | Mendoza | Ryan | M35-39 | |
| 316 | Minano | Raul | M35-39 | 100 Plus |
| 317 | Molo | Alvin | M35-39 | |
| 318 | Montevirgen | Sherwin | M35-39 | Optimum Nutrition |
| 319 | Ngoan | Huli Le | M35-39 | Yellow Cab Tri Clark |
| 320 | Nunez | Voltaire | M35-39 | |
| 321 | Ocampo | Adrian | M35-39 | |
| 322 | Ogsimer | Chester | M35-39 | Team Hingalin |
| 323 | Olazo | Christopher | M35-39 | |
| 324 | Oledan | Mike | M35-39 | Gold Tri |
| 325 | Oppus | Allan | M35-39 | |
| 326 | Pan | Ericson | M35-39 | Lakan-Tri |
| 327 | Panganiban | Alvin | M35-39 | Lakan-Tri |
| 328 | Pasia | Nelson | M35-39 | Attack Tri Team |
| 329 | Perena | Rommel M. | M35-39 | |
| 477 | Peralta | Keith | M35-39 | Team Sante Barley |
| 330 | Pichay | Philip | M35-39 | The Brick Multisport Store |
| 331 | Pineda | Jeffrey | M35-39 | |
| 332 | Pineda | Christian Paul | M35-39 | |
| 333 | Pongco | Mike | M35-39 | UPLB Trantados |
| 334 | Posadas | Raymond Villapando | M35-39 | |
| 335 | Querol | Vinzent | M35-39 | |
| 336 | Ramirez | Nestor | M35-39 | |
| 337 | Ramos | Demetrio | M35-39 | Starfish Tri |
| 338 | Ramoy | Manuel | M35-39 | Trimac Sante Barley |
| 339 | Recabar | Romer | M35-39 | Yellow Cab Tri Clark |
| 340 | Reyes | Calvin | M35-39 | |
| 341 | Reyes | Juan Paolo | M35-39 | Gold Tri |
| 342 | Reyes | Raphael | M35-39 | Praetorian Tri Team |
| 343 | Rivera | Robert Jonah | M35-39 | Team Sante Barley |
| 345 | Roxas | Michael Dennis | M35-39 | |
| 346 | Santiago | Elmer Rodrigo | M35-39 | Clear Sabak |
| 347 | Saquing | Mark Jerome | M35-39 | Last Minute Tri Team |
| 348 | Sebastian | Eugene | M35-39 | Team Sebastian |
| 349 | Silvestre | Emerson | M35-39 | Tri-Monkeys |
| 350 | Taberna | Godfrey | M35-39 | WetSHOP Tri Team |
| 351 | Taguilaso | Kenneth | M35-39 | 100 Plus |
| 352 | Tagunicar | Ethernuel | M35-39 | Last Minute Tri Team |
| 353 | Tan III | Jesus | M35-39 | Conquer |
| 354 | Ting | Rainier | M35-39 | Rescue Tri |
| 355 | Venturina | Jerick | M35-39 | Lakantri |
| 356 | Yu | Russell Martin | M35-39 | Unilab Active Health |
| 357 | Yutuc | Terry | M35-39 | Club Tri Clark |
| 358 | Zapanta Jr. | Andrew | M35-39 | |
| 359 | Zapata | Raffy | M35-39 | Yellow Cab Tri Clark |
| 360 | Abad | Jimmy Raymund | M40-44 | Bataan Tri Sports |
| 361 | Agra | Malvin | M40-44 | Timex Golds Gym TMM |
| 362 | Alinea | Antonio | M40-44 | |
| 363 | Andal | Noel | M40-44 | Rohm Electronics |
| 364 | Ballena | Elson | M40-44 | Team Niner-7 |
| 365 | Bernadez | Bong | M40-44 | Team Boring |
| 366 | Britanico | Toto | M40-44 | Shopwise |
| 367 | Camahalan | Rolando | M40-44 | |
| 368 | Camina | Michael Arthur R | M40-44 | |
| 369 | Carag | Vicente | M40-44 | Tribe |
| 370 | Carpio | Jonathan | M40-44 | Lakan-Tri |
| 371 | Castillo | Joseph | M40-44 | Team Triabetics |
| 372 | Cefre | Ezekiel | M40-44 | Team Soleus |
| 373 | Chan | William | M40-44 | |
| 374 | Cruz | Roehl | M40-44 | Lakan-Tri |
| 375 | Cruz | Elmer | M40-44 | C 24/7 |
| 376 | de Leon | Amiel | M40-44 | |
| 377 | de Leon | Amiel | M40-44 | Sante Barley |
| 378 | Dela Cruz | Rollyn | M40-44 | Beat The Pain |
| 379 | Disonglo | Bong | M40-44 | Starfish Tri |
| 380 | Ducanes | Sunnie | M40-44 | Isuzu D-Max |
| 381 | Empredad | Alex | M40-44 | |
| 382 | Ermita | RJ | M40-44 | Greentennial Tri Team |
| 383 | Ermita | Victor Anthony | M40-44 | Eyetrs |
| 384 | Escueta | Armand | M40-44 | Starfish Tri |
| 385 | Fojas | Ivan I. | M40-44 | Globe Telecom |
| 386 | Gacutan | Rico | M40-44 | Grantrail – 24.7 |
| 387 | Garalde | Gerry | M40-44 | |
| 388 | Getalla | John | M40-44 | |
| 389 | Ginez | Ronald Allan | M40-44 | Far Tri |
| 390 | Halos | Ari Luis | M40-44 | |
| 391 | Hasegawa | Keita | M40-44 | C 24/7 |
| 392 | Ibera | Edward | M40-44 | |
| 393 | Ifurung | Edward | M40-44 | Yellow Cab Tri Clark |
| 394 | Jimenez | Jeffrey | M40-44 | |
| 395 | Lista | Reuben | M40-44 | Gold Tri |
| 396 | Lista | Reujenson | M40-44 | Gold Tri |
| 397 | Marcelo | Jesus Joey | M40-44 | Team Sante Barley |
| 398 | Marquez | Anner | M40-44 | |
| 399 | Mata | Alfredo V. | M40-44 | Last Minute Tri Team |
| 400 | McMeekin | Lee | M40-44 | |
| 401 | Miguel | Francis | M40-44 | C 24/7 |
| 402 | Nalo | Aristotle | M40-44 | Yellow Cab Tri Clark |
| 403 | Nevebs | Paul | M40-44 | |
| 404 | Ng III | Joaquin | M40-44 | |
| 405 | Olimpo | Rhoneil | M40-44 | Family Tri |
| 406 | Opiana | Meinard | M40-44 | Rock & Road |
| 407 | Pacis | Michael Josue | M40-44 | Trixac |
| 408 | Paguia | Ronald | M40-44 | Try Lang |
| 409 | Pan | Nathaniel | M40-44 | |
| 410 | Pangilinan | Emilio | M40-44 | Trimac Sante Barley |
| 411 | Pangilinan | John Raymond | M40-44 | |
| 412 | Panlilio | Alex | M40-44 | Unilab Active Health |
| 413 | Pineda | Jonathan | M40-44 | Yellow Cab Tri Clark |
| 414 | Puno | Enrique | M40-44 | |
| 415 | Quion | Rommel N. | M40-44 | Rock & Road |
| 416 | Ramirez | Kit | M40-44 | Starfish Tri |
| 417 | Rosca | James | M40-44 | Greenhills Tri Team |
| 344 | Roque | Junrox | M35-39 | Team Sante Barley |
| 418 | Salazar | Bhrein | M40-44 | Smart Triathlon Team |
| 419 | San Agustin | Jericson John | M40-44 | Team Sante Barley |
| 420 | San Miguel | Robert | M40-44 | Intense Energy Bar |
| 421 | Santos | Ricky | M40-44 | Team Solomon Lakan Tri |
| 422 | Santos | Eric | M40-44 | Bataan Tri Sports |
| 423 | Sawali | Reginald | M40-44 | |
| 424 | Sebastian | Jeric | M40-44 | Solid Tri |
| 425 | Tabaquin | Jojo | M40-44 | Family Tri |
| 426 | Uy | Efren | M40-44 | |
| 427 | Vaca | Mike | M40-44 | Unilab Active Health |
| 428 | Van de Beek | Peter | M40-44 | IKBIDT |
| 429 | Villaluna | Jose Ramlo | M40-44 | Multisport Iloilo |
| 430 | Villanueva | Marc Anthony | M40-44 | |
| 431 | Visbal | Jun | M40-44 | liveRIGHT |
| 432 | Zulueta | Raynor | M40-44 | Dr. Wong's Tri-Ying Hard |
| 433 | Abacan | Rene | M45-49 | C 24/7 |
| 434 | Agoo | Jessie | M45-49 | Grantrail – 24.7 |
| 476 | Almazar | Allan | M45-49 | Greentennial Tri Team |
| 435 | Anaya | Gabriel | M45-49 | |
| 436 | Andaya | Marcus Antonius | M45-49 | |
| 437 | Basilio | Gary | M45-49 | Tri – Mu |
| 438 | Bourcier | Laurent | M45-49 | South Tri |
| 439 | Ducay | Sixto | M45-49 | WetSHOP Tri Team |
| 440 | Florendo | Adrian | M45-49 | Dr. Wongs Tri-Ying Hard |
| 441 | Gabriel | Junji | M45-49 | Team Junji |
| 442 | Genio | Gary | M45-49 | Grantrail – 24.7 |
| 443 | Getalla | John | M45-49 | |
| 444 | Go | Randolph | M45-49 | FitFil |
| 445 | Labios | Erick | M45-49 | Grantrail – 24.7 |
| 446 | Manso | Teresito L. | M45-49 | |
| 447 | Medina | Arnold | M45-49 | Bataan Tri Sports |
| 448 | Olimpo | Rene | M45-49 | Family Tri |
| 449 | Pabelico | Joel | M45-49 | |
| 450 | Poblete | Rex | M45-49 | Grantrail – 24.7 |
| 451 | Ramos Jr | Romeo | M45-49 | Tri-Inspire |
| 452 | Reyes | Alexis | M45-49 | |
| 453 | Richardson | Pete | M45-49 | |
| 454 | Richmond | David | M45-49 | |
| 481 | Roca | Robert Erwin | M45-49 | Team Sante Barley |
| 455 | Romano | Monching | M45-49 | Norman |
| 456 | Rosin | Enrico | M45-49 | PNP Tri Team |
| 457 | San Agustin | Jason | M45-49 | Team Sante Barley |
| 458 | Santos | Christopher | M45-49 | Team Pro Sales |
| 459 | Ticzon | Edison | M45-49 | UPLB Trantados |
| 460 | Ting | Charlie Chan | M45-49 | |
| 461 | Valenzuela | Neil | M45-49 | C 24/7 |
| 462 | Alindogan | Alvin | M50-Over | C 24/7 |
| 463 | Cachola | Dante Nathaniel | M50-Over | Team Norman |
| 464 | Caragay | Mike | M50-Over | Xycos |
| 465 | Cordero | Ulysses | M50-Over | |
| 466 | de Guzman | Romeo | M50-Over | |
| 467 | Generoso | Chito | M50-Over | Sante Barley |
| 468 | Gueta | Josef | M50-Over | Black Pearl |
| 469 | Manuel | Isidro | M50-Over | Takachin Runners |
| 470 | Nicdao | Nicanor | M50-Over | Millenium |
| 471 | Pumarada | Wilhelmer Atienza | M50-Over | ICTSI |
| 472 | Quintana | Gilbert | M50-Over | AYB |
| 473 | Ronquillo | Jess | M50-Over | |
Comments
comments