TAGGED! Patience is a virtue indeed. Read on below for Luigi's recap about his Duaman Duathlon experience!
---
Greetings SBR.ph!
Kudos to a great event! The race was very well organized and was worth every penny. Here is my race report on Sunday's Duaman Duathlon:
I'm Luigi Robles, I work Mon-Sat, and I'm from Los Banos, Laguna but currently residing in Mandaluyong. I started doing Multisport around May last year and was hooked ever since. I go home during Saturday night and go back to Manila Sunday evening, and Sunday is just my time to train/race "full time", that's why Nuvali is such a perfect venue for my 2nd duathlon race (1st was May 2012), and also my #1 consideration that's why I joined this race.
The race was what I expected, fast and furious! I was happy that I was able to hold on to the lead pack, entering 12th in T1. I knew I had to give my all on the first 3K, because I knew there were faster bikers that will overtake me, and I had to make sure I will be all out in the last 3K. I tried my best to finish strong, so I was contemplating if I had given enough for me to win in my age group.
The most memorable thing for me about the race is how I was patient throughout this event. I was excited about the awarding, hoping that I can win a race trophy or maybe the Garmin Edge 500! When it was the time to announce the winners in my age group, I accepted that I didn't win when they initially announced the 3rd place had a better time that I had, but regained hope when there were adjustments in the results as the 1st place in our age group ended up the overall winner. But as the awarding ended, and all those adjustments in the other age groups were made except my age group, I knew I had to ask to the organizers if the results will be re-adjusted that day (Carlos, I know u remember me asking this.. haha)..
So when I was about to go home, thinking that someone missed their moment of glory :) , Popo Remigio called me and asked if I was #533 because that was the number of the 3rd placer. I said no, so I accepted it gracefully and was already on my way to the car to go home, but Popo called my name from afar and said that she made a mistake as the 3rd placer's number is # 233! I had to look at my shoulder just to make sure, and felt ecstatic that I wasn't going home empty handed. Moral of the story is that: "Good things come to those who wait!" Haha! Overall, the course, atmosphere, food, crowd, freebies, and raffle prizes made it a very well organized race. I'm sure glitches in the race will be adjusted in the next races, so I'm looking forward to the Triman and next races to be organized by SBR.ph!
"Here I am in zone 5! Haha"
#Iba-pa-rin-kapag-trophy! #3rdplace25-29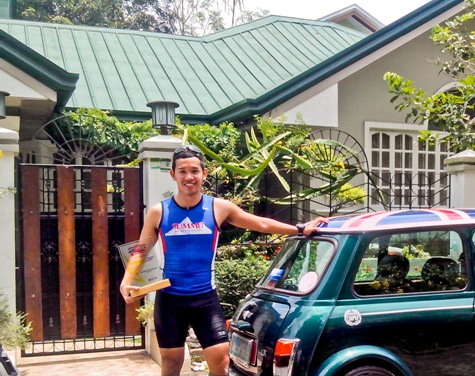 #Mymomentofglory  #Walangpodiumpic  #Bringhomethebacon
---
Congratulations Lugi! You just won a limited edition SBR.ph Shirt!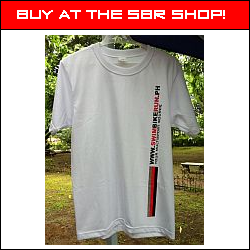 Keep sending us your stories SBR.ph Nation! If we pick your email, you win a special something from SBR.ph as well as get your story/email posted on the site! Send it to [email protected]
Comments
comments