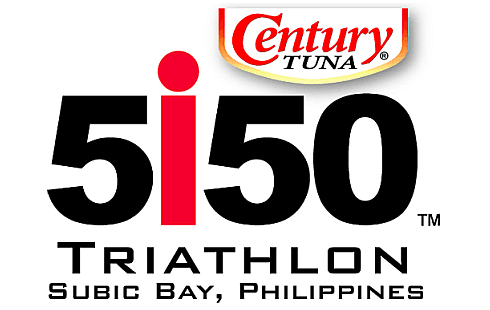 SBR.ph nation! Here's the compiled list of reminders for the Century Tuna 5150 Triathlon this weekend! Make sure you know your race numbers so they can be quick with your registration. Bring a valid ID, government issued please or company ID with recent photo. They cannot check in relay teams if you are not complete so please plan your trips to Subic. Podium hopefuls — your trophies, will be something worth keeping!
Wave Starts
WAVE A: Start time: 6:30 AM Race Numbers (1 to 29, 284 to 693)
WAVE B: Start time 6:40 AM Race Numbers (200 to 283, 694 to 843, 1100 to 1200, 3000 to 3058)
Runners for Relay proceed to T2 on race day. No need to go to T1.
REGISTRATION REMINDERS
Registration is open from 2:00 pm to 7:00 pm on Friday and 8:00 am to 7:00 pm on Saturday.
Please bring valid government issued or company ID with recent photo when you register.
Relay teams must register at the same time.
TRANSITION REMINDERS
1. Remember the schedule for T1 and T2 on Saturday June 22, 2013
Bike Check In and T1 Bag Drop Off – 10:00 AM to 4:00 AM at the Transition 1 New Container Terminal
Run Check In and T2 Bag Drop Off – 10:00 AM to 4:00 AM at SBECC
Late Bikes and Transition Bags will not be accepted. No one will be allowed to access any gear when the transition area closes.
2. On Race Day, participants can only claim any bikes, transition bags, and other gear in Transition 2 (SBECC) at 10:30AM. (may change to a later time due to race day operations).
3. Bikes, transition bags and gear remaining in Transition 2 after 1PM on Sunday June 23 will be left unsecured as the transition area will be closed and the race staff removed from the area after this time. Organizers wont be held liable for any lost items after the above mentioned time.
See you at the race briefing on Saturday, June 22, 4:00 pm at SBECC!
DEVANT AUCTION
Century Tuna 5150 Participants, Families and Friends! Watch out for the auction of 5 Devant Flat Screens on Saturday June 22, 2013! Bidding starts at Php 51.50 (that just USD 1.25!!!) Be there! This will be fun Feel free to share!
Event Schedule
June 21, 2013, Friday
2:00 pm to 7:00 pm
Century Tuna Media Center Open
Subic Bay Exhibition and Convention Center (SBECC)
Athlete Regisration Open
SBECC
Expo Open
SBECC
LBC Bike Service Open
SBECC
June 22, 2013, Saturday
8:00 AM
Century Tuna Media Center Open
SBECC
Athlete Regisration Open
SBECC
Expo Open
SBECC
LBC Bike Service Open
SBECC
10:00 am to 4:00 pm
Bike Check In  and T1 Bag Drop Off
Transition 1  (New Container Terminal)
10:00  am to 4:00 pm
T2 Bag Drop Off
SBECC
1:00 pn to 3:00 pm
Swim Open
Hanjin Port
3:00 pm tp 4:00 pm
Meet the Pros Press Con
SBECC
4:00 pm – 5:00 pm
Race Briefing
SBECC
5:00 pm to 6 pm
Catholic Mass
SBECC
6:00 PM
Carbo Load Dinner
SBECC
7:30 PM
Shuttle Back to the Hotels
SBECC
8:30 PM
Shuttle Back to the Hotels
SBECC
June 23, 2013, Sunday, RACE DAY
4:00 AM
Hotels to Serve Breakfast
Various Hotels
Breakfast Station Open
START Area
4:00 am – 10 am
Century Tuna Media Center Open
SBECC
4:30 AM
First Shuttle from Hotels to Start Line
Various Hotels
5:00 AM
Body Marking
Transistion Area
5:30 AM
Last Shuttle from Hotels to Start Line
Various Hotels
6:00 AM
Start of Road Closure
Transition Area Closes
6:30 AM
Race Starts
Hanjin Port
6:00 am to 12 nn
Expo Open to All
SBECC
11:00 am – 2:00 pm
Century Tuna Post Race Celebration Lunch
SBECC
12 nn
Awarding
SBECC
SWIM COURSE
Swim
Middle foreground, SWIM START (Hanjin Fast Craft Pier), left foreground, SWIM EXIT (All Hands Beach)

View from BODY MARKING AREA. between, SWIM START (Hanjin Fast Craft Pier) and SWIM EXIT (All Hands Beach)

SWIM START area (Hanjin Fast Craft Pier)

San Bernardo Road, between, SWIM START (Hanjin Fast Craft Pier) and SWIM EXIT (All Hands Beach)

BIKE COURSE
Port of Olongapo, along Argonaut Hiway

Corregidor Road Runway at the Subic Bay International Airport

Argonaut Hiway, along the perimeter of Subic Bay International Airport

RUN COURSE
Golfcart path at the Subic Golf Course

Binictcan Drive, towards Subic Golf Course

Info Source : Princess Galura of Sunrise Events and 5150Philippines.com
Comments
comments