TAGGED! How many times do you get the opportunity to race like a pro? More so, join a race as a fully sponsored athlete docked with authentic K-Swiss gear from head to foot?! Unless you're an elite athlete, probably never. That just happened to Ken Rola, winner of our Be a K-Swiss athlete at the K-Swiss Subic Bay ASTC Asian Triathlon Championships contest! Ken's entry was chosen by K-Swiss Philippines as the best among the rest, and gave Ken the one in a lifetime chance to race like a pro!
Ken's Winning Entry | Coach Rio's Evil Twin
Check out Ken's post race debrief of his K-Swiss Subic Bay ASTC experience! Congratulations bud!

---
Hi! I'm Ken, your average weekend warrior. I completed my first triathlon few weeks ago at The K-Swiss Asian Triathlon Championship which was held in Subic. To start, I'm a mediocre cyclist, I don't have much experience swimming but I'm very fond of running.  Months prior to this event I've spent at least 6 hours per week in the pool trying to avoid looking too bad as I flopped along in the water.  I knew it would be difficult.
I said to myself that this was going to be a long road. I started wondering what did I get myself into. I seriously started doubting my ability to complete this event.  Patience has always been my virtue so I was literally "psyching myself up" to get me pumped up for the event.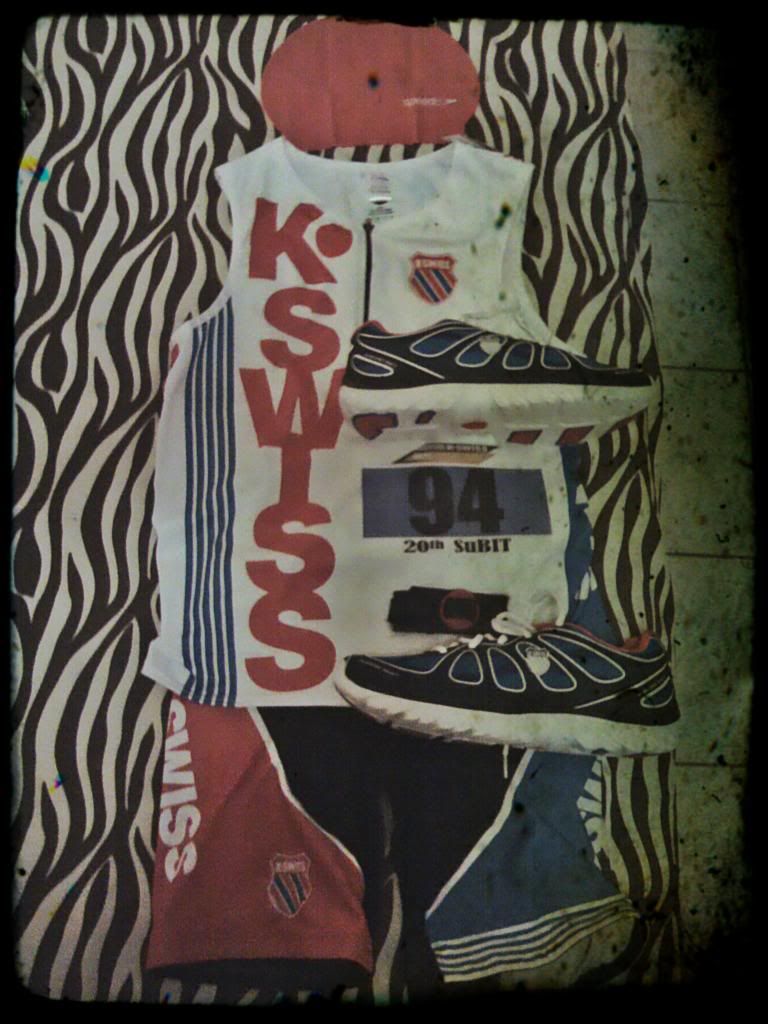 I was anxious when I got to Dungaree Beach at 5:00 AM. It was cold, but it wasn't the sea breeze that was giving me the pre race jitters, it was the guys getting out of their vehicles next to mine.  All of them looked like they all had their "game face ON" this early and were pushing bikes that weighed about a pound and cost as much as our car. As I reached the transition 1 area to set up my gear for the race I was thinking of a strategy to use since it's my first Tri. So I approached the guys beside me and asked them. The guys were extremely friendly and helpful.  They were also very encouraging and told me that my goal for my first one should be to complete the race. I got my bike in the rack and did my best to set my stuff up somewhat like the other competitors who looked like they had done this sort of thing before.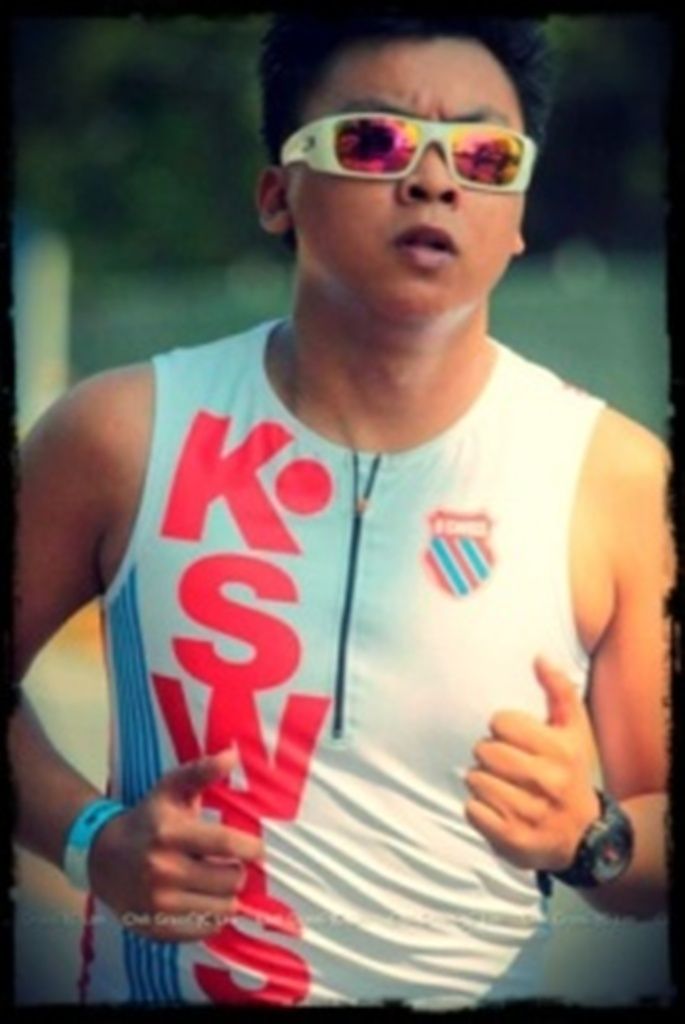 Finally, after a long time of nerves, excitement, and mental rehearsals, they called all athletes to the beach. I feel the rush gushing through my body. Blocking the fact that 99% of my Age Group can swim faster than me and that the only thing in my mind is stroke, stroke, stroke, breathe and repeat.  I was fine for the first few lengths, but after 250 meters onward I started running into folks in front of me and those who were overtaking me and the ones who are ahead of me threw me off my rhythm that it forced me to switch into a breaststroke. It helped me see where I am going plus it helps me avoid bumping in to other swimmers. I found the breaststroke more comfortable for me so I used it during the 2nd loop of the swim course good thing that my K-Swiss Tri suit did its thing and helped me glide through the water like a hot knife through butter. I finally reached the shore very much relieved I took a short shower then ran into Transition 1 when I reached my bike I took a deep breather and threw my cap and goggles in the bag the dried my feet then put on my socks and shoes,  buckled my helmet, mounted my bike and I was off.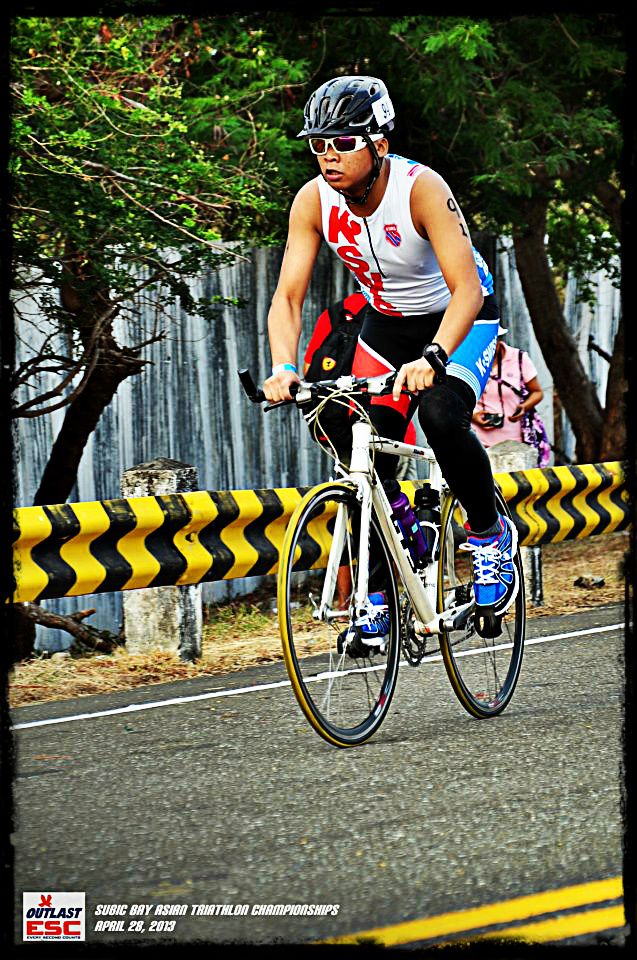 I discovered very quickly during the bike leg that equipment matters. My used roadie doesn't have much to offer compared to those high end road bikes and triathlon bikes in terms of performance, but I remember what Coach Ige Lopez said that "wala sa pana yan nasa Indian yan" . It was extremely humbling to see men and women twice my age group whoop my ass on bikes that I couldn't afford in a year. They made going up and down the roads of Subic very easy and it looks like they weren't even breaking a sweat! That part was hell for me, I feel that my quads and back is cursing me cause of the punishment they're taking. "Come on…let's finish this!" I said to myself loudly. I was really motivating myself to push harder. Through all the encouragement of fellow athletes and supporters on the road I mustered up enough "Padyak Power" to reach transition 2. I only had one event left.  The one I knew I was good at, the run. I had visions of myself on the run course, cruising along, effortlessly.  Those visions went away after about a few meters after the transition.  I had used up so much energy pushing my bike up and down all those hills, that my quads were toast. Panic started to set in.  "I can't feel my legs."  As I ran, Instead of focusing on the incredible tightening sensation in my legs, and focused on my breathing because it'll help me calm down when running cause when I run, if my breathing is in order, everything else falls into place. I came to the first water station, where I took a huge breather by the fire hose that was showering us with cold water.  By 5kms I was scared that I would collapse into a useless heap on the side of the road cause if my legs were starting to cramp.  One foot in front of the other as quick as I can at this point.   I was almost done. I savored the last kilometers till I crossed the finish line which was really a big sigh of relief. As my foot touched the line I thanked God that I finished safely and all of my gear never failed me especially my Blade-Light Run II who was very light and very comfy from the get go.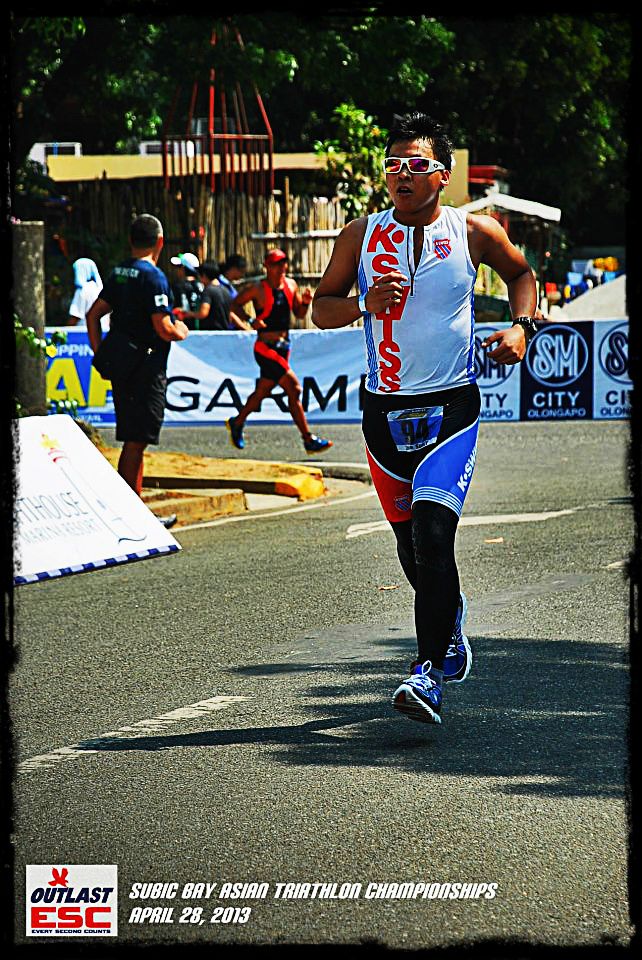 Now I can tell myself that I have surpassed what some thought was impossible for me. This was all possible by the help of God, support of friends, mon amour and family.
Plus a special thanks to SWIMBIKERUN.ph's Mr. Carlos De Guzman for giving me the wonderful opportunity to let me participate in the 20th K-Swiss SuBIT ASTC, K-Swiss' Ms. Billie Palabyab for the gear for without it, my first Tri would be straight up hell for me. :)
Comments
comments