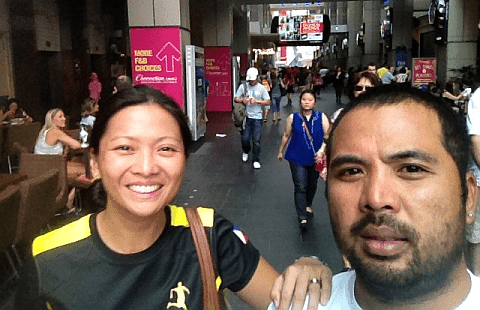 Ever wondered what it's like to experience Malaysia? Check out Hector and Mayen's story as they hit the dirt and explore the trails of Malaysia, in style!
---
VISIT MALAYSIA 2014
by Hector and Mayen Yuzon
MAYEN: Being only familiar with Malaysia through countless LSS (last song syndrome) from their Truly Asia tourism song, and seeing  different Malay and Indian cuisine in AFC  cooking shows, you can only imagine how excited I am to explore Malaysia. And the invitation got even sweeter when Tourism Malaysia informed us that we will be doing trail running and biking!
HECTOR: We were (insanely) lucky to be invited in this very limited occasion to the event of Tourism Malaysia called, "Visit Malaysia 2014".  Visit Malaysia 2014 is their tourism office's initiative to invite tourists by promoting Malaysia as early as 2013.
They spared no expense in housing us in a nice hotel.  First (yes there's a second hotel) they checked us in at Royal Chulan (5 star) hotel.  Really nice and really big rooms!  The bed was so comfy that we overslept and woke up just in time before the bus left for the day's activities!  Holy crap!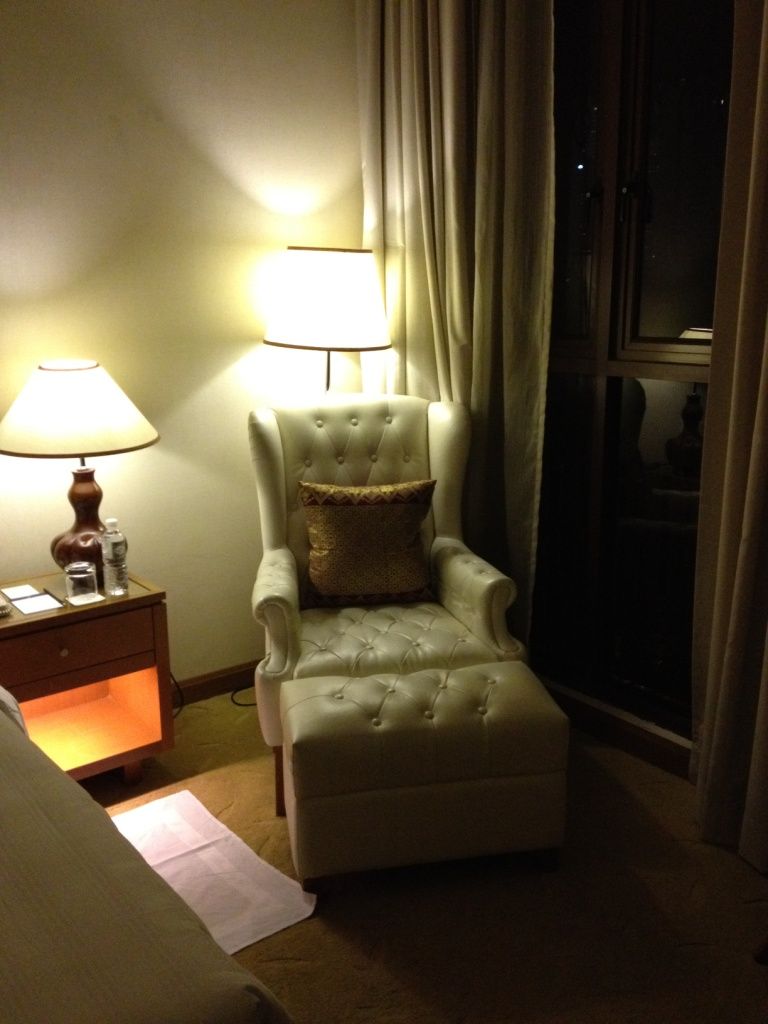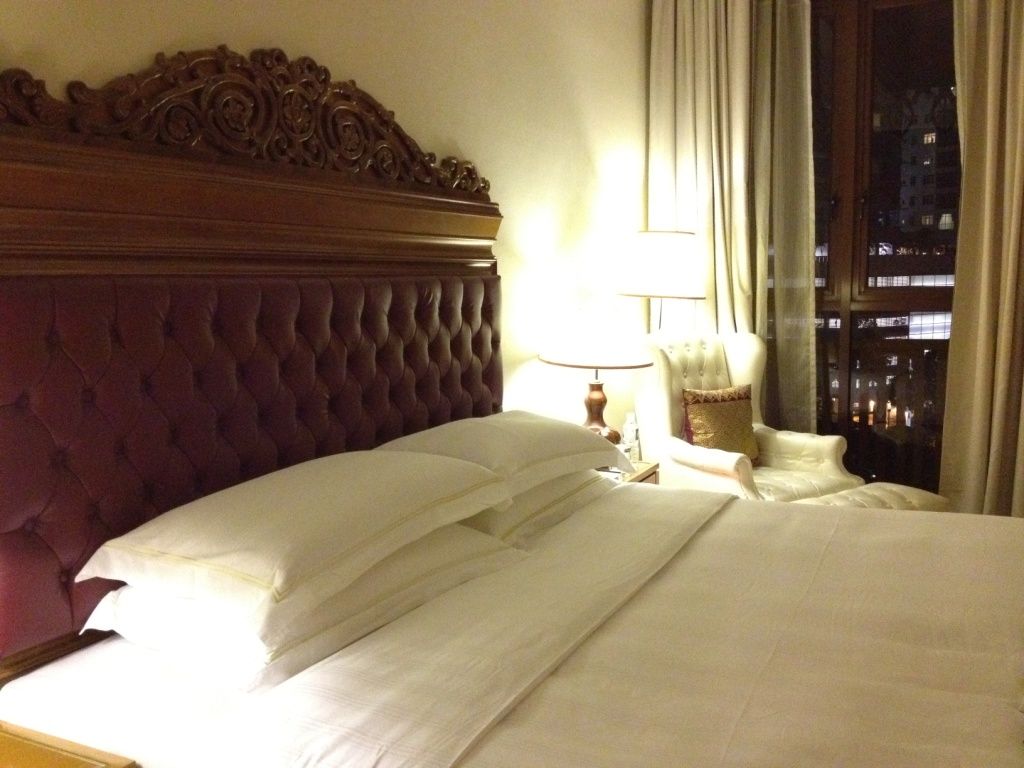 MAYEN: And what luck, the hotel is only stone's throw away from Bukit Bintang, Kuala Lumpur's shopping area. Since it's only a few more days before the Chinese New Year, the street was well lit and decorated with lanterns and red buntings to welcome the year of the water snake.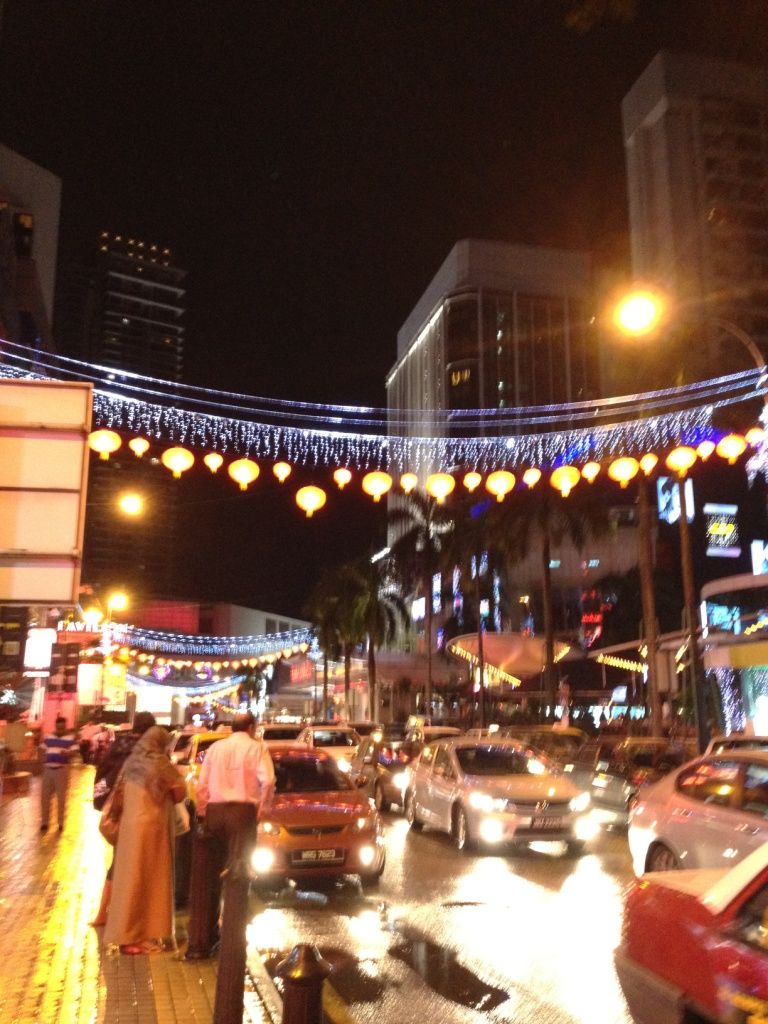 Day 1 –
MAYEN: Unlike last night when it was raining when we arrived, the next morning greeted us with a great weather perfect for exploring the city. First stop on the itinerary is to visit Putrajaya. It's a city 25 km south of Kuala Lumpur which houses the federal administrative offices of Malaysia.
HECTOR: we went to Putrajaya, this place was the area in Malaysia where different agencies or branches of their government was located.  At the same time, during weekends many people come here for a fairy tour, bike ride, or for a run workout.  Joining other people from different media groups of different countries, we went on a photo hunt via bike.  What a cool way to familiarize yourself with different locations in Putrajaya!
MAYEN: You won't see any of the boring-looking government buildings in the area. Most of the structures are mixed of Malay's traditional architecture and modern design and color. The pink mosque is an interesting sight and really stands out amongst all.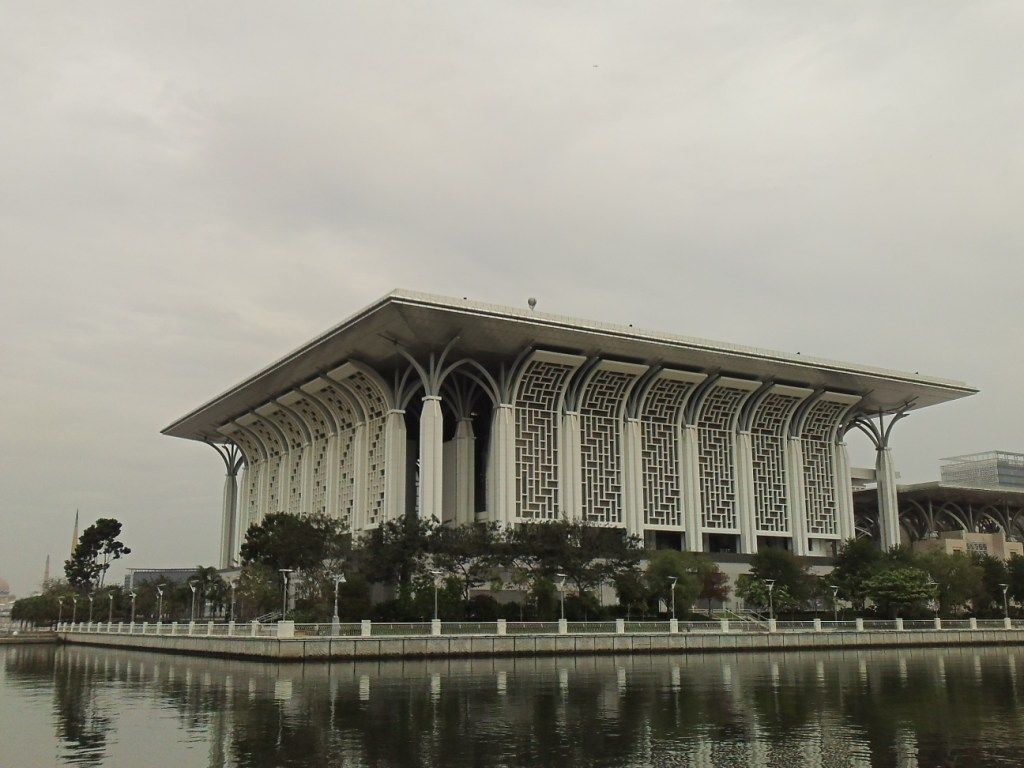 For the photo hunt challenge, each group are tasked to take a photo on the different offices within Putrajaya. Since most of the major offices are at least a kilometre apart, each group would need to ride a bike to get from one stop to the next, take a creative photo and then come back to the start-off point when they're done with the list.
The whole Putrajaya area is a bike-friendly city especially for a noob like me. The roads are smooth and row of trees would make a good shade during a noon time spin. There are several areas in the city that have a wide island on the road and can be a good alternative to bike lanes if you are not comfortable in biking side by side a vehicular traffic.
HECTOR: After biking around Putrajaya, they took us on a ferry ride around the area where we all had a chance to see it from a different angle.  Pretty cool to see the place from a ferry, and eating a buffet lunch of traditional Malay food!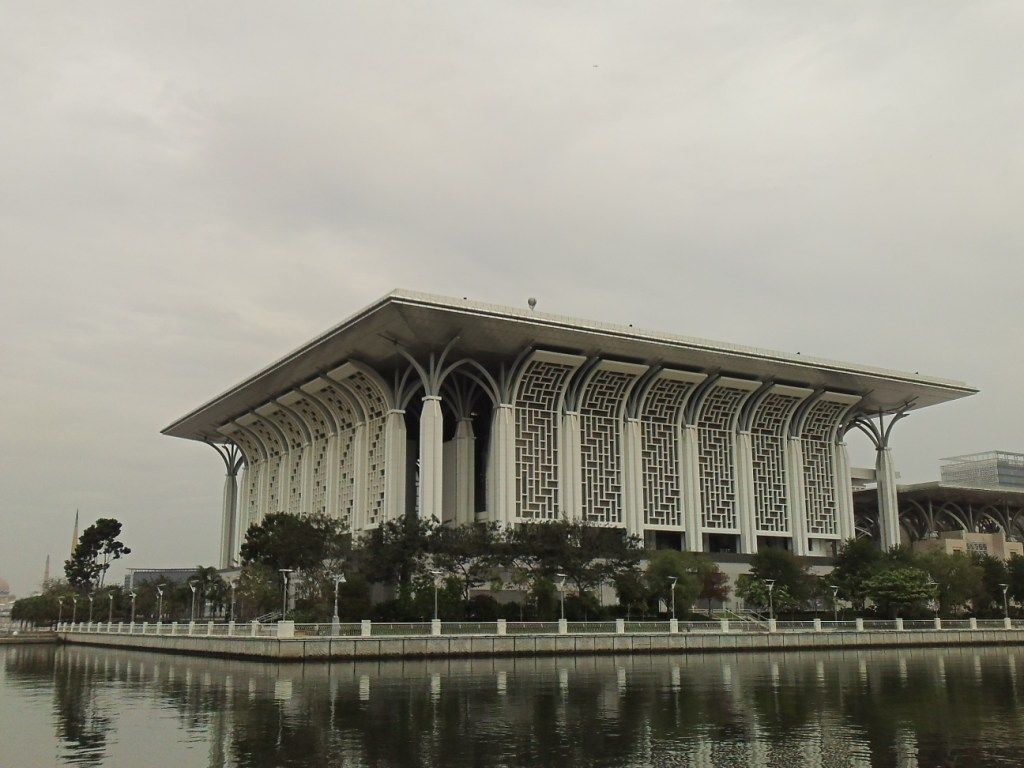 Their offices in Putrajaya spared no expense in designing their buildings; it was a perfect blend of merging the modern times and still keeping in touch with their traditions and culture.  It was just a shame that the weather that day was cloudy.  Otherwise the colors of the area would have really come out, and would have given the buildings more life!
The evening was where when the Prime minister of Malaysia formally opened up Visit Malaysia 2014 and welcomed us, the participants and visitors.  There were around 150 people from over 50 countries that were invited, and not just from surrounding countries in asia.  There were delegates from as far as Poland and New Zealand!
We were seated on a stage of our own, separate from the crowd so that, we could have a good view and enjoy all of the happenings that night.  We were all treated to see traditional and contemporary Malay art, music and fireworks!  You know that commercial on cable sung by a girl "Malaysia truly asia…" we saw her perform live!  The whole event was like a New Year celebration for us (if i had to compare).
Soon as we got back to the hotel, we couldn't wait to see the Petronas tower up close!  So we got our city map, and walked to find it, it was more breath taking in person.
MAYEN: Since we still have some time to spare after the launch of the Visit Malaysia 2014 campaign, we knew what we needed to do. So we put on our running shoes, got hold of the city map, and walked our way to the Petronas towers.
Walking on the way to the Petronas towers makes the trip even more exciting given that you see the towers getting nearer and nearer in every street turn you make. The 3 kilometre walk trip is sure worth it. I stood there in awe at the magnificent structure in front of me. The towers stand looking mighty and grand and its just looking so awesome. I am actually lost for words to describe it and i think i went on and on for a good 3 minutes telling Hector how beautiful it was.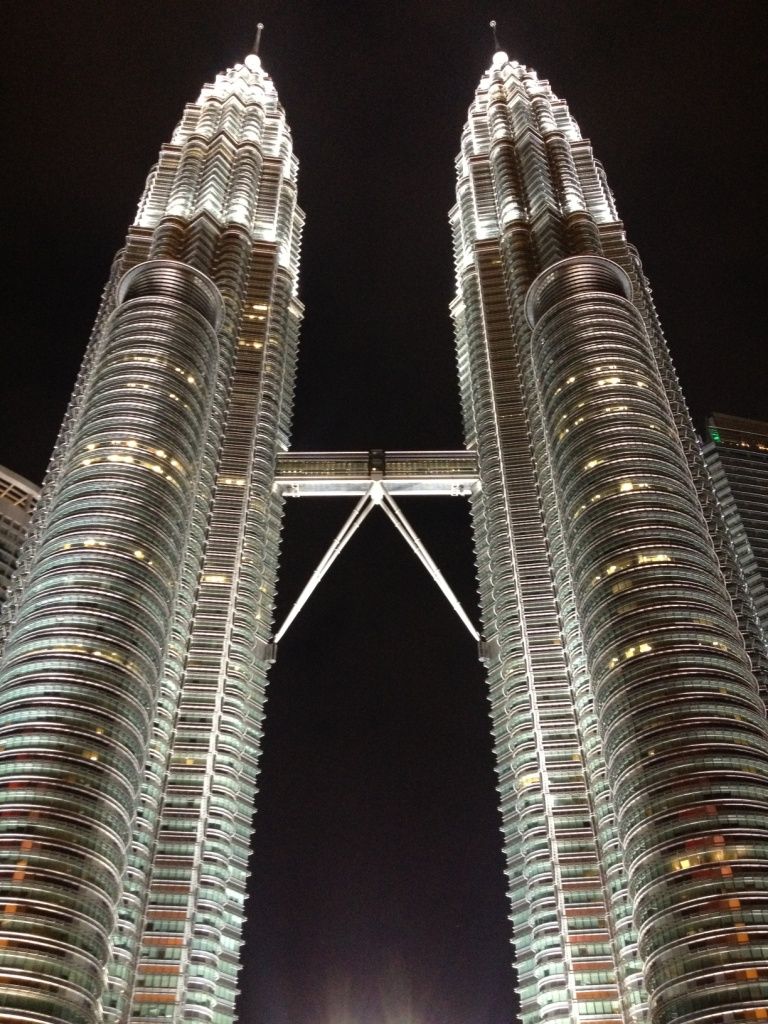 Day 3
MAYEN: Since we have a different schedule from the rest of the group, we were assigned with our own tour guide/driver (and our own van) for the rest of our stay in Kuala Lumpur. Mr. Wong asked us instantly where we want to eat, and both of us blurted out that we want to eat where locals eat.
We told Mr. Wong that we wanted to experience traditional Malay and Indian food and he was kind enough to bring us to different cafeteria where locals enjoy their curry and biryani rice.
The set-up is more or less similar with a canteen setting but you get to put the food on your own plate. Rows and rows of curries lined up in front of us and the smell of chicken and lamb would certainly whet your appetite. You decide which curry you want, the darker the color of the curry, the spicier it gets!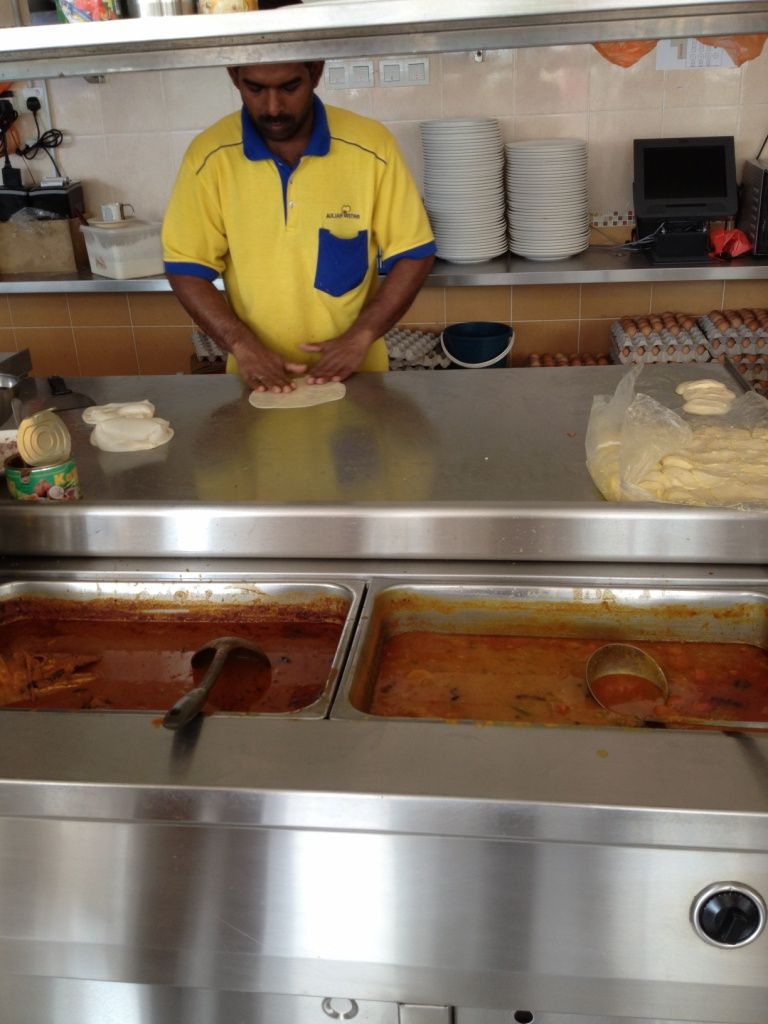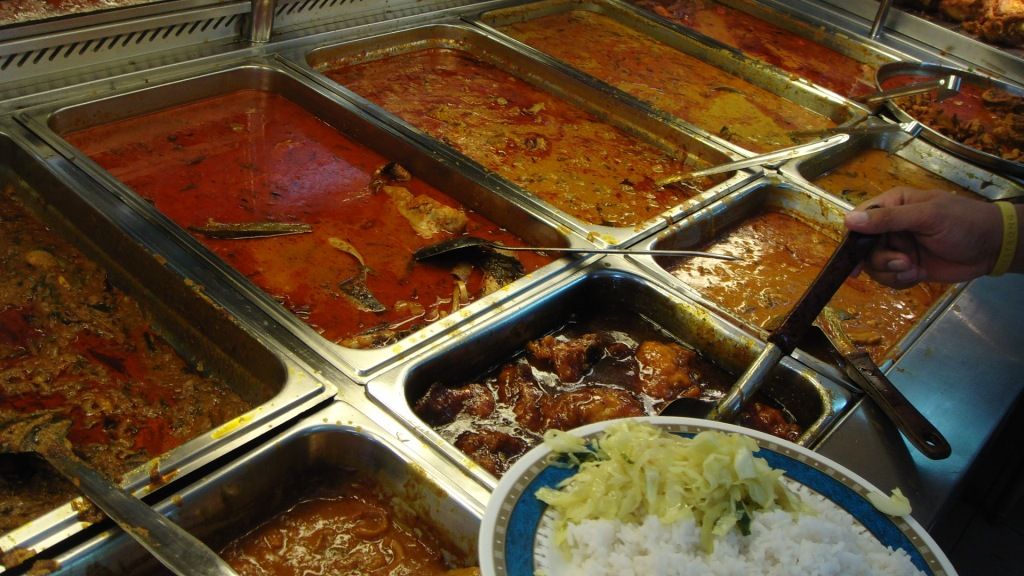 I think this was the part of the trip where i can say that i fell in love with Indian food – curry and roti canai and all. They also serve teh tarik, a traditional Indian pulled tea, which is the indian's version of milk tea sans the pearls. It was so good that we always have second servings every time we eat.
MTB in Malaysia
MAYEN: Known locally as Taman Cabaran , Putrajaya Challenge Park is a 30 hectare park offering different extreme sports such as wall climbing, skate and thrill park, and mountain bike trails.
One can just bring their own bike and enjoy the different mtb zone trials that they offer. If you are not familiar with the trail course, you can pay a trail guide for RM100 (P1300). You can opt to rent a mountain bike for RM20 (P260) and the bike is yours for the whole day! Safety gears such as knee pads and helmet can also be rented for RM3 (P39) each.  The price is not bad given that they offer a wide variety of mountain bikes that would suit the preference of the biker.
The bike trail is divided into 3 zones – easy, moderate and difficult. Thinking that i can do the easy zone, i followed Hector and our trail guide but was disappointed that the jump off point is already a climb! Without having much saddle time and zero trail skills, i opted to just bike around the area and just enjoy biking around the paved part of the rest of the challenge park.
After a couple of hours biking around and watching kids doing their thing in the skate park, Hector and the guide got back and i sure can see that he enjoyed the trail.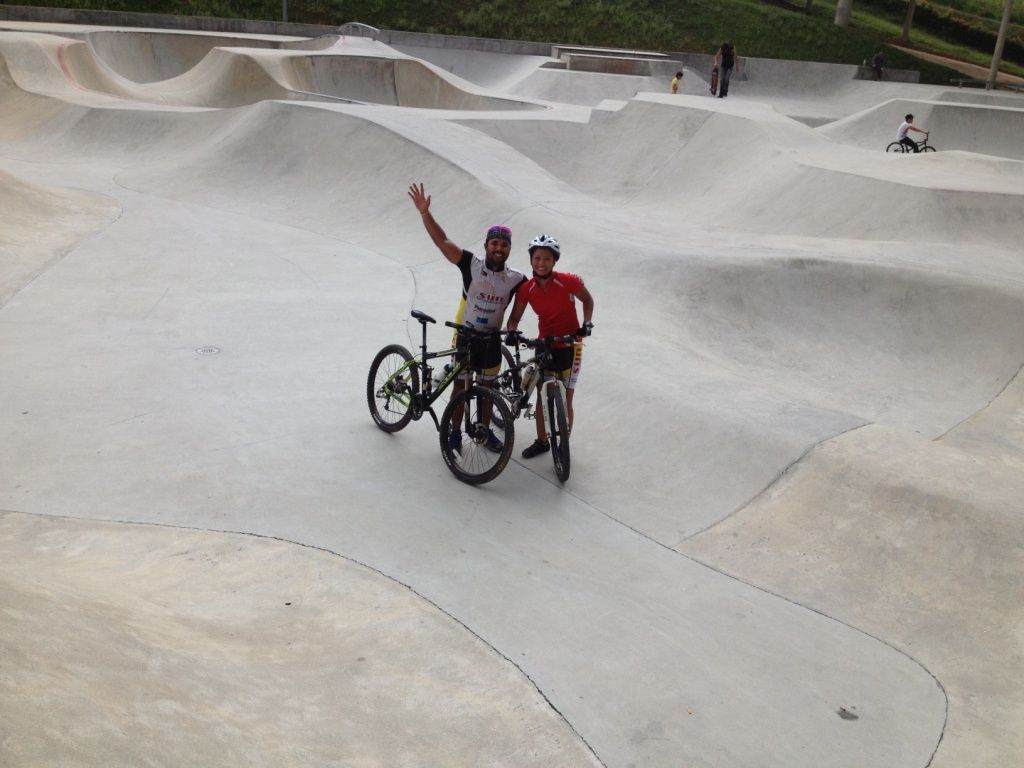 HECTOR: For this activity, we went to Challenge Park Putrajaya.  Its actually this big ass skate park, kinda like the ones you see on ESPN X-games.  And right on its backyard is a 4k and 8k mtb loop.  The Challenge park is only 1 of 4 IMBA certified mtb courses in Malaysia!  Too bad i didn't have time to see the other 3!
The whole bike route was well displayed with signs, so if you want to get lost, you literally have to try.  From the Challenge Park, it starts out with a short climb and then a sudden descent into the first portion which is a single track which resembles the Green zone of Timberland.  It has a lot of twists and switchbacks.  For a brief portion it opens up into a forest portion which is rolling with choice of easy and hard route but both merges upon exiting the forest.  Before you exit the forest, there are certain portions like the ones found in AFP (fort).  After that is back to single track like the Blue zone (harder) with a more forgiving gradient.
Being my background is running and triathlon, i was able to keep pace with the trail guide.  Once we hit the technical or single track, i got left behind by my guide (who by the way, is a competitive downhill rider).  He (Ajil) was able to teach me on how to better approach the curves, berms, switchbacks and aggressive descents.  All of which i was not able to master or apply, but it was sure nice to see everything i see on the video being applied in real-life riding.
Bring your bike.  I wasn't able to pack and bring mine in time for reasons i can't recall now.  Riding through the course with a borrowed bike was hard.  Riding your own bike on a different course will give you more confidence through the trails.
Jalan Alor (food street)
Our advice: don't go here when you're super hungry!  The street is very busy and a lot of waiters are shouting and inviting you to dine at their place.  The whole street is like 300 meters long so best to walk back and forth first to see everything and then select where you want to eat.  The whole street is complete from fruits, to main course, nibbles or finger food, and to desert.  All local, all authentic – you must go here for the local flavour.  Once youre settled in, ask for their specialty and what they recommend you try.  Be sure to try something new and leave your comfort zone!
Day 4
Trail running in Malaysia
MAYEN: We found ourselves back for more the next day, but this time to do run the trail course. Starting on the uphill part of the start off point made me realize that i did the right thing in skipping the bike the day before. It was a difficult course and i sure would have had difficulty handling the bike on this terrain.
Since Hector was able to do the course the day before, he was familiar already with the route that we will do for the run. Rows of rubber trees lined up the terrain. Most parts of the trail course would are downhill and would require small and quick steps. There was a part in the course wherein a lot of trees have their leaves pulled down. I pointed it out to Hector and he told me that there are a lot of monkeys in the area and they pull the leaves to jump from one tree to another. And true enough, i saw several monkey on the tree. It was fascinating and just enough eerie at the same time to make your stride a little more faster than usual.
HECTOR: to enjoy trail running more, it pays to gear and prepare for trail running properly.  Never under estimate the trails (specially if its your first time on this trail).  Bring enough hydration, GPS or running watch to keep track how far out you are; bring gels or trail food (depending how long you plan to run).  Anticipate running in the heat: visor or shades will help, quick drying running apparel, trail running socks, and most importantly: trail running shoes.  Always tell someone where you are – just in case something happens to you.
The Challenge Park is a very hilly trail run course; its a course that doesn't give you time to really get a good rhythm on your run.  The course starts with a 1k uphill on asphalt and a turnaround at a view deck on the hill which gives you a good view of Putrajaya before you enter the trails.  Take in the site and the fresh air – because you will be needing it to fuel your run :D
The first part is a single track thats full of roots, littered with leaves.  Don't be surprised if some of the trees move or shake all of a sudden – those are just monkeys feeding or hopping from tree to tree!  Inside the single track is cool; it feels like the canopies of La Mesa eco park in QC.  The descents and ascents during the first portion of the single track is tricky both for intermediate and beginner.  Sometimes for the switchbacks and descents, its better to skip or hop just to clear the technical areas as soon as possible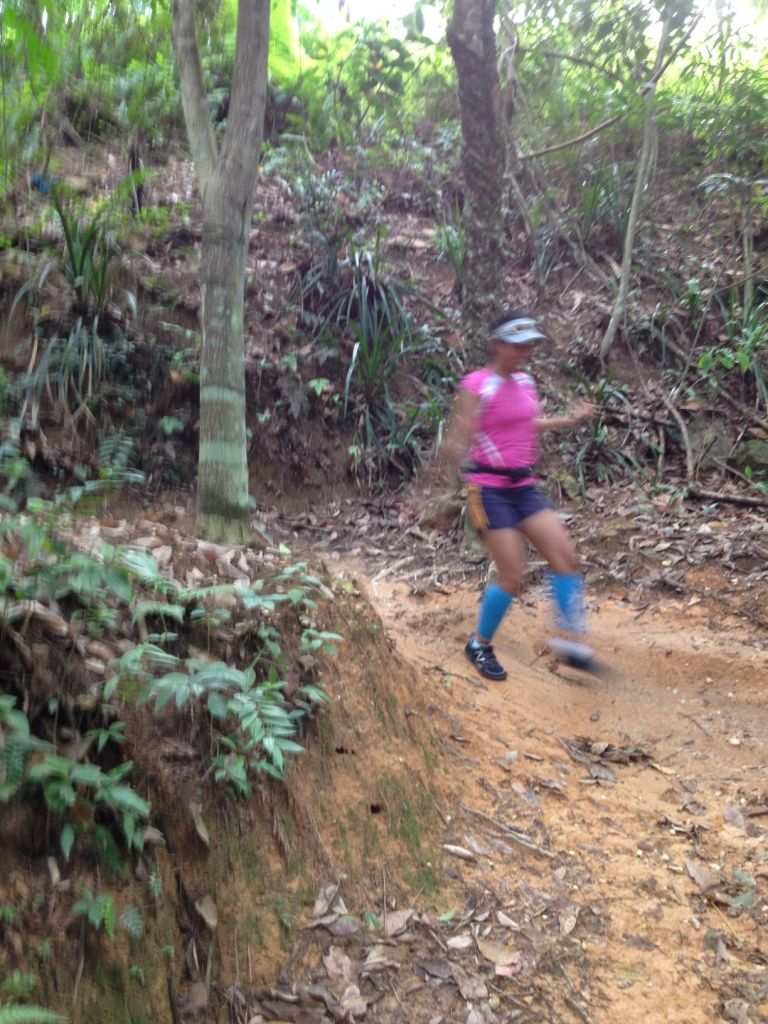 Sometimes the longer you stay in a technical area, you increase the chances of slipping or having a miss-step which will throw you off balance and ending up ruining your whole run.  During trail runs, be aware or ready to use your hands to either grip on trees and hold on to vines to help you get over certain challenging areas.  Always commit to the descent and never hesitate halfway, best to ride the downhill eventually the momentum will wear off once the terrain changes.  One thing certain in trail running is, for every downhill there's an uphill waiting to offset it.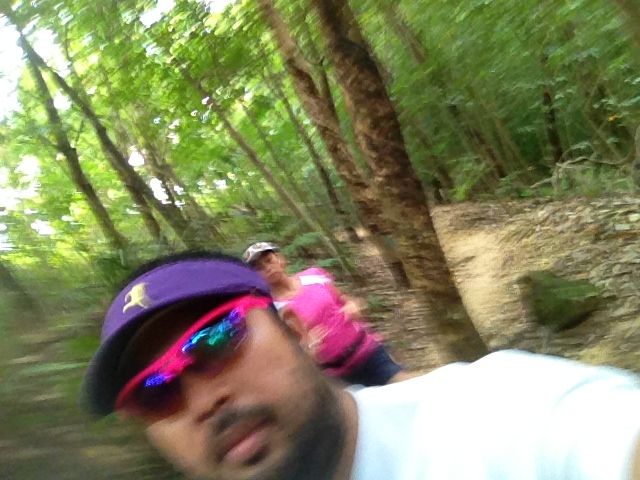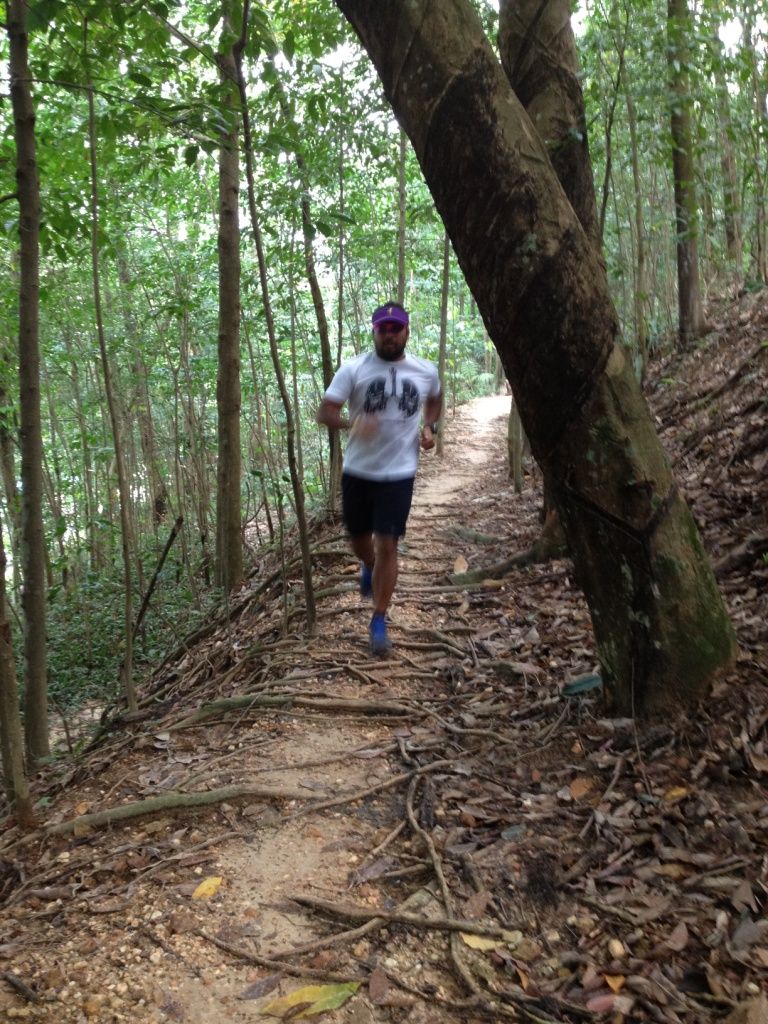 Always take a quick scan of your surroundings and where you are headed.  While its important to look at your immediate approach, be aware also of low lying branches or tress, and sometimes webs that are hard to see during running.  You may be enjoying and securing sure footing with every run, but you also don't want to get side tracked by hitting your head with a tree or getting something in your eye.
When youre tired from the suprises of the single track, the route gives you time to rest in the form of a 500m fire road trail that has the same incline as st. Martin road beside Phil Sports Arena (Ultra).  One thing i like about trail running is that it gives you the most spectacular view which every trail runner should enjoy and appreciate.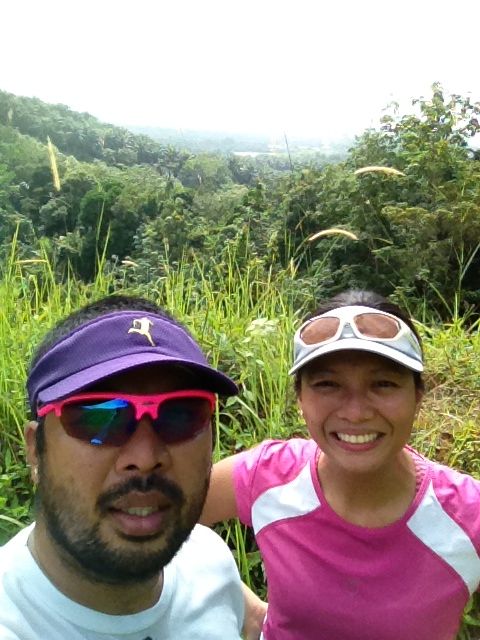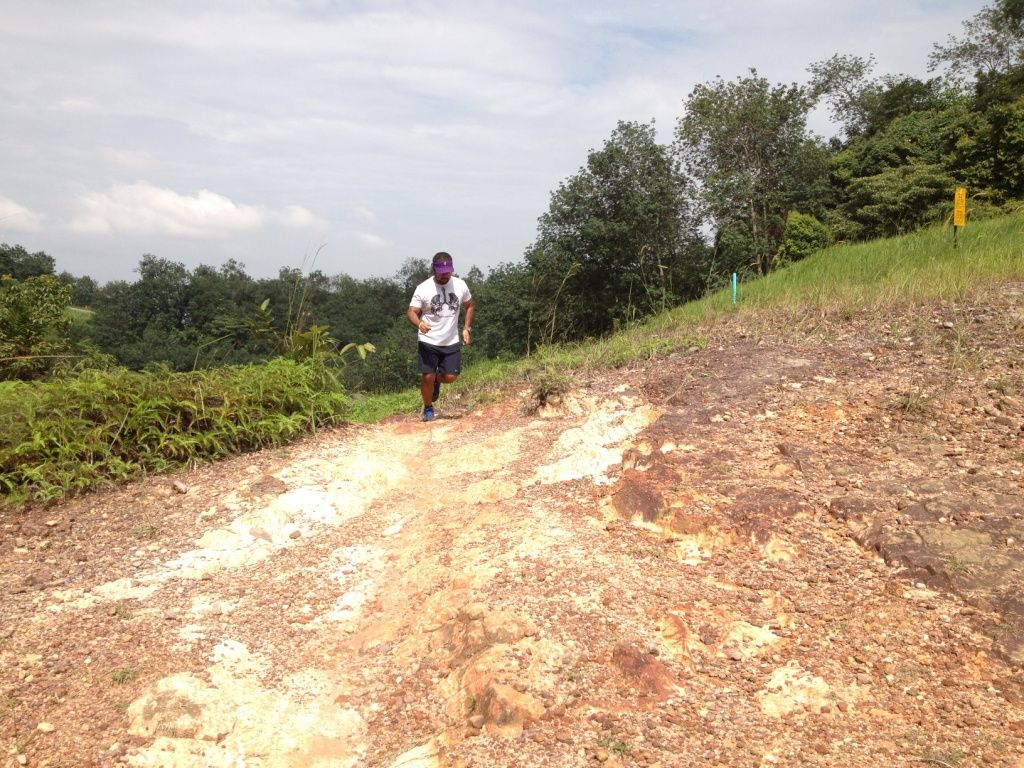 After countless ascents and descents, jumping roots double the size of your legs and dodging branches, leaves and other elements – you will reach a portion thats very similar to a beach front terrain.  Coconut trees, sandy surface and lush greenery (only there is no beach).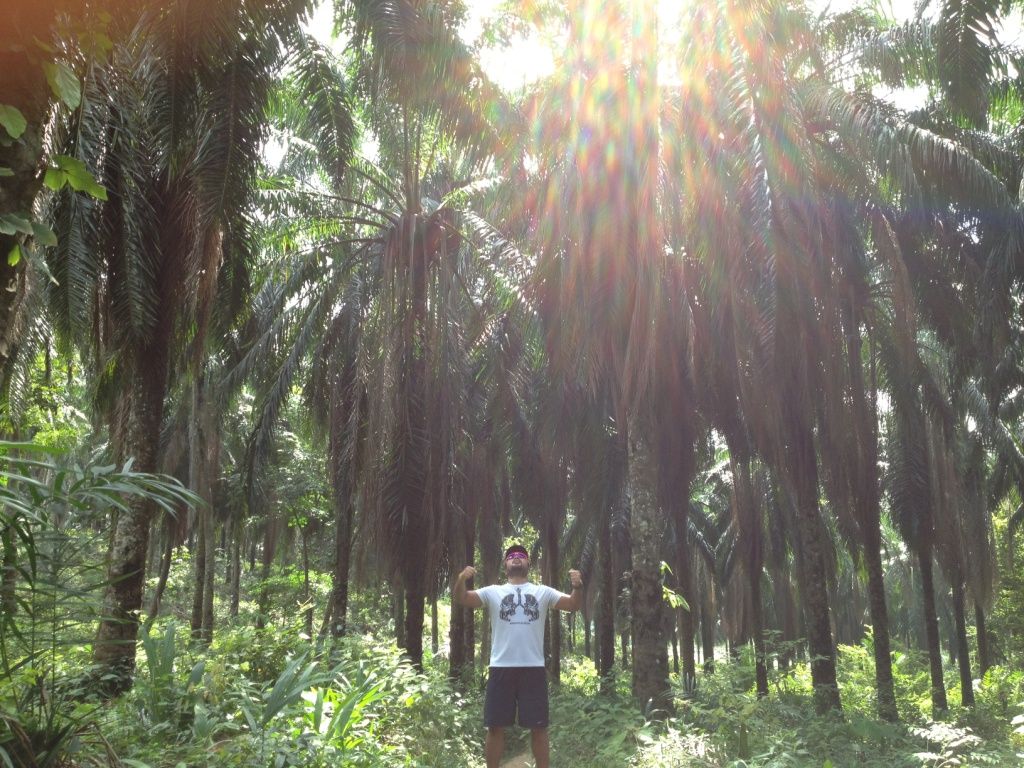 After 50 minutes of running, and finally looking at my garmin, we were both surprised that was just a little over 4k of trail running! Our visors were drenched with sweat and our camelbak hydration was drained as well.  After a few mins of rest and stretch – i went on for a second lap while mayen stayed behind to enjoy the bike park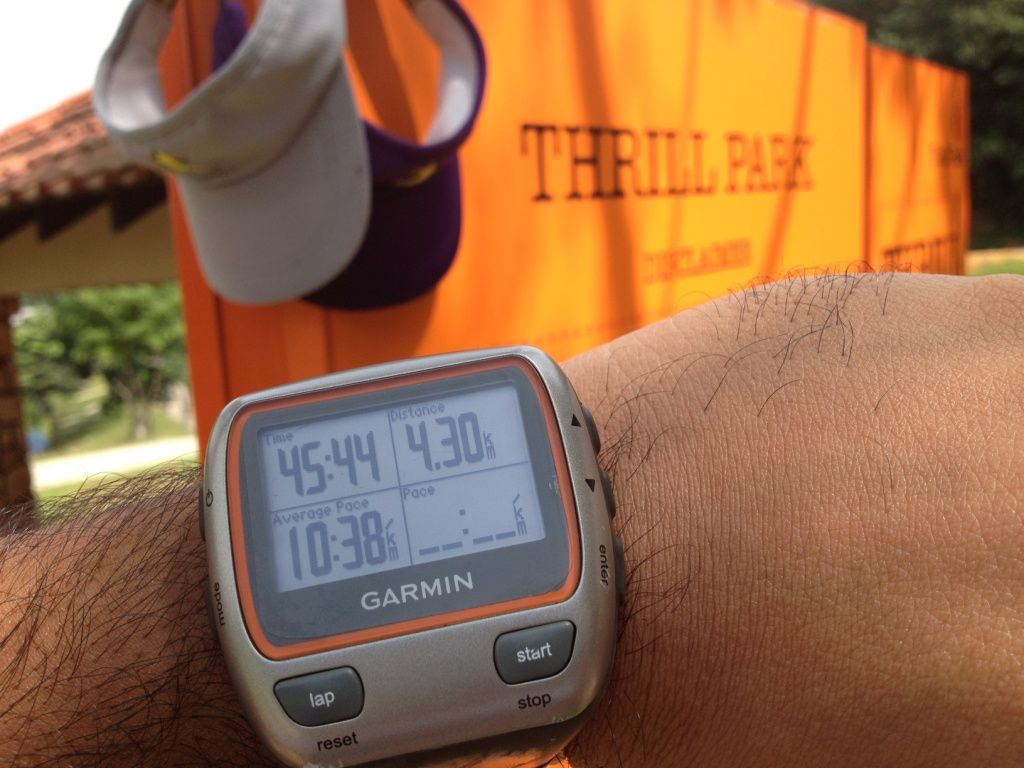 After punishing ourselves with a hot and humid trail run, we rewarded ourselves with a hefty lunch at a nearby Indian hawker place!  A hard earned ice-cold Teh Tarik, infinite choices of curry lamb, chicken and fish, and rice!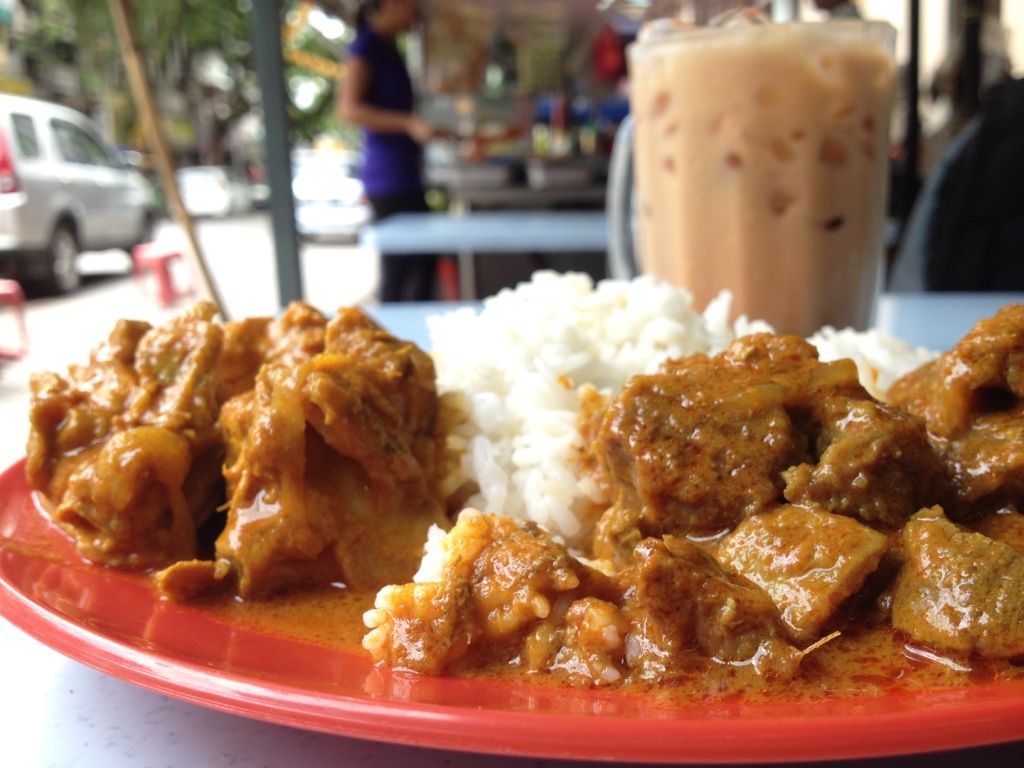 Comments
comments