Last September 28-29 2013, the Philippine National Triathlon team went to Singapore to participate at the Cold Storage Singapore International 2013. Among them, is our 2012 SBR.ph Awards Male Youth Triathlete of the Year, Justin Chiongbian.
Read on below for Justin Chiongbian's Cold Storage Singapore Triathlon experience, and what he did to bring home the gold, and most importantly, the glory.
---
Hey Carlos!!! How you doing? As the first awardee of the title "male youth triathlete of the year" i would like to thank you for this opportunity to share my experience in the Cold Storage Singapore Triathlon 2013 with fellow triathletes and those willing to venture into the sport. And I'd like to thank SBR again and those who voted for and believed that I can TRI.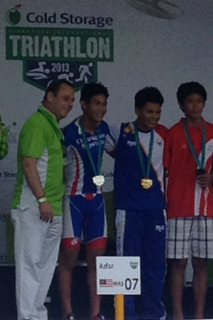 The Cold Storage Singapore Triathlon is one of the best races to look out for. It was held at the East Coast Park. Being the only ITU sanctioned race this year in Singapore, it was also an Asian cup and a very big event with lots of countries participating in my category like Thailand, USA, Canada, Malaysia, Singapore ,France, Germany and a whole lot of others. The course was technical. A signature in this course was the bridge one has to cross from the swim 350m to the TA and from it through the bridge to the run course. I vaguely recall a gasping point going up that bridge because of the overwhelming crowd. The water was a bit murky and was surprisingly cold. The bike course was 2 loops with sharp turns, humps and a few slopes and the road condition was good. The run course was around a lake and it also had a few minor slopes.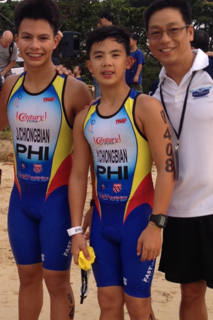 I had a good experience in the race mentioning aside that I tripped on the Start tape. Despite only being 7th out of the water in the lead pack, I took control of the bike leg along with 2 other competitors and came out fourth in T2. The run led me to win. I sprinted out as fast as I could and carried on the pace on the last kilometer because I was confident. The cringe instinctively came out to make that strong finish. Funny I didn't know that I was first place when I reached the finish line because age groups were overlapping. I was at my best in this race. The course was well planned and the organization of the race was exceptionally controlled. Best of all, I went home with honor for my country again, with a huge bag full of goodies from Milo, a weighing scale and the grooviest Gold medal of all.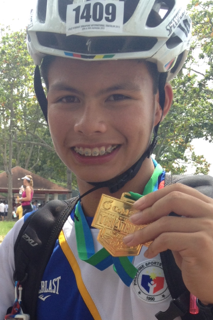 Thanks for reading!
JUSTIN
Comments
comments