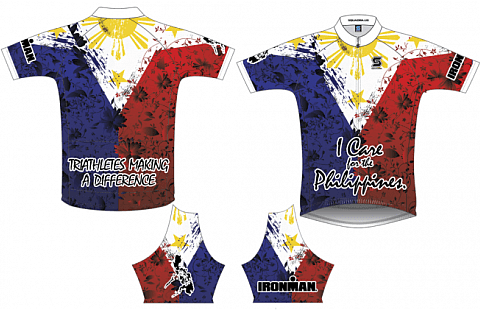 Don't miss the chance to avail of this super limited edition cycling from Sunrise Events, organizer of the Ironman 70.3 Philippines and Squadra, Inc! The best part? It's all for a good cause.
See below for the official message from Fred Uytengsu.
Dear Fellow Triathlete,As you know the central Philippines was badly affected by Typhoon Haiyan/Yolanda which was the strongest typhoon ever recorded to hit landfall. Parts of the country were badly affected including northern Cebu (where we host the Ironman 70.3 Philippines). We have appreciated the support expressed by many of you over the past week.

We also want to find a way how we can assist in the rebuilding efforts once the immediate needs for food and basic shelter are addressed. This is also a way how we, as triathletes, can show our good global citizenry. We have produced a special edition bike jersey made by Squadra for which 100% of the proceeds will go to the rebuilding efforts. Squadra alone has offered to produce 500 of these jerseys for free and the balance at a reasonable cost. We intend to partner with Gawad Kalinga and build a small village that will be sustainable over the long haul. We also hope to be able to build a couple of classrooms. Please join us in our efforts to help the victims of this terrible calamity.

Sincerely,

Wilfred Steven Uytengsu
Chairman
Sunrise Events, Inc.
To order, please visit bid.sunriseevents.com.ph/auction/charity/i-care-philippines-jersey. The jersey is available for $80 or approximately Php 3,600.00
THE ENTIRE ENDURANCE COMMUNITY IS COMING TOGETHER
IRONMAN "HUMANITARIAN" SHIRT
Ironman has released their own shirt with 100% of the proceeds going directly to the relief efforts in the Philippines.
Image is owned by ironman.com
To order the shirt, kindly visit http://triathlon.competitor.com/2013/11/news/ironman-releases-phillipines-relief-t-shirt_89957
PRO ATHLETE RACE KITS AND XTERRA MAUI SLOTS FOR AUCTION
Visit bid.sunriseevents.com.ph for a chance to bid and own the uber cool race kits of pro athletes such as Ben Allen, Belinda Granger,  Luke McKienzie, and other pro athletes! They're also auctioning off two (2) slots to the Xterra Maui world championship!
Comments
comments