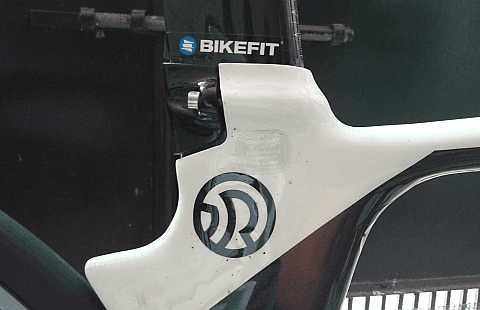 "But if we tilt the handlebar upward, it won't be aero!" I said to Arland as he was "mutilating" my very aero looking CEEPO Katana. Then, he dropped the bomb. "Let's talk aero when you can average at least 40kph". Alright, that shut me up.
Armed with his very own fit bike which has tons adjustability to get your perfect stack and reach requirements (bike height and length), Arland is here in the Philippines to do a series #bikefit sessions for interested clients. Of course, being the bike geeks that we are, we wanted to be one of the first ones to try it.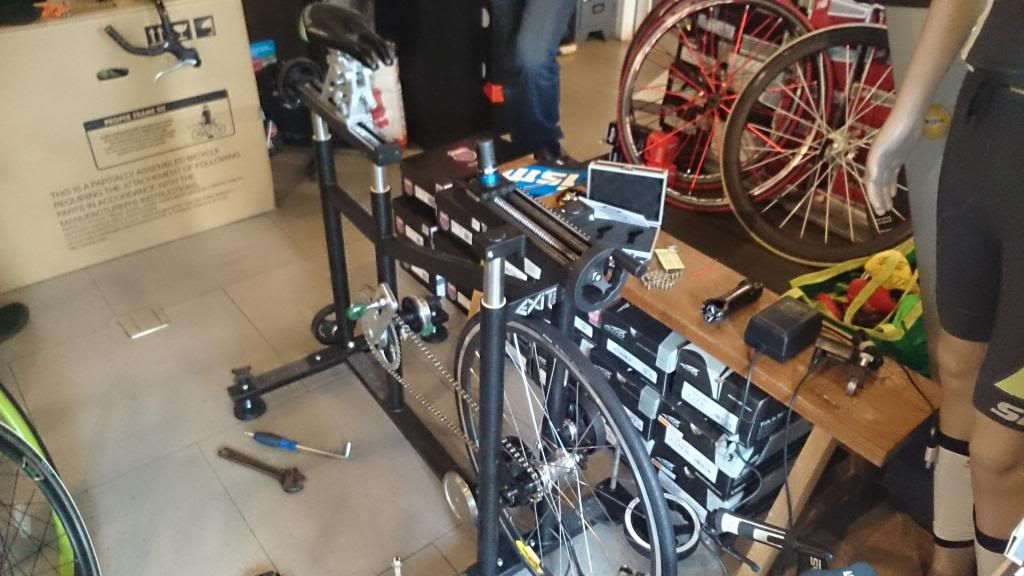 The goal of any bike fitting session is to achieve the best balance between comfort and speed. Arland's bike fitting style is very different. Let's put it this way, my fit session took 2 days to complete! Yep, if you want to schedule your own session with the Cobra Ironman 70.3 Philippines Champ, you better dedicate at least half of your day to it. Which was not a problem to us. (note : we can talk about bikes all day).
Before the session begins, Arland first asks you to lay down so he can stretch you out (we intentionally didn't post pictures of that!). The purpose of that is aside from relaxing your muscles, that will allow him to know how flexible you are and how far he can go when it comes to your bike fit. Give the stiffs that we are, this good as we don't want to be riding too aggressive. Remember, an aggressive setup is useless if you can't hold it for the majority of the race. Aside from the stretches, he will also ask you kneel down on a platform so he can measure and take a look at your foot.
my "dainty" feet
One of the things I liked the most is that, he also adjusts your cleat position. Which was something I'm very particular with. I have flat feet, and I need it my cleats to be locked in at a certain angle whenever I'm riding. I also hate the fact that my shoes are not that 100% engaged in the cleats. It wiggles a lot, which basically means, I'm not getting 100% power transfer.
Arland compensated for the wiggle by adding shims (the blue one in the pic below). Which made the engagement of my cleat and pedal really solid.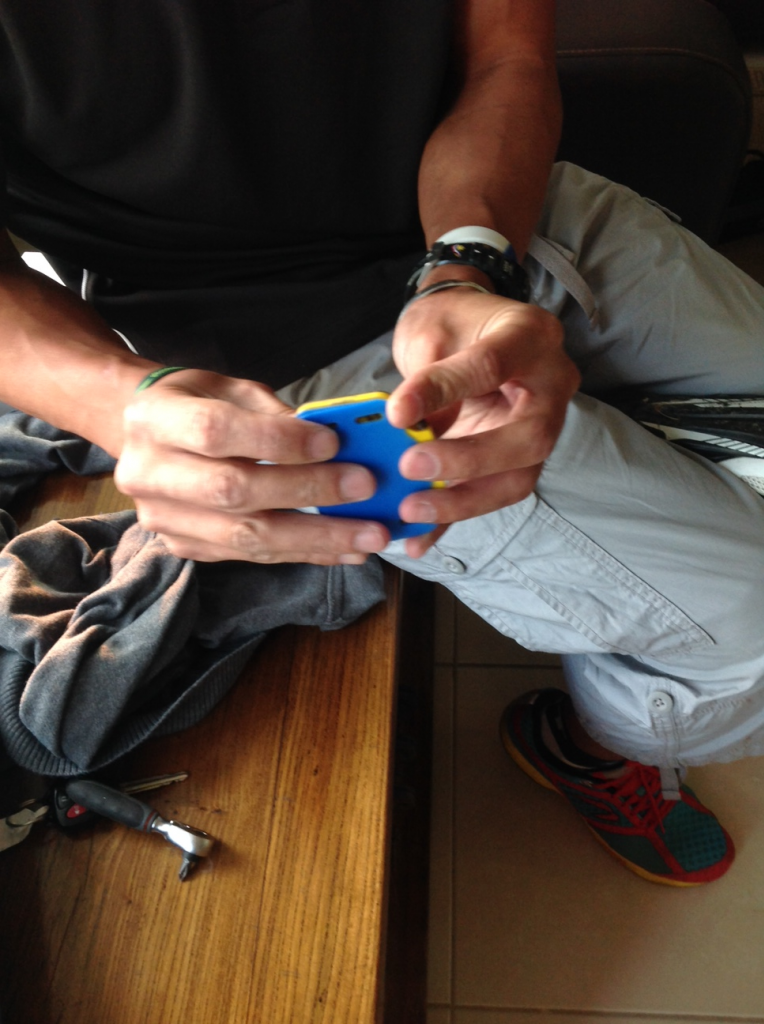 The float of your cleats are adjusted while you are engaged on your bike. At one point, you will be asked to pedal and stop as he dials in your optimum cleat position.
If you're using speedplays, the better, as he recommends that for most of his clients. Personally, I love speedplays and cannot imagine riding anything else so that wasn't a problem for me. I used Shimano's before but I find that its lack of float adjustability, causes my knee to act up. All of that changed when I switched to speedplays. Arland has a cool set of speedplays called the determinator that adjusts the pedal's spindle length to see which one works best for you. I found out that I needed a longer spindle for my right pedal.
Don't worry if you're using a Shimano or a LOOK. Those are awesome pedals. It's just a matter of preference and which one works for you best. Arland can work with SPD's and KEO's too.
During century rides and Ironman races, I always get numbness on the outer edge of my right foot. Armed with laser tracking, he was able to see that my right knee buckles outward everytime I hit the 12 o clock position. I notice that too as I can see it happening whenever I'm riding and on my aero position. I know I had to do something but I have no choice as I'm forced to use the standard spindle length of the OEM speedplays. What I've been doing is to intentionally stick my knees in towards the frame of the bike. But of course, that's an extra hassle as you shouldn't be thinking about that during a race.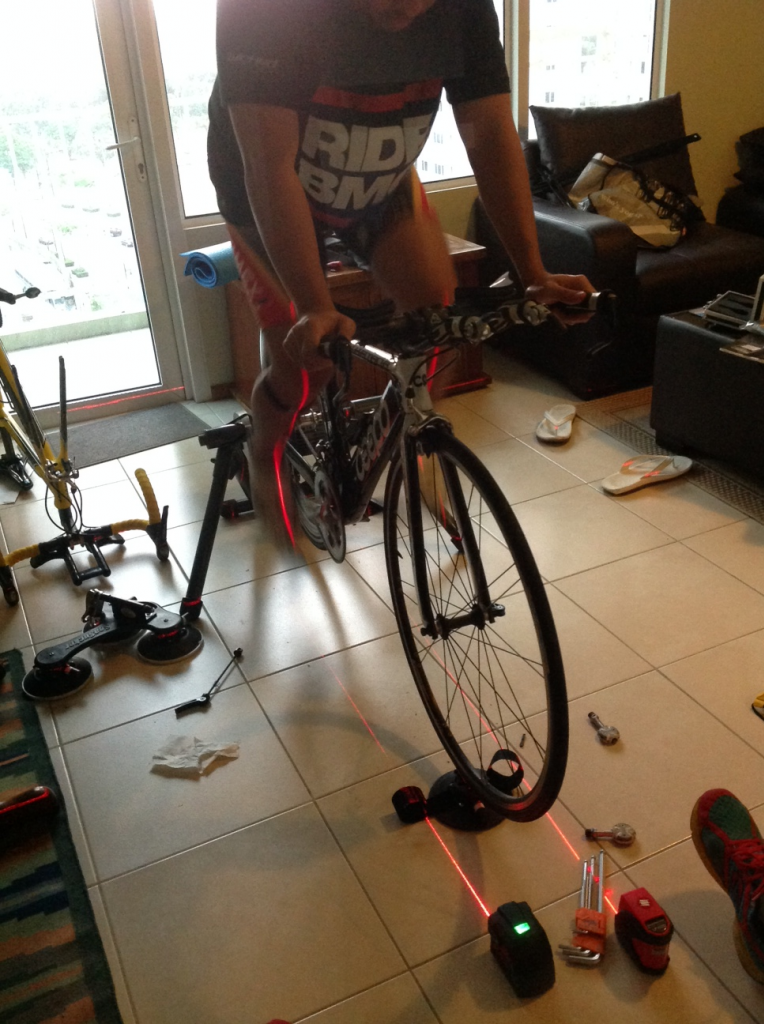 We mutually agreed that the increased pressure caused by the wigglem, is the one causing the numbness. So to fix that, Arland adjusted the length of my right pedal by adding an additional shim. The result was very evident as I immediately felt my right leg pedaling smoother.  It will probably take a little getting used to as I reset my biomechanics to the new pedaling style, but I'll take it. This is also a temporary fix as I ordered a longer speedplay right pedal within minutes. Upgradetitis at its finest :)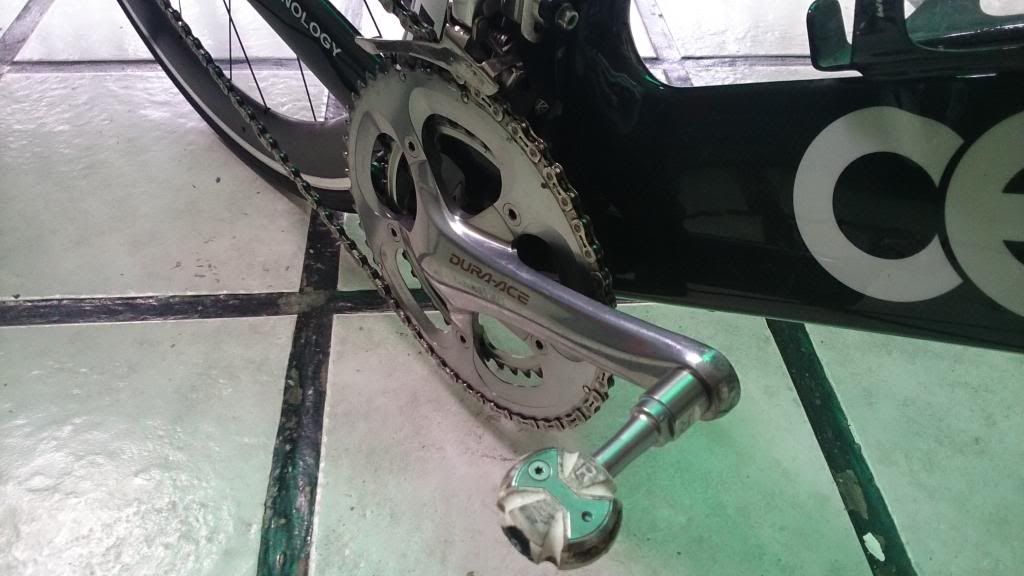 Riding a longer pedal on the right removed the wobble on my right leg. My knee laser trace results are also pretty much " on the money" now as Arland likes to say it.
As day 1 involved a lot of pre-fit stretching and initial bike measurements, the fun began on day 2 as I hopped on the fit bike. I love it as I can basically ride every bike out there by simply copying the geometry and see if it will fit me. Saving me tons of time and money. With the fit bike, we tested different measurements and dialed in my perfect bike geometry. Being an aggressive rider, I now know how low I can go and the maximum/minimum reach that I can ride. As standard, it's advised to keep a log of your measurements for future reference when you're on the look out for a new bike.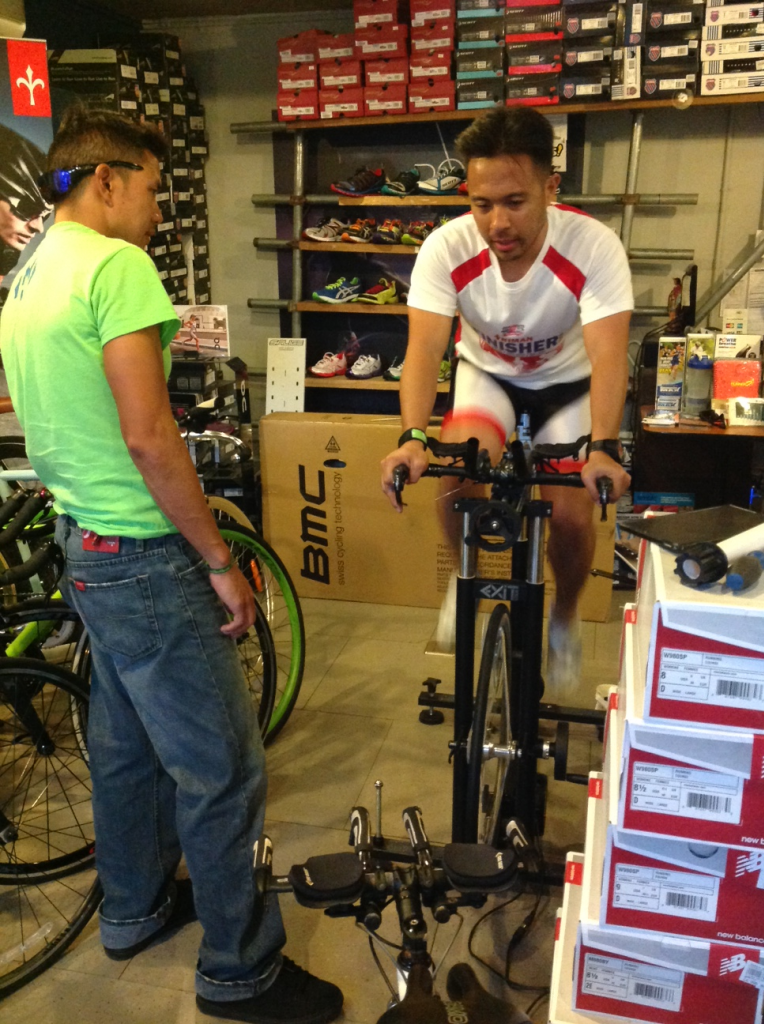 The fit bike is also equipped with its own quick release mechanism for the saddle so you can also basically test all the saddles out there. I probably tested like 10 saddles before settling in on my old one.
But all of those adjustments won't mean anything if you can't ride it and hold it for at least 90k right? I've done a couple of test rides with the new fit and the results are pretty positive. I can generate a lot of power plus the best part is, because of the less aggressive fit, I'm so much more comfortable. Speed will come eventually.
Like buying a bike, it's all about finding the right fitter. We've had success too with Retul and other bike fitting methods (read our Retul write up by typing "RETUL" in the search box). It won't hurt to give everyone a try. :)
Interested? Shoot Arland an email at [email protected] or at 0917-8040424. He's here for a limited time only doing bike fits at The Brick so don't let this opportunity slip.
Comments
comments