Tri Manila 2014 | Race Results and Review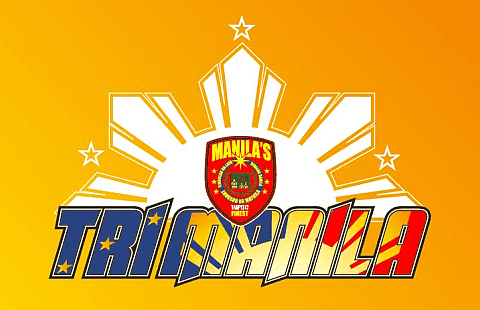 ---
Congratulations to the winners and finishers of the first ever triathlon held in the city of Manila, TRI Manila 2014! After two postponements, it finally happened! Thank you to all the participants and thank you to everyone who supported our event! You guys are now part of Manila's rich history. How many can say that we're one of the first participants of the first ever triathlon in the city of Manila right?
SWIMBIKERUN.ph is a proud organizing partner of Tri Manila 2014.
Rate the race using our ratings system above! Also, please feel free to leave your comment below.
---
Nikko Huelgas and Maria Claire Adorna claimed top spots and was crowned overall champions of the first ever triathlon held in the city of Manila. Dubbed as Tri Manila, the event is an 800m Swim in Rizal Memorial Sports Complex, a 35 kilometer bike in Roxas boulevard, and a shortened 5km run along the beautiful coastline of Manila Bay.
Over 450 athletes braved the starting line and conquered Manila's historic race. Perfect weather also complimented the racers as they blazed thru the closed roads of Roxas boulevard. "It was aero heaven, I didn't want to stop", said one racer after the race.
Results note : the ones highlighted in orange lacked bike loops. Some had problems with the sensors that's why its either they have combined swim and bike splits nila or bike and run splits. Some chips were not read at all so they only have their finish time.  For results questions kindly email our timing team at [email protected]
But the event wasn't all that perfect. In fact, based on our standards, its far from it. First of all, we'd like to apologize to all the traffic that we caused to the motoring public.  There's a reason why triathlon in Manila has never been done before, because everyone thought it simply couldn't be done. The logistics required is far too big. But as they always say, impossible is nothing. If you can dream it, you can build it. And we did.
SHOCK AND AWE
"There's no better teacher than race day itself." As the gun went off and the elites started their division, we prepared ourselves for the impending traffic chaos that we're about to create in Manila. First of all, the safety of the participants is paramount. We revised the running route of the race last minute because we couldn't get 100% assurance from the other city of 100% road closure. The whole team probably got shocked with the "real" amount of traffic and logistics required to close the city is finally upon us. Closing down Quirino proved to be the toughest as motorists still counterflowed and plowed their way to our supposed "closed" roads. The first wave of athletes (the elites and some of the fast women) were forced to go up the sidewalk just so they could avoid the counterflowing cars as they were heading back to Rizal for transition. We also had a few who suffered accidents and got hit by counterflowing cars. That is unacceptable and we surely do apologize for it. The motorists, who got stuck in traffic, proved to be harder to contain than we originally thought.
As more and more racers were coming out of the water and heading out to Roxas for the ultimate bike experience, thoughts of cancelling the race was opened up. We will simply not allow the race to continue if we cannot close Quirino avenue. That is imperative and non-negotiable.  We would like to thank the resolve of the Manila Police District for putting more men in Quirino avenue. That solved the problem as we were finally able to control the traffic.
The traffic along P.Ocampo was massive as well. The Manila traffic was right after all. We originally wanted to close BOTH lanes of P.Ocampo. But that proved to be too tough even for them to execute.
THE SWIM. 
As the racers got sent in waves, it was awesome to see the huge crowd of racers and supporters seated along the bleachers of Rizal pool. Reminds us of national swimming competitions and the annual Palarong Pambansa. The crowd of cheerers along the pool and the bleachers made everyone's adrenaline pump 10x faster.
Trivia : the sardine soldiers were M.I.A. Which was good! Because that only means they're all better swimmers now :)
THE BIKE. #AEROBLISS.
The highlight of the event was definitely the full closure of Roxas boulevard. People can always say that they swam in Rizal's swimming pool, or run along the coastline of Manila Bay. But to bike in Roxas boulevard? in race speed? in a draft legal race?!. That was simply unheard of. Roxas boulevard has never been closed this long. Sure, there have been running events held here before. But to close not just one, but both lanes of Roxas for the entire duration of the race? Now that is something else. :)
THE RUN.
Like what we mentioned earlier, we made a last minute change in the run because we couldn't get 100% full closure from the other city. But that turned out to be a blessing in disguise as the run got more scenic, albeit a little bit short. Nothing beats running along the coastline of Manila bay and finishing in front of Rajah Solaiman. Now, if we can just control the people in Boardwalk so that the racers can get a clearer running path, Tri Manila's "Manila Bay Run" would be perfect.
SEE YOU NEXT YEAR?
To organize a race like this, it involved a lot of cooperation between government agencies. We all needed to be under one page and synchronize our efforts. From us, to the Manila Police District, the Manila Fire Department, the Manila Disaster Coordination Council, the Manila Hospital, up to the Manila Tourism Committee, everyone needed to sync and work as one. We admit, some got lost in "transition". Doing a race in Manila is tough, much more a complete triathlon event. But we did it and we would like to take this opportunity to thank the entire city of Manila for all their support.
Thank you also to everyone who registered to #TriManila and most importantly, after two cancellations, everyone who stuck with us and didn't refund despite the inconvenience. We're glad that we're able to give you a unique race and something that has never been done before. At the end of the day, that's what SBR.ph is all about. Getting people into this crazy sport.
As what was announced during the awarding, Tri Manila is here to stay. We will take this under our belt and make it part of our racing calendar. We hope that the community, can once again support us. :) Now armed with knowledge and experience, we now know what it takes to create history and execute a race in the heart of the Philippines premiere city. We promise to make next year's Tri Manila 100% better. You can count on that.
See you all at Tri Manila 2015 :)
PICTURES
Got pictures of the event? Send us your link so we can post it here! Credit will be given of course!
From IC3 Photography (Official Photographer of Tri Manila 2014)
From SOLID TRI
Set 1 :  https://www.facebook.com/media/set/?set=a.611331858947352.1073741839.384785068268700&type=1
Set 2 (Bike Leg) : https://www.facebook.com/media/set/?set=a.611355878944950.1073741841.384785068268700&type=1
Set 3 (Run Leg) : https://www.facebook.com/media/set/?set=a.611434968937041.1073741843.384785068268700&type=1
IN OTHER NEWS 
Registration to the SBR.ph Tri Series is now open! We also have relay categories! :)  The Aquaman Aquathlon (800m swim, 5k run), the Duaman Duathlon (6k Run, 20k Bike, 3k Run), the Triman Triathlon (900m Swim, 30 Bike, 5k Run) and the Duaman Duathlon X2 (12k Run, 40k bike, 6k run).
Details posted here.
Comments
comments