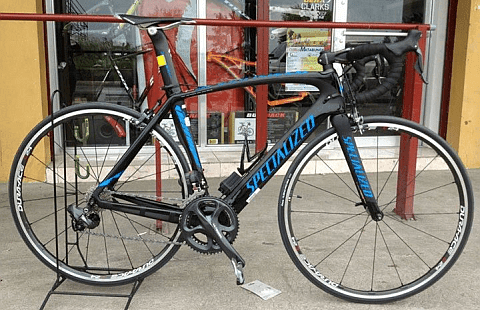 UPDATE : We were able to talk to the owner of the stolen Specialized Venge at the Philippine Duathlon Series Leg 1. Below is the picture of the bike right after it was built (brand new). He will also send us pictures of the bike before it was stolen (race pics) along with the corresponding serial numbers.
The bike is equipped with Ui2 (not Di2 as we earlier posted) and Shimano Dura Ace C24 rims.  He confirmed that we got all the info correct in our first post.
Like what we posted, the racer (athlete number 73) went to get his back IMMEDIATELY after the race and found out that the sticker numbers on his helmet was indeed taken off his helmet. The thief only took the bike and left his other stuff at his transition spot. We can't say we're 100% sure on this one, but this basically confirms that the thief is also a participant. As the organizers weren't allowing anyone (non-participants) to enter the transition area.
We're still trying to get his splits from the organizers. We don't know if this will help, but it will significantly reduce the time frame of the theft. Keep you guys posted.
He also told us that they're in-touch with the organizers. The organizers are just asking for enough time to investigate the matter before talking about a possible settlement, which is totally fine with the victim.
Again, let's shift our focus on how we can bring the back home to its rightful owner.
Kindly share and pass.
Comments
comments