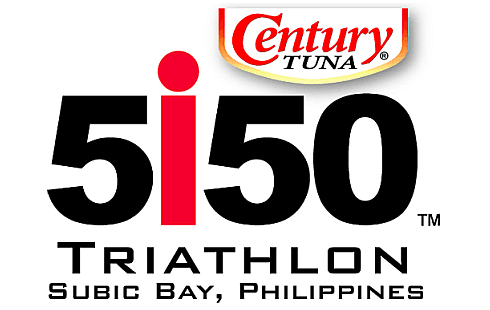 ---
"There's a rainbow always after the rain". Instead of the forecasted rain, athletes were welcomed with a bright rainbow right before the gun start of the 2014 Century Tuna 5150 Philippines!
Rate the race using our ratings system above! Don't forget to share your thoughts about the race in our comments section!
1000+ athletes, composed of seasoned veterans and triathlon newbies, trudged to the new swim start of the 2014 edition of the race. We absolutely loved the swim start and based on the comments of most of the participants, it looks like no one missed the  point-to-point in-water start of the previous two editions :). They can't say the same though from the signature "tarlac" climb of the bike course. Most of the athletes who we saw "hammering" the airport section paid for it dearly on the way to the top of the climb. Some were forced out of their bike and walked to the top, but some of course, endured the pain and mashed the climb all the way. The  run course (our personal favorite!), is basically the same as the previous two editions. No need to change it though because the golf course part of the run is definitely one of the signature aspects of this race.
It's a 1-2 finish for the Australians as Casey Munro and Michael Murphy finished the race just a minute apart. Munro finished in 2:07:02 while crowd favorite, Michael Murphy crossed the line at 2:08:26. Simon Agoston wrapped up the podium with a 2:09:13 finish time.
In the women's division, Caroline Steffen, our SBR.ph Pro Triathlete of the Year winner from Australia, dominated the race from start to finish. Barely challenged, "Xena" crossed the line comfortably at 2:15:32. Belinda Granger and 3x SBR.ph Philippine Triathlete of the Year Monica Torres wrapped up the women's podium with a  2:25:05 and a 2:28:20 finish time respectively.
Quick Results :
Source : www.5150philippines.com
Male Professional
1st – Casey Munro
2nd – Michael Murphy
3rd – Simon Agoston
Female Professional
1st – Caroline Steffen
2nd – Belinda Granger
3rd – Monica Torres
4th – Jodie Scott
For the complete list of race results, click the following links:
Comments
comments