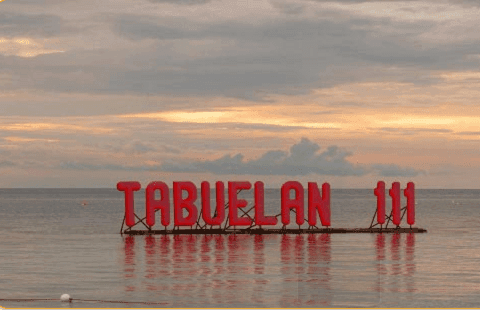 SPOTTED! Looking for your next triathlon? We scoured the Philippines for the ultimate destination races. Here are our top 5 finds! Yup, we know some of the races are already done so watch out for them next year!
Note : We purposely did not include races organized by Sunrise Events Inc (IM 70.3 Phil, XTERRA, 5150 Subic and Bohol) and  Bike King (Tri United 1-4). Why? Because all those are considered as must-do events already. Also, you won't see our very own Triman Triathlon on the list too, for obvious reasons.  (not nice to "buhat your own bangco") :)
---
1. TABUELAN 111 | June 8, 2014
Location : Maravilla Beach Resort, Tabuelan Cebu
Distance : 2k Swim / 88k Bike / 21k Run
Website : www.tabuelan111.com
Organized and spearheaded by no less than the Mayor of Tabuelan, Rex Casiano Gerona, Tabuelan 111 continues to be one of those "why the heck didn't we join this one" races in our calendar. We've been following developments about Tabuelan 111 and we have to say, we're impressed with the overall organization of this event. The pictures on their facebook page (https://www.facebook.com/tabuelan111) says it all. Sad to say, it coincided with our Duaman Duathlon so we had absolutely zero chance of covering this event.
Here's a comment about the race from Abby Ponce.
"That was a great if not grueling race. Kudos to the organizers! the place is beautiful, the people were friendly and hospitable! Sure to come back next year to redeem myself. Thanks Mayor Rex Gerona for staging this."
Still not convinced? Check this out.
Tabuelan Triathlon 111 – 2014 from Maui Recla on Vimeo.
Verdict : We WILL be there next year.
2. The Bataan International Triathlon | November 29-30, 2014
Location : Las Casas Filipinas de Acuzar
Distances : 1.5k Swim / 55k Bike / 11k Run (Largo) | 750m Swim / 30km Bike / 5.5k Run (Rapido/Sprint)
Website : www.bataaninternationaltriathlon.com
Set at the beautiful and very scenic Las Casas Filipinas de Acuzar at Bagac, Bataan, The Bataan International Triathlon (Bi3) promises give everyone a true all-Filipino heritage race experience from start to finish. We were fortunate enough to be one of the first to do an ocular of the race course and we're totally impressed. We loved the crystal clear waters (zero jelly fish!), the very tough but super fun bike course, and the out and back / all out to the finish run! Need more convincing? Read our full review of the inaugural race —> The 2014 Bataan International Triathlon | Course Preview | Why We're Joining
Verdict : There is ABSOLUTELY no way we're going to miss this one and so shouldn't you! See you there!
Tip : You have until June 30, 2014 to take advantage of the Early Bird promo! To register, visit www.bataaninternationaltriathlon.com
3. Sipalay Triathlon | March 22, 2014
Location : Sipalay, Negros Occidental
Distance : 1.5k Swim / 40k Bike / 10k Run
Website : www.facebook.com/sipalaytri
Part of the National Age Group Triathlon series of the Triathlon Association of the Philippines, the Sipalay is one of those what we call, no-nonsense-and-just-race type of events. It doesn't pride itself in being one of the most glamorous events in the calendar, but if you want a challenging course with a bit of view (and pasyal for the loved ones) on the side. This is the perfect race for you.
Honestly, we don't have that much info about the race course. It is actually our friends who has been nagging us to join the Sipalay Triathlon. Based on their comments alone, the race course is really challenging and fun. Plus the best part, the EPIC after race party!
Verdict :  Put this race on your calendar.
4. DEFY 123 Triathlon | May 25, 2014
Location : Bellevue Resort, Panglao Island, Province of Bohol
Distance : 1k Swim / 110k Bike / 12k Run
Website : www.defytri.com
Defy 123 Tri will always have a special place in our hearts. We were there when the earthquake happened last year and was one of the fortunate few to witness the beauty of the Churches that got destroyed. The swim begins at the beautiful resort of Bellevue but what sets this race apart, aside from the 10am gun start, is the draft legal (and road bike only) bike leg. The bike course is a mix of rolling hills and pancake flat sections. If you're always being caught by the draft marshalls in other races, you won't be having that problem here. Just make sure you have enough on your reserves for the 12k run after.
Verdict : We'll keep this simple. DO-NOT-MISS-THIS-RACE.
5. Honorable mentions
Mango Man Triathlon | 1.5k Swim / 40k Bike / 10km Run – the Mango Man Triathlon is a standard distance race set in the beautiful island of Guimaras, the Mango Capital of the Philippines. Don't treat this race as your easy "B" race though. The bike course is TOUGH! You know something's up when they call the 40km bike course, "sweet rolling hills".
226 Bohol Triathlon 3.8k Swim / 180k Bike / 42.2k Run – the only iron-distance race in the country, it's a shame we haven't heard anything about the 226 Bohol Triathlon for this year (last year got cancelled). The first two editions was fun. We're crossing our fingers and sincerely hope we see updates about the 3rd one really soon.
Comments
comments