YELLOW CAB'S CHALLENGE CAMSUR AND CHALLENGE PHILIPPINES ANNOUNCE USD $299 BUNDLE PRICE
Makati City, Manila – 29th September 2014 – With much anticipation for Yellow Cab's Challenge Camsur building since the release of their course preview with Pro Triathlete Michael Murphy, the Challenge Philippines Family of races has announced more hot news with their Early Bird Two-Challenge Bundle Price.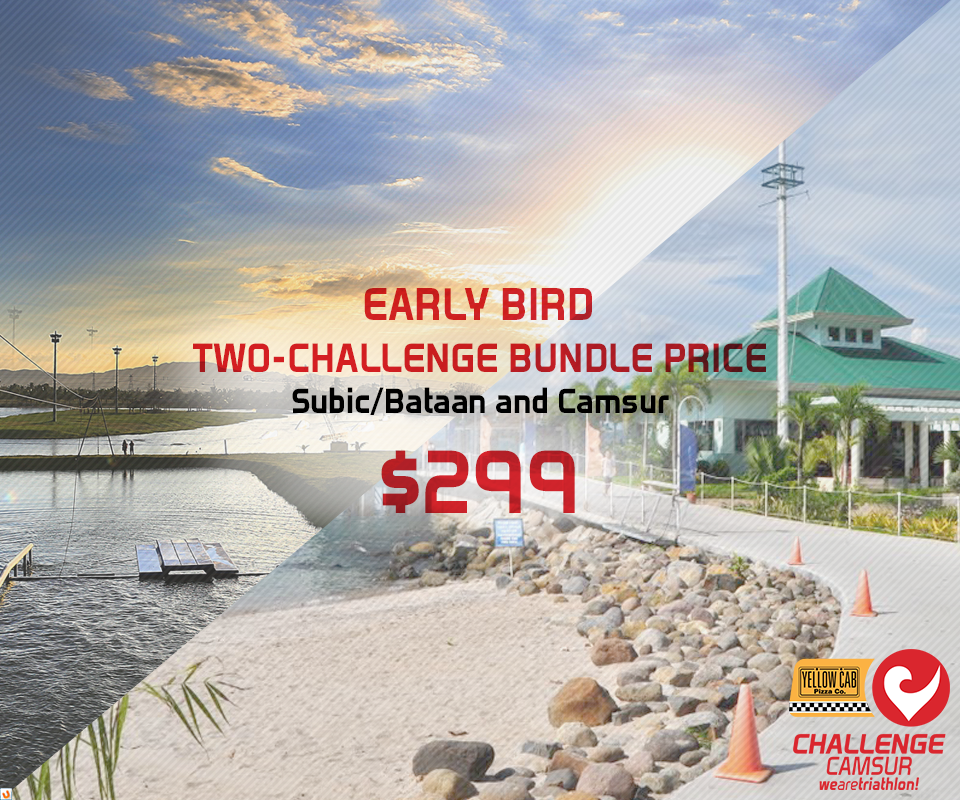 For USD $299, athletes get to experience two world-class triathlons for the RIGHT PRICE. From a TOUGH old school course, Challenge Philippines in Subic Bay and Bataan, that will put every triathlete's grit to the test, to a brand new FAST course, Challenge Camsur, that encourages participants to compete with themselves to set their new personal bests, 2015 is going to be an exciting year of new Challenges.
Registration for Yellow Cab's Challenge Camsur opened this morning at 8:00 AM Philippine Standard Time. The Early Bird Two-Challenge Bundle Price lasts until October 14, 2014 only. Be part of the Challenge Family and book now!
TO EVERYONE WHO REGISTERED FOR CHALLENGE PHILIPPINES SUBIC AND WANT TO UPGRADE THEIR REGISTRATION TO THE BUNDLE PRICE.
If you are keen to "Take the Challenge" and race Challenge Camsur too, they can apply what you paid for registering for Challenge Philippines (Subic/Bataan) and apply it to the Two-Challenge Race Bundle price!. You will only need to pay an upgrade fee of $109 USD.
Email [email protected] and copy Kenneth at [email protected] to upgrade. A separate code will be sent upon receipt of your email.
To book for Challenge Camsur, visit our website at www.challengecamsur.com. #WhereItAllBegan #ChallengeCamsur #TimeForANewChallenge
Get social with us!
https://www.facebook.com/challengecamsur
Tweets by ChallengeCamsur
http://www.youtube.com/challengeph
www.challengecamsur.com
The link to registration for the races is: http://bit.ly/CamsurReg.
Link for booking CWC accommodation is: http://bit.ly/CamsurBooking.
Comments
comments