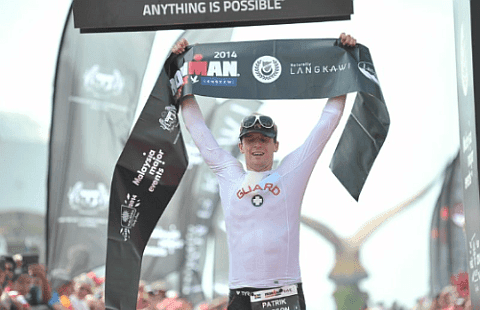 ---
Dataran Lang, Langkawi, Malaysia (September 27, 2014) Sweden and Germany ruled the heat and humidity that IRONMAN Malaysia threw down roaring away with clear maiden IRONMAN wins.
Rate the race using our ratings system above! Share your thoughts about the race in our comments section.
The final result reads like a football score Sweden 1 Germany 1 with a maiden IRONMAN win for Sweden's Patrik Nilsson and Germany's Diana Reisler. This is how the day played out.
A perfect morning presented swimmers with a millpond 3.8km swim. Late entry Dylan McNeice was first out the water and started the bike with an 80second lead from Ben Sanson (FRA). McNeice took off opening up a sizable gap while Sanson dropped back and was joined by Nilsson and Bell (AUS) who rode together with Brown (NZL) and Croneborg (SWE) a further 5 minutes back. After mechanicals at 105km Sanson eventually had to withdraw.
At 80km Nilsson made a break from his group and came into the bike turn at 90km just 10sec back from McNeice. Feeling good and ready to push Nilsson's plan was soon halted when on the first climb of lap two his chain stuck and he had to get off the bike and seek help from the mechanics.
Back on the go again, he caught up and started to work his way back to the group. Meanwhile gun biker Beardall came from nowhere and was suddenly at the front of the race. His tactic posted the quickest bike split but was to no avail as he faulted on the run. Taking the conservative approach was Croneborg and Dzalaj who gradually gained time and places.
When men lead men came into T2 Nilsson had regained his position and moved to the front with a clear lead. It seemed everyone behind Nilsson was suffering in the heat with the exception of Croneborg and Dzalaj who moved through the field and took home second and third respectively.
"That was a really tough day especially last 10k. The 1st two laps I kept reminding myself to stay cool and knew I had the lead and the guys would have to run really good to catch me. But those two laps. Those were really REALLY hard." – Patrik Nilsson.
3rd place Dzalaj was ecstatic over his finish. "I was here in 2009 and came twelfth. This is where I first started racing IRONMAN so it's a special place and I am so happy the race has returned. The atmosphere is perfect. It is calm and relaxed. Perfect destination for a race and holiday. Now I am having a holiday."
The ladies winner was more cut and dry. In fact the whole day was just about one contender. Out the swim in third Reisler caught and overtook Japanese Nishicuci and Tanaka by 30km to move into the lead. There was then no looking back only forward for the German who went on to take her first IRONMAN win and come home fifth overall in extremely trying conditions.
The battle for second and third was a less straightforward. For 70km Nishicuci and Tanaka exchanged places. That was until Preston hunted them down and moved into second and held it all the way to transition. Tanaka regrouped and hit the run strong and moving back to second as Preston slipped back.
Quietly working hard and flying under the radar Australia's Dimity-Lee Duke was moving through the ranks until 16.4km she moved into third. Catching Tanaka but never quite knowing where she was Dimity ran across to take third after an exhausted Tanaka who helped the Aussie at bay.
"I love the heat. I seem to relish in it! I made a few rookie mistakes but I am less than twelve months into pro scene. I am over the moon!" – third place Dimity-Lee Duke.
Malaysia's first athlete across the line was Mohd Amran Ghani. Running in his first ever IRONMAN the fire fighter had a flawless race and ranked 20 overall, in a time of 10:14:54.
---
The 127 strong Filipino contingent rocked the toughest show on Earth as well. With top Filipino athlete Felipe "Jong" Sajulga finishing in 10:17:32. The 2014 Cobra Ironman 70.3 Philippines Filipino Elite Women's Champion led the women's field in  12:38:17. Congratulations to everyone!
2014 #IMMALAYSIA LANGKAWI TOP 10 FILIPINO FINISHERS

SAJULGA, Felipe 10:17:32 
RAÑA, Benjamin 10:53:06
PAREDES, John Omar 11:15:18
LORENZO, Victor Martin 11:27:16
ARELLANO, Andrew 11:42:45
EYAO, Christopher 11:58:38 
ANG, Levy 12:16:45 
CHINALPAN, Andrew Jr. 12:19:04 
GONZALEZ, Nestor Glenn Precioso 12:26:17 
ORQUIZA, Retzel12:32:40
IMMALAYSIA LANGKAWI Filipina Womens TOP 7

Joyette Jopson 12:38:17
Laarni Paredes 13:12:56
Bernadette Tan 13:17:58
Chang Hitalia 13:20:09 (2nd in Age Group. Possible Kona?)
Mariella Powell 13:24:13 (3rd in Age Group)
Jayline Balatibat 13:32:55
Maris Balatibat 13:37:30
Our unanimous pick for the #IMMalaysia Langkawi Filipino performance of the day belongs to Felipe "Jong" Sajulga of Caltex Delo – Triathlon Bukidnon (TriBu)! Jong finished #Ironman Langkawi in 10:17:32. What makes this special is that he just did Ironman Melbourne last March and finished in 10:28:36. Now, to one-up it (by more than 20 mins!), at the toughest show on Earth, that's BAD ASS.
Image credit : Endurance Magazine / EnduranceSports EditorialTeam
---
IRONMAN World Championship Qualifying Race
There are 40 qualifying slots to the 2015 IRONMAN World Championship in Kaliua-Kona, Hawaii. For more information, please visit:
championship.aspx#axzz2vWMqOhR5
About IRONMAN
The iconic IRONMAN® Series of events is the largest participation sports platform in the world. Since the inception of the IRONMAN® brand in 1978, athletes have proven that ANYTHING IS POSSIBLE® by crossing finish lines at the world's most challenging endurance races. Recognized for excellence through distinguished events, world-class athletes and quality products, IRONMAN has grown from a single race to a global sensation with more than 190 events across five unique brands: IRONMAN®, IRONMAN 70.3®, 5150™ Triathlon Series, Iron Girl® and IronKids®. For more information, visit www.ironman.com.
Comments
comments