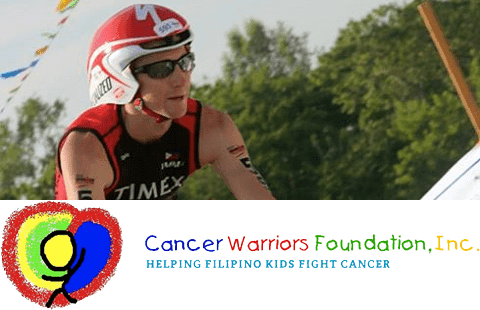 Let's support this one, SBR.ph nation! Grant Preddy, a member of the local TIMEX-Golds Gym TMM Triathlon Team will embark on a two day event to raise funds for the Cancer Warriors Foundation! He will ride from Manila to the Bataan International Triathlon race venue and then do the race 2x!
SWIMBIKERUN.ph is a proud media partner of the Journey For Life and will support this fund raising campaign 100%.
Got your attention? Take a look at this!
1) Stage one is a cycle from Manila to the Bataan International Triathlon race venue. Grant will bike from Manila all the way to Las Casas Filipinas de Acuzar, venue of the Bataan International Triathlon and pass through many cities along the way, raising money and awareness for the Cancer Warriors Foundation.
2) The second stage of Journey for Life is Grant completing the Bataan International Triathlon TWICE, under the cut-off time of 5 hours.
This is a continuous effort of Grant Preddy through sporting achievements to raise money for Cancer Charities around the world.
About The Foundation : 
The Cancer Warriors foundation raises necessary funds for the treatment of underprivileged children with cancer. Since June 2000 the Foundation has supported over 1000 children with cancer in their battle for life. The Foundation currently have around 400 children from Pampanga to Davao, undergoing treatment in various medical facilities across the archipelago by their hero doctors who have devoted their time and resources in this battle.
Right now, they need as much help as possible to sustain the monthly medical needs of this program. Everything we are able to do for this foundation will give HOPE! COURAGE! and LIFE!
About Grant Preddy : 
Grant Preddy is a charity enthusiast who enjoys raising money and awareness for causes that make a difference in the community. He has completed many charity events in Australia including swim-a-thons, walk-a-thons, a 16hr non-stop run, biggest of which is a cycle around Australia of 16,000km. He is also in the planning stages of another major cycling event through the heart of Australia.
However, at the foremost, he is currently planning to raise money for the Cancer Warriors Foundation in The Philippines. He have been competing in triathlons and running races in The Philippines since 2009 and have seen many of the conditions these children grow up in as well as some of the medical institutions.
Cancer has touched his heart in many of ways through his family, as well as close friends and colleagues. The Philippines itself also touched his heart, with the pride and perseverance the Filipino community has to push through the suffering and devastation of natural disasters, poverty and many more uncontrollable effects. Though he does not live in The Philippines, it is for this reason why he choose this endeavour.
---
For more info : LIKE the Journey for Life facebook page at http://www.facebook.com/journey.for.life.philippines
Comments
comments