You'll always see them rocking the bright yellow / black tri suit colorway in races. These Bulacan based athletes may not always be the loudest ones, but you just know that they're always there. Supporting and joining every race they could get their hands on. More importantly, sharing the passion for the sport of triathlon.
"We are not competitive, we're simply finishers, and we only do it for healthy living", one of their members said in an interview. By the looks of it, it won't be long before we start seeing them snagging podium places one after another.
The pride of Bulacan, LakanTri Team.
---
SBR.ph : This is long overdue! Welcome to SBR.ph, LakanTri!
LT : Thank you for having us here!!! Matagal na nga kaming nagpapapansin at nagsisisigaw sa mga races ng SBR .ph :) , but really thank you for this opportunity.
SBR.ph : That definitely got our attention! We've been wondering about this for the longest time. What does Lakan mean? :)
LT : The name of the team was coined after "BuLakan Triathlon" , thus, we are called LAKAN. Most of us reside in Bulacan and we would like to believe that we are the unofficial representative of the province in multisport activities :). In addition to that, if we are going to trace our history, "Lakan" means noble, sounds like Lakandula….we work in that premise that we  should be noble and respectful to all participants and races that we join in……
SBR.ph : You guys seem to get bigger and bigger after every race! How many members do you have right now?
LT : Right now, we have approximately 64 members and like the multisport scene in the Philippines, we are growing also.
SBR.ph : How does one become a member of LakanTri Team? :) Do you have requirements like a certain number of races per year?
LT : Before, we accepted members who are bikers, runners and swimmers. But now. we lined up some requirements before any individual can be accepted as member of the team. He/she should have at least joined 3 multisport events, attend the group trainings and meetings, vouched by a member of the team and screened by the Membership Committee……..
SBR.ph : One of the biggest challenges each team faces as they grow is getting everyone on the same page when it comes to training and racing commitments. How often do you guys train together? Do you train in Bulacan? Where do you swim and where do you do your long rides?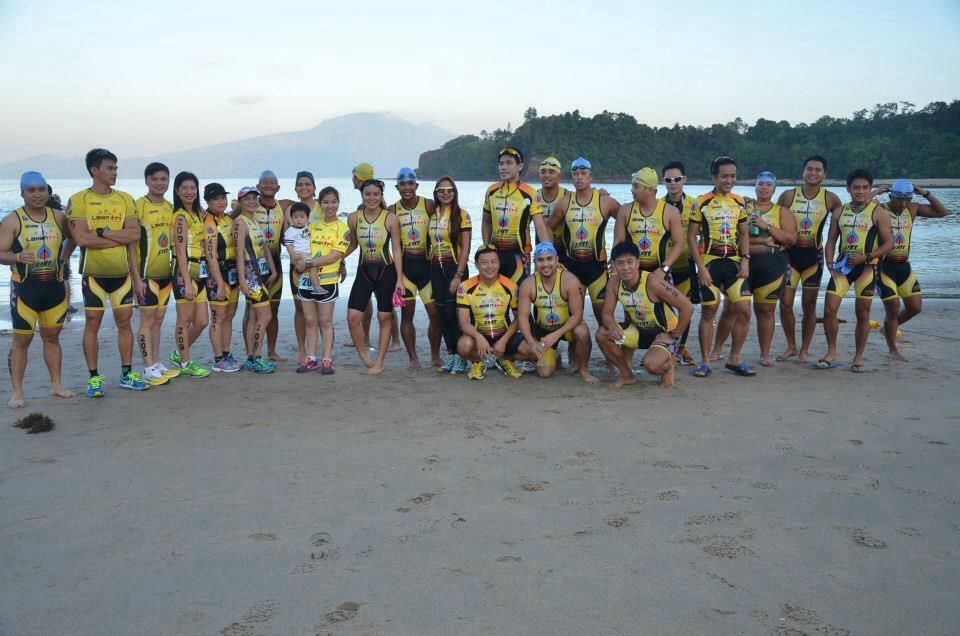 LT : Yup!!! That's basically one of the growing pains of our team…..we are very diverse in terms of membership. We have doctors, businessman, professors, students, employees, etc. So, getting them to train together is very hard. What we did is to have a group training once a month, may it be swim, run or bike. As a member you need to attend at least one of this group training per quarter or your membership will be at stake. We have a training director who posts training schedule in either FB or Viber, every one is encouraged to participate. There are also groupings, some members have the same free time, so they train together.
We do our training mostly in the vicinity of Bulacan. We swim in the public pool located in Malolos and we do our long rides in DRT. Layak or Angeles Pampanga. We occasionally do our long rides in Clark Pampanga and Subic.
SBR.ph : My mom's from Malolos Bulacan, does that mean I'm eligible to join the team? :)
LT : Of course you are!!! I will vouch you to be a member :)
SBR.ph : Are all your members from Bulacan? Or do you also have members outside Manila?
LT : Most of us reside in Bulacan but we also have members from other town. These members are either friends or relatives of existing members.
SBR.ph : Tell us about your team's history. How did LakanTri start?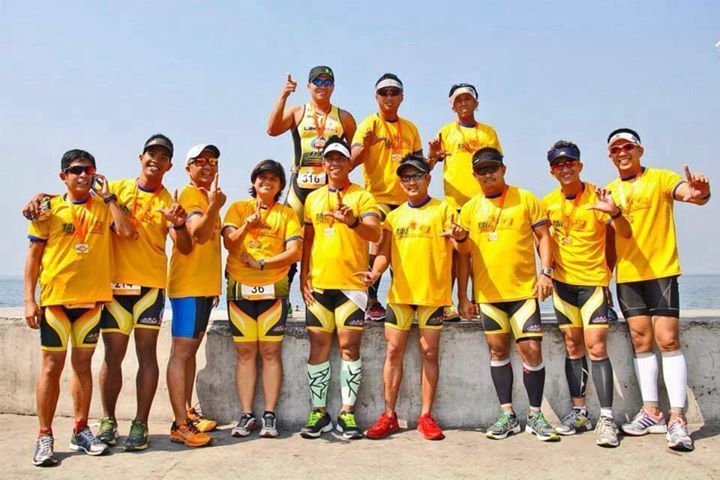 LT : It started one night in one of our "Drinking Sessions". One of the bikers, Dennis Munoz, also likes to run and joining races in Manila. He told the group about the first Ironman held in the Philippines and was interested to join. He signed up as individual but later realized it would be better if they will join as a team. Since, he is into running, he volunteered to run and ask for a biker within the group. He found one in the person of Ricky Peneyra. So, they just need a swimmer. During that informal meeting, some of their kids are into swimming lesson. So, they approached the coach and lured him to join them as apart of the relay team. They decided to signed up in the relay category and be challenged by the tenacity of the sport. The rest as they say is history……
SBR.ph : Balita ko malakas raw yung Jeric Saclauso ah? Hehe Who's the fastest in the team? :)
LT : Yeah!!!, isa sya sa pambato ng LakanTri…we are cheering for him to be our representative in the podium. However, meron ding iba pa na malakas na din. You've witnessed it in some of the SBR.ph races.. :)
SBR.ph : Hindi ba si Sette de Guzman? :) Hehe I've always wondered if we're related.
LT : Well, si Sette ay isa sa malakas tumakbong babae sa amin. Hindi natin matatawaran ang puso nya in terms of running. You can always see Sette in most of the major races in Manila. She is now slowly transitioning herself into multisport.
SBR.ph : Do you guys have a team coach?
LT : We do have in swimming. He is responsible in giving us the necessary drills to make us endure the long and arduous journey in the open water. We do not have any coach in terms of running and biking. However, we have members who are attending sessions and camp of different known coaches. We are fortunate enough that they are willing to share their experiences and lessons during group training.
SBR.ph : Define LakanTri Team in one word?
LT : DYNAMIC!!!
SBR.ph : I see a lot of sponsors on your tri suits! Any sponsors you would like to give a shout out to?
LT : Can we mention all of them? :)….. We are grateful for the support given to us by PTT, Calata Corp., Good Year, Dynatek, Bala Energy Drink, etc…..
SBR.ph : Thanks for the time! And also, thank you for always supporting SBR.ph races!
LT :  Thank you again SBR!!!!. We have fun in your races!!!!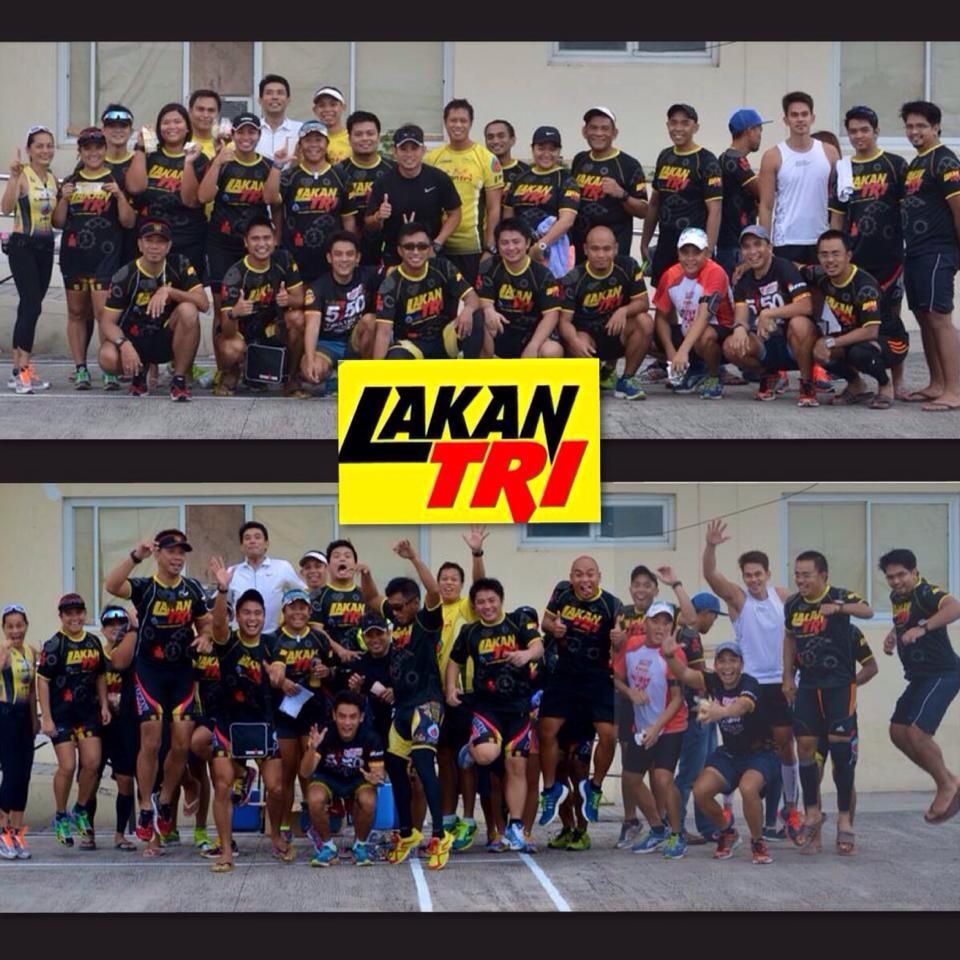 Comments
comments