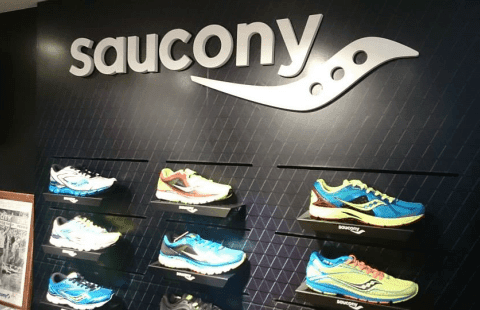 Global performance brand Saucony hits a milestone with the launch of the brand's first shop in the Philippines. The award-winning brand and favored running shoe of today's elite athletes recently opened the region's first flagship store on the 2nd floor of Glorietta 3, Makati City.
View pictures of the store launch. Click here. Saucony Flagship Store Opening Glorietta 3
Committed to empowering runners through product innovation, Saucony creates a specialized retail experience for runners that houses its renowned collection of footwear, apparel, and accessories. The brand has always enjoyed a fanatic following among the world's best athletes, and Saucony's first Philippine store venture finally opens its doors to the local running community.
Saucony's flagship store launches with the exclusive release of the much-awaited Ride 7. This neutral running shoe has been creating a lot of buzz among athletes after it was selected as the "Editor's Choice" in the Runner's World 2014 Summer Shoe Guide. In a revolutionary step by the designers of the Saucony shoe lab, the plastic shank in the midfoot found in traditional running shoes was removed, which resulted in increased support and cushioning, while significantly reducing the weight of the shoe. Durable and flexible, the Ride 7 helps runners achieve fluid transitions and a more responsive ride.
As the undisputed industry leader in the natural motion category, the game-changing Kinvara unveils the fifth edition of this leading edge favorite at the Saucony store. Hailed as the "Editor's Choice" in the Runner's World 2014 Fall Shoe Guide, the Kinvara 5 is one of the most anticipated running shoes of the quarter. Natural runners with high-mileage on their footwear will appreciate the increased durability and comfort brought by the upgraded upper and redesigned collar. Saucony's race-bred ProLock™ lacing system secures the feet on the platform of the shoe firmly, allowing for greater flexibility and on-road control.
Completing the Saucony essentials is an all new apparel line that takes the brand tradition of performance innovation to the next level. Saucony's Total Run System apparel line is engineered to help the runner move with ease in any type of weather, with the use of breathable materials and advanced functional textiles that can be layered depending on the environment. The three components of the system include RunDry for sweat management, RunWarm for insulation and RunShield for protection from wind and water.
Saucony's award-winning shoe models and apparel are available at the Saucony store located at the 2nd floor of Glorietta 3 in Makati City. Also visit Saucony's specialty retailers: Runnr in Bonifacio High Street and TriNoma, Toby's Mall of Asia, Sports Central Megamall, major SM Department Stores nationwide, and Robinsons Place Manila Department Store.
Visit Saucony on Facebook via www.facebook.com/SauconyPhilippines and follow us on Twitter and Instagram via @SauconyPH.
Comments
comments