Sign up now for the Triman Triathlon! The Triman Triathlon is the third and final leg of the SBR.ph Tri Series 2015 and will be held at the world class Fontana Resort, Clark on April 19, 2015. The event is a 900m Swim, 30k Bike, and a 5k run.  Deadline of registration is on May 3, 2015.
Click here to view all three races and general info about the 2015 SBR.ph Tri Series.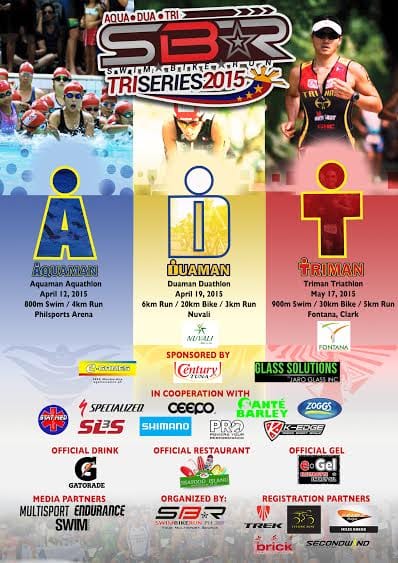 THE TRIMAN TRIATHLON
Triman Triathlon

May 17, 2014
900m Swim, 30k Bike, 5k Run
Fontana, Clark
6am
The grand finale of the SBR.ph Tri Series! The Triman Triathlon is a 900m swim, 30km bike, and then a 5km run.  The event will be held at the world class resort of Fontana Leisure Park in Clark!
Triman Triathlon Finisher Shirt
Triman Triathlon  Medal

OFFICIAL VENUE PARTNER
Fontana Hot Spring Leisure Parks
Booking Procedure at Fontana
For SBR Triman 2015 participants, please see reservation procedures below:
Promo details: 35% OFF the Rack Rate for participants
Inclusions:
– Welcome drinks
– Free use of Olympic-sized pool
– Free use of Fitness Gym
– 20% discount on entrance fee at Water Theme Park (with coupon)
– late check-out at 2pm (subject to availability)
Book through email add: [email protected]
Without the booking code, reservations team will not accept or entertain your bookings. Please see below for your reference:
Booking code: SBRT-35%
Guest Name:
Booking Date:
Villa/Room Type:
Guest contact number:
Guest email address:
Booker name:
Booker contact number:
Reservations team will contact the booker or guest for confirmation.
Prizes/Categories:
Top 3 Overall Male / Female
Php 3,000, Php 2,000, Php 1,000 and trophies respectively
Male Age Categories
• Trophies for Top 3 16-19, 20-24, 25-29, 30-34, 35-39, 40-44, 45-49, 50 & Above
Female Age Categories
• Trophies for Top 3 16~19 yrs, 20~29, 30~39, 40 & Above
All finishers will receive a custom Aquaman, Duaman, Triman, and Duaman X2 shirt and medal!
Registration Fees:
Triman Triathlon
Individual : 1,800
Relay 2-man: P2,800
Relay 3-man: P3,800
Tri-Pack (Aquaman, Duaman, Triman Package) / For Individual Racers Only!
Entries are non-refundable, non-transferable and non-applicable to future races. Race numbers are non-transferable.
Registration Procedures
You have 2 ways to register : You have the option to register and pay bank deposit or via our registration partners. Check out the options below!
1. Bank Deposit via SWIMBIKERUN.ph
Carlos de Guzman
Bank of the Philippine Islands (BPI)
3379-0967-69
or
Carlos de Guzman
Banco de Oro (BDO)
132-024-11-99
Email us the completed registration form along with the deposit slip (with your name) to [email protected]
Write on the subject 2015 SBR.ph Tri Series Registration to make sure its filtered properly.
Wait for a confirmation email from us. If you didn't receive an email, kindly resend your email registration or contact us via our facebook and twitter page (@SWIMBIKERUNph).
Keep a copy of the completed registration form and the deposit slip for safekeeping.
2. Via our official registration centers:
Note : Registration via our official registration partners will open on January 30, 2015
REGISTRATION CENTERS
SECOND WIND QUEZON CITY
45 Malingap St. Teachers Viillage QC
Tel: 238-4005
Store Hours:
Monday to Friday 11am to 8pm
Saturday & Sunday 10am to 7pm
SECOND WIND ORTIGAS
Unit 3A, Ortigas Home Depot, Julia Vargas, Pasig City
Tel: 914-0283
Store Hours:
Monday to Friday 11am to 8pm
Saturday & Sunday 10am to 7pm
SECOND WIND GREENHILLS
Unit 107, G-Strip, Greenhills Shopping Center, San Juan
Phone: 945-7856
11am-8pm EVERYDAY
THE BRICK MULTISPORT STORE
Unit 1, Woodridge Apartments, McKinley Hill, Taguig City (across Venice Piazza, just at the bottom of that deadly hill we all dread at races!)
Phone : 9854890
CYCLING ZONE
Shell Pacific Gas Station, Alabang-Zapote Road, Muntinlupa
Tel.: 02-809-6736
TREK BICYCLE STORE
3Oth Ave., Two Parkade, Bonifacio High Street, Makati City
Tel: 02-553-2445/0906-2263266
PRIMO CYCLES 
Forbes Town Center, Burgos Circle Rizal Drive Bonifacio Global City, Fort Bonifacio, Taguig, Metro Manila
Tel :(02) 836 7455
BIKERS' CAFE
SM CITY MALL OF ASIA, Seaside Boulevard, Pasay
(02) 556 0680
Important Reminders:
– Entry fee is non-refundable, non-transferable, and non-applicable to future races.
– Race numbers are non-transferable.
– NO HELMET, NO ENTRY, NO REFUND.
– FOLDING BIKES ARE ALLOWED
– MOUNTAIN BIKES ARE ALLOWED
– Your Dad / Brother's hand me down bike is also allowed
Comments
comments