So, what do you do when a 3x Ironman World Champion is in town? When we got wind about Mirinda "Rinny" Carfrae coming over to the Philippines to join the 2015 Bataan International Triathlon (Bi3), we only said two words.. "Holy, s***!".
But all of this was just a prelude for what's about to happen next. We've been fans of Rinny for the longest time. We watched (live!) all her epic battles. We witnessed her race to the top, when she almost won (2x!), and when she finally conquered Kona. We saw it all unfold right before our very eyes.
"Do you want to join Rinny in Cebu?", asked Raymund Magdaluyo, the big chief of FNF International Events Group, Inc and Bi3. It didn't take us one nano second to say yes.
We've featured Rinny before on SBR.ph. What most of you probably don't know is, we don't do the usual face-to-face, media press-con type interviews. We hate it. Not that it's a bad thing, but we just feel that the answers we'll get there are usual canned answers to the would be "forced" generic questions. "So how do you like the Philippines so far?". No way.
But a one-on-one exclusive for a day with an Ironman World Champion? We're in.
Here's the story.
HANGING OUT
After our hosting duties at 12 Monkey's for the Bi3 press launch, we headed straight to Shangri-la, Mactan for our exclusive one-on-one interview with the World Champ. That press launch was something else. It's not everyday you get to see the select few of Philippine triathlon go into an all out autograph and selfie frenzy. Each wanted their own little time with Mirinda. Rinny didn't seem to mind and obliged to every photo request. Of course, we got our own. :)
TOUCHDOWN CEBU
Rinny arrived earlier in Cebu than us. So, as we were boarding off the plane, we shot an sms to Rinny asking how she was doing and where she was. "Hi Carlos, I'll go for a short swim session in a bit. – Rinny". Goosebumps and all, we went to the beach as soon as we landed. LOL.
Looking for Rinny was easy. Aside from Cobra Ironman 70.3 Philippines, you don't see a lot of triathletes swimming like sharks in Shangri-la. I just looked for "whichever looked like a World Champion's stroke" and saw her in seconds. Chop, Glide, Chop, Glide.. it was beautiful to watch.
When we got to Cebu, Noy Jopson and his crew joined us for a brief chit-chat. Being a Kona finisher himself (not to mention a proud Cebuano), he's the perfect ice breaker.
So, just how do you talk to a World Champion? Honestly, we had no idea. We wanted to know everything. How she trains, her race strategy, nutrition, her rivals, we want to know of all it.  She answered some of that on her In[FOCUS] feature. But this is something else, and we had to do it our way.
"WE'RE LOW MAINTENANCE"
It didn't take long before we got to see Rinny in a different light. She's probably one of the most humble and down to earth athletes on Earth. There's just no "air" between you and her. There's no I'm-the-champ-so-treat-me-like-royalty factor. Something some our local athletes could take note of. Here she is, the best of the best, being just like the rest of us. Human.
In true Filipino hospitality, we were offering her literally all the food in the menu. "Order whatever you guys like." we said. "Nah, I'm fine with a sandwich", she said and then followed by, "Don't worry about us. We're low maintenance". That basically set everything up.
 THE RINNY FACTOR
So what makes Rinny tick? We started our little mini Q&A when we got to our nightcap place. We asked her about her rivals, the Pro men, the Kona legends, her first Kona win, her bike, her sponsors, you name it, we asked it.
Here are the best ones.
"I don't stretch." she said as we asked about her usual training and racing routine. "It's (sometimes) better to stretch AFTER but never before". We also asked her about her race strategy. Does she walk on aid stations? "No. There's no time" (as she's usually chasing off the uber bikers).
"Hmm… This is going to get interesting…" I said to myself.
First thing we talked about was her running – her deadliest weapon. When she won Kona in 2013. She did it not only by posting the still standing Kona women's record (8:52:14), she also did it with a new run record and setting the third fastest marathon overall (2:50:38). "Are you going for sub 2:50 next time?" I asked. "Sub 2:50.. ughm. Yeah, that would be the ultimate" Rinny said. To those not familiar with the Ironman scene, a sub 2:50 marathon is the ultimate benchmark of the women's division in Kona. No one has done it before. She nearly did it last 2013. Close, but not quite. "Yeah, that was the time to do it". she said.
I also took the opportunity to share a lil bit of trivia about SBR.ph and the pro athletes that we interview.
"They eventually win Kona." I  said. Letting her read about our SBR.ph In[FOCUS] feature on Pete Jacobs, Craig "Crowie" Alexander, and Chrissie Wellington.
"Is that so?" she asked. We then let her read her own In[FOCUS] feature.
"Yup…" I said. "And that includes you." After which we toasted. "Cheers for Bi3, everyone!"
We also had to talk about her DNF that year and how it happened. There was speculation about her pulling the plug because she knew the gap on her by the leader, Daniela Ryf, on the bike was already insurmountable (it was already more than 15 mins, the known threshold for gaps). "You'll never know in Kona. But my back just seized up", she said. Unfortunately for her, a couple of days prior to Kona (3 days exactly), she got hit by a car while out for an easy ride. To add fuel to the fire, she got hit by the fiance of Bahrain Endurance 13's Brent McMahon. A teammate of her biggest rival, Daniela Ryf. Hmm..
But Rinny made no excuses about it. "It is what it is. She was really sorry. I just couldn't continue."
During the race, her coach, Siri Lindley, confirmed a few minutes after Rinny's DNF that the crash was directly related to it.
In all our years of watching Kona, Rinny has had her back to the wall plenty of times before. She never gives up. She just keeps on swinging. Waiting for the leaders to crack. We can only feel for her as that was probably one of the toughest DNF's to call. We missed out on a great battle that year.
"Daniela absolutely deserves it. She's had an unbelievable year." she said giving credit to Daniela.
"But what can you say about people saying she ran a 3 hour plus marathon only because she knew she had the win in the bag?" I asked her. "Nope" she said. "All of Brett's (Brett Sutton – Ryf's Coach) athletes go all out from start to finish".
"So you think that's really her best time?" I countered. She just shrugged her shoulders.
From a fan and a viewers perspective, it was an absolute shame that she had to drop out. She's the best example why the race isn't done 'till you cross the finish line.
But the best part of the interview was this. We asked her about how she feels about her Kona chances for 2016.
She answered in 3 simple words.. "I'll win it".
SBR.ph nation, if you want to know how a World Champion's mind works, that's it.
Lastly, before capping the night and after a few more round of drinks, we agreed on something.
"You better make sure you give me that interview next year." she said.
"Definitely". I said.
Good luck, champ. We'll be watching. :)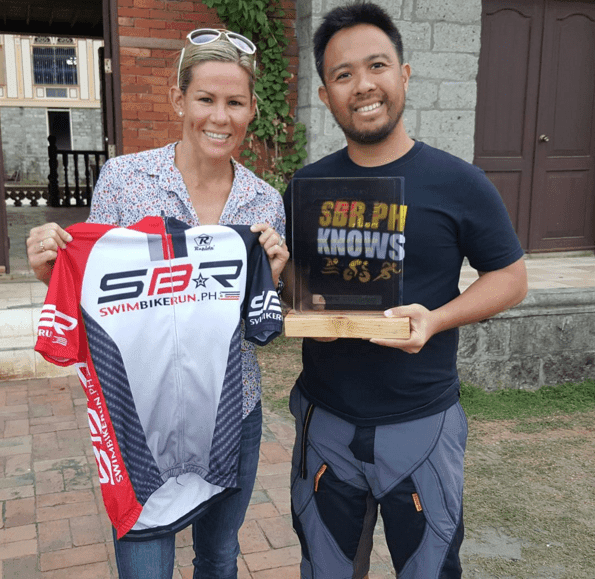 Comments
comments