Articles
Events
News
Race Results
Frank "The Legend" Lacson and Ingemar "Pinoy Aquaman" Macarine Conquers the 10KM Charity Swim for a Bicycle Friendly Philippines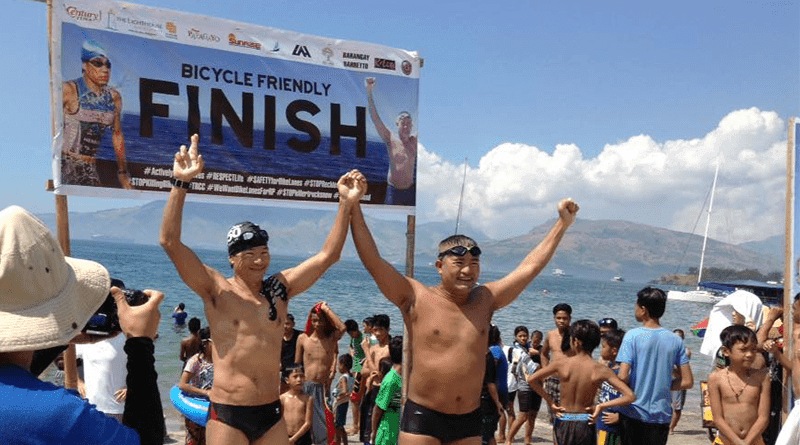 "All for the bicycle friendly Philippines. " said Philippine triathlon legend Frank Lacson when we asked him for his reason for doing the 10km Charity Swim from Barrio Grande, Bataan up to Barretto, Olongapo, Zambales. He partnered with Ingemar Macarene, considered as the one and only "pinoy aquaman", in this event proudly sponsored by Century Tuna.
---
The duo swam side by side throughout the entire 10k swim and finished in a well respectable time of 3:47:22.
Also, by doing so, Frank "The Legend" Lacson got recognized by the World Open Water Swimming Organization (WOWSA) as an official marathon swimmer. Ingemar has long been a member of WOWSA.
We could say much about the event but we'd rather let this post by Frank speak for itself.
On behalf of SBR.ph and the entire cycling community, a big THANK YOU Frank and INGEMAR for doing this.
Read on for Frank's story.
Really? What was once just a thought to one day swim to or from that Island off Bataan and seeing it everyday for the last 15 years just made it so inviting. Not ever swimming and knowing the waters and its perils over 1.5km from our shoreline,and knowing historically that no man has ever swam across Subic Bay. It dawned on me to finally swim with a support boat. Since I never was a swimmer but a triathlete swimmer who never ever swam longer than 4km in open water, I chose not to endure this challenge just for myself but for a worthy cause. This cause became clearer to me early this year when our already unsafe roads claims another undeserving cyclist death.

I never knew much about marathon open water swimming until I chanced on the bold and courageous, accomplished solo Island swimmer, Atty Ingemar Macarine, the pinoy Aquaman, who unselfishly contacted and invited me to swim with him in this area of the Philippines. Thanks to his big heart he accepted my offer exactly a month ago to a charity swim to raise funds for a bicycle friendly Philippines advocacy and to for the families who lost love ones on those careless accidents recklessly caused by irresponsible motorists. .

Truly, doing good deeds come good blessings
At least this soon, it never occured to me to ever be in the Philippine record books for Open Water Swimming and be considered a marathon swimmer under the English Channel rules governed by WOWSA (World Open Water Swimming Association).

Thank you ,thank you, thank you for this title and recognition.

Importantly
Thank you to Almighty God for our safety and for the courage and strength you gave to me to successfully complete this challenge to accomplish a milestone in Subic Bay and in Philippine Open Water Swimming

Special thank you to the honorable officers and men of the Philippine Coast guard ‪#‎pcgsubic‬ for your big support and providing assistance,safety and protection before and during this event. The men of PMMI boat who protected our rear flank, Arnel and his media bangka olongapo media Arlene Eroy Dela Rea and Johnbhudz DeLarea.‪#‎thebeyondsportsmediateam‬ (Lynard Solis, Juliar Solis, Vlad Pullarca and Zed Avecilla) who took video and still photos of the event..

Thank you to our sponsors: ‪#‎Centurytuna‬,‪#‎theLighthouseMarinaresort‬,‪#‎ingemarmacarine‬, ‪#‎barangaybarretto‬ ‪#‎playapapagayorestaurant‬,‪#‎bigtreeonlinesolutions‬, ‪#‎standardinsurance‬,‪#‎967Klite‬, ‪#‎activehealthunilab‬,‪#‎harborpointmall‬, ‪#‎sunriseevents‬, ‪#‎johngraphics‬

To our event orgnizing team : Tobias Bernardo, AlthEa Nicart and Amarilio Costa. Our volunteers, members of Team Red Cross Coalition (Roy Zaldua,Willy Namoca Ramirez and Benedict Malapas

To those who supported and donated to:
‪#‎ActivelySavingLives‬
‪#‎RESPECTLife‬ ‪#‎SAFETYforBikeLanes‬ ‪#‎STOPRecklessDriving‬‪#‎STOPKillingBikers‬ ‪#‎TRCC‬ ‪#‎WeWantBikeLanesForRP‬
‪#‎STOPkillertrucksnow‬ ‪#‎ShareTheRoad‬
and for the families of cycling fatalities

To my sponsiors:
‪#‎playapapagayobeachinn‬, ‪#‎brooks‬, ‪#‎polar‬, ‪#‎tyrswim‬,‪#‎polarheartratemonitor‬, ‪#‎brooksrunningph‬, ‪#‎lighthousesubic‬, #sls3, #fitletic, #rocktape, #intercare, #lockandloadmarketing
Comments
comments