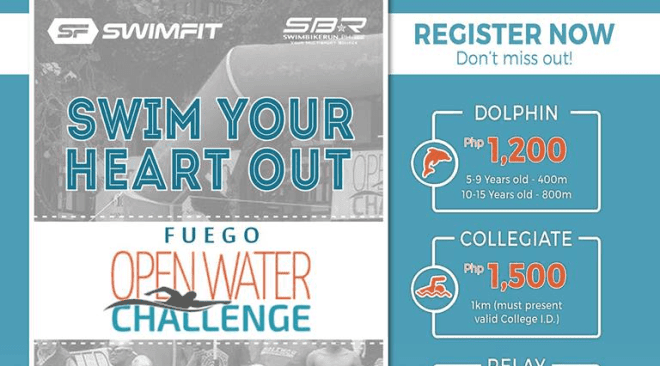 Sign up now for the Open Water Challenge Leg 3 at Terrazas de Punta Fuego! Distances are 1k, 2k, and 4k individual Open Water Distances plus our famous buddy-buddy and dolphin categories for the kids! This is our commitment of teaching every Filipino how to swim and conquer the open water, one event at a time. Because we live in an archipelago anyway :).
This event is co-organized by Swim Fit Philippines and SBR.ph.
---
Before anything else, YES. This is a newbie friendly event. :) All distances will be a loop swim! This is the PERFECT Open Water Tune Up race for those doing the 70.3 in August as we have various distances such as 1km, 2km, and 4km. The event will also bring back the famous buddy-buddy category where participants (coach and student for example) will start and finish at the same time! For the relay, the 3-man team will do 800m each for a total of 2.4km. See you guys!
WHAT : Fuego Open Water Challenge Leg 3
WHEN : July 23, 2016
WHERE : Terrazas de Punta Fuego. Nasugbu, Batangas.
DISTANCES:
Dolphin : 400m and 800m
Buddy-Buddy : 2km
Collegiate : 1km
Relay : 2.4km | 3-man Team x 800km (Each member will do 800m each)
Individual : 1km, 2km, and 4km
SCHEDULE
REGISTRATION
You have the option to register and pay bank deposit or via our registration partners. You may now register online and settle via bank deposit.
Via Bank Deposit :
Download the registration form
Deposit payment to :
Roselle Benares
Bank of the Philippine Islands (BPI)
4299-061-642
Email us the completed registration form along with the deposit slip (with your name) to [email protected]
For collegiate category participants, don't forget to include a copy of your valid 2015-2016 school i.d.
Write on the subject Registration for Fuego Open Water Challenge Leg 3 to make sure its filtered properly.
Wait for a confirmation email from us. If you didn't receive an email, kindly resend your email registration or contact us via our facebook and twitter page.
Keep a copy of the completed registration form and the deposit slip for safekeeping.
Official Registration Partner
GARMIN CENTER. GLORIETTA 3.
For more questions or inquiries, shoot us an email at [email protected] or click "Contact Us".
DOWNLOAD REGISTRATION FORM (will take you to Open Water Challenge Website)
Comments
comments