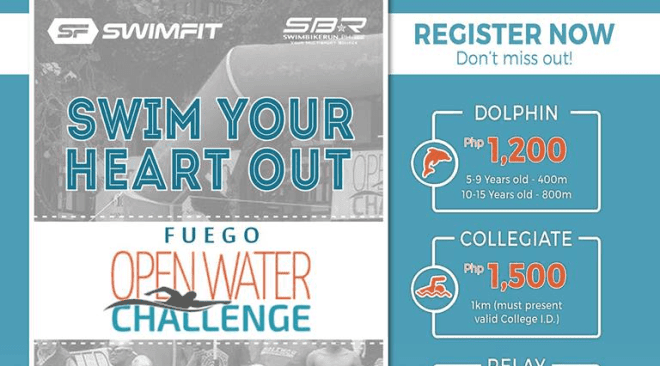 Hey everyone! We are expecting over 400 participants on race day! Thank you very much for supporting the Fuego Open Water Challenge Leg 3! Read on for the updated start list and race details. This event is brought to you by Swim Fit Philippines and SWIMBIKERUN.ph.
---
RACE COURSE
The big loop will be an Open Water Challenge standard 1km big loop. 4km swimmers will do 4 loops, 2km swimmers will do 2 loops, and 1km swimmers will do 1 loop.
For the dolphins, there will be a small 400m loop. 800m dolphin swimmers will do 2 loops while 400m swimmers will do 1 loop.
The loop will be a clockwise swim.
Note : course is subject to change without prior notice. 
HYDRATION
There will be a water station every lap. Please don't forget to hydrate.
SCHEDULE
ACCOMODATIONS
Club Punta Fuego Fuego Hotels and Properties  is our official venue sponsor to the upcoming Openwater Challenge Leg 3.
OWC participants special rate for accomodation use code: OPENWATER
Companions special rate : Php 700 – inclusive of venue pass and lunch.
START LIST
DOWNLOAD START LIST (as of July 22, 2016 | 9am)
*For comments and corrections, kindly email us right away at [email protected] with the subject details "Fuego OWC Start List" for proper filtering. If your name is missing on the start list, kindly include your registration details (when and where you registered, proof of deposit, a copy of the registration form, or the reg stub if you registered via our registration hubs).
Comments
comments