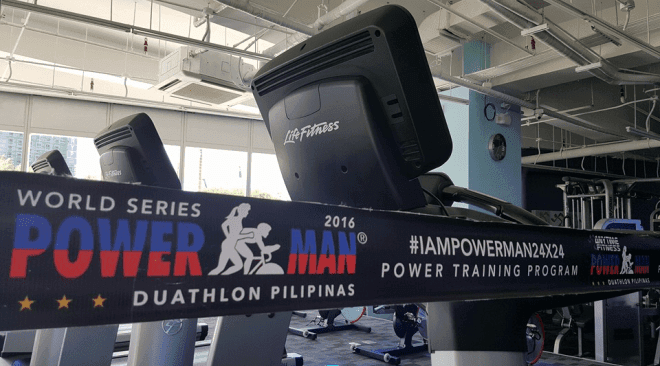 Good news to all Powerman Duathlon Pilipinas participants! Powerman PH recently launched its comprehensive 24 week training program tailored by Powerman World Champion Gael Le Bellec designed exclusively for Powerman PH participants!
---
In cooperation with Anytime Fitness, the 24×24 Power Training Program aims to help you conquer the most prestigious duathlon event in the country as well as challenge you to go beyond your personal best and power through race day, because YOU ARE A POWERMAN!
POWERMAN INDOOR DUATHLON CHALLENGE
Adding spice to the launch is a 5 minute run-7 minute bike-5 minute run mini indoor duathlon race between the country's top duathletes, age groupers, and Powerman World Champion, Gael Le Bellec. It was Denise Hernandez of Tri Six Fiv who triumped in the women's category. Edging out Coach Kaye Lopez and Ian Banzon of Sante Barley. In a surprise twist, Emmanuel Commendador of the Philippine National Duathlon Team edged out Le Bellec by a hair to win the fun duathlon category. John Chicano, currently the country's #1 ranked duathlete, came in a close 3rd.

Ever ran 20kph on a treadmill? These guys did!
POWER TRAINING BEGINS!
To goal of the 24×24 Power Training Program is to encourage more people of all ages and from all walks of life to live a healthier, more active lifestyle, and to get them one step closer of their dream of becoming a Powerman.
Anytime Fitness, in cooperation with Powerman PH, has incorporated a program that will help boost stamina and improve athletic ability at the races.
Also, the program will include Power Camps and Power Clinics where guest coaches and other experts will share their expertise to help participants improve techniques, or overcome other physical and mental barriers that may impede optimum performance.
Contact [email protected] to get a copy of your training program as well as Power Camp and Clinic updates!
RAISE YOUR GAME. #BEAPOWERMAN.
You think you got what it takes? Sign up for the Anytime Fitness Powerman Duathlon Pilipinas Asian Invitational on November 20, 2016 at the SM Mall of Asia by Bay. The distance of the event is a  5km Run- 30km Bike – 5km Run.
On December 3 to 4, the Powerman Duathlon Pilipinas World Series will be held at the Clark Freeport Zone in Pampanga. The event will include the Powerman Classic (10km Run-60km Bike-10km Run), Powerkids (for kids 6-12 yrs old), and Powerteens. The short distance will also be available to those who are not ready yet for the classic!
Visit www.powerman.ph to register or check out Powerman Duathlon Pilipinas on facebook (www.facebook.com/powermanph) for more infomation and updates!
Comments
comments