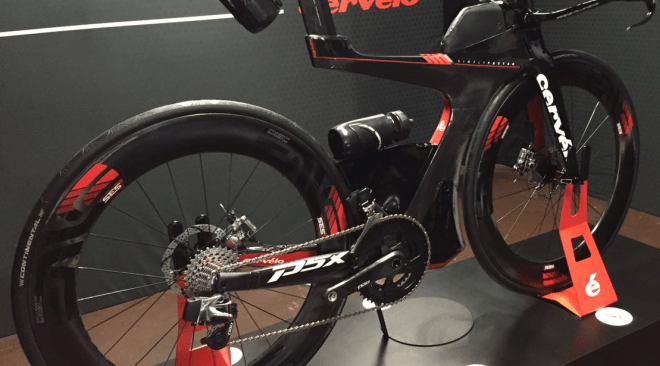 We were one of the first to release the teaser of Cervelo's newest triathlon bike, the P5X. And it looks like we got it right. Here is the newest Cervelo P5x. Just how good is it? Let's find out.
---
Everyone (including us!) got really curious when Cervelo posted a teaser image of their new triathlon bike on their facebook page. Of all the bike manufacturers, the last company who'd we think would launch a new bike is Cervelo. Simply because the P5 still looks as good as ever. Read more about the Cervelo P5X Pre Launch Article Here.
So finally, without further ado, here's the Cervelo P5x in all its glory. Oh, and did we mention the frame is made by HED? How awesome is that?
Right away, you'll notice 3 things.
1) It's a beam bike. (Yep, we got our prediction right!) :)
2) It's a disc *only bike.
3) Tons of storage.
*Question still remains as to whether or not Cervelo would release a traditional / mechanical version.
Currently, two models are available. The first one, with SRAM's eTap, ENVE Wheels and other standard accessories, will set you back at roughly around $15,000. If we convert it to peso, prepare to shell out at least Php700k for this bad boy.  There's also a lower version which is equipped with Ultegra Di2 and a set HED wheels which costs $11,000.
STORAGE
If there's one thing about triathletes, it's the fact that you can count on them to negate all the aero advantage of their bikes by slapping on various pieces of addons which adds drag (and weight) to the bike. Cervelo fixed that by incorporating as much storage options as possible. Interesting to see that they designed this bike using the normal round bottles.
By default, you have 3 options for bike bottles.


Instead of a speedbox,  the P5x has a Speedcase where you can add spare tubular tires, co2's etc.

Cervelo didn't stop there though. Cervelo opted to use the fairing on the downtube that goes all the way down along the trailing edge of the front wheel to insert one more for storage option called the Stealthbox.

For gels and other quick access needs, there's the Smartpack  which acts like your bento box but significantly designed to give your bike a better aerodynamic advantage.
FIT AND ADJUSTABILITY
The P5x is available in 4 sizes. Sadly, no size XS for the Philippine market.
With the P5x, it's imperative that you get the fit right on your first purchase. Because last thing you want is to cut the seat post only to find out that you'll need the seats to be higher.
The P5x with ENVE's comes package with Adamo tri saddles.
Luckily, adjustability is what Cervelo had in mind when they were designing the P5x. The basebar has a multitude of adjustment options available for every rider. AND IT FOLDS!
BRAKES
One thing we don't get is the need for Disc Brakes. Sure, they're smoother during braking. But what happens now to all the years of research done on how we can intergrate, hide the brake into the frame? We seriously can't fathom how the discs will be more aero than the usual ones.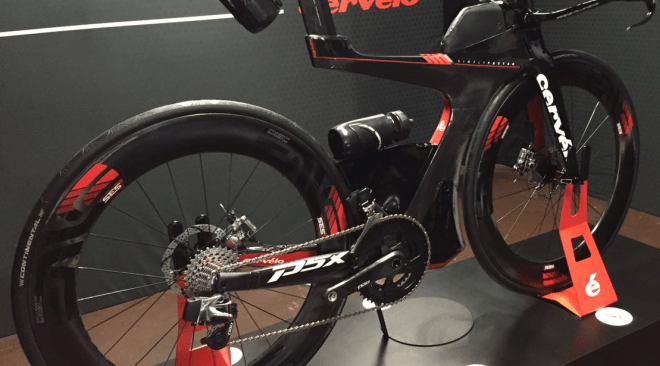 Will there be a non-disc option? That is the biggest question because the last thing you want is to not be able to ride your bike on your A race because discs are not allowed.
PARTNERSHIPS
Interestingly enough, aside from HED and ENVE, Cervelo has partnered with BIKND to make a custom bike box exclusive for the P5x. As per spec, the bike can be packed and stored in under 10 mins. The box has space for 2 wheelsets too.
VERDICT
The verdict still remains as to whether or not the P5X is faster than its predecessor, the P5. To add a little more pressure, they debuted the bike at the IRONMAN World Championships at Kona. Which has a long standing record of BIKE DEBUT = CHAMPIONSHIP. Can the P5X continue the tradition? We will find out soon enough.
We will hold our final thoughts about the P5X until we get our hands on a test unit and ride it for ourselves. But, we must admit, it's growing on us.
DISCUSS
Talk about the latest Cervelo P5X in our forum (click here!) or share your thoughts in the comments!
---
Press Release
PERSONAL.BEST.
Blood, sweat, tears. Three years of research, data analysis and development. Cervelo's engineers have poured that, and more, into creating our personal best: The P5X, the fastest, most technologically advanced triathlon bike ever made.
REALIZING THE ULTIMATE TRIATHLON BIKE
P5X Lead Designer David Killing explores the unique development process that fused personalization and performance like never before.
Out task was simply stated. "Design the ultimate triathlon bike".
No UCI rules, no requirements to refresh a previous design, no need to conform to a trend. Not limited to a frame and a fork, the complete cutting-edge system could encompass everything from customizable storage to optimal fit to stress-free packing. Plus, it had to be faster than any other superbike on the market. Our benchmark: the Cervelo P5.
Best engineering project ever, right?
Not so fast: This kind of freedom can go from being exciting to very daunting when you realize that the challenge isn't about coming up with innovative design ideas- we have lots of those – but rather choosing the right ideas to implement.
Despite Cervelo's extensive experience in triathlon we decided to start from scratch. To come up with data-driven requirements and design opportunities free from personal bias and assumption, we re-examined every point that had become "common knowledge."
We devoted more than a year to researching race and training environments to understand the problems we are trying to solve. This included taking more than 14,500 photos at seven Ironman and Ironman 70.3 events; interviewing scores of athletes, fitters, coaches and bike dealers; conducting real-life ride tests with prototypes; and collecting on-board data in a range of conditions, from the extreme wind of Kona to the hills of Ironman France. At the end of this exhaustive (and exhausting!) process we had a terabyte size database of real-world information, which we catalogued and analyzed to create a list of goals. Only then could the designing and engineering begin in earnest.
At this point, we know we couldn't simply select the bike design that performed best in tests measuring weight, stiffness and aerodynamics. For the first time in Cervelo's history- for the first time in history, period- the unique needs of every triathlete, whether training, racing or travelling, would be front and centre.
Comments
comments