There's something about "THE FORCE" that is simply irresistible. It's so strong that Luke Skywalker almost got consumed and moved to the DARK SIDE. For someone who's a HUGE Star Wars fan, imagine my delight when our friends from STANCE Philippines sent us this bad boy for gear review. *insert light saber sounds here*
Yes, that's my bedsheet and a real working light saber. :P
---
First thing's first, we all know that STANCE is the Official Socks of the NBA. While the STANCE FUSION RUN – STORM TROOPER EDITION may look a bit weird when used in the hardwood, it was good enough when we tested it in a few running sessions and even for casual occasions (Yes, we went out in a semi formal outfit multiple times with the Storm Troopers protecting our feet). Make no mistake though, if you want to play basketball with 'em, I can't think of any reason why it should affect your game play at all. Just be prepared for the curious looks that you'll get as they stare at the Storm Troopers on your feet.
When you speak about STANCE, there's no compromise when it comes to quality.  I actually think their philosophy is quality first, design second. The way the socks are built is simply top notch. Much like how Darth Vader would like his Storm Troopers and TIE Fighters built. You don't need to worry about all the stitching as well because of the design. We've tried the socks doused in water and didn't experience chafing or any hotspots.
All the usual STANCE features are all here. The reflective logo, terry select cushioning, and a very breathable performance mesh fabric. I've bought a few STANCE pairs prior to this one and what I liked the most about 'em is the support that they give my arch (I'm flat footed). The Toe and Heel parts are still a bit too thick to my liking, but nothing that you couldn't get used to as you keep running with them. Note : I sometimes run sockless. :)
The STANCE FUSION RUN – STORM TROOPER is priced at Php 1,490 and is available at the following Stance stores/kiosks nationwide: Ayala Greenbelt 3, SM Aura, Ayala Cebu, SM Seaside Cebu, SM Annex, SM Cebu, SM Mega Fashion Hall, SM Pampanga, Robinsons Ermita, R.O.X. Bonifacio Global City, Camp John Hay Baguio, Ayala Cebu and Ayala Marquee.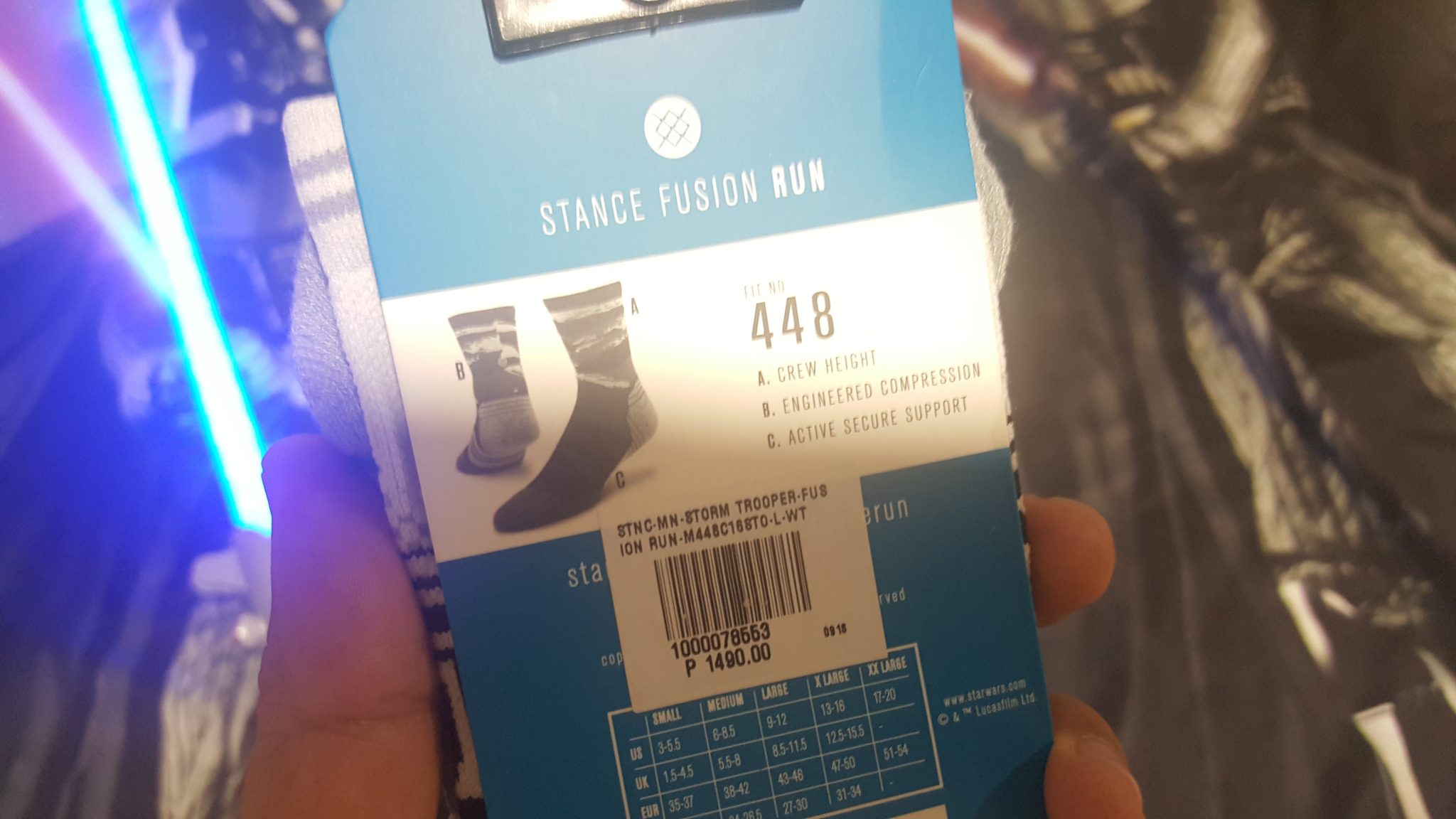 The STANCE FUSION RUN – STORM TROOPER edition is also timely as the STAR WARS Rogue One movie is set to be released in the Philippines on December 15, 2016. Will I watch it? Definitely. Will I watch it in my STANCE FUSION RUN – STORM TROOPER'S? You bet.
Should you? If you're a STAR WARS fan, I can't see any reason why you shouldn't.
---
Kindly refer to our disclaimer section for questions about product placements, advertorials, etc.
Comments
comments