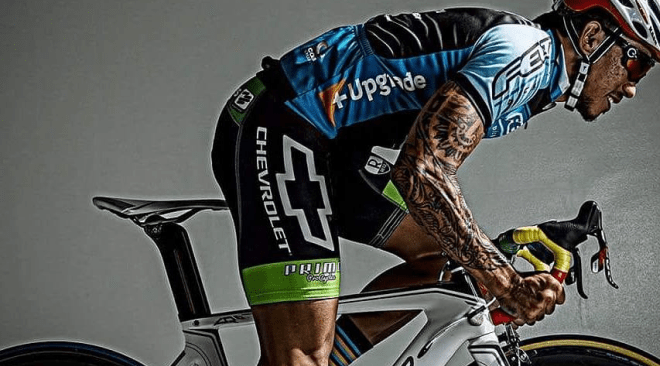 Can't ride outside? Here is a 40 minute bike workout designed to be done on the trainer / roller by Coach Ivan Leopando of Attack Tri Team.
---
Before the workout, please note that we have two kinds of trainers :
1. Bicycle roller
Bicycle rollers are a type of bicycle trainer that makes it possible to ride a bicycle indoors without moving forward. Unlike other types of bicycle trainers, rollers do not attach to the bicycle frame, and the rider must balance him or herself on the rollers while training. This is for the ADVANCED cyclists as using this requires plenty of bike handling skills.
2. Mag Trainer
If you are not a racer or a very experienced cyclist, a turbo trainer is the best choice for you. You simply clamp your bike on the trainer and off you go. Riding on the turbo trainer makes riding very stable and safe compared to rollers.
Now for the workout! 
40 Minutes Power Indoor Bike Workout
Warm up:
Spin for 10 minutes and maintain cadence up to 90 to 100rpm.
First 20 Minutes Workout (Intervals)
Do the first 5 minutes at low cadence (60rpm).
1 minute high cadence (100rpm).
2 minutes low cadence (60rpm).
Repeat main set of intervals (1 minute and 2 minutes workout) 5x for a total of 20 minutes .
Last 10 Minutes
For the first 5 minutes, cadence should be between 80 to 90rpm. Hold it at a steady pace then do 3 minutes at 60rpm,
Cool Down 
Cool down 2 minutes after the interval workouts. Use the small ring.
Benefits of an indoor workout
1. Saves time if you need to go to work early or if you had a very busy day.
2. Rainy days or off-season slump.
3. It's a great way to lose weight (if that's your goal!).
4. Good for beginners
5. Help's advance athlete's skill level by allowing them to build their strength while focusing on technique.
---
W.O.W. Workout Of The Week
A series of weekly workouts from the top coaches of the country.
Comments
comments