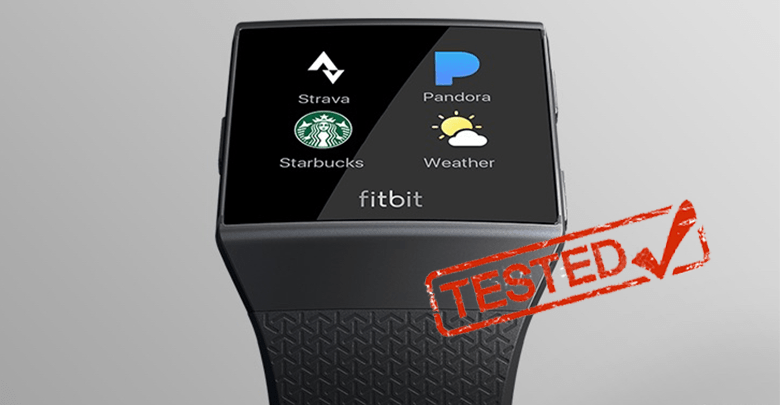 | PROS | CONS |
| --- | --- |
| Strong Battery Life | Lags A Bit |
| Looks Great On The Wrist | Lacks Multisport Functions |
| Fitness Functions | Lack Of Color Options |
| Good Sleep Tracker | |
| Ease Of Use | |
| Waterproof | |
---
The Fitbit name has long been synonymous with fitness trackers and with the Fitbit Ionic, they now enter the competitive world of smart watches. Just how good is it compared to the other brands? Here's our take.
---
Since 2004, everyone is looking for the perfect do-it-all smart watch. Earlier reiterations of smart watches makes you feel like you're wearing a brick. It wasn't until recently when smart watches became thinner and added basically everything you could ever need (and want) in a smart watch.
We got the Fitbit Ionic in smoked gray color from Fitbit Philippines and first impression says that this could be Fitbit's answer to the other more common brands.
The minimalist design, edgy curves, and colorway makes the Fitbit Ionic look like a stealth fighter on your wrist. The Ionic's face is made out of Gorilla Glass and the watch comes with two straps (large and small) to make sure that it caters both to the giants and the petites.
What we also liked about the design is that the buttons (one of the left and two on the right) protrude just enough for it to be functional yet small enough as to avoid getting accidentally pressed. And oh, did we mention that it's waterproof? Yes, triathletes,you can swim with it.
The bands has a quick release button so you can easily switch between them. We have yet to see a differently colored band sold separately as an accessory here in the Philippines (correct us if we're wrong! – CDG) but that would make things interesting as some users like to mix and match colorways in order for them to stand out.
Fitbit states that the Ionic can last up to 10 hours with GPS and 4+ days if you only use it as a regular smartwatch. Our test unit lasted for around 9 hours with GPS and close to 5 1/2 days as a regular smartwatch. We put it thru its paces as a regular functioning watch and was more than pleased with it. We also often found ourselves changing the watch faces and experimenting with. Having the option of looking at your heart rate and step counter anytime in the day with a flick of a finger is a pretty good option to have.
Aside from tracking your daily activities, the Ionic also has a sleep tracker which has become a staple of most activity trackers. What sets the Ionic apart from its competitors is its on-screen coaching and a bunch of apps designs only for Fitbit. There is also the Relax app that will step you through some controlled breathing exercises to help you focus and relax.
The Ionic can also store about 300+ songs plus has NFC which enables the user to do mobile payments, among other things.
Charging this device is easy as you simply point the tip of the charging cable at the three pins above the sensors on the back and you're good to go.
Don't worry about scratches because the cable is held magnetically.
Even with the three buttons for navigation, the Ionic is also equipped with a touchscreen display. We experienced a little lag on the screen during our test but maybe that's because we're swiping really quickly.
The Fitbit Ionic is light at just 50 grams, 1.8 ounces, and over the past five days of use I barely noticed its presence on my left wrist. It is extremely comfortable and form fitting, making it perfect for sleep tracking.
Armed with its PurePulse technology, the sleep tracking capability of the Ionic is one of the best we've tried. Not only does it track sleep stages (light sleep, deep sleep, REM), but also offers a lot of insight about what happened to your body while you were sleeping.
INTEGRATION
Like with any smart watches, integration is king. The Fitbit app is downloadable in iOS, Android, and Windows. If you use the app, you'll notice that it's basically the same as the desktop version.
The Ionic also offers basic notifications but you cannot answer and end calls from the watch.
VERDICT
The Fitbit Ionic has all the bells and whistles when it comes to a smart watch, not to mention the battery life which is simply unrivaled when it comes to longevity. But for some reason, we still see Fitbits more of a fitness tracker than a smart watch. Also, we still found ourselves craving for that extra "ommph" that will make it the automatic choice.
Don't get us wrong, the Ionic is a VERY GOOD activity tracker. But maybe since this is our first Fitbit unit, we can't help but compare it to the other brands that we've gotten used to.
One function in particular we're missing is the multisport / triathlon function that other widely used multisport smartwatch brands has. Even having a basic interval timing to its swim function would be great.
But just for conversations sake, the Fitbit Ionic already has the tech built-in to do it (it's waterproof, has GPS, and accelerometers) so it won't be too long before someone (or Fitbit themselves) develops an app which will unlock Fitbit's future smart watches into its full potential.
We're keeping our fingers crossed!
---
Featured Image : blog.fitbit.com/fitbit-apps/
Comments
comments