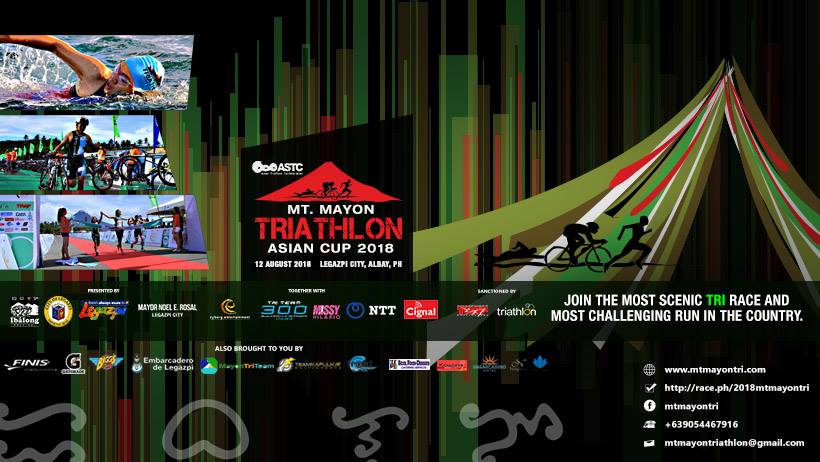 Congratulations to the winners and finishers of the ASTC Mt. Mayon Triathlon Asian Cup 2018!
---
Dubbed as the best and the most scenic olympic distance race in the country, the ASTC Mt. Mayon Triathlon Asian Cup 2018 lived up to its named by pulling of a 2018 edition that is one for the books.
Held in Legazpi, Albay, the event started with the Asian Paratriathlon Championships with Japan showing its dominance by winning majority (six) of the eight highly contested classes.
Kaji Tetsuki, of Japan took top honors while the country's own Jerome Nelmida placed at 7th.
The Asian Cup race on Sunday was more than just an ordinary race for our local elites as it served as Triathlon Association of the Philippines' (TRAP) validation of their choices of who will represent the Philippines in the Asian Games.
Jumpei Furuya of Japan dominated the main event as he finished the olympic distance race in 1:49:11. Oscar Coggins of Hong Kong and Ren Sato crossed the line in 1:49:54 and 1:50:23, respectively.
The country's top ace, John Chicano finished in 2:01:00 followed by Mark Hosana who placed 22nd in 2:05:46.
In the women's race, it was Yurie Kato of Japan who came in first in 2:05:22, with Long Hoi of Macau and Nina Kishimoto of Japan finishing in 2:06:11 and 2:06:42.
Kim Mangrobang and Kim Kilgroe will be our bet in the women's individual division with John Chicano and Nikko Huelgas competing in the men's. Mark Hosana and Claire Adorna will be in the Relay division with either of the two Kim's filling up the final spot.
RACE RESULTS
Open Pro: http://www.mtmayontri.com/?p=1272
Age Group Men: http://www.mtmayontri.com/race-result-2018-ag-men/
Age Group Women: http://www.mtmayontri.com/race-result-2018-ag-women/
Relay: http://www.mtmayontri.com/race-result-2018-relay/
Comments
comments