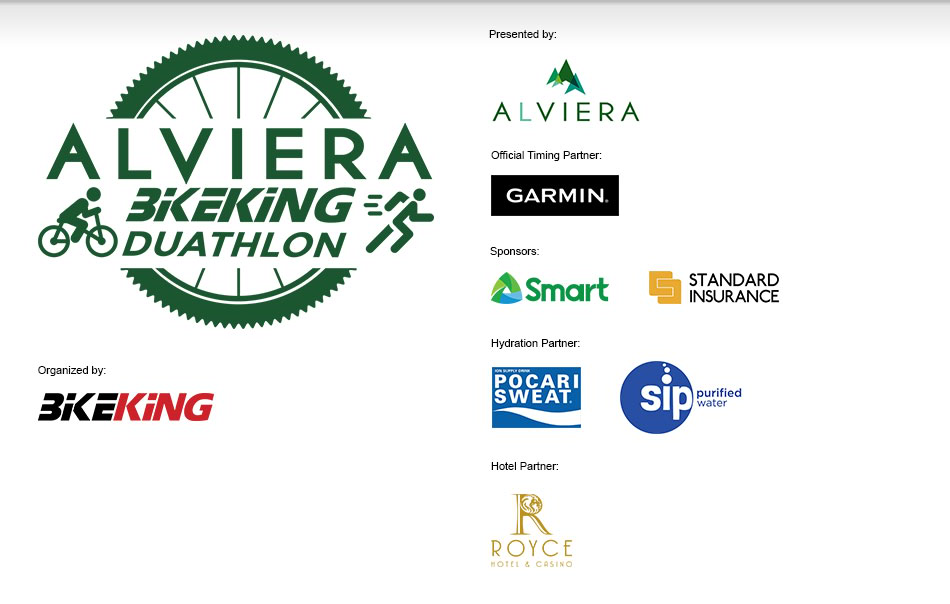 Run, bike and run at the Alviera Bike King Duathlon! The event is set on September 8, 2019, at ALVIERA in Porac, Pampanga.
---
QUICK FACTS
WHAT: Alviera Bike King Duathlon
WHEN: September 8, 2019
WHERE: Alviera, Porac
ORGANIZER: Bike King
RACE DETAILS
This unique duathlon race will take place along SCTEX (Porac – Floridablanca and back) and has Alviera as the start/finish. Now on its 7th year, Bike King will have the usual 6km run – 60km bike – 4km run distance. On top of this, there is a short but sweet distance of 3km run – 30km bike – 2km run. The heavy headwind, rolling terrain, and false flats all make for one exciting and challenging race.
For the first 6Km or 3km run, participants must make a right when they exit Alviera and run 3km/1.5km out. Once they get to the halfway mark, they must go back to the Transition area inside Alviera. Once on the bike, athletes must make their way to the Floridablanca exit and bike back to Porac to complete a loop of 30km. Those doing the long distance must do 2 loops, while the short and sweet distance will only need 1 loop. The second run is pretty much like the first but with an earlier u-turn and a finish at the Alviera village. After the race, participants and their supporters alike can then partake in their post-race meal, shop for more gear at the Event Expo.
DISTANCE(S)
6km Run – 60km Bike – 4km Run
3km Run – 30km Bike – 2km Run
REGISTRATION

Long distance open to Road and Triathlon Bikes only
Sprint distance open to Road, Triathlon and Mountain bikes
SCHEDULE OF ACTIVITIES:
Sept 8, Sunday
4:00 AM – 5:30 AM
Race Kit Claiming and Bike Check-In
Alviera, PoracCity
6:00 AM
START OF RACE
10:00 AM
Bike Cut-Off
11:00 AM
Run 2 Cut-Off
11:00 AM
Awarding or earlier
REGISTRATION REMINDERS
You may registration online from April 29, 2019 to August 25, 2019 by clicking on http://bikekingphilippines.com/. Registration fees may be paid online via credit or debit cards or via bank deposit
All Athletes who will pay thru bank deposit must specify what Event Merchandise Add-ons they want to avail (on top of Php 1,995.00 Basic fees) or if they will only pay for the Basic Reg Fee.
Deposit correct Total Reg Fee (Basic Reg Fee + Add-ons) amount to RUN BIKE SWIM INC. BDO SA 008170005057
Email copy of your deposit slip ASAP to: 

[email protected]

 and indicate the following:

Category (Individual or Relay)
Add-ons you are availing if any (for shirts, please indicate Gender and size)

It is the responsibility of the registrant to inform us that payment has been made
Registrant must only deposit his/her payment on or before the last day of registration. Payments made AFTER August 25, 2019 will NOT be entertained.
Upon receipt of the deposit slip, you will be given a registration code. Please use this code to register. You will not be included in the start list if you do not successfully register on-line.

You do not have to click on any add-ons when you register since you already paid for it offline.

Alviera Duathlon 2019 – https://regonline.activeglobal.com/alvieradua2019
Your name will be added to the start list only if you have successfully paid for the correct amount of the race category you are joining and registered online using the code given to you
Last day of registration is August 25 or earlier if slots run out.
Registration fees non-transferable.
Refund Policy:

Athletes confirmed in the race who wish to withdraw, must do so in writing to the race office, email:

[email protected]

It is the athlete's responsibility to ensure the race office has received any communication. Upon confirmation of this request, athletes are eligible for a partial refund as follows:

Any requests received on or before June 10 will be eligible for a 80% refund.
Any requests received between June 11 to August 10 will be eligible for a 50% refund.
Any requests received after August 11 will no longer be eligible for refund under any circumstances.

If you do not receive a response from the race office with 7 days of request, it should be assumed that it has not been received and you should email us again at 

[email protected]
LONG DISTANCE CATEGORY
Male Age Group (18-24, 25-29, 30-34, 35-39, 40-44, 45-49, 50-54, 55-59, 60-above)
Female Age Group (18-24, 25-29, 30-34, 35-39, 40-44, 45-49, 50-above)
SPRINT DISTANCE CATEGORY
Male Age Group (15 – 19, 20 – 29, 30 – 39, 40 – 49, 50 – 59, 60-above)
Female Age Group (15 – 19, 20 – 29, 30 – 39, 40 – 49, 50-above)
RELAY CATEGORIES
Long Distance only (top 3)
All Male team
All Female team
Mixed team
TEAM COMPETITION (LONG DISTANCE ONLY)
Team Competition:
Athletes must enter their Team affiliation upon registration. The time of the team will be the accumulated time of the top 5 members of the team with a minimum of 1 Female athlete.
Award/ Prizes:
All Top 3 Male/ Female Category winners will receive trophies.
Top 3 Team Competition winners will receive one trophy per team
All Top 3 relay winners will receive trophies.
RACE INCLUSIONS
Timing Chip and Race Bib/ Wristband/ Bike & Helmet sticker
Loot bag
Comments
comments