IRONMAN Philippines is back and is happening on June 7, 2020, at Subic Bay Philippines!  This event is organized by Sunrise Events Incorporated.
QUICK FACTS
WHAT: Century Tuna: Ironman Philippines
WHEN: June 7, 2020
WHERE: Subic Bay Philippines
ORGANIZER: Sunrise Events Inc.
EVENT DETAILS
A Holiday Beach Destination
Surrounded by mountains and endowed with a deep natural harbor, Subic Bay was once the home base of the U.S. naval forces in the Pacific. The bay is now a premier holiday destination for visitors from all over the world who come for its pristine beaches, first-rate amenities, and friendly service.
This race offers 40 qualifying slots to the 2020 IRONMAN World Championship in Kona, Hawaii.
RACECOURSE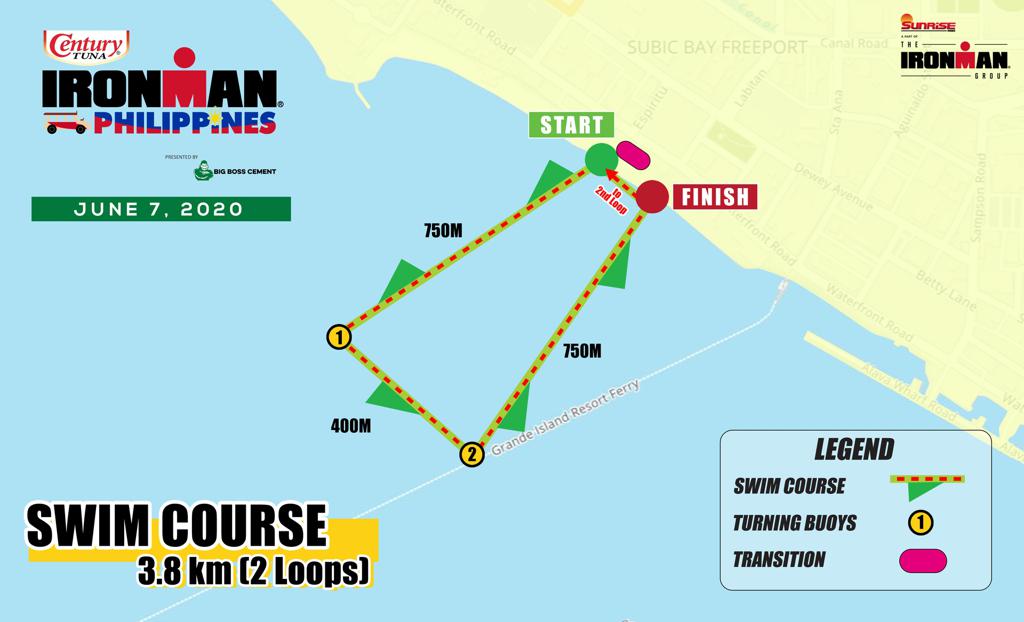 3.8km Swim
The swim starts at the Subic Bay Boardwalk beach fronting the Waterfront Road. Participants will do a two-loop anti-clockwise format which begins with a straight 750 meters, followed by a left turn for 400 meters, then a final 750 meters left turn bringing them to the beach area. Upon exiting the swim course, participants will proceed to the start line and complete the second loop. After completion of the second loop, participants will exit and head to the transition area, to begin the bike course.
180km Bike
From the Subic Bay Boardwalk, participants will exit the Waterfront Road making a turn at Sampson Road heading to Rizal Highway then left heading towards the Tipo Gate. The course will take the participants up and down the hills of Tipo Road before entering the downhill part of Subic Clark Tarlac Expressway or SCTEX. The long flat roads of SCTEX will be a fast and smooth ride along the country's longest expressway showcasing the lush fields and mountainous landscape of the area.
The 180 km 2-loop course will make its first turn around at KM 52 then head back just before the Tipo Gate. A second turn will be at KM 91, participants then head back out for the final turnaround at KM 130. Participants will then head to Tipo Gate at KM 170, then ride towards the Subic Bay Convention Center or SBECC and enter Transition 2.
The elevation is based on online measurements and online maps. Actual course measurement estimate on course Elevation Gain/Loss: 1500 meters.
42.2km Run
The three-loop run course will start at the Subic Bay Exhibition and Convention Center or SBECC, participants will exit to a series of turns leading them alongside Maritan Highway, turning right to Causeway and exiting to Argonaut. Participants will head out to the Subic Bay Airport, and make its first turnaround just before the San Bernardino Road at KM 8.7. Participants will run towards the Malawaan Park for the second turnaround at KM 14.9. They will head back to the third turnaround at KM 21.1m. Participants then head to Malawaan Park which is the fourth turnaround at KM 27.3. Participants will make the final loop heading out for the fifth turnaround at KM 33.5. After completing the final turnaround, participants will head back to Malawaan Park exiting at Causeway then run towards the finish line at SBECC.
The elevation is based on online measurements and online maps. Actual course measurement estimate on course Elevation Gain/Loss: 1500 meters.
REGISTRATION
Registration fees
General Entry
| | | |
| --- | --- | --- |
| Tier 1 | SOLD OUT | $650.00 |
| Tier 2 | SOLD OUT | $700.00 |
| Tier 3 | | $750.00 |
| Tier 4 | | $800.00 |
Note: All prices are in USD +8% Active fee.
Time Zone: GMT +8.00 hours
Entries will close on 16 May 2020, if maximums are not reached earlier, whichever comes first.
Please note that price changes can occur at any time.
Inclusions:
IRONMAN 70.3 Finisher Medal
Finisher Hat
Finisher Tech Shirt
Sling Bag
Luggage Tag
Timed Race Results
Age Group Awards
On-Course Nutrition
Finisher Certificate
Celebration Day/Awards Banquet
Post-Race Food
Post-Race Massage
And an experience you'll never forget!
REGISTRATION VENUE
Click here: https://www.ironman.com/im-philippines-register
Comments
comments