Racing Different
It's OK To Be Different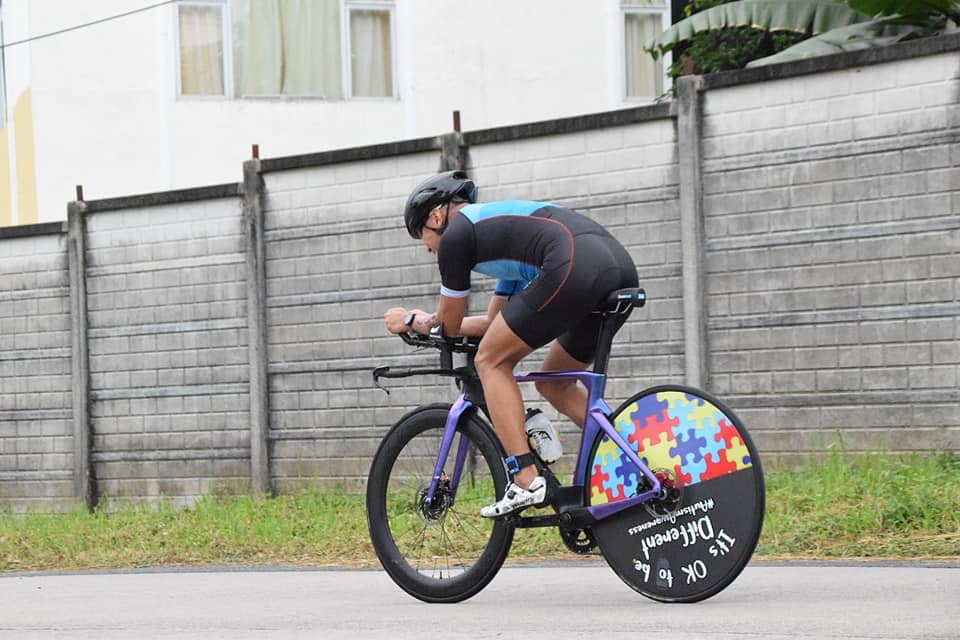 Who do you race for and why? Jeffrey Pineda, a triathlete from the Philippines, has been racing with a unique design on his disc wheel.
Not only is the design catchy, but it also seems to carry a special message. We sent him a DM to talk about it and was surprised that it wasn't just an ordinary puzzle design.
SBR.ph : We noticed that you have a unique design on your disc wheel. Can you let us know what that's about? What started it?
I have a 7-year old son who is on the Autism Spectrum. I have been doing this for 8 years and I have seen my kid has taken an interest in our sport. I want to help increase awareness of ASD and advocate for the needs of each with autism through triathlon. I believe that the sport will be essential to Lucas' development and will greatly help improve to have a quality of life. I'm with my son's Autism journey every step of the way and as he finishes his first triathlon. He has inspired me to be an advocate for him and other families touched by Autism.
SBR.ph: Can you tell us more about the cause?
Autism Awareness is basically about helping people understand and accept kids and people with autism through information and education. For me, we can introduce the world of triathlon to our special needs kids. I would like to be the voice for autism in the triathlon community that would spark positive changes and opportunities for understanding/accepting autism in the country.
SBR.ph: How can people help spread awareness
We are a member of the Autism Society Philippines. It's a national, non-profit organization dedicated to the well-being of persons of the autism spectrum disorder. They envision a society where Filipinos on the spectrum become the best of their potentials – self-reliant, independent, productive, socially-accepted citizens of an Austism-OK Philippines. We can show support by donating at http://www.autismsocietyphilippines.org or attend their fund-raising events.
MORE ON AUTISM
In our brief chit-chat, Jeffrey also talked about how autism can be caught early and be diagnosed right away. He suggested that not giving gadgets 'till the child is at least 2 years old definitely helps. For some reason, studies showed that ASD has a higher incidence in medium class families.
Nowadays, it's no surprise anymore to see a child carrying their own mobile phones. We discussed that, for some people, it's crucial as parents nowadays want instant access to their children. Kids also easily get bored now without their gadgets. Want to see a sample? Cut off the wifi and see how a child heavily engaged in one in reacts.
"The way i see it, pina-pag-phone ang bata because of katamaran ng nag aalaga. Ayaw tumutok", Pineda said.
And we agree with him. But sometimes, the temptation of instant comfort seeing a child stop crying once you give in to what they want is too much to resist for a tired and stress out parent.
He added, "Ang explanation sa akin, pag may pinapanood, the brain becomes lazy. Tumatanggap na lang ng pinapanuod. Di na gumagana ang utak"
"Nawawala dun ung part na creative/imagination play nila kasi nga it is just being fed."
Read more about the rise of autism in this link.
ADVOCACY THRU SPORTS
"I'm just trying to raise awareness lang that they do exist and "it's ok to be different".
Sports have a unique way of unifying human activity. Jeff mentioned about Team Hoyts (google Rick and his son Dick Hoyt and prepare to be amazed), a father and son tandem from Holland, Massachusetts, who have competed together in various athletic endeavors, including marathons and Ironman Triathlons. Rick has cerebral palsy and during a competition, Dick pulls Rick in a special boat as they swim, carries him in a special seat in the front of a bicycle, and pushes him in a special wheelchair as they run.
Team Hoyt was inducted to the Ironman Hall of Fame in 2008.
"Napaisip lang ako, why not start an advocacy with the sport you love doing? Inspiration mo naman mga anak mo, why not bring your cause sa triathlon?" he said.
The puzzle on his rear disc wheel isn't just some random design, it's the universal sign of autism. If you zoom in, you'll see that it has the words "It's OK To Be Different" with the hashtag #AutismAwareness.
(Jeff's version of Specialized Foundation's Riding for Focus: Autism Awareness – Via Mascy Cabuhat-Pineda)
HOW SPORTS CAN HELP
Individuals on the autistic spectrum often experience difficulties with social communication and interaction and may exhibit restricted, repetitive patterns of behavior, interests, or activities.
"Sports can help people who have ASD because it can give them focus". Jeffrey mentioned. As of now, there's no definitive cause of ASD.
SBR.ph is committing to help Jeffrey spread the word about #AutismAwareness through our various social media platforms and upcoming events.
Comments
comments