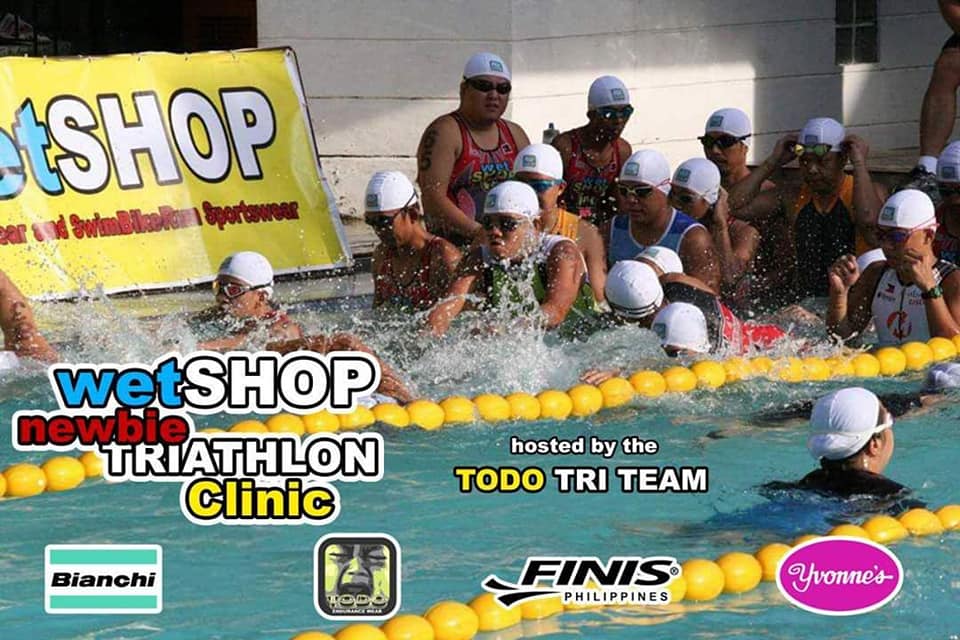 Want to join a triathlon clinic? Join the Wetshop Triathlon Clinic for beginners on March 1, 2020 hosted by the WetSHOP Todo Tri Team!
QUICK FACTS
WHAT: Wetshop Triathlon Clinic For Beginners
WHEN: March 1, 2020
ORGANIZER: WetSHOP Todo Tri Team
EVENT DETAILS
Wetshop Triathlon Clinic for beginners – March 1 2020 (Hosted by the WetSHOP Todo Tri Team)
This tri clinic is for anyone interested in jumping into the sport of triathlon in the Quezon City area or nearby vicinity who are wanting to prepare for an upcoming short distance triathlon race.
Training for and racing your first triathlon will require knowledge, dedication and hard work. Whether you are doing this to lose weight and get healthy or to become a better triathlete, you will need the necessary tools to help you with your goals. WetShop's Newbie Tri Clinic should help shed some light on what seems to be a daunting sport but really isn't.
WetSHOP will be conducting a 4-session (4 weekends) triathlon clinic for beginners on March 1, 8, 15 & 22, 2020. Culminating event will be a Mock Mini Sprint Triathlon race to be held on March 22, 2020 at All Hands Beach at Subic Bay Freeport.
Clinic Venue for March 1 to 15 at Acropolis Greens Clubhouse Pool, C5 Bagumbayan, Quezon City (across Eastwood). March 22 at All Hands Beach Subic Bay Freeport.
Clinic Schedule:
Session 1
March 1, Sunday 6:00 am – 10:30 am
Introduction to Triathlon
Triathlon way of swimming lecture
Swim Drills
Session 2
March 8, Sunday 6:00 am – 10:30 am
Transitioning from swim-to-bike
Guidance in getting the proper bike for you
Triathlon way of cycling lecture
Bike Drills
Session 3
March 15, Sunday 6:00 am – 10:30 am
Transitioning from bike-to-run
Triathlon way of running lecture
Run Drills
Session 4
TRIATHLON RACE SIMULATION DRILLS
March 22, Sunday 6:00 am – 10:30 am
Applying everything learned to a simulation of a triathlon race.
Post review of racing experience.
Race Checklist, Training Plans, Nutrition & Safe Practices. KKB group lunch
Clinic Fee is only: Php 1,500.00 (Does not include All Hands Beach fee for the Mock Triathlon)
Who can join: Any adult with basic skills in swimming, biking & running. (if you do not know any of the 3 sports at all, please do not register for this clinic. Contact organizers for learn-to lessons for the sport you need to learn from scratch.)
What to bring:
Session 1 = swimwear, swim goggles
Session 2 = any kind of bicycle with helmet, shades and water bottle (if you do not have any, do not purchase, just borrow first)
Session 3 = running shoes, shades, visor or cap, and water bottle
Session 4 = all of the above
REGISTRATION

To register, download and fill out the registration form and pay at WetSHOP – GStrip (Greenhills Shopping Center across Mister Donut) Tel: 02 625-0531.
Or deposit clinic fees in Metro Manila under Vincent Garcia – BDO C/A # 001518-0104-22 and email deposit slip with your name to [email protected] or [email protected] You can ask all the questions through this email addresses or through posting them on this event page.
For more info, call 8851-1722 (7 am-4 pm except for Sundays) and look for Peter for any queries about this event.
Comments
comments